Manami Matsumae Interview: A Retro Revival
Meeting with one of the original legendary Japanese game composers, Manami Matsumae, was memorable. When she first walked out for her Q&A, she greeted the guests at her panel with enthusiastic waves and a big smile, but answered questions thoughtfully, and often humorously. When asked about a specific piece she had contributed to the Mega Man 2 soundtrack, she responded by humming the theme, and when asked whether she had ever listened to something she composed with regret, the translated answer came back quickly: nope!
That being said, she is quick to modesty – any question seeking compositional advice, or suggestions for the music industry, is countered with an introductory or follow-up statement about her lack of authority on the subject before a response. Her goal, she states, is to make music goes well with the going-ons of the game, memorable and catchy themes that people will remember long after leaving the gaming experience.
I was lucky to receive the opportunity to sit down with Matsumae-san during after her Q&A for a brief interview, where I got to talk to her about some of her patterns in the world of music composition, as well as some of her recent and future work.
Interview Credits
Interview Subject: Manami Matsumae
Interviewer: Emily McMillan
Editor: Emily McMillan
Coordination: Emily McMillan, Chris Greening, Alexander Aniel
Interview Content
Emily: Your work tends to lean towards retro styles – what draws you to that?
Manami Matsumae: I don't like to think of it as a 'retro' sound so much as a – a 'Matsumae' sound! It's a sound that has evolved as I've learned more about the process, but in many ways it has stayed the same. I have a sound that people associate with me, and that sound disappeared for a while, but it's coming back now and I'm happy about that.
Emily: What do you like about working with those systems?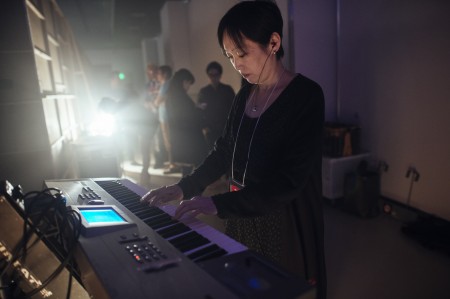 Manami Matsumae: It's nice to have those limitations on the sounds – today, there are so many options of what to work with. When you only have the bit scores, you are forced to come up with melodies that people remember. That's my approach to scores, regardless of what which tools I'm using. I want to make music that fits people's expectations of the game, and melodies that people remember.
Emily: You mentioned in your Q&A how much you enjoyed working on Shovel Knight. That was one of the first reviews I did for VGMO, so it's a special score to me, but it's also one I keep going back to every couple of months.
Manami Matsumae: Thank you! It was so fun to work on that score, and get to work with that kind of music again. It was so comfortable, and really brought me back to the 80s, where I'd spent so much time learning to work with the NES and SNES tools. I was happy to be working with the same limitations of sound channels again. It took such a long time to really master them the first time, but now it felt very nice to be coming back to those same tools.
Emily: I loved your contributions – Plague Knight and – what was it – The Iron Whale?
Manami Matsumae: Yes, Treasure Knight! Actually, that and Plague Knight, the two tracks I composed, were the first two in the game. They hadn't quite decided on a sound for the music when I started, so I wrote those two, which was so much fun. I sent them off to Jake, and he worked with them so well. But they had still been deciding on the overall direction of the game music, so I also liked working with that kind of freedom. They gave me pictures, or artwork, from the game, and I worked with that.
Emily: So it doesn't sound like you interacted much with Jake Kaufman in the process, then?
Manami Matsumae: No, we did not interact that much, although it was great fun to work with him and hear his music. When I sent off my tracks to him, he composed the score based on those tracks, and changed them a little bit to fit the different areas – so there's a boss theme, and an area theme. But he did some really fantastic work, too – I enjoyed hearing what he had come up with.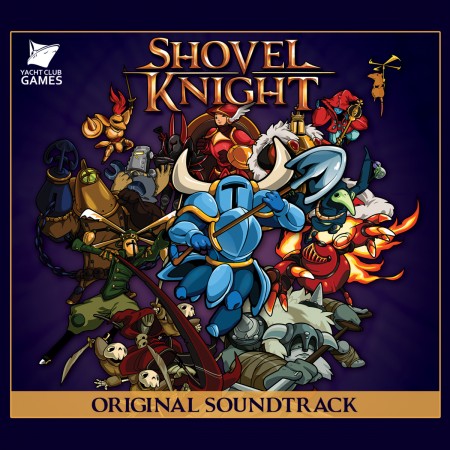 Emily: I also saw that you have spoken about a potential upcoming album – can you talk much about that?
Manami Matsumae: I am! But it's in the very early stages, so I can't say much about it, yet. I also don't know everything we're going to do with it. It will be an independent album, something I come up with on my own, and not for any specific game or commission.
Emily: What's your goal for the album?
Manami Matsumae: Well, it's a celebratory album – it's to celebrate thirty years of writing music, so it will be something to honor that. I want to have music on it that will really represent what I've done in music over the last thirty years.
Emily: Like a musical journey – of the "Matsumae" sound!
Manami Matsumae: [laughs] The Matsumae sound! Yes, I would like a kind of journey album. But again, I'm not very far, so this is just ideas at this point. But I want it to be a musical commemoration, or a celebration. I'm still figuring out what it's going to look like overall.
We ended by discussing the highlights of her career at BraveWave, where she has been happy to work on a series of indie games that have allowed her more freedom and choice in the soundtracks she's written for. One drawback to working at a company like CAPCOM, she said during her Q&A, was the slow process – every step had to be approved by people on every level of authority, and the time it took a track to go from desk to desk, and finally back to Matsumae, could stretch over the course of months. With the smaller gigs she has going now, she's able to communicate more closely with her employers about the music they want, as well as facilitate a two-way communication process where she can actually contribute advice about the music as well.
For her closing statement, Matsumae reiterated her enthusiasm for beginning new projects. Finding new opportunities to score upcoming games isn't easy, and Matsumae is always eager to join projects and contribute her compositional talents, and considerable experience in the field.
Posted on March 30, 2016 by Emily McMillan. Last modified on May 3, 2016.