Shunsuke Tsuchiya and Mariam Abounnasr Interview: Another Eden Arrange Albums
Shunsuke Tsuchiya and Mariam Abounnasr are members of Yasunori Mitsuda's PROCYON STUDIO and have contributed to a variety of anime and game soundtracks during their time at the studio, including Another Eden, the Luminous Arc series, and Stella Glow. 
In this interview, Shunsuke Tsuchiya and Mariam Abounnasr discuss their work on the Another Eden arrange albums. 
Interview Credits
Interview Subject: Shunsuke Tsuchiya (PROCYON STUDIO), Mariam Abounnasr (PROCYON STUDIO)
Interviewer: Don Kotowski
Editor: Don Kotowski
Translation (Shunsuke Tsuchiya's Comments Only): Tom Mitchell (PROCYON STUDIO)
Coordination: Tom Mitchell (PROCYON STUDIO)
Interview Content
Don: Tsuchiya-san and Abounnasr-san, thank you for your time today to discuss the music of Another Eden. In late 2021, Procyon Studio released two arrange albums, Faraway from Time – GALA Edition NOON STAGE – and Faraway from Time – GALA Edition NIGHT STAGE –. Could you discuss how the idea for this arrange album duo came about? If there wasn't an ongoing pandemic, given the names of these albums, would live concerts have been planned to celebrate the music of Another Eden in addition to the album?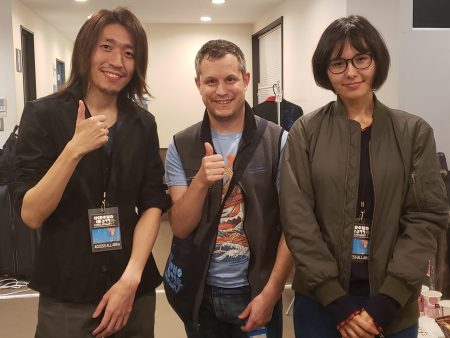 Tsuchiya: Thank you for the interview!
We wanted to give form to the Another Eden live concert we held in Kichijoji, Tokyo back in 2018, and consequently began work on the arrange albums. While the albums are mostly based on the 2018 concert arrangements, they are also packed with various new elements and ideas. 
Abounnasr: As Tsuchiya mentioned, the idea behind the album was based on our first Another Eden live concert "Faraway from Time." Back then we couldn't record any footage of the concert, meaning that we didn't have anything to look back to—which was a shame—so we thought it would be nice to create an album that resembles the same arrangements that we made back in 2018, with some revisions. And yes, there definitely would have been some sort of a live event going on if the pandemic didn't hit us this hard. However, we did stream a short concert online called "ANOTHER EDEN ARRANGE ALBUM Launch Event – EVE STAGE -." We plan to stream this online again at some point, so stay tuned for those interested!
Don: Both noon and night denote different times of days and there are some clear atmospheric differences between the two albums.  What went into the track selection for each album and was a general theme for each album established prior to the arrangements being made?
Tsuchiya: NOON STAGE mainly features music from the first half of Another Eden Part 1. Similarly, NIGHT STAGE mainly features music from the second half of Part 1. We wanted to have listeners vicariously experience being in the game's world, so we linked the order of tracks to the game's story as closely as possible.
Abounnasr: The album's track list is based on the setlist for the 2018 concert, with the first half as NOON STAGE and the second half as NIGHT STAGE. Because the track list is based on the narration of Another Eden's story, listeners can smoothly listen through whilst reflecting on their memories of the game. For the most part, we kept the arrangements as similar to the 2018 concert arrangements as possible, but some minor changes were necessary—mostly due to practical reasons.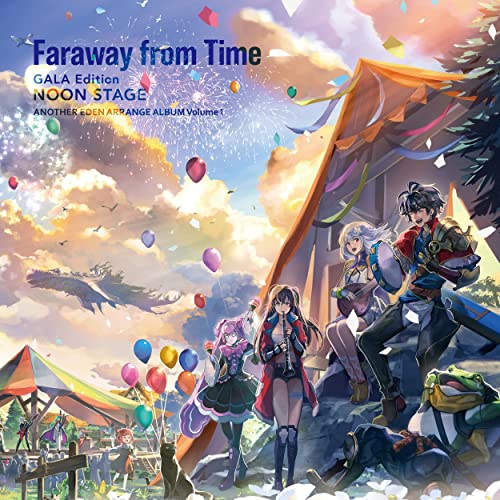 Don: One of the unique processes about the creation of these particular arrangements was the live stream of one of the recording sessions. How did this idea come about and what effect did this have ion the final outcome of the arrangements, if any?
Tsuchiya: The idea came from wanting to show the fans a live performance of the album. Recording all the different parts of the music, in this case all eight members of the band, at the same time is something we had never done before. It was difficult, but really exciting at the same time. Not only did we create something visually interesting, we were also able to record a type of sound that wouldn't have been possible had we recorded the music differently.
Abounnasr:  It was our first experience working on a recording session whilst being on a live stream and looking back at it… I'm still in disbelief that we managed to pull it off! There were many restrictions and conditions to take into account right from the beginning. From determining where to place the cameras and the crew (in a small studio packed with musicians, luggage, etc.) without it being a disturbance to the musicians, to figuring out how to not bore the viewers when nothing interesting is happening on screen. Recording sessions don't always go smoothly, whether it's a technical problem or tuning problem, or taking time in getting another music stand, etc. Of course, there's a lot of prep work done beforehand, but you never know what could happen, and all of that being broadcasted made me a little nervous… But it was worth a try as we have learnt a lot. I'm glad we did it.
Don: Tsuchiya-san, you were generally more active on the NOON album compared to the NIGHT album. How did you approach your arrangements for this album?
Tsuchiya: My approach was the same in both NOON STAGE and NIGHT STAGE. I tried preserving the elements of the original tracks while simultaneously expanding upon their potential. I also changed which instruments characterize, and are featured in, the various different tracks.
Abounnasr: The majority of the first half of Another Eden Part 1's music is composed by Tsuchiya, as he wrote a lot of the normal battle themes and field themes that play at the beginning of the game. Hence his music ended up being the highlight for NOON STAGE.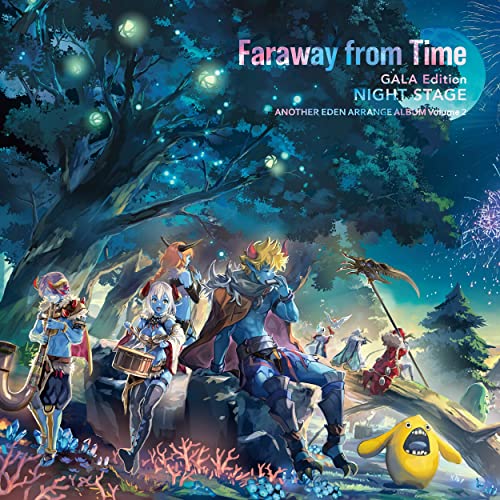 Don: Conversely, the NIGHT album featured a more prominent role from you, Abounnasr-san. Would you be able to discuss your overall thought process for this particular album? Tsuchiya-san, I wanted to ask specifically about the transformation of the battle theme, "Those Who Stand Against the Darkness" on this particular album. While many of the battle themes on both albums retain their original energy, what inspired the drastic differences in this arrangement compared to the other battle themes you arranged?
Abounnasr: Most of my battle themes were used in the climax of the game, consequently NIGHT STAGE contains more of my music than Tsuchiya's. The plot of Another Eden starts with a joyful, refreshing atmosphere but as you get close to the end things are more serious and dark, and that sort of atmosphere is reflected in the album—NOON STAGE has a light uplifting vibe whereas NIGHT STAGE has a darker and heavier one.
Tsuchiya: I had been wanting to do an arrangement that featured an accordion as one of its main elements for a long time, so I took this opportunity to finally do it. However, because most of the tracks on the album are based on the 2018 concert arrangements, I hesitated with only changing the direction of "Those Who Stand Against the Darkness". In the end, I'm very satisfied with having been able to do the arrangement following my sensibilities.
Don: Would you be able to discuss your favorite arrangement on the album?
Tsuchiya: My favorite is "The Seashell That Lost the Sea" arranged by Mariam. While I really like the original piece as well, the arrangement's atmosphere pulls me in and I find myself listening intently every time it plays. It goes without saying, but the melody and chord work express a beautiful scene.
Abounnasr: It's really hard to pick just one, but I would choose "Where the Wind Blows" arranged by Tsuchiya. Although the original is perfect enough, the arranged version really depicts the scene where Aldo is running through the Nuaru Uplands, and it is simply just refreshing to listen to. I sometimes listen to it whilst on the train or even for a walk!
Don: Recently, the Another Eden × Chrono Cross Symphony: Complex Dream in-game collaboration was released. Would you discuss the original music you wrote for this collaboration and how the music of both games may have contributed to the end result? If there were pieces from Chrono Cross that you would have chosen to arrange, what would you have chosen and why?
Tsuchiya: I was in charge of "Perfidious Cross-border," "Miglance's Underground Fortress" and "Dreamslip Tower of Time -Stairs of Creaking Dreams-." I aimed to create pieces that expressed the atmosphere of both Chrono Cross and Another Eden. As for some behind-the-scenes talk, we actually recorded and used the production crew's voices, Mariam's voice and my voice in "Perfidious Cross-border."
Abounnasr: I wrote two pieces: "Royal Beast City: Unigalna" and "Complex Dreamers -Weavers of the Complex Dream-." "Unigalna" has more to do with the music from Another Eden—Unigan to be specific—but the idea of having a parallel world between Unigalna and Unigan certainly comes from Chrono Cross, so that was a factor to be aware of. "Complex Dreamers" contains a mixture of two pieces: "Paradoxical Dreamers" from Another Eden and another important piece from Chrono Cross, which I won't say in order to avoid any spoilers. It was a challenge to bring these two together, as they are completely different in terms of instrumentation, key, groove, etc.. I managed to blend these two pieces together by using the same phrases with different chord progressions, or using the same chords but slightly changing the melody (using inversions/retrograde).
Regarding your last question, I had the privilege to arrange for Chrono Cross's music through various projects over the past few years… Perhaps working on jingles would be interesting!
Don: Thank you, once again, for discussing the arranged music for Another Eden. Is there anything you would like to tell your fans and what can we look forward to in the future?
Tsuchiya: Thank you very much for reading the interview! I would be thrilled if even more people enjoyed Another Eden's music. Regarding other projects, please look forward to more of my work this year!
Abounnasr: As mentioned earlier, I was privileged to have the opportunity to work on various arrangement projects celebrating the 20th Anniversary of Chrono Cross, including orchestral, piano solo and band arrangements, as well as the Another Eden collaboration "COMPLEX DREAM." For those interested please do check them out, as information about all of the projects can be found in English on the Procyon Studio website! One news that I have would be my involvement with the upcoming Xenoblade Chronicles 3, which is to be released this July. It is an honour to have my name lined up with such wonderful composers and cannot wait for its release!
PROCYON STUDIO now has an online store with which you can purchase these albums as part of a box set and other merchandise related to the Chrono Cross live concert sets held in 2019 and 2020.
Posted on May 10, 2022 by Don Kotowski. Last modified on May 10, 2022.