Hitoshi Sakimoto Interview: Writing Valkyria Chronicles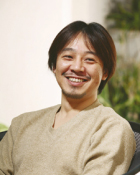 In October 2008, we caught up with Hitoshi Sakimoto about his orchestral score for Sega's PlayStation 3 RPG Valkyria Chronicles. The acclaimed title is just about to be released overseas although its official soundtrack was released a few months ago.
Hitoshi Sakimoto discusses his inspirations, approaches, and feelings about Valkyria Chronicles in this interview. He also provides some exclusive details about other titles he has been working on, Riz-Zoawd, Muramasa: The Demon Blade, and The Tower of Druaga: The Aegis of Uruk.
Special thanks to Basiscape's Demetri Potiris for organising and translating this interview. Also thank you to Don and PQTN for their feedback regarding the questions.
Interview Credits
Interview Subject: Hitoshi Sakimoto
Interviewer: Chris Greening
Editor: Chris Greening
Translation & Localisation: Basiscape
Coordination: Demetri Potoris
Support: PQTN, Don Kotowski
Interview Content
Chris: Valkyria Chronicles is a fairly serious war game with some fantasy elements. How did the tone and scenario of the game influence your musical approach? How would you compare this score to your other works?
Hitoshi Sakimoto: We made much of it as a love story, rather than a historical investigation or fantasy elements for this project. So firstly I wrote a theme of love and a main theme to symbolize a view of the world. I then gave it a little military color so it could act as an axis between the two themes. Apart from that I didn't make any eccentric things. I just wanted to write music to give a dramatic human impression.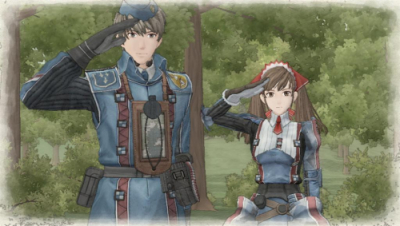 Chris: You obviously have an outstanding reputation for scoring tactical RPGs, but you haven't worked much with Sega in the past. What exactly led to your involvement in Valkyria Chronicles?
Hitoshi Sakimoto: Actually I first met Mr Nonaka, who is a producer, five years ago. When I met him for the first time, he told me that he wanted me to compose for a game which was going ahead into pre-production with a small team, but it wasn't formalized yet.
It seemed to have been aimed towards a portable game console at the time, but the game received a favorable review from SEGA management. So a few years later, when we started pre-production as a formal team, I was really surprised that the game had become a massive project for PlayStation 3!
Chris: The orchestral main theme for the score is one of your most memorable and cinematic to date. What were your inspirations for the theme and how did you integrate it in the score?
Hitoshi Sakimoto: We got together and decided on a melody at the first stage of pre-production, and then we provided some style for the melody. As the result, the version you now hear was adopted. I wanted the music to express the feeling of 'history' and the graveness of the battlefield.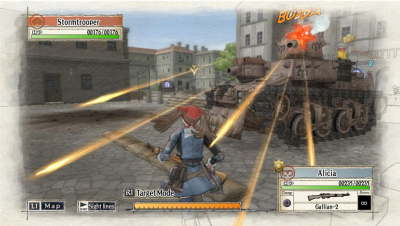 Chris: It's generally been said that Valkyria Chronicles is one of your most energetic scores. How did you approach composing the battle themes? Were you inspired by the unique battle system?
Hitoshi Sakimoto: Actually, there are a lot of music for battles when you see it altogether. It's quite common as a game, but as such making lots of battlefield music is hard to do [laughs]… The game has adopted a unique system, being both a tactical game, yet feeling like a 3rd person shooter. I wanted the players to feel like they were fighting in a drama in real time.
Chris: Valkyria Chronicles is the first PlayStation 3 project Basiscape have worked on. What did the console offer when integrating orchestral and synthetic music?
Hitoshi Sakimoto: Even though it's PlayStation 3, it wasn't much different to work on, as the processes to stream music for recent game consoles is quite the same now. Although we are using Dolby Surround as the sound, we weren't especially conscious of it, because it's common to make sound using this surround system, and we are used to it.
Chris: One of your major upcoming projects is the DS Wizard of Oz adaptation Riz-Zoawd. What appealed to you about this title and what should we expect from the score?
Hitoshi Sakimoto: Riz-Zoawd is an impressive game. It has beautiful graphics and a gentle touch picture which makes you feel like you are reading a picture book. So I wrote the music to make all players feel like they are reading a picture book and having fun. As a whole, I made calm and fairy tale-like music.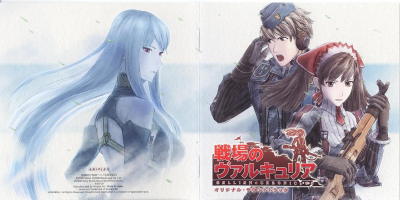 Chris: You are also leading Basiscape's score to Muramasa: The Demon Blade. How will the team meet the challenge of integrating traditional Asian influences on the title?
Hitoshi Sakimoto: Naturally, I will use Japanese instruments for this game. But I want to express the beauty of these instruments for people who are outside of Japan as well. So, although it may be unexpected, the score doesn't revolve around the Japanese instruments.
We are trying to perform various audio handling techniques so not to affect the original way of playing these Japanese instruments, or the limit the instruments in any way. This kind of technique is the type of thing we can do because we are Japanese. I will try my best to make it possible for everybody to feel the beauty of the Japanese instruments which are close to us.
Chris: You have also finished scoring your second anime project, The Tower of Druaga: The Aegis of Uruk, and its MMORPG adaptation. What approach did you take to these scores compared to Romeo X Juliet? Should we expect a soundtrack release?
Hitoshi Sakimoto: Romeo X Juliet was a pure love story. But I felt I wanted to draw on the growth of human emotion for The Tower of Druaga. Also, there were a lot of battlefield scenes, and some comedic / gag scenes as well. I think I showed a united feeling while writing these various music styles as a whole. I think the soundtrack will be released, but the date is still to be determined.
Valkyria Chronicles will be released in the USA on November 4. It is already available in Japan and Europe where it has received glowing reviews. The well-received official soundtrack can be purchased here.
Posted on October 1, 2008 by Chris Greening. Last modified on April 23, 2014.