In-house composer scores Assassin's Creed: Rogue
Yesterday, we posted that Chris Tilton and Sarah Schachner's soundtrack for Assassin's Creed: Unity (PlayStation 4, Xbox One, PC) is available for pre-order. The soundtrack for the last-generation version Assassin's Creed: Rogue (PlayStation 3, Xbox 360, PC) is also now available.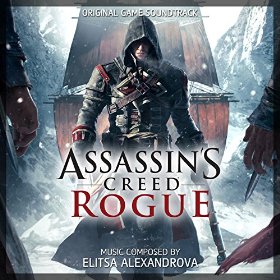 The composer for the soundtrack is Elitsa Alexandrova, an in-house composer and sound designer at the game's developer Ubisoft Sofia. The artist's previous credits include Imagine: Fashion Designer, Assassin's Creed: Liberation (music director), and Assassin's Creed IV: Black Flag (sound designer).
The soundtrack previews indicate that most tracks on the soundtrack will channel the epic Hollywood sound and many of the tracks appear to be brief cinematic cues. The physical soundtrack will be enclosed in the collector's edition of the game, while a separate digital version will be available upon the game's release on November 11.
Posted on October 31, 2014 by Chris Greening. Last modified on November 1, 2014.