PLAY! A Video Game Symphony: Chicago, May 2006
Introduction
Back when PLAY! A Video Game Symphony was announced, I was mildly intrigued, but didn't plan on attending unless they came to my home state of Colorado. My family had already considered me completely insane for flying out to see three Dear Friends – Music From Final Fantasy concerts in the last two years — the premier in Los Angeles in May 2004, one in Chicago in February 2005, and the final stop on the tour in Detroit in July 2005. Each show was an unforgettable experience — especially the premiere, for obvious reasons, and the Chicago show, which afforded me the opportunity to meet the legendary Nobuo Uematsu in person. When I heard that the premier of PLAY! would be in Chicago again, and would feature music from such games as Halo, the Elder Scrolls series, Metal Gear Solid in addition to the Final Fantasy series, I was even more interested. I've consistently enjoyed the music from these series, and the opportunity to hear the music performed live was something I really wanted to do. I was tempted, but simply couldn't justify the expense of another trip.
As time went on, more and more details about the upcoming concert were revealed. Music from new series was announced, as well as new guest performers and composers. It became more and more difficult to refrain from buying tickets, but I still resisted the temptation to enter into extreme debt. Then, one day, I saw a post on our forums titled something like "Yasunori Mitsuda to attend Chicago Play! Concert." After confirming these details on the concert website, my ticket had been purchased. Meeting Nobuo Uematsu in person had always been a dream of mine, and after having the pleasure of doing so, I remember thinking how life would be complete if I could meet Yasunori Mitsuda as well. After all, Mitsuda is the composer of two of my top three favorite albums: the Chrono Cross Original Soundtrack and the Xenogears Original Soundtrack.
Time continued to pass, and my decision to attend the concert started looking better and better. It seemed there was an announcement on the PLAY! website every few days with information about new music that would be played, or another guest musician who would be in attendance. The biggest bombshell came with the announcement of Koji Kondo's imminent arrival, and performances of his music from both the Super Mario Bros. and The Legend of Zelda. By the middle of May, it became clear that this concert was to offer the most prolific gathering of video game music composers ever, and I was not only going to be in attendance, but I was going to get to meet them all in person too. Words couldn't describe my excitement.
Fast forward to Friday, May 26th. My flight was to arrive in Chicago at about 6:00 PM Central time. It had been announced a few days previous that Angela Aki, the famous singer, who is performing the vocal cover "Kiss Me Goodbye" in Final Fantasy XII, was going to join Uematsu at an autograph session at a nearby Virgin Megastore. I had planned to check into my hotel and head down there, but my flight was delayed by about an hour and a half, so I wasn't able to. This was disappointing, as I really wanted to meet Aki, and though she was scheduled to attend the concert, she wasn't listed as one of the participants at the meet-and-greet.
The day of the concert, Saturday May 27, I sat in my hotel room (the Hilton O'Hare, which I got for $50 per night on Priceline) wishing there was absolutely anything to do near the O'Hare airport in Chicago. Aside from the ridiculously overpriced hotel restaurant, I couldn't even get something to eat without a boarding pass. I had an email conversation with Phill (fillyboy from our forums) the night before, and we had discussed meeting for lunch the next day. So I called him up and we went to lunch at Giordano's — a great place if you love Chicago-style pizza. Aside from McDonald's and pricy hotel restaurants, that's about the only place within walking distance. We talked about the concert, games, and sports for a couple of hours, and then headed back to our hotels. I had considered taking a train to downtown Chicago so I can say I at least did something while I was there, but it was about 2:00 already and I didn't want to risk getting lost and being late to the concert.
As discussed on our forums, a few of us got together at about 5:30 at the Crowne Plaza hotel next door to the Rosemont Theater, where the show was performed. Phill was there, along with our neighborhood piano arranger Josh Barron (whom I'd already met at the Dear Friends show in Chicago), his grandfather, and Richard (TheShroud13 from our forums). Richard was actually in the choir at the show and had just come from rehearsal, so we were all remarkably jealous. We went to (you guessed it) Giordano's for dinner, and we had the same waitress that Phill and I had had previously. Luckily, their menu is diverse enough that I was able to pick out something else. We had a good time chatting about games, music, and other things. Richard spilled the beans about a few of the tracks we'd be hearing at the show. Richard then drove us back to the theater, and we went our separate ways. Somehow I spaced taking a picture this time — even though we'd discussed it previously. I'm a little bummed out about that.
Anyway, upon entrance, the theater halls were packed with an audience primarily of people between the ages of 14 and 20. I didn't see the normal bevvy of cosplayers this time around, though I did see two separate pairs dressed up as Mario and Luigi. There were several long merchandise lines that had formed, and some people handing out cards for Anime conventions. I got in the souvenir line, hoping to purchase a concert poster for signing later. It turned out they weren't selling posters, but they did have a much wider variety of merchandise than in previous concerts. They had various Play! t-shirts, as well as programs (more reasonably priced at "only" $20 this time), and various CDs. The CDs includedKiRite, Hako no Niwa, Sailing to the World, and Moonlit Shadow (thanks to Josh Barron for helping me remember which CDs they were). They were also selling the Sailing to the World Piano Score sheet music book, which includes a CD of the music performed, the Chrono Cross Guitar Arrangement sheet music, and the live recording of More Friends – Music from Final Fantasy ~Los Angeles Live 2005~ that I reviewed previously. They also had the More Friends poster available, which I figured must've been factory overstock. I picked up two programs in the hopes of getting them both signed. The first page of the program featured the following tracklist:
01) PLAY! A Video Game Symphony :: Fanfare :: Nobuo Uematsu
02) Final Fantasy VIII :: Liberi Fatali :: Nobuo Uematsu, Shiro Hamaguchi
03) Super Mario Bros. :: Suite :: Koji Kondo
04) Shenmue :: Sedge Tree :: Takenobu Mitsuyoshi, Hayato Matsuo
05) Battlefield 1942 & Battlefield 2 :: Suite :: Joel Eriksson, David Tallroth, Fredrik Englund, Jonas Östholm, Bence Pajor
06) Final Fantasy VII :: Aerith's Theme :: Nobuo Uematsu, Shiro Hamaguchi
07) Sonic the Hedgehog :: Suite :: Masato Nakamura, Yuzo Koshiro
08) Metal Gear Solid :: Main Theme :: Tappi Iwase, Kazuki Muraoka
09) Kingdom Hearts :: Suite :: Yoko Shimomura, Utada Hikaru
Intermission
10) The Elder Scrolls III: Morrowind :: Suite :: Jeremy Soule
11) Final Fantasy X :: Swing de Chocobo :: Nobuo Uematsu, Arnie Roth
12) Chrono Trigger & Chrono Cross :: Suite :: Yasunori Mitsuda
13) World of Warcraft :: Suite :: Jason Hayes
14) Silent Hill 2 :: Theme of Laura :: Akira Yamaoka
15) HALO :: Suite :: Martin O'Donnell, Michael Salvatori
16) The Legend of Zelda :: Suite :: Koji Kondo
To be honest, I was at first rather disappointed with the Final Fantasy music selection for this concert, but I should've seen it coming. I was hoping for "Vamo alla Flamenco," "Tina's Theme," or even "Opening Bombing Mission," but arguably the three most popular pieces from the series were chosen, so I can't say I really blame them.
With my programs in tow, I headed for my seat. I managed to get tickets right smack dab in the center this time around, which was surprising given how late I had purchased the tickets. I was in the last row, but the view was really great. There were signs everywhere insisting that no photography of any kind was allowed, yet flash bulbs were going off every few seconds. At one point, a guy stood up, walked down the aisle, and took a picture of the stage while the orchestra was playing right in front of the usher. He didn't even flinch. Obviously, they put on a strict face, but didn't enforce the rules. Personally, I find it fairly rude to take flash photos while the orchestra is playing, but maybe that's just me.
The show was scheduled to start at 8:00, but they were a little late getting going. At about 8:05, a parade of well-dressed men went striding down the center aisle directly behind me, closely followed by a couple of security guards. When people realized it was the cavalcade of composers, the crowd stood and cheered very loudly. The full list of composers present at the event includes Nobuo Uematsu (Final Fantasy), Yasunori Mitsuda (Chronos), Koji Kondo (Mario, Zelda), Jeremy Soule (The Elder Scrolls), Yuzo Koshiro (Sonic the Hedgehog), Akira Yamaoka (Silent Hill), Martin O'Donnell and Michael Salvatori (Halo), Takenobu Mitsuyoshi (Shenmue), and Jason Hayes (World of Warcraft). Also present were conductor and music director Arnie Roth, vocalist Angela Aki, and percussionist Rony Barrak.
The flamboyant Uematsu, who I believe was the only one not dressed in a suit jacket, waved his arms in the air wildly and egged-on the crowd. When he neared his seat about two rows from the front, he bent down on his hands and knees, bowing to the audience. This drew a hearty chuckle. Once the VIPs of the evening were seated, it was time for the show to begin!
First Half Review
Arnie Roth, conductor of the Chicagoland Pops Orchestra, as well as all the previous Dear Friends, More Friends, and Voices concerts, strode on stage to tumultuous applause. He then grabbed the microphone, thanked everyone for being there, and silently began conducting the PLAY! A Video Game Music Symphony Fanfare. This piece was composed by Nobuo Uematsu exclusively for this concert tour. You can hear a synthesized version of this theme on the Play! homepage. I admit that when I first heard this piece on the website, I found it rather obnoxious, but it was much better when performed by the orchestra. I wouldn't call it one of Uematsu's gems, but it wasn't bad nonetheless.
After the fanfare, Roth told the crowd that it was composed solely for this event, and it was making it's world debut. He then went on to introduce the next selection: Liberi Fatali from Final Fantasy VIII. This piece was awfully familiar to anyone who's attended any of the Dear Friends or More Friends concerts. Having heard this piece performed live on three other occasions, I wasn't all just dying to hear it again, but I have to say that seeing it live is still a remarkable experience. The fervor of the orchestra really makes it more exciting. As expected, this piece was very well-received by the crowd.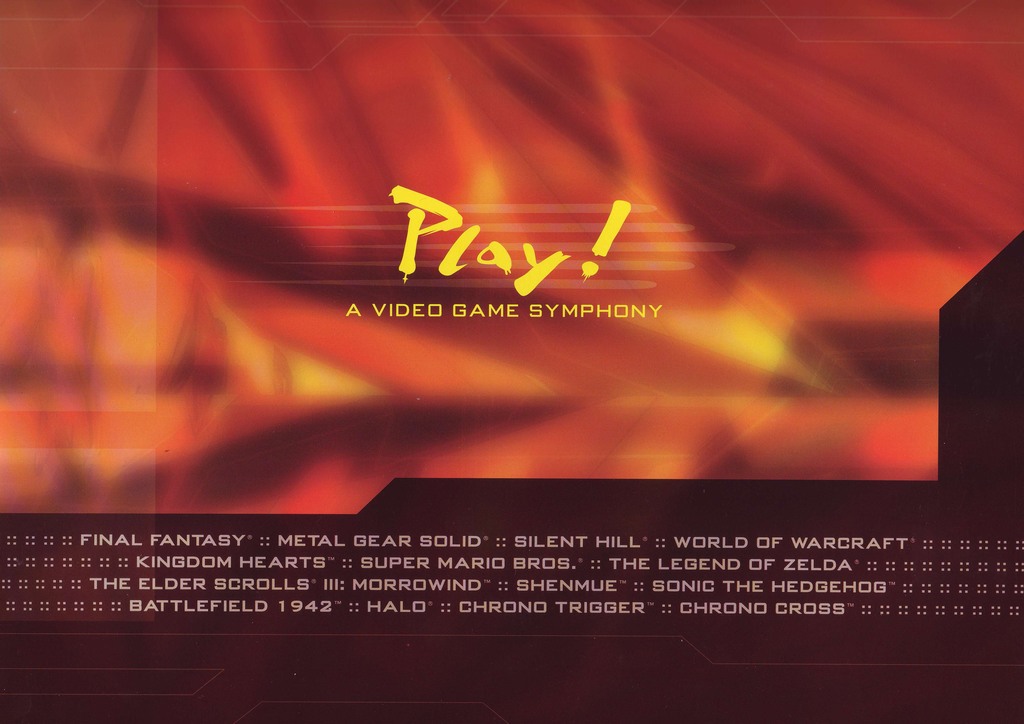 Next up in the program was a suite of music from Super Mario Bros., composed by Koji Kondo. Before we got to that however, Roth made his first reference to a number of "surprises" we were to be treated to in this concert. The first one came at this point, with Kondo coming on stage to play a piano solo from New Super Mario Bros.. I thought the solo was really well done, sounding like a perfect match for the series. After Kondo left the stage, the orchestra started belting out what is undoubtedly the most recognizable tune in the history of game music: the main theme you hear when you begin the first level in the original Super Mario Bros. This music was accompanied by footage of that level on the three huge overhead screens. Unfortunately, it seemed to lock up about 10 seconds in, so the screens flashed back to the orchestra. The piece later transitioned to the popular "swimming" theme you hear in underwater levels, before finishing with a suite from Super Mario 64 and Super Mario Sunshine. The entire suite, of course, drew insane audience approval.
Next up was Sedge Tree from Shenmue, composed by Takenobu Mitsuyoshi. Having not played or heard the soundtrack from Shenmue, I can't comment on this track specifically, but like most tracks in the concert, it had a really epic feel to it. Following that piece, Roth introduced world-renowned percussionist Rony Barrak, who was greeted with lukewarm applause. Like most people, I was wondering what this guy had to do with game music. I also remember thinking to myself "how can a percussionist be considered world-renowned? He's just playing a drum." About 10 seconds into his short solo though, my foot was firmly planted in my mouth. This man did some absolutely amazing things with his hands. When the solo was complete, he predictably became a crowd-favorite. He stayed on stage for the next suite, which was from Battlefield 1942 & Battlefield 2, composed by Joel Eriksson, David Tallroth, Fredrik Englund, Jonas Östholm, Bence Pajor. Again, I've never played these games, but this turned out be one of my favorite pieces in the concert. I've always been a big fan of the music from old war movies like "Guns of Navarone" and "The Great Escape." This music fits perfectly in this genre.
Somewhere around this time, Roth introduced Angela Aki to the mix. Her appearance isn't mentioned in the program or tracklist, and I can't remember when exactly it was. But she came out dressed in blue jeans and a bright orange t-shirt. She sat down at the piano and said something like "I'm feeling a bit informal, but I'd love to sing these songs for you." The songs were Kiss Me Goodbye, the main vocal track in Final Fantasy XII, and her own rendition of Eyes on Me from Final Fantasy VIII. I hadn't heard the FFXII track before, but I have heard some relatively negative reviews of it. Personally, I found it to be absolutely wonderful, but I've always been a fan of those sappy vocal tracks in the Final Fantasy games. The orchestra accompanied her as she sang and played the piano for this piece, while her rendition of "Eyes on Me" was completely solo. I've always enjoyed the original "Eyes on Me" sung by Faye Wong, but Aki's version was much better, in my personal opinion. Perhaps it was just seeing it performed live that made such a difference, but she clearly poured her heart and soul into the music as she sang. She has a lovely voice, and I have to admit it was nice to hear the piece sung by someone completely fluent in English. Aki is definitely someone I'll be keeping my eye on in the future.
Going back to following the tracklist in the program, the ever-popular Aerith's Theme was up next. It was beautiful as usual, though I admit to being a little sick of it. It was followed by a memorable suite from Sonic the Hedgehog, composed by Masato Nakamura. Mr. Nakamura was not at the concert, but one of the composers he collaborated with, Yuzo Koshiro, was. You might recognize Koshiro from his compositions in Streets of Rage and the ActRaiser series. The suite contained some very nice arrangements, starting with the very first Sonic game for Sega Genesis. As the piece progressed, the footage onscreen adapted to the later Sonic titles.
Next up was another epic suite; this time, from Metal Gear Solid. Roth didn't say much to introduce this piece, but just uttering those three words drew raucous cheers. The main theme from the Metal Gear Solid series was the primary theme. Other themes from Metal Gear Solid 3: Snake Eater were intermingled, before the main theme made a triumphant return. I know I'll end up saying this a lot, but this was another of my favorite pieces. Next up was a suite from Kingdom Hearts I & II, by Yoko Shimomura. I was hoping that one of the "surprises" that Roth mentioned might be that Shimomura was also at the concert, but alas, it wasn't to be. The suite itself contained no Disney music, so I can only assume they wouldn't allow it to be played at the concert. Even without it though, the beautiful main themes from the two games made for an excellent listen.
A brief intermission followed, and Phill came over to ask what I thought of the concert so far. To sum up the conversation, I told him I thought it was awesome. Phill's been to nearly every Dear Friends concert, as well as the More Friends concert, and has become a bit of an insider with one of the show's producers Jason Michael Paul. You can read Chris's interview with Jason and the other producers. Jason ran by during the intermission, and whisked Phill backstage with him, which made me quite jealous. A few minutes later, Phill showed up with an autographed ticket, which was signed by all the composers present. Lucky dog! Anyway, all the composers walked back to their seats to start the second half of the show. The walkway was directly behind my row of seats, so I had a supreme view. Some guys jumped out in front of Uematsu as he came down, and he slapped them all five. I managed to shake hands with Mitsuda as he walked by, which was pretty cool. I'll never wash that had aga…oh, never mind!
Second Half Review
Following the intermission, we were treated to a very nice suite from the Elder Scrolls series, composed by Jeremy Soule. This consisted of sweeping orchestral tracks from both Morrowind and the newly-released Oblivion. I've actually played a little bit of Oblivion, and the first thing I noticed when firing it up was the excellent intro piece. I was pleased to hear it performed here in all its majesty. Roth's arrangement of the popular Chocobo theme, Swing de Chocobo was next. This arrangement made its debut at the More Friends concert last year, and was an instant hit. I can't say it blew me away the first time I heard it on the CD, but it was cool seeing it live, because Roth was so clearly "into it."
Ah, so after months…no…years of waiting to hear some fully orchestrated music from the Chrono series, now was finally the time. Roth introduced the next piece by simply saying Chrono Trigger, which caused the crowd to explode. He then introduced Yasunori Mitsuda for the first time, who stood up and waived amid a standing ovation. Incidentally, every composer present received a standing ovation from at least half the crowd when they were introduced, and Mitsuda was obviously no exception. I'd waited for this moment for a long time, and this arrangement didn't disappoint in the least. It began with a beautiful solo piano rendition of Reminiscing ~Uneraseable Memory~ fromChrono Cross. It later transitioned into Frog's Theme from Chrono Trigger, before culminating with the awesome Chrono Cross ~Scars of Time~. This piece has long been one of my favorites of all time. A breathtaking combination of acoustic guitar and flute came first, with bustling percussion and strings bringing up the powerful rear. Percussionist Rony Barrak joined the fray again for this compilation, and his skill really made for an unforgettable piece. If and when they ever release a CD of this concert, this track alone would be worth the asking price, in my opinion.
By this point, the crowd was clamoring for the Legend of Zelda suite. Roth would grab the mic and say "next up is…" and someone in the crowd would shout "Zelda!" He'd consistently respond with "Not Yet!" At this point, it was time for the suite from World of Warcraft. This game is obviously very popular, judging by the response composer Jason Hayes received from the crowd when he was introduced. WoW is another game I haven't played, but I did find the suite to be very good. I wish I could go into more detail, but there were so many tracks that I just can't keep them all straight. The theme from WoW was followed by another of Roth's "surprises:" Silent Hill composer Akira Yamaoka came out to performTheme of Laura on the electric guitar, accompanied by the orchestra. Yamaoka was easily the most eccentric of the composers. He came out wearing a black and burgundy leather suit, and urged on the crowd whenever he could — including during the piece. Obviously, a bit of rock really pleased the crowd, who cheered wildly as he left the stage.
After another random shout for Zelda, and another "Not Yet!" from Roth, we were treated to a superb suite from Halo, composed by Marty O'Donnell and Michael Salvatori. Both were present for the concert, and both again received standing ovations. The choir had a very large role in this suite, though it was mostly just "oohs" and "ahhs." What struck me about this piece was how well the cellists handled the incredibly fast and jumpy string sections of the main Halo theme. You truly don't appreciate the intricacy of a piece of music until you see it performed live. When the main cello section ended, I saw a couple of them smile at each other, so I have a feeling it was rather difficult for them.
The last of Roth's "surprises" came next, when a piece from the upcoming Blue Dragon game was performed. For those who don't know, Blue Dragon has many classic Final Fantasy ties, including development from the creator of the FF series Hironobu Sakaguchi, and music from Nobuo Uematsu. The screens flashed images from the upcoming Xbox 360 title, showing what appeared to be a very young boy flying an "airship" of some sort through all manners of mortal peril. The piece of music itself didn't strike me as an instant classic, but that rarely happens on the first listen. I'll be monitoring the progress of this game quite closely in the future.
The suite from the The Legend of Zelda finally arrived next, and the place was alive with excitement. I've never personally been a big Zelda fan, though I did play through the very first game on the NES multiple times. Much like the Super Mario Bros. theme, the main theme of the original Zelda will be firmly entrenched in my mind for the rest of my life. The piece began with the tranquil music heard on the title screen for Ocarina of Time as Link rode the horse on the big screens. Before long though, it transitioned beautifully into the main theme of the original Zelda, and we were all treated to an outstanding blast from the past. The screen filled with images from the first game, and the crowd cheered loudly. I found this arrangement to really be something special. The arrangers really took a simple melody and converted it into an excellent orchestral track.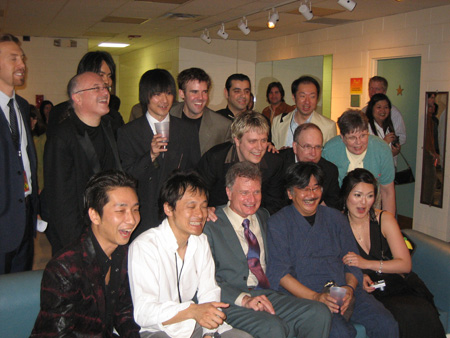 The conclusion of the show came without a lot of fanfare. Roth again thanked everyone for coming, including the performers, choir, and composers. He then said something like "Our final piece needs no introduction — enjoy One Winged Angel!" The decibel levels reached fever heights, and the ominous opening of the popular Final Fantasy VII track began. The orchestra, choir, and especially Roth really poured their heart and soul into this one. They clearly wanted to end the show with a bang. Of course, they succeeded. When the piece was complete, everyone was on their feet. Roth exited the stage, and the crowd remained standing and cheering. He came back and left a second time, but the concert veterans knew the show wasn't over. There's always an encore. Sure enough, he returned a third time as if to say "okay, okay!" He raised his arms, and about a third of the orchestra began playing "One Winged Angel" again. At first I thought they had a new arrangement of it or something, but Roth quickly stopped them all by waiving his arms. I thought this might be a joke, but obviously the orchestra really didn't know they were supposed to play it again. I was hoping for something completely new to end the show, but we got to hear "One Winged Angel" again. But hey, that's better than nothing!
When the piece was complete, another long standing ovation ensued, but the lights were back on. That was the end. No one could possibly complain though — it was after 11:00 PM when the concert finally concluded. 3+ hours of pure video game music bliss, and most of the music was newly arranged and never-before heard. It was truly a concert for the ages!
Conclusions
As people were filing out, I couldn't get the Zelda theme out of my head. Customers again hit the souvenir vendors hard — especially when they found out they were giving out coupons for free downloads of the Oblivion soundtrack to all concert goers. A line formed near the stairs for the meet-and-greet. At about 11:30, they started announcing that the theater was closed, and everyone needed to leave. I was very near the front of the line, so I was one of the first to get to go meet the composers.
They sent people up in groups of about 10. Near the top of the stairs they had a table setup where all the composers and guests were sitting. There were several members of the media around shooting video and interviewing random concert guests. One of them had a t-shirt that said gametrailers.com on the back, while there were some others from MTV, and some who I couldn't identify. Producer Jason Michael Paul was also up there, handing out posters, and telling everyone to have their items ready for the autograph sessions. Since there were so many people signing, they only allowed us to get one item signed, and we were unable to take pictures with them. This really bummed me out, as I'd planned to frame their signatures along with pictures of me with all the composers. But alas, it wasn't to be. I did get pictures of all the composers though.
When I arrived to the beginning of the table, percussionist Rony Barrak was first up. Apparently, he wasn't even mentioned in the program (what's up with that?!?), so I had him sign the back inside cover of my program. We were being pushed through really fast, so I didn't get much time to talk to anyone. I just thanked each of them and shook their hands. A girl in front of me was handing them all CDs saying she wanted to be a video game music composer and asking them to listen. I heard Mitsuda speak a little English with her, which surprised me. I didn't know he spoke English. The other strange thing was Masato Nakamura is pictured in the program for the Sonic the Hedgehog suite, but Yuzo Koshiro was at the concert. This confused me a bit, until he told me he wasn't pictured, but he worked on Sonic. He signed the bottom of my the Sonic page.
The rest of the table went pretty typically. Smile, autograph, picture, thanks, shake hands. Koji Kondo appears in the program twice — once for Super Mario Bros. and once for Zelda. I managed to get him to sign both pages for me. The first signature was in Japanese, but the second time, he just printed out his name in English. I thought that was pretty neat, but he probably was just saving time. It took him about 15 seconds or so to draft his Japanese signature, and he put the date after it too. Jeremy Soule was the only one who personalized his autograph, writing "Tim — All the Best!" next to his signature. He and Jason Hayes really seemed like nice guys. Jason said he was glad to listen to the girl's sample CD, which I thought was very nice of him. Most others will probably just pitch it. I thanked Jeremy for allowing us to download his Oblivion soundtrack for free. Mitsuda didn't say much to me other than "thank you," though I wasn't really expecting much else. He has a really cool signature though. The last in the group were the two Halo composers Marty O'Donnell and Michael Salvatori. They really portrayed a sense of experience with how they talked and were dressed. They were very professional, and were a fair bit older than the other American composers present.
As I exited the table, I stuck around watching for a little while. There were still members of the media around. I've been checking gametrailers.com and mtv.com lately (though I guess these two companies are linked now), because I'll likely appear in some of their broadcasts. In fact, one camera was filming Kondo and I as he signed my program. A few minutes later, I noticed someone interviewing Arnie Roth a little down the hall. I waited patiently for them to finish, and then got him to sign my program. I met him previously in Detroit last year. He's a very nice guy as well. I told him they need to bring a concert to Denver, to which he replied "we probably will."
About 15 minutes later, I was about to leave, but then I noticed a familiar orange shirt surrounded by cameras. Sure enough, Angela Aki had arrived and was being interviewed. As I mentioned early on in this write-up, I was bummed out to miss the signing with her the night before the show. Now that I had seen her perform, I really wanted to meet her. So again, I stood nearby until her interview was over, and asked for her autograph. She was super-nice, and just seemed to have a really pleasant demeanor. She was perfectly happy to take a picture with me as well, which was really cool. A nice line formed behind me when we were done. That was an extra special surprise, because she wasn't planning to join the meet-and-greet, and I think she was leaving shortly after that.
At that point, I was pretty much finished. There were still a lot of people waiting downstairs, and as I wandered around aimlessly, Jason Michael Paul came over to me. I think he was about to tell me to not linger around there, but he sensed I wanted to talk to him. I told him I was from the site and how much I loved the show. I said I'd be glad to do what I can to continue promoting it in the future. He seemed very appreciative and told me next time to let him know ahead of time and he could get me a press pass. He's just another in a large group of really nice people I'd met that evening. What a great experience!
By this time, it was about 12:10, so I decided to head out. I walked over to the Doubletree to catch an airport shuttle back to my hotel. As I was walking up, I actually saw the shuttle leaving and attempted to flag him down, but he rudely waived me off. I walked into the hotel. The first thing I heard was someone playing piano down the hall a ways. The piece sounded familiar, but I couldn't place it at first. Then it hit me, it was "Traveling Company" from the Final Fantasy X Piano Collections album. I walked down there, and there were about 15 people in there who'd obviously just attended the concert. Some of them had various Final Fantasy piano books. Before long, a group of five began putting on a mini concert right there at the hotel. There was a violinist, a pianist, a guitarist, a guy playing an instrument I've never seen before (a wind instrument with piano keys), and a girl with a cymbal. They whipped out a nice rendition of "Vamo alla Flamenco" from Final Fantasy IX, which really delighted the people in the room. They've obviously been together for a while. I stayed a few more minutes, but with a flight early the next morning, I caught a cab back to my room. This little concert put a nice little cap on the evening though.
To sum up, the whole evening was an experience I'll never forget. Everything from the opportunity to meet up with some great guys from our forums before the show, to the quasi-concert after the show at the hotel made the experience truly memorable. I didn't think there was anything that could've outdone the first Dear Friends concert in Los Angeles, nor my opportunity to meet Nobuo Uematsu last February in Chicago, but this event just might've topped them both. Though I was unfamiliar with many of the tracks, I can't think of a single one I didn't thoroughly enjoy. I only wish I had some context to them so I could've gone into more detail about them in the review. This concert was truly a once-in-a-lifetime collaboration of talent and dedication, and I feel very fortunate to have witnessed it in person. In short, if you have the opportunity to attend one of these concerts in the future, I highly recommend that you do so. Check the PLAY! A Video Game Symphony Website for all the details. Who knows, perhaps I'll see you there!
Do you agree with the review and score? Let us know in the comments below!
Posted on May 27, 2006 by Tim Maxwell. Last modified on April 23, 2014.