John Robert Matz Interview: Fossil Echo
Indie composer John Robert Matz has been writing for games since his score to Artemis in 2011. Favoring live instrumentation, his music comes across vibrantly, frequently featuring his own performances on soundtracks. His most recent soundtrack, Fossil Echo, has been praised as a gorgeous accompaniment to the game, an artistic 2D platformer.
In this email interview, John Robert Matz talks about his musical upbringing and his first forays into game music. He also goes into his recent work on Fossil Echo, and his approach to scoring one of the most story-driven games of his career.
Interview Credits
Interview Subject: John Robert Matz
Interviewer: Emily McMillan
Editor: Emily McMillan
Coordination: Emily McMillan
Interview Content
Emily: When did you first start composing, and what got you into game music in particular?
John Robert Matz: I think I wrote my first "proper" piece (with notes on a page) when I was around 8 years old.  I had a piano teacher who had all of her students write an original work and then weave it into their end-of-grade recital, so I wrote something weird and vaguely sci-fi themed (a nerd, through and through), loosely based on the arpeggiated accompaniment figure from Beethoven's "Moonlight Sonata".  Impressive it was not, but it did get me to start figuring out how to notate all the musical ideas bouncing around inside my head.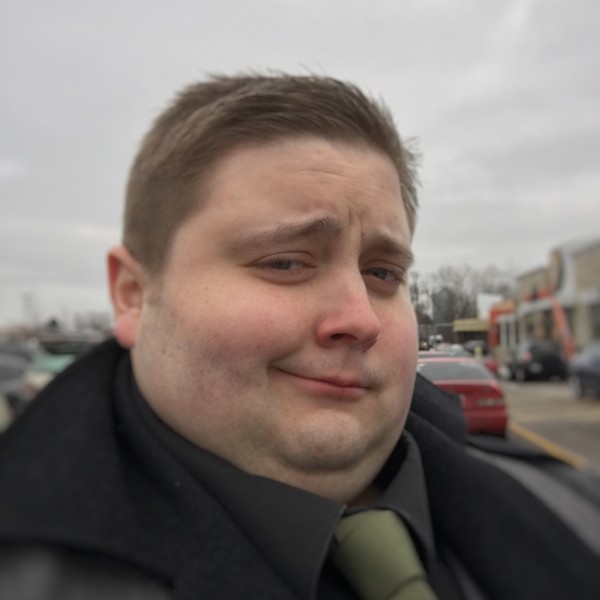 From there, in middle and high school, I was fortunate enough to have a band director who was also a prolific arranger and composer, and who encouraged his students to take theory and arranging classes, the former of which I embraced, but the latter was, alas, no longer offered by the time I completed the pre-requisite theory studies.  Thankfully, despite the setback, my director was able to set aside some time every few weeks to look at scores from the few students who were still interested, and, by the time I was a senior, I'd arranged, written, and had a few of my pieces played by the band.  In college, as a music education major, the trend persisted, and I had pieces performed by the college's band and orchestra before I graduated.
On the game music front, I can point pretty clearly to a few significant influences.  I'd always played games growing up (most of them PC games from approximately one generation behind the curve), but few had really grabbed my attention musically until I started playing Lucasarts' titles, like TIE Fighter and Monkey Island.  Their brilliant interactive music system called "iMuse" awed me with it's ability to stitch together musical ideas and cleanly transition from one piece of music to another, as if the entire experience were being scored live to match the action on screen.  It was incredibly impressive, but it was the CD-quality score (recorded, I believe, by the Moscow Symphony Orchestra and Chorus) for another game,  Outcast, by Lennie Moore, that really grabbed me and sold me on the idea that maybe, just maybe, I could write music like this someday; that it might be something I could aspire to.
Emily: How did you land your first gig – Artemis? What is the score's relation to Artemis 2.0, which is now on Bandcamp?
John Robert Matz: Artemis is an interesting story, because it's one of the rare instances of a cold-call audition actually having some success.  Artemis: The Spaceship Bridge Simulator was in a kind of pre-"early access" beta; there was a demo, and the game was available to buy if you wanted, but it wasn't a full 1.0 release yet.  Several websites had written about it, and, as a lifelong Trek fan, I thought it looked like an absolute thrill.  When I saw that the developer, Thom Robertson, was running a promotion wherein you could play the game demo, film yourself and your friends playing, and publish it to YouTube to get a copy of the full game, I hatched a plan that seemed foolproof at the time: I would film me and my cousins conquering the demo scenario, then score it myself, in a not-so-subtle attempt at an audition.  How hard could it be?  I figured that I could use bits of music from other projects for most of it, but that quickly proved problematic, and I ended up writing an entire original score that would, in the end, become the core sound for the Artemis soundtrack.
My gamble paid off in the end, as Thom loved it, and hired me on to score the game.  That YouTube video is still out there, somewhere…
For the 2.0 update for Artemis, Thom brought me back on board to write some additional music, and, in the process, I went back and remastered and rearranged some of the oldest bits of the score.  Hence, the 2.0 album release.  I felt it important at the time to make sure anyone who purchased the first version of the OST got a copy of the second, updated version (this is from before Bandcamp let you redownload albums at your leisure), so I manually generated keys for the updated album and sent them off to everyone who'd ever purchased it.  It took days.
Emily: You perform on many of the soundtracks you compose for. How does this affect your creative process? Do you ever find yourself improvising your own parts?
John Robert Matz: Playing the instruments myself gives me a definite "connection" to the part that would otherwise be harder to come by.  It also keeps me honest, so to speak; I can't write anything that I can't play myself, so I'm certainly not going to write something that's actually mechanically impossible or impractical for the instrument.  In addition, a fair-to-decently played live instrument is almost always much better than a virtual one; the amount of musical expressiveness you can have live is almost impossible to attain virtually without hours of tweaking MIDI data, so, it's not only generally better, but it's faster as well, which is vital when working on game scores, which can often entail months or years of work, yet invariably have incredibly tight deadlines.
The other advantage to having instruments at hand is that, in my experience, just noodling on them from time to time can often prompt interesting, idiomatic ideas.  While I don't usually record live and "improvise" ideas out of thin air on my recordings, I frequently find myself occasionally skipping the notation process altogether, composing a part on the instrument, learning it, and recording it a few times until I'm happy with it.  It offends my inner musical snob at times, but when the results are the same, and the process is faster, I really can't complain. 😉
Emily: Most recently, you scored the soundtrack for the game Fossil Echo, which is now available on Bandcamp. Congratulations! How did you become involved with the Fossil Echo project?
John Robert Matz: Thank you, Emily!  Fossil Echo is a project very near to me, and I'm incredibly pleased to finally be able to share it with people.  Getting involved in Fossil Echo was almost the exact opposite process of something like Artemis; instead of me contacting Phil (Philippe Crifo, our lead designer), he found me, after having my good friends Ben Prunty (FTL, Gravity Ghost) and Dan and Chris of HyperDuck SoundWorks (Dust: an Elysian Tale, Cosmic Star Heroine) independently recommend me for the project.  From there, I shared some of my past work with him, and sketched out some ideas, and, as they say, "the rest is history."
Emily: The soundtrack also comes with two trailer tracks that you composed. How was composing the trailer themes different from composing for the original soundtrack? How much of the score did you have written at that point?
John Robert Matz: Trailer music is always interesting to write, but frequently one of the few times in games that you have an excuse to let loose with a proper, rich, full theme.  (Naturally, your thematic mileage may vary depending on the type of trailer required.)  I've been very lucky in that writing Fossil Echo's trailer scores, I was given some basic guidelines (X number of big hits at the beginning, a section with movement, a big build, a drop, a grand arrival, wrapping up with a soft coda, for example), I wrote the music, then Phil edited the trailer around the music.  This is arguably my favorite way to handle trailer scores, insofar as I can introduce and develop dramatic ideas and have them dovetail nicely into the musical experience of the game.
In the case of the trailer music on the soundtrack release, the "Release" trailer score was written after nearly all the in-game music was finished, while the "Greenlight" trailer score was based on the very first piece of music I wrote for the game, a track simply titled "Main Theme".  I ended up excerpting part of that piece and writing new introductory and coda sections to it to craft it into a functional trailer cue, and I'm incredibly pleased with how it turned out.  The original track was purely a musical worldbuilding experiment, to lay out the main theme and establish the sorts of sounds and timbres that would feature in the score.  It actually never appeared in the game, though it informed all my decisions to come.
Emily: Fossil Echo has a very earthy quality – much of the music seems to be emulating the environment of the game. Can you tell me about your creative process in bringing in this variety of sounds?
John Robert Matz: The core sound tenants for Fossil Echo were organic, acoustic: strings, skins, and winds, with brass reserved for special occasion.  The visual depiction of the world influenced my approach immensely; the mysterious Asian/Pacific Islands-tinged costume and world design meshing with the uniquely European style of art led me to use (and misuse) recorders, Irish whistles, African percussion, Chinese and Japanese plucked strings, and more to craft a (hopefully) unique overall orchestral palette that matched the game's mysterious, fairytale-like setting.
Emily: For this game, instead of performing on it yourself, you brought an outside violinist – Michaela Natchtigall – to play on the tracks, which turned out beautifully. What led you to use a solo violin as one of the highlights of this score?
John Robert Matz: Solo violin was an instrument I chose to use and highlight in the score from the start; something about its capacity to capture emotions that ran the gamut from loneliness and mystery to flashy, driving determination and soaring heroism made it seem integral to the game.  In fact, one of the first cutscenes in the score, when the boy first looks up, and, through the mists of the Island, sees the Tower, captured that emotional spectrum so well, I knew I had to feature it throughout.  Michaela had been a good friend of mine, and we'd collaborated on some interesting projects in the past, so when I had the chance to replace my sampled violin with the genuine article, played by such an excellent musician, I jumped at it.
Emily: This is the first game you've composed for that is especially story-driven. What made writing for Fossil Echo different from some of your earlier games?
John Robert Matz: While not the absolute first story-driven game I've worked on, this is absolutely the most substantial and sophisticated.  Many previous titles I've worked on, Gunpoint, Artemis, Rodina, etc. tended to have fairly open-ended possibilities for the player.  They could explore, fight, discover something new, watch a friend be destroyed, etc. at any time and in any order, and the music had to respond to reflect it.  With Fossil Echo, it was actually much more straightforward; the narrative is linear (albeit with some branching), and major events have to happen in a certain order.  The nice thing is that it makes it much easier to score it like a piece of theatre: repeat this section, continue on cue, play the gong here, interrupt with the next piece here, etc.  Developing themes and motifs for characters and locations becomes much more straightforward when you encounter and interact with them in a pre-prescribed sequence.
Emily: Fossil Echo is also one of your first games with significant cutscenes, which utilizes a different kind of music than looped levels. Were these tracks any more difficult to score, or was there any kind of learning curve involved?
John Robert Matz: Fossil Echo's animated cutscenes presented their own, unique challenges.  I've scored films and written to picture on many occasions in the past, but Fossil Echo has no dialogue or text throughout the game, and all the characters grunt, sigh, and otherwise vocalize to get their points across.  That left the music in the interesting position of being the "voice" for these characters.  I didn't have to worry about the traditional problem of music getting in the way of dialogue, but I did have a lot of fun telling the story though music.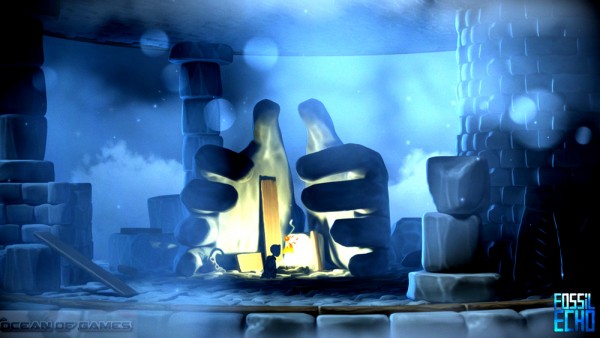 Emily: Is there anything else you would like to say about your work on Fossil Echo and the final product?
John Robert Matz: Fossil Echo was an amazing project to be a part of.  The entire team brought their absolute best to the game, and I am incredibly proud to have contributed to it.  As a composer, to be given such a lovely and visually striking world to play in is an opportunity that comes along only once in a great while, and couldn't be more pleased with how it turned out.
Thank you very much for the opportunity to talk about Fossil Echo, and I hope your readers consider checking out the game proper. 🙂
Posted on October 6, 2016 by Emily McMillan. Last modified on October 6, 2016.