Video Games Live: São Paulo, November 2006
On November 19, 2006, I had the pleasure of attending the Video Games Live presentation at Via Funchal in the city of São Paulo. "But aren't you from Rio de Janeiro?" you might ask. Yes, I am. "So why didn't you go the Rio concert, you big silly man?" Because I had already bought tickets to the São Paulo concert way before the one in Rio was announced, and since I had to beat Fate to do it (more on that at the forum), I didn't want them to go to waste. Also, today (November 20th) is a holiday in some cities in Brazil, so I can rest from all the awesomeness of last night. First things first, right?
When Video Games Live announced it was coming to São Paulo, I HAD to get tickets for me and for my girlfriend. However, it proved a challenging experience due to all sorts of problems. The journey to the concert was a little easier: only a six hour bus ride, then the subway, then a 30+ minute bus ride between one and the concert. Once we were out of the bus, we had to get movin'. After all of that, we still had to walk around for 10 minutes, trying to find our way, until we finally saw the big black and yellow sign. There was blue sky, no clouds whatsoever, even though the forecast had promised us some moderate rains. Yet it was impossible not noticing the freakishly long line that had already formed there, one hour before the doors were supposed to be opened (4:30 PM). The next thing that called my attention was the Roxas cosplayer, one of the first people on the line. Supposedly, he had gotten there at 8 AM, but that's just a rumor.
After we got through the long queue, my girlfriend I met up with my friend at the bar and we each purchased a VGL poster and a program at the lobby. They ran out of CDs, shirts, and hats quite quickly. There was also Guitar Hero II to play (with the guitar, of course) for free, so I literally ROCKED everyone's faces off. After 5 minutes with the game, I can tell you this much: I will get it. I recommend it to everyone. There was also another game to play, maybe you have heard of it: Zelda. Twilight Princess. On the Wii. Unfortunately, for some reason, the Wii area had no ventilation whatsoever, so it was a stinking mess of stink, sweat, and steam. I couldn't play it, but my friend took pictures. There was a lot of cheering going on there, and I'm glad, because Zelda took people away from Guitar Hero. Oh, and you could also fill out this entry thingy to win a VGL poster autographed by tons of people, like Hideo Kojima, Tommy Tallarico, and Jack Wall. Surprisingly, it was also signed by Elijah Wood and Gary Coleman.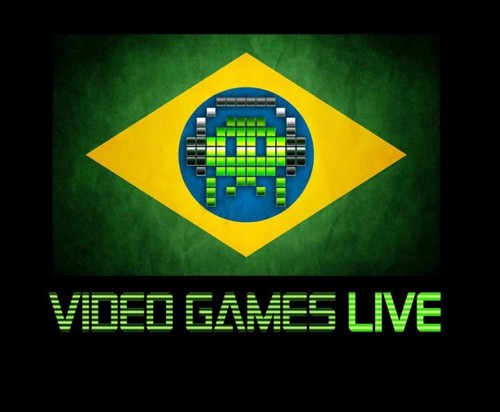 As it neared 7:30 PM, the time the concert was supposed to begin, we went up to our seats. Before the concert began, there was the cosplay competition. The finals were between weird-looking Yuna and Dancer. Yuna won. The outfits were all well made, but Dancer didn't look weird, so I would have voted for her. Tommy Tallarico was a great showman. He really knew how to entertain the audience. Two of the funniest moments happened because of him during the interactive segments; during theSpace Invaders one, he called up this huge guy to go on stage. When Tommy asked him how old he was, he answered 14. Tommy was shocked. "You guys grow big in Brazil, don't ya?" Later, on the Frogger competition, he called up another guy, huge as well, 28 years old, and a girl, 18. The guy comes up on stage, and Tommy comments on how he has learned some Portuguese by calling the guy gordinho (fattie), and then comments again on how we grow big here, before being surprised by the girl, who was also bigger than him. Oh, Tommy, you and your antics.
The orchestra was from Unicamp (University of Campinas), a college here, and it was fantastic. The choir, I'm not sure, I didn't hear where it was from. Performance-wise, they were wonderful, but at times, the choir wasn't loud enough. Regardless, Jack Wall proved to be a good conductor. He was funny as well. He loved the applause he got and kept asking for more. When he was going to step up to conduct he tripped and almost fell. The next time he needed to get there, he had to jump, which always got some laughs. As for the music selection, it was pretty much what I expected: an Arcade classics medley, Super Mario Bros., The Legend of Zelda, Sonic, Advent Rising, Final Fantasy VII, Final Fantasy VIII, Kingdom Hearts, Halo, God of War, Tomb Raider, Metal Gear Solid, Castlevania, Civilization IV, and World of Warcraft.
The classics medley was a blast for those of us old enough to remember some of those games. People cheered when Tetris, Donkey Kong, OutRun, Dragon's Lair, Frogger, and some others were shown. The medley of Metal Gear Solid music was also awesome. It consisted of the version of the main theme from Sons of Liberty, the main menu music, and the alert music from Metal Gear Solid. It was an awesome way to open to concert because during as the music was being played, some guy dressed as a soldier was walking around on stage, and someone inside a cardboard box was creeping behind him. As soon as the Alert music began, an exclamation mark lit up above his head. Laughter ensued. Turns out Tallarico was under the box. "Somebody had to do it."
Another classic segment was dedicated to the Super Mario series. I had already heard the medley being played on YouTube, but seeing it is a whole another story: the excitement of the audience, the montage from lots of Mario games, the upbeat performance of the Super Mario Bros. main theme. Everything was awesome. The same essentially applied to The Legend of Zelda, though I would have killed to have listened to the Gerudo Valley music as well. The Sonic medley was also one of my favorites, comprising a lot of Sonic music I didn't remember. "Green Hill Zone," however, was, and still is, the best. There was also an 'oldie but goodie', Castlevania, synching Tommy's guitar performance with vibrant performances of classics such as "Vampire Killer".
Moving on to more cinematic items, God of War was one of the biggest surprises to me. I'm probably one of the few people who haven't played the game yet, so the music was all new to me. What I heard was nothing short of breathtaking, and my interest in the game skyrocketed because of it. On the other hand, I had heard the music for Advent Rising a few days before the show, and it was pretty good. Tallarico said he had composed it in the style of an Italian opera, but I didn't see why he said that. If I'm not mistaken, the main theme was played from Halo too. I have barely heard music from the game, so that was an awesome way to get into it. Unfortunately, it was purely orchestral, without electric guitar like in some interpretations. As a bonus, we were treated to the music from the Halo 3trailer. The exotic Civilization IV and haunting Tomb Raider were also two of my favourites, yet perhaps the orchestral masterpiece World of Warcraft stole the show.
As for the Square items, Final Fantasy VIII's "Liberi Fatali" was the last track played before the intermission, and it was just as I had expected it to be: phenomenal. Kingdom Hearts featured a performance of just the orchestra version of "Hikari". I thought it was going to be a medley with "Passion" following it, but I was wrong. Since Square didn't allow them to use any visual material from their games, "Hikari" was played to the images of Disney movies, ending with an image of Steamboat Willie. Finally, Final Fantasy VII's "One Winged Angel" closed the concert. When Tallarico announced it, the crowd erupted into cheers, even more than before. It was pretty cool. Yes, I cheered.
The real treat of the concert was, undoubtedly, Martin Leung, the Blindfolded Pianist. He played a medley of 10 Final Fantasy Themes, including "Prelude," "To Zanarkand," "Eyes on Me," "One-Winged Angel," "Terra," (under heavy cheer) "Liberi Fatali," "Fragments of Memories," "Melodies of Life," and some others. No "Cid's Theme." After the Mario suite was played, he was called back on stage to play some themes blindfolded, like on his video. He did so and he took the blindfold off and played some more. Without it, he played the music from a stage on Super Mario World, and after playing the "time is almost up" jingle, he sped things up. I don't remember when exactly, but he was called to play the famous "Music A" from Tetris. Again, it was the jingle plus speeding up. People were clapping this time around, trying to accompany him. Martin got a standing ovation EVERY. SINGLE. TIME.
The concert ended at 10:20 PM, under heavy rain. I wish I had stayed for the meet and greet with Tallarico and Wall, but I was too tired to do that. The lines would probably be humongous. As it appeared, it was time to go home. After a cab ride some waiting, we got on the bus, slept a lot and got home. We got home 15 minutes earlier than expected, at 5:45 AM. My girlfriend had arranged a ride for us, which got me home at 6:30 AM. I slept until 2:30 PM!
The sum up, was absolutely unforgettable: the trip, the meeting, the concert, everything! It was probably one of those "once in a lifetime" kind of things, and am I glad I went there. The music was chosen to cater to everyone's tastes, but I'm sure no one would mind if they added a Street Fighter II medley or some Mega Man. I know I wouldn't. On one hand, I had a blast hearing and seeing all those compositions live, but on the other hand, I kind of already expected to see them. All in all, this was the most fun I've had in quite a while! I went all over the place, played Guitar Hero, met a friend, and, most importantly, I took part in something I would have never expected to see down here.
Do you agree with the review and score? Let us know in the comments below!
Posted on November 19, 2006 by Eduardo Friedman. Last modified on March 1, 2014.