Unique Note's Tetsuya Shibata and Yoshino Aoki get married
At Game Music Online, we have talked extensively about the collaboration Tetsuya Shibata and Yoshino Aoki have formed at their music studio Unique Note. However, it turns out the relationship between the Devil May Cry and Breath of Fire composers isn't just professional. Today, the couple announced that they married in a beautiful ceremony in Japan.
In an email to senior editor Don Kotowski, Tetsuya Shibata confirmed "It's true, Yoshino and I have just married today! Today is April 1st — we know that of course — but this isn't an April Fool's. We will never forget this day!"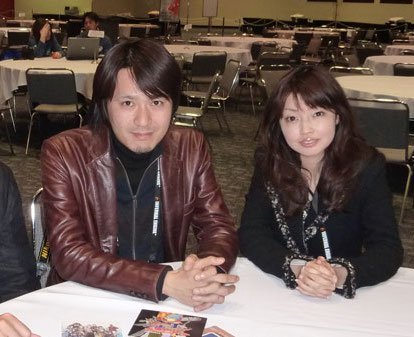 Tetsuya Shibata and Yoshino Aoki at the GDC 2010. Credit: Original Sound Version
Shibata and Aoki aren't the first composers to have fallen in love on the job. Other artists who ended up marrying include Takahito Eguchi and Noriko Matsueda following their years together at Square, as well as Kimitaka Matsumae and Manami Gotoh from Capcom, Hayato Matsuo and Chiyoko Mitsumata from Chunsoft, and Kenta Nagata and Shinobu Tanaka from Nintendo.
To learn more about them, read our interviews with Tetsuya Shibata and Yoshino Aoki. During all the interactions I had with them while making these interviews, both came across as great people. I'm therefore delighted that they have found love and wish them all the happiness.
Posted on April 2, 2014 by Chris Greening. Last modified on April 2, 2014.