Shinji Hosoe Interview: Pioneer of Electronic Game Music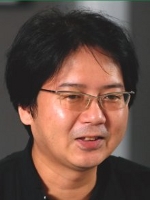 Shinji Hosoe is regarded as Japan's most successful electronic game composer. He established himself as a techno composer, working on titles such as Dragon Spirit, Ridge Racer, and Cyber Sled for Namco, before branching off to work for Arika on the Street Fighter EX, Technictix, and Tetris series.
In recent years, Hosoe has formed his own game music production studio, SuperSweep. Hosoe and his six co-composers are known for their offerings on works ranging from Folklore and Xenosaga Episode II to Ibara and 3D Dot Game Heroes. Hosoe also owns his own record label, which regularly publishes soundtracks, arranged albums, and original albums.
In this rare interview opportunity, Shinji Hosoe provides a fascinating recollection of all these career highlights, as well as an honest insight into his work as a composer and music producer in the games industry.
Interview Credits
Interview Subject: Shinji Hosoe
Interviewer: Chris Greening
Editor: Chris Greening
Translation & Coordination: Shota Nakama
Coordination: Bryan Matheny
Interview Content
Chris: Shinji Hosoe, many thanks for talking to us today. Given your career is so vast, it will be impossible to talk about everything, but I would love to focus in on some of your most memorable projects from past and present. First of all, though, I wondered if you could discuss your musical background and how you came to specialize as an electronic musician?
Shinji Hosoe: When I was an elementary school student, the electronic music I heard on the radio left me a huge impact, and I got so fascinated by its sound. I was also influenced by many artists, particularly through albums such as Jean Michel Jarre's Oxygene, Kraftwerk's Autobahn, Isao Tomita'sThe Planets, and Yellow Magic Orchestra.
I don't really intend to specialize in the electronic music. However, I guess it comes out from me naturally because it has become so ingrained into my body.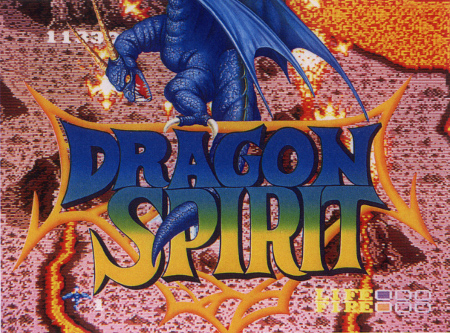 Chris: Let's start with arguably your breakthrough work at Namco, Dragon Spirit. Looking back, what elements of the score do you think made it so fitting in context, yet enjoyable on a stand-alone basis too? Given your medley on the Extra – Official Compilation, is it safe to assume the project is still a favourite of yours?
Shinji Hosoe: Dragon Spirit was the first game that I worked for, so I am very attached to it. I think things went well because everyone worked together in the same room since there weren't that many developers. I wouldn't say that the environment was good in terms of the equipment, yet mentally it was so great working there. I really have this accomplished feeling that we built it together as a team.
Chris: You also came to widespread attention with the techno music for the original Ridge Racer. How do you think the project's music compared to your earlier scores like Final Lap or Dirtfox? Having continued to be involved in the Ridge Racer series, how do you feel about the series' musical evolution since?
Shinji Hosoe: Significantly, I had worked on the title called F/A prior to Ridge Racer. I was really influenced by underground club music like Death Techno while working on that game, and I think it bloomed while subsequently working on the subsequent racing game. Ridge Racer itself did really well and club music was the style of the time. I think I was really lucky that it was such a breakthrough.
Actually, I was making this title called Cyber Sled simultaneously, which I think is the best musical work of mine. Unfortunately it did not receive as much positive recognition as Ridge Racer, yet it is a game that I pursued the musical style of even further.
I am happy with Ridge Racer earning much fame, but a lot of offers since then became "Ridge Racer like music", which is a bit disappointing.
Chris: While at Namco, you also founded the indie record label Troubadour Records and produced numerous original albums featuring game music artists. Do you have a particular favourite among the Troubadour albums you produced during this period?
Shinji Hosoe: All are favorites to me for one reason or another, but if I have to choose I would pick two CDs, it would be GameOver and 2197. For GameOver, I gathered together my Japanese arcade game composer friends and requested to create game-like music. I think that album was very unique, cross-collaboration work at the time, because it broke the barrier among the companies.
For 2197, we had the concept "How the world is 200 years from now" and had the composers depicting their image of the future through their music. I didn't think 100 years would be interesting, since we might be alive still, so I had it set to 200 years. It's really fun to imagine many different futures. We probably would have depressing music if we make it now, though!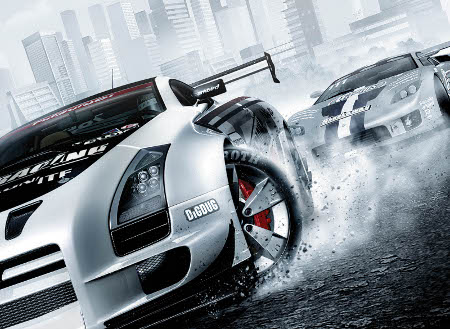 Chris: After you left Namco, you were involved in a number of fighting games, such as the Street Fighter EX and Custom Robo series. How would you compare the process of scoring fighting games with creating music for racing and shooting games?
Shinji Hosoe: There is no difference. It is acceptable as long as you make the games more exciting, like the aforementioned racing and shooting games.
For fighting games like Street Fighter EX, I had to think a lot whether to match the music either with the characters or the background image of the stages. The Custom Robo series had an elaborate story line that I enjoyed composing for. Furthermore, both games were developed on such particular hardware, so handling them could be enjoyable.
Chris: Nevertheless, you remained active as a shooter composer, scoring in particular the Square project Internal Section. How do you manage to create such a colourful yet urbanised score for this title and how did you find the appropriate samples to use?
Shinji Hosoe: I really like the solid polygon graphics like in iS. I usually look at the game to build an image for the music and this was also the case here. Though the game was kind of abstract, I still wanted the music to be solid for the game. I think the music turned out to be good. I regret that the CD is already out of print, though.
Chris: Several years ago, you stated that Technictix was your biggest contribution to game music. What do you think was so special about the music for this rhythm? Were the three acclaimedTechnictix Remix albums intended to elaborate on the inspirations behind the original achievement?
Shinji Hosoe: Technictix had very unique features in its data structure, for better or worse, and it includes a number of hidden things that are normally impossible to offer. On the surface, the players probably wouldn't know what they are, so let's keep that a secret!
Regarding the remix albums, I had a lot of people pointing that the pieces were too short when the first Technictix came out. Of course, they were short since the game specifications demanded all the music was about a minute and half long. I decided to release the remix album to fulfil their requests.
To be honest, I wanted to do a remix of Technic Beat too. I decided not to do it because it would be difficult to distinguish whether it is a remix for the original Namco music or a remix of Technic Beat. We like old Namco music and hope to approach it in a different way.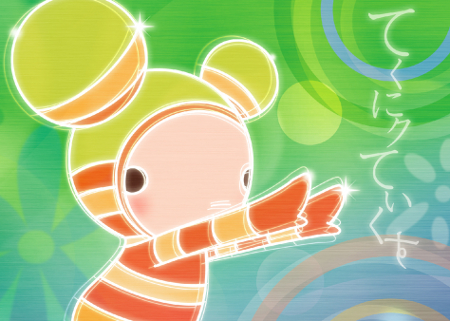 Chris: A turning point of your career came when you founded the music production company SuperSweep. Could you outline the aims of SuperSweep and how it functions? Who are the current members of the company and what do they bring to each of your productions?
Shinji Hosoe: I already had a plan to found a company when I was quitting Namco, yet because of budget reasons and other things, I stayed in Arika for the time being. I informed them that I would like to establish my own company when I joined them. We have some support from them for SuperSweep.
After launching SuperSweep, we fortunately started receiving more projects from big companies. Currently SuperSweep operates with a total of nine staff members: seven composers, a CD producer, and an office assistant. The composers don't just compose and arrange, but are also able to take care of the whole sound production, including creating sound effects. Of course I do all the tasks as well as they do.
Chris: While you're mostly known for electronic and rock compositions, one of your highest profile projects was the largely orchestral background music for Xenosaga Episode II. Do you regret that your music was never released for this project?
Shinji Hosoe: I regret it if I think about it, since the music was much criticized on this title. I guess I cannot help it? I had predicted many problems for changing composers on a series like Xenosaga anyway.
I mainly worked with the PlayStation 2's built-in sound chip, SPU, for this game. Since the rest of the sound was in the CD quality, I completely slashed the orchestral sound while creating the music, in order to avoid the difference in sound quality as much as possible. It was a desperate measure because the given amount of the memory for the music was very low. It is even playable on the PlayStation 1!
Speaking of which, I regret why the sound balance turned out to be like that and also the direction for certain parts. We could technically release the soundtrack if there are demands, but perhaps it is kind of like pouring oil on to the fire?
Chris: Your score to the PlayStation 3 epic Folklore was much more acclaimed. Was it challenging to create such a serious and cinematic orchestral soundtrack for this fantasy RPG? Could you elaborate on how you developed a dark and surreal tone to complement the visuals?
Shinji Hosoe: I like dark music. I like it better than showy music, so making it was pretty natural for me. But perhaps that's because showy music is wanted more often?
I don't find creating orchestral music is difficult. Rather, it is nice because I don't have to do the sound design. It is sort of easier making things when the instrumentation is somewhat determined.
Other than this game, we got an offer from a big company for this epic RPG game [Editor's Note: Probably Ambrosia Odyssey] that we worked on, but unfortunately the game did not make it to the release. It is a shame that we don't get to see it out.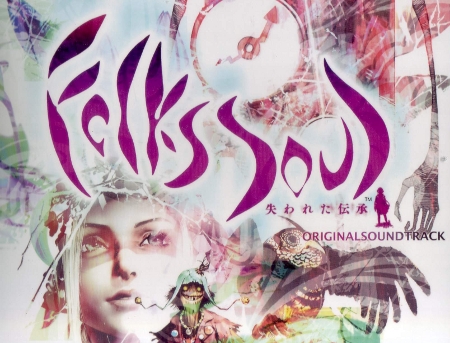 Chris: You also found the time to score a shooter for Cave, Ibara. What resulted in your decision to take a hard rock focus on this project instead of using electronic music like Manabu Namiki's scores? Would you be interested in seeing this score receive a multi-artist arranged album like other Cave productions in the future?
Shinji Hosoe: The basic direction of the music is usually given by the clients. Speaking of Ibara, rock was not the genre that I was particularly good at. I tried my best to follow their expectations, but I am not so sure if I succeeded personally. Maybe we should plan an arranged album if people like it.
Chris: While all these projects were major ones, SuperSweep is known for working on minor and indie projects too like Prodigy Racing and Impetuth. Could you discuss why this is and how common it is for SuperSweep to work on such projects? How does the production process compare on projects like these with game music production for bigger companies?
Shinji Hosoe: Most indie games that we were in charge of come from my old friends. We love to make games together if it sounds interesting and this indie approach is satisfying because we are able to engage in a true collaboration. As we are speaking, I am working on an indie game, and if things go well it will be delivered through XNA to the world. You could count on this one a lot because the programmers who are building it have absolutely amazing skills.
The difference between working on a major company and a indie company is the degree of collaboration. The current game music production stance gives us much less time to interact in the actual game building process, and often we have to stay out. So working with a indie company is much more fun. Except SuperSweep will go broke if we only do those projects!
Chris: We'd also enjoy your insight about SuperSweep's score for 3D Dot Game Heroes. Did you enjoy revisiting the times of retro music for this project? From both a musical and technological feel, how did you create a feel of the times of old?
Shinji Hosoe: That is a very difficult question. Like the previously mentioned situation, the clients' opinion weighs more. It is difficult to manage things when there is a gap between how we think the retro feel is and how they think the retro feel is. I personally wanted to give more of the retro feel to it. However, it is still really interesting to create music in an environment where you are using the NES or SCC like sounds and have a certain limit for what you can do.
The retro music I feel I did my best on is actually for something totally different — the additional Tita Pac piece for the air battle from Otomedius G on the Xbox 360.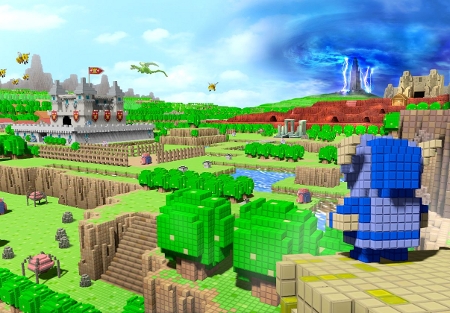 Chris: In addition to the game music production hub, SuperSweep is also a record label that has published well over 50 albums. How do you decide which original soundtracks, arranged albums, and original albums to produce and publish?
Shinji Hosoe: The majority of those albums are what the producers or we like. Of course, there are some that were decided for other reasons, though. SuperSweep is not a huge company, so we have minor but good album releases that big companies would not have. We cannot really do huge productions yet I would be happy if we could support the ones do not get as much attention.
Currently we are planning to release some retro, rare game soundtracks. Although it has been a while since the initial planning stage, they will be announced soon.
Chris: In terms of original scores, many were surprised that SuperSweep published or distributed soundtracks like Muramasa, Tekken 6, Space Invaders Extreme, and Let's Tap. Is there any hope that you might publish some other lost scores in the future, for example R: Racing Evolution, Mega Man Battle Network Transmission, and the Naruto: Clash of Ninja series?
Shinji Hosoe: Due to some licensing issues or certain circumstances of the companies, there are many titles that don't get released. There are some of which we would like to release, but it would not be possible if they have complex licensing problems. I wish they could lend us the rights if they are not going to reuse the them for like CD releases, though.
Chris: With respect to original albums, many were excited that you revived the Sampling Masters series with the 'Overdrive Hell' projects. Could you discuss what are the aims and inspirations behind these mini-albums? Is there any hope for more Sampling Masters projects in the future, for example a Julianna's Tsunashima Vol. 2?
Shinji Hosoe: There are plans to release a fully-fledged new Sampling Masters CD around May this year. I guess we could say the Overdrive Hell albums were a success, though, even though we made them just for the heck of it.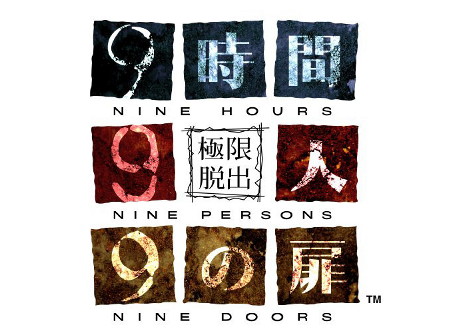 Chris: Finally, let's look to the future. What scores and albums are SuperSweep currently working on? Also, is there anything you'd like to say to your fans around the world. Many thanks for your time.
Shinji Hosoe: With respect to games, we cannot announce them because of the contract with the companies. The most recent game that we worked on is 9 Jikan 9 Nin 9 no Tobira (Nine Hours, Nine Persons, Nine Doors) developed by Chunsoft, but I am guessing this is a Japan-only title. As for CDs, we are thinking about releasing the new Sampling Masters CD that I mentioned and the soundtrack from XNA. I assume they will feature Techno-like music. Also we participated for this CG animationMeat or Die.
I am very happy for the fans always listening to our works. We will keep releasing good works without running out of the steam. Once in a while we may produce some unsatisfying works due to many circumstances, but I will always work hard to continue giving my best as a composer. Please look forward to the future projects. And please do not forget the greatness of game music. Thank you!
Many thanks to Shota Nakama for translating this interview, Bryan for coordinating this interview, and Don for his additional support. Look out for further coverage and interviews dedicated to SuperSweep in coming weeks.
Posted on January 5, 2010 by Chris Greening. Last modified on March 7, 2014.