Sergey Kosov (aka MmcM) Interview: Master of the ZX Spectrum
Sergey Kosov (aka MmcM) is one of the most legendary names in Russia's chiptune scene, but has received next to no exposure in the West. Released by the Ubikune label, his latest album is a compilation of chiptune tracks he wrote in the 90s, entitled The Blossoming Years. The album is also a tribute to the ZX Spectrum, a computer system which saw great popularity in Europe back in the day.
Continuing our coverage of Ubiktune's releases, this interview offers a rare insight into Sergey Kosov and his works for Western audiences. Along the way, we discuss his experiences writing for the ZX Spectrum, the meanings behind his albums The Blossoming Years and Detuned, and his uncertain future.
Interview  Credits
Interview Subject: Sergey Kosov
Interviewer: Oliver Jia
Editor: Chris Greening
Coordination: Dmitry Zhemkov, Oliver Jia
Interview Content
Oliver: Firstly, allow me to welcome you to our website! Tell us a bit about yourself. What got you into composing music?
Sergey Kosov: Good day! I was born and raised in the Russian city of Samara. I started to become involved in music during school, when I tried to teach myself acoustic guitar. Later on, I got a ZX Spectrum 128K complete with a Yamaha sound chip and started to try composing my own music using tracker software. Since 1996, I have written and programmed a lot of music on the ZX Spectrum.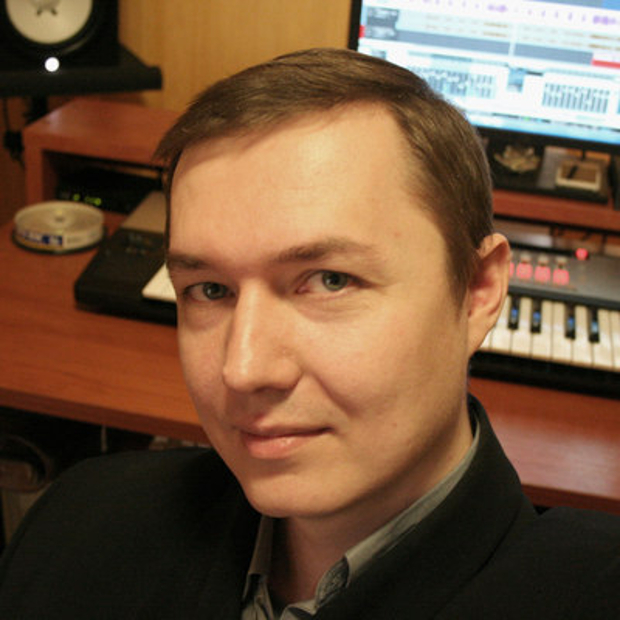 Oliver: How did you end up releasing your album, The Blossoming Years, through Ubiktune this year?
Sergey Kosov: In late 2014, my friend C-jeff (Dmitry Zhemkov, founder of Ubiktune) offered me to release an album through the Ubiktune label. The album was to feature a collection of my best tracks that I wrote at the height of my creativity between 1999 and 2001. With the support of guys from the demoscene, I had prepared the album by April this year.
Oliver: How did it feel to go back to your earlier compositions? Did you do anything to change the tracks in any way?
Sergey Kosov: Over time, my compositions have not lost relevance to me. I'm also happy to listen to them at times. With The Blossoming Years, I decided to make an album that would share my early works to the world. While I'm always looking to make changes, here I decided it would be best just to leave the original sound of those years. It will be nostalgic to many of those people who grew up with me then.
Oliver: Was the entire album created with the computer? How did you go about digging up the old compositions?
Sergey Kosov: The whole album was written on a ZX Spectrum computer. With the help of people in the demoscene, I copied the music from the original ZX Spectrum to PC utilities in WAV format. This made it easy to preserve the original sound. An executable version of the album was also made for an ultimate listening experience on a 48K ZX Spectrum with an AY8912 add-on or on any classic model with 128K of RAM.
Oliver: How much of a challenge was working within the limitations of the ZX Spectrum compared to other hardware?
Sergey Kosov: Having developing an understanding of the technical characteristics of the music processor, I became interested in how you can achieve a greater sound using the three available channels with the help of trackers. The main difficulty is understanding the programs themselves. As soon as you understand the basics, you can go to the next level.
Oliver: What are some of your favorite game soundtracks? In your opinion, how much has the industry changed?
Sergey Kosov: On the ZX Spectrum, I really liked the music of Tim Follin and David Whittaker. I often listen to the title tracks from Chronos, Treasure Island Dizzy, Firefly, Trantor, Savage, Storm Lord II, and many other ZX games. Game music has obviously changed a lot since then. With the development of computers and software, the resources are now sufficient to write your own virtual symphony from home. In terms of present-day soundtracks, I like the music for Rayman Origins a lot.
Oliver: Another of your recent works is Detuned, an album that seems to be very personal according to the description. What was the thought process involved when you were creating it?
Sergey Kosov: Around the time I wrote this album, I often helped musician Mr. Cloudy (Sergey Barkalov, a dub techno musician famous in Russia) by mastering his albums. After listening to his music, you will be able to see how he influenced my approach to Detuned. I'm always experimenting with new approaches to sound, but don't always release it to the public.
Oliver: What are you currently working on at the moment? Will your next project be retro-inspired or something different?
Sergey Kosov: Having recently lost my job, I've been attempting to make a career out of freelancing, but so far without success. My next album will probably be another set of my best tracks on the ZX Spectrum, but possibly with modern sound. Time will tell, as all my thoughts are currently directed to finding a stable living.
Oliver: We're sorry to hear that and hope the situation improves in the future.
Sergey Kosov: Thank you very much for taking the time to interview me. Thank you for your interest in my art. All the best!
Posted on May 29, 2015 by Oliver Jia. Last modified on November 6, 2015.