Press Start 2008 -Symphony of Games-: Tokyo, September 2008
Japan. The country of video games. The land of video game music concerts. Not quite. Although the idea of presenting video game music in the elegant ambience of classical concert halls originated there in the late 80s, peaking with the famous Orchestral Game Concerts from 1991-1996, it took more than ten years after that until Super Mario Bros. and Sonic the Hedgehog would gather in one concert series. Before that, symphonic video game music concerts still took place, but were limited to certain game series or game publishers.
As result, industry veteran Nobuo Uematsu and a few friends took the decision to launch Press Start -Symphony of Games to end that depression in 2006. Video game music would get presented annually in orchestral concerts comparable to the opening concerts of the Game Convention from 2003-2007. Fortunately without speeches by politicians. The idea became a huge success and the first two presentations enjoyed great popularity in Japan, so it was hardly a surprise when more than 2,000 tickets for the third Press Start concert sold out within just a few hours. Not a single seat at the Bunkamura Orchard Hall in Tokyo was empty when the Kanagawa Philharmonic played on September 13, 2008 under the direction of Taizo Takemoto. The conductor and ensemble had created video game music experiences before: Tour de Japan – Music from Final Fantasy for the Maestro and Shenmue recordings for the orchestra.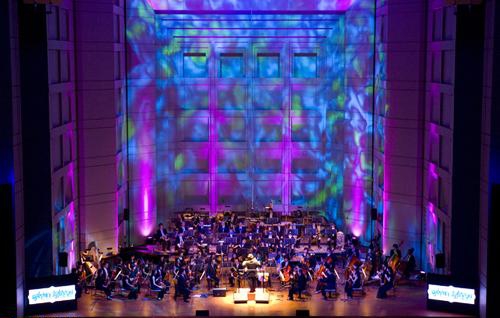 In addition to these ideal conditions, Press Start 2008 -Symphony of Games- showed off an impressive number of Japanese composers on stage. For example Nobuo Uematsu, Koji Kondo and Yasunori Mitsuda all offered anecdotes and gave an insight into their work. Even the father of all video game music concerts, Koichi Sugiyama, was in attendance. Together with the audience, he experienced the concert hall become a musical scene of a wild-west adventure within a few seconds when Wild Arms: 2nd Ignition provided the first title of the evening. Conventionally written for orchestra, guitar and, as a clever extra, a whistling trombonist, the medley was convincing live and marked an ideal start of the event.
Equally cinematic was Monster Hunter, which could not deny similarities to Hollywood blockbusters made by Steven Spielberg: Languishing strings, blaring brasses, and excellently balanced supporting instruments drew pictures of danger, struggle, and victory. There was no question that Press Start 2008 -Symphony of Games- contrived to bring different atmospheres to the concert hall in a perfectly coordinated and varied program. Hijackings from ancient Japan (Samurai Shodown) into the airy heights of the clouds (Baten Kaitos) to the courtroom (Ace Attorney) were included.
Slightly less impressive, however, were pieces such as Touch! Generations, a medley of music from games like Dr. Kawashima's Brain Training, Wii Fit, and Wii Sports. The arrangement was very simple and disappointed because of it being so unimaginative. Spelunker was also a part of the program, probably due to its popularity exclusively in Japan. While it caused a few laughs in the audience as it tried to re-create the gaming experience in a musical suite, it failed to offer enough substance to inspire people unfamiliar with the title. Both pieces were representative of one weakness of the concert; despite of having mostly exclusive arrangements, some of the medleys seemed half-baked, with sophisticated transitions between the pieces even completely missing. It would have been desirable to experiment a little bit more with the original music material.
It's likely that the musicians of the Kanagawa Philharmonic would have been in favour of that idea too. The quality of their performance was generally very good, also thanks to the sovereign Taizo Takemoto, who directed safely though the program with his light, lively conducting style. Equally stunning were the soloists at Press Start; from guitarist Haruo Kubota to singer Emiko Shiratori to shamisen player Takemi Hirohara, they all delivered top performances. The latter even presented a solo and gave a lesson in traditional Japanese instruments to an astonished audience.
At the end, the positive impressions weighted more heavily. Very much so. Judging the audience reactions — which were a little conservative due to cultural differences — the fans liked what was presented this year. From what has been said by the organizers, it is looking good for a Press Startconcert in 2009. It would be very desirable, because this year's concert offered a likeable evening of video game music that entertained wonderfully. More of this, please!
Special thanks to 4Players for allowing us to host a translation of this article.
Do you agree with the review and score? Let us know in the comments below!
Posted on September 13, 2008 by Thomas Boecker. Last modified on March 1, 2014.