PlanetSide 2 Developer Diary
Article Written by Composer Jeff Broadbent
PlanetSide 2 is an amazing game on an epic scale — it's been called "the most ambitious shooter ever" by PC Gamer Magazine. Needless to say, working as lead composer for the game was a thrilling experience. As long as I can remember I've loved music and video games, so the opportunity to compose for such a fantastic game is was a real treat. Let me walk you though that experience.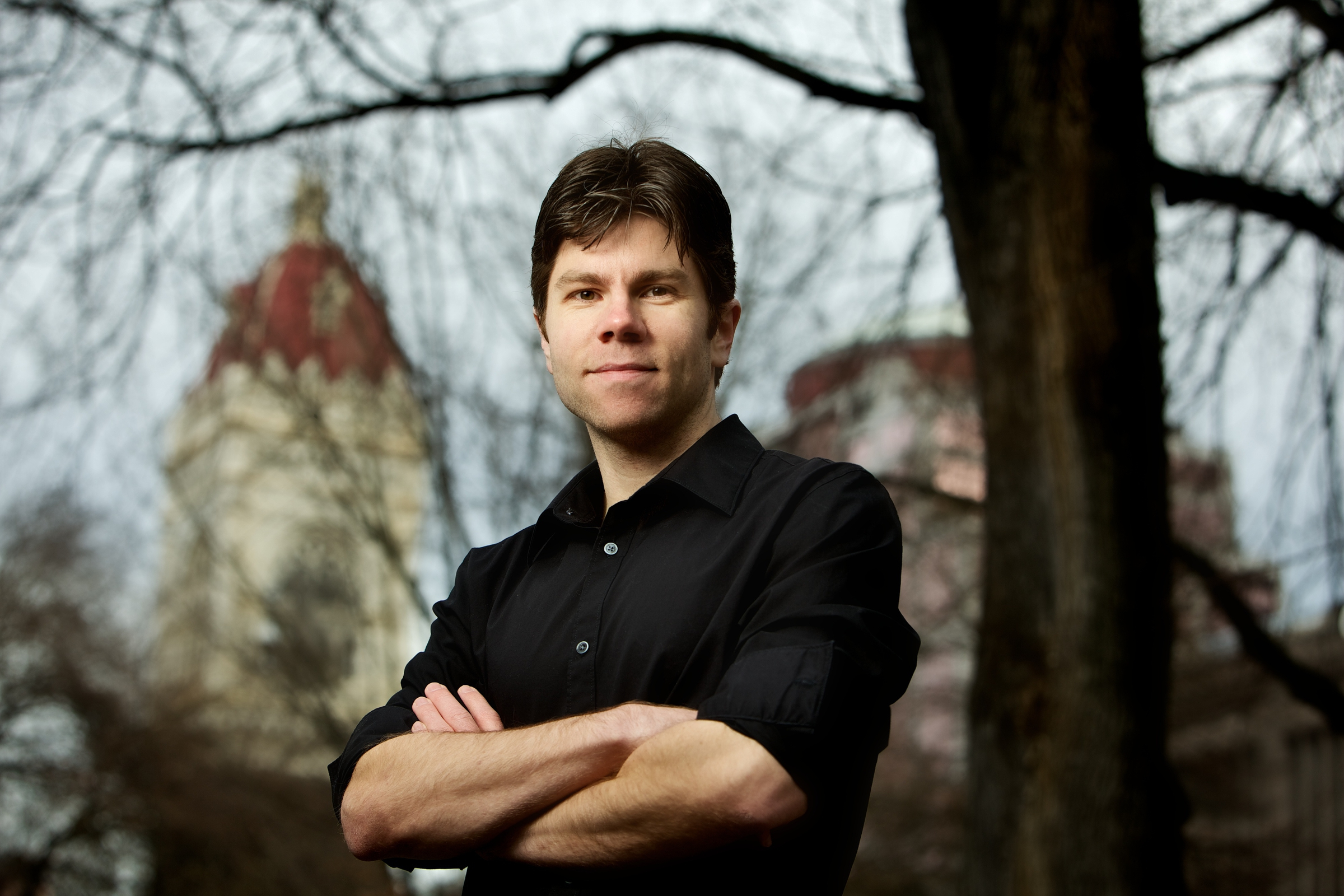 In the winter of 2011, I had the chance to meet Sony Online's audio director Rodney Gates. Rodney explained that he was working on PlanetSide 2, and they were soon to begin music production. I recalled the great reception of the original PlanetSide nearly a decade ago, and how it brought about great gaming experiences and memories for the gamers. I even recalled how some college buddies of mine loved the game! I was very excited for the opportunity to potentially work on this project.
Rodney asked me to send over samples of music in various styles, including epic orchestral, electronic, and rock/guitars. Fortunately, I've had the opportunity to work on many different projects and styles of music, so I had ample material to cover these bases. I also composed a couple of custom demo cues to supplement the material I sent over. After a few weeks, I was extremely pleased to hear I was selected to compose for PlanetSide 2!
Shortly thereafter, at the Game Developer Conference in San Francisco, I met with Rodney to discuss in depth how we might approach the game score. Rodney explained that the overall idea was to take the memorable themes and motifs from the original PlanetSide, composed by Don Ferrone, yet to re-work them specific to each faction. The dev team wanted to create a strong and unique sonic identity for each faction — unique musical voices for the Terran Republic, New Conglomerate, and Vanu Sovereignty. I thought this was a great idea, and in a sense, each faction would receive their own unique musical score. In addition to my work as a composer, I also work as a sound designer on occasion, so I'm very much interested in the use of different sonic colors and approaches to enhance the gameplay.
While PlanetSide 2 was in development, Sony Online had these fictional backstories on the game's website, which were basically story accounts of various members of each faction, outlining their struggles and motivations for fighting the war on Auraxis. Reading these helped give me insight into the psyche and history of each faction, and helped immerse me in the world of PlanetSide 2. I always like to approach projects in this way — to learn as much as I can about the game world, and from there allow musical ideas and sonic colors to begin to gel.
Terran Republic
The first faction I began composing for was the Terran Republic. The Terran Republic is an authoritarian faction that believes that strict order and discipline are critical to maintaining peace on Auraxis. The music needed to sound like a powerful war machine — it needed to convey discipline, power, and military might. Using a live orchestra, supplemented with epic percussion and choir in certain moments, was what we decided upon.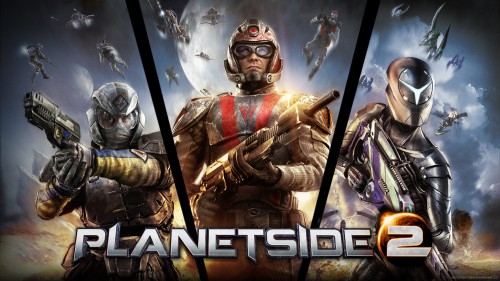 As a composer, I believe that composing melodic themes first is very helpful. It gives me a chance to give the music the unique voice it needs, and through exploration to find the appropriate mix of melody, harmony, rhythms, and orchestrations to support the emotional tone.
The developers indicated that for the faction main themes, they wanted me to use the original PlanetSidethemes as starting points, but to create unique new arrangements and orchestrations based on the sonic palettes we were using for each faction. For the Terran Republic main theme, the opening of the piece presents the original PlanetSide theme, by powerful French horns followed by brilliant trumpets. The second half of the piece has a secondary theme presented by horns and military percussion, and is later followed by a chorus of trumpets and high violin countermelody. This secondary theme was not found in the original PlanetSide, but was my thematic contribution to the Terran Republic.
While composing the combat music for the Terran Republic, I created a sense of rhythmic drive through the use of marcato strings, military percussion, sharp brass punctuation. and broad french horns, and also used moments of choir to heighten the emotional impact. I used some orchestral chimes and various large percussions such as taiko drums and orchestral toms, for further instrumental color and accent.
The travel music of the Terran Republic needed to convey emotions of solemnity and weight, yet also an epic, somewhat hopeful feel. While the Terran Republic is highly strict and authoritarian, they continue to believe their cause is just and true, so the music needed to reflect that. Using horn and trumpet solos conveyed a sense of valor and nobleness. Subtle string tremolos, low bass drum rolls, and trombone swells added a sense of tension to the music.
The Northwest Sinfonia, in the Bastyr Chapel of Seattle Washington, recorded the music for the Terran Republic with a 61-piece ensemble. The Northwest Sinfonia is renowned for recording many prominent film and video game scores, including Ghost Rider, Rambo (2008), Halo, the Stargate television series, and more. With five-story ceilings and an amazing acoustic space, it was a phenomenal venue to record at! The musicians were top-notch, and we were all extremely pleased with the result. While orchestral samples and virtual instruments have come a long way, nothing beats recording with a live orchestra — the great talents and skills of the musicians really shines through and gives life and depth to the music.
New Conglomerate
The second faction in PlanetSide 2, called the New Conglomerate, is a group of freedom fighters, soldiers battling against the oppressive rule of the Terran Republic. This faction is comprised of various dissidents, mercenaries, former military leaders, and other eclectic backgrounds. For the New Conglomerate, it was decided that a mix of rock music combined with some synthetic synth sounds would best represent their power and energy. Acoustic guitar and even a bit of fiddle were used in certain moments to convey a grass-roots feel and present the down-to-earth vigor of this faction.
The New Conglomerate main theme, like the other main themes in PlanetSide 2, is a variation of the faction's theme from the original PlanetSide. Composing this theme was a bit tricky — we went through a few variations before arriving at the final version. The final version of the theme has lead electric guitar carrying the melody, a rousing guitar solo after the main theme, and finally a reprise of the main theme with high fiddle joining the mix at the end.
The combat music for the New Conglomerate needed driving rhythms and impact, so a fair amount of distortion guitar and bass riffs are used to that effect. Hard-hitting drums as well as some synthetic percussion add to the intensity. Acoustic guitar and fiddle highlights help add a rustic and soulful quality to the music. The ambient travel music, on the other hand, is comprised of slower guitar strumming and melodies, along with some unique sound-design textures and delayed percussion to give depth and color to the soundscape.
We had the great opportunity of recording the New Conglomerate score live at Studio West in San Diego (actually fairly close to Sony Online's main offices!). The musicians were fantastic — a real treat of the experience was to have the guitars recorded by the legendary Mike Keneally, who toured with Frank Zappa playing both guitars and keyboards. Mike continues to tour regularly, and shortly after playing forPlanetSide 2, he toured with Joe Satriani playing keyboards. The energy and vitality these musicians contributed to the music was great, and the facilities at Studio West were top-notch.
Vanu Sovereignty
The third faction in PlanetSide 2 is the Vanu Sovereignty. The Vanu believe that only through technology and spirituality that Auraxis can be saved. They are a very advanced group of fighters, employing energy weapons, hover tanks, cloaking devices, and more.
Finding the right sound for the Vanu was great, as it allowed for a lot of experimentation. We decided that a mix of cutting-edge electronic music, combined with some exotic instruments such as duduk (a middle-eastern wind instrument), some exotic vocals, and various flutes, would best serve to convey their technology and ancient spirituality. I really enjoyed composing for the Vanu, as I like experimenting with different sounds and sonic approaches. I work on occasion as a sound designer, so I revel in the endless tweaking and modification of synthetic sounds and tones.
The main theme for the Vanu opens with rising synth tones and exotic vocals, and is followed by a presentation of the main melody by exotic flute and synth leads. Various synth pulses, kick drums and snares, and synth atmospheres form the sonic and rhythmic backing for the piece. Halfway through the main theme, duduk presents a secondary melody, and in the latter section of the piece, a reprise of the main theme appears with expanded sonic textures and synth rhythms.
Composing the combat and travel music for the Vanu Sovereignty was also very enjoyable. For the combat music, I combined hard synth pulses, modulating basses, and heavy kick drums and percussions to create a lot of energy and drive. The travel music was very ambient, as I wanted to convey a sense of reverence and purity to represent their spiritual quest. I wanted the player to feel the emotion behind their cause to draw them into the motivations which compel the Vanu to press forward in their fight for freedom.
Additional Music
In addition to the main themes and music tracks to accompany battles and travel, I composed a fair amount of musical "stingers". A stinger is a term used for a short musical cue (usually just a few seconds) that accompanies some kind of in-game event, such as capturing a base, leveling up, gaining a new skill, re-spawning, etc. In PlanetSide 2, a lot of stingers were composed, more than any other game I had worked on. In total, between the three factions, there were around 150 stingers composed! These ranged from capture cues for the various facilities (amp stations, biolabs, tech plants, etc), promotions, facility loss cues, region capture and loss cues, achievement cues, and more. In general stingers take a bit longer to compose (per minute) than regular in-game music tracks, as each stinger is only a few seconds, and has its own sound and orchestration.
The way we recorded these stingers in the recording sessions was to simply have a few bars of rest between each stinger, so the orchestra could play through several of them at a time without having to stop recording between each one. I think for a game like PlanetSide 2, where progressing your character through various levels and achievements is central, the musical stingers help add a lot of emotion and reward to the player. I enjoyed composing them, and they brought me back fond memories of hearing various Final Fantasy battle win stingers from the SNES days! =)
Main Title Theme
The PlanetSide 2 main title theme (and also credits music) is a montage, and basically goes through the 3 different main themes of each faction, yet also blends their musical approaches together. While the individual sonic approach for each faction's main theme was distinct (orchestra for the Terran Republic, guitars/bass/fiddle for the New Conglomerate, and electronic/ethnic for the Vanu Sovereignty), the PlanetSide 2 main title theme combines these sonic approaches into a hybrid style.
This made for an interesting live recording procedure, as the New Conglomerate portion of the made theme had both live rock elements and live orchestra. We produced this by recording the live orchestral elements for the main title theme first, and then overdubbed the rock elements at a later date during the Studio West recording session. I really like the way the final result turned out — the combination of the different musical styles, along with the power and depth of live orchestra for all the themes, made it very colorful and full of impact.
Conclusion
All in all, composing for PlanetSide 2 was a great experience. I had a lot of fun working with elements from the original PlanetSide, and also finding a unique new sonic voice for each of the three factions. Working with audio director Rodney Gates was great, as he was able to guide the music decisions and provide excellent feedback. Recording the live musicians was a real treat as well — I'm a musician myself, and I have a lot of appreciation for the talents and skills that these artists bring to the table.
At the end of the day, it's all about enhancing the video game through the emotion of music. I love video games and music, and to me the most satisfying thing is to create an aural canvas that can engage the player and add to the gaming experience. Now, log on to PlanetSide 2, join a faction, and engage battle in the most epic and massive first-person-shooter on the planet!
Posted on October 20, 2013 by Chris Greening. Last modified on April 26, 2014.