New compilation to feature music from classic Contra titles
EGG Music Records announced today that they are publishing Contra Chronicle Vol. 2 -The Beginning of Legends-. The three-disc, 157-track set will feature the soundtrack for the classic arcade and console versions of the Contra series. EGG Music have carefully recorded and mastered the music to maintain the authenticity of the original sound source.
Disc 1:
Contra (Arcade): 1.01~13
Contra (NES): 1.14~26
Contra (MSX2): 1.27~37
Contra (Game Boy): 1.38~50
Contra Force (NES): 1.51~63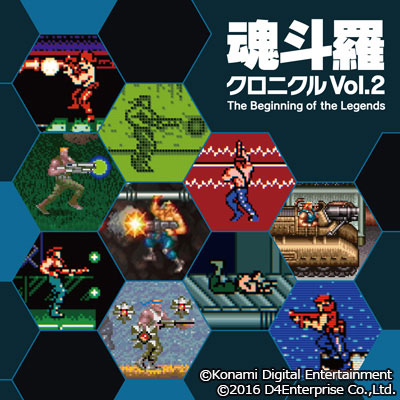 Disc 2:
Super Contra (Arcade): 2.01~20
Super Contra (Famicom): 2.21~34
Super Contra (Mobile FM Version): 2.35~48
Super Contra (Mobile PCM Version): 2.49~62
Disc 3:
Contra III: The Alien Wars (SNES): 3.01~13
Contra ReBirth (Wii): 3.14~28
Bonus Tracks: 3.29~32
Last year, EGG Music Records released the first volume of this album series, featuring music from Contra: Hard Corps, Contra 4, and Hard Corps: Uprising. Between these two releases, and Konami's own releases of the Neo Contra and Contra: Shattered Soldier soundtrack, nearly all music from the Contra franchise has now been officially released.
Posted on May 16, 2016 by Chris Greening. Last modified on May 16, 2016.