Jack Wall Interview: Changing Focus
The last few years have been filled with change for Jack Wall. He left behind Video Games Live after eight years directing and conducting the successful show. Now focusing exclusively on composing projects, he has since created the scores for the smash hit Call of Duty: Black Ops II and the upcoming Lost Planet 3.
In this special interview, Jack Wall discusses this shift in focus. He goes into detail on 'the making' of Black Ops II, discussing his thematically-driven approaches to depicting the game's characters, timelines, and settings, as well as what inspired the gigantic soundtrack release. The artist also gives a retrospective on the Mass Effect franchise, between discussing his works on the original album Quirky Orchestral and giving an exclusive taster of Lost Planet 3.
Interview Credits
Interview Subject: Jack Wall
Interviewer: Chris Greening, Simon Elchlepp, Harris Iqbal
Editor: Chris Greening
Coordination: Greg O'Connor-Read
Interview Content
Simon: Jack Wall, we appreciate the opportunity to talk to you today about your recent works. The last couple of years have been remarkable ones full of change for you. How is life treating you? Are you enjoying your career transition?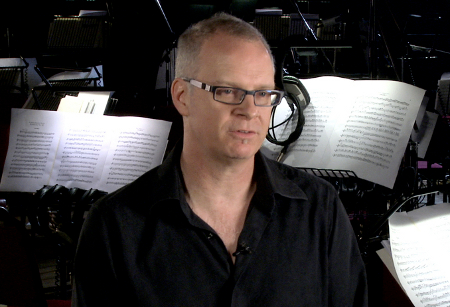 Jack Wall: Life is great, thanks for asking! I can honestly say that 2012 was a remarkable year creatively for me. I had the opportunity to score one of the world's most popular video games as well as the upcoming Lost Planet 3, which has a truly unique music style for a sci-fi game.
You're right though; there have been a lot of change leading up to 2012. I left Video Games Live in mid-2010 after eight wonderful years as co-creator, conductor, and music director. It was great to travel the world and an incredible experience conducting some truly great musicians, playing music for games from all over the world. Tommy is still keeping a pretty serious touring schedule with it though and I wish him all the best. Go see the show!
Simon: The soundtracks for Mass Effect and Mass Effect 2 emerged as best-sellers. What made you favour a retro-inspired approach instead of a more modern sound for these soundtracks? Were you aware of just how popular the electro-orchestral sound you developed on these scores would become?
Jack Wall: It was the game director, Casey Hudson, who inspired that musical direction. When you're starting something new like this, you really don't know how it will be received and you certainly don't know where it will take you. But I did know that Mass Effect was special. I also was thinking most of that first year on the first Mass Effect that Shepard was actually the avatar for Casey. Just a humorous side-note. 🙂
Simon: During your time as a game composer, you've inherited composing roles in quite a few franchises (e.g. Call of Duty, Lost Planet) yet you've also left others behind (e.g. Mass Effect, Myst). How do you feel about such shifts in composers? Do you value musical continuity or change more in franchises?
Jack Wall: I think in any creative endeavor it's really important to keep things fresh for everyone involved. These things (games) are not easy to make and they take a long time to create. Each person on the team really has to be motivated to do their best work. I worked with BioWare for five wonderful years on Jade Empire, Mass Effect, and Mass Effect 2. It was a great run with them and I hope we can find something else to work on in the future.
But one of the cool things about Mass Effect 3 is seeing all these other talented composers write in the style we created for the first couple of games, but seeing that next to a lot of the music I created for the first two games. They got that right in my opinion. They didn't bail on the sound and they did reuse some of the more important thematic material. But it was fresh.
When I wrote my score to Call of Duty: Black Ops II, it felt great! I'm really happy with the result and reviews have been terrific. And Lost Planet 3 got me back to my roots of producing songs. I think people will really dig what we did with that when it comes out this year.
In short, musical continuity is super important, and sometimes it's healthy to work on something new.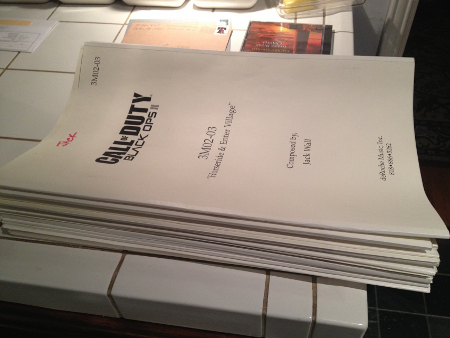 Simon: Following the precedent you set with the Myst series, your latest score for Call of Duty: Black Ops II is thematically striking, for example depicting the antagonist with a lullaby. Could you elaborate further on how the scenario inspired you?
Jack Wall: There was a great collaboration between the writer/director Dave Anthony, audio director Brian Tuey and myself. I think I was the fifth person in the world to see the script for the game. For Treyarch, they wanted so much to make the game they always wanted to make. The single player campaign was really important to them. And the great thing for me is that they considered music to be an important tool to aid them in telling their story. So, I went away to read the script and immerse myself in that story.
I immediately saw that Dave Anthony and David Goyer wanted to create a multi-faceted antagonist in Raul Menendez. There was this one scene where Menendez is sitting on his sick sister's bed comforting her. The first thing that came to my mind was that he must be singing a lullaby to her. I researched Nicaraguan lullabies and found "Niño Precioso". It felt like the perfect place to start. Of course, it needed an update for the score. I play a pretty good acoustic/classical guitar and so I mocked up the arrangement and sang the lyrics, and sent that off as the first piece I wrote for Black Ops II. I imagine that sounds crazy! But Dave and Brian loved it and were really motivated to figure out how we could use it in the game.
The next great thing that happened was that just after Dave cast Kamar de los Reyes as Menendez, Kamar came over to my studio the following week and sang the song. I was blown away that that worked out and Dave told me it was way beyond his expectations. Dave then crafted a few scenes that used the song and I was so pleased at the way that all worked out. And I really want to thank you guys for nominating Kamar as "Best Soloist" this year. That was so gratifying for me to see him get some recognition for that.
Simon: There are several other central themes for the score. What do you think strong melodies bring to a soundtrack such as this?
Jack Wall: Regarding melody, I think it's the composer's job to find the right moments for melody. If a score doesn't have a strong melody, it's just not doing all that it could to do good things to the emotions. Our job as composers is only to elicit the proper emotions and help the story arcs become fully realized. For Black Ops II, "Niño Precioso" was used as Raul Menendez' theme. A couple of days before leaving for my second trip to record at Abbey Road I decided that I wanted to create a sort of Michel Legrand inspired version of "Niño Precioso" with orchestra for the credits. I recorded the orchestra in London, then harp and vocals in LA. I'm really proud of that one.
The Hero's Theme happened sort of by mistake. The first level I wrote for was Los Angeles in 2025. There's a moment when you are in big trouble and Anderson comes in her plane and saves your ass. I sort of abandoned the musical brief for a second (supposed to be futuristic electronics with orchestra) and wrote this purely orchestral heroic theme. It just sort of came out while watching the video of her doing this. I turned it in thinking that it was a bit derivative and too far from the brief, but it turned out that everyone loved it. So I ended up using that at key moments in the game when anything good happens for the Black Ops guys. It's the "happy ending" in fact.
DeFalco's Theme is one I'm pretty happy with. He's that guy who exists in just about every Bond film ever made… the weird albino guy with the accent, played perfectly by Julian Sands. The song is a bit bizarre and has a floaty, ethereal quality to it that seems to match DeFalco's wistful way that he goes about his cruelty.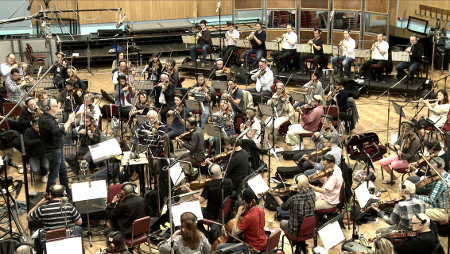 Simon: Black Ops II's narrative is somewhat unusual, in that it's split across two timelines that are several decades apart and features multiple locations. How did you choose to address this divide through your music while creating a coherent score, or did your inspiration for the music flow from other sources, such as the games' locations?
Jack Wall: In a basic sense, the '80s were more acoustic / orchestral and, in 2025, it was more electronic / futuristic while still using some orchestra but written a bit "cleaner" or "dirtier" depending on the level. Also, because the development catch-phrase was "a few change the world", I wanted to use solo instruments and solo vocals throughout as a type of glue along with the thematic material. Additionally, I wanted to bring local musical flavors into the score without being too annoying about it. That can happen if the transitions are too abrupt between styles of music. But what we did seemed to work well.
In terms of specific locations, Azam Ali was my muse for Pakistan. That level worked beautifully. I could listen to her all day. Afghanistan in the '80s ("Desert Ride", "Sand and Camels", "Suicide Ride") was a fun level also. Having 86 orchestral musicians playing my version of a Lawrence of Arabia-type piece was really fun. Again the collaboration with Treyarch was paramount in this level. They heard this piece and they decided that the horse ride should just be a joyride without much dialogue or exposition — just so the music could do its thing. They removed several lines of dialogue to make that happen. Nice of them, right?
Simon: The Call of Duty series, in particular, has undergone numerous shifts in style and composer over the last decade. How familiar were you with the Call of Duty scores when you started composing forBlack Ops II and were you given any direction by the game's producers how your music should tie in with previous Call of Duty soundtracks, including the original Black Ops?
Jack Wall: At this point, the Call of Duty name really denotes a style of the single player campaign with a very strong multiplayer component (I did no music for Zombies). Activision has been very smart about breaking it up into multiple series where each series, at this point, has its own personality. That allows the musical direction to change somewhat from game to game. I was told I got hired because my audition piece didn't sound like what you would think they wanted me to do — that is, sound like a Call of Duty game. This was to be the ninth iteration of the franchise and they wanted to do something different. Melody was important. Themes were important. The single player campaign was important and they wanted to do as much updating of every aspect of the game as possible.
But before I got started I did a deep study of the Black Ops score and returned to the scores of some of the other games I'd played (Modern Warfare 2 and the first three). There were a lot of great elements in the Black Ops music. I really liked how dark it was. I liked the guitar work — it wasn't trite or overused, but when it was there, it gave the combat a great energy. So I didn't want to fix what wasn't broken.
However, there wasn't a lot of melody to draw on. There were certain tracks like "Pentagon" that were just incredible. "Anvil" was the one hook we returned to when Reznov showed up in the Afghan desert. I took that piece from the Black Ops soundtrack and layered some guitar on it to match the energy on screen ("Anvil Again"). That was a nice little nod to the first Black Ops score but I believe the only literal one.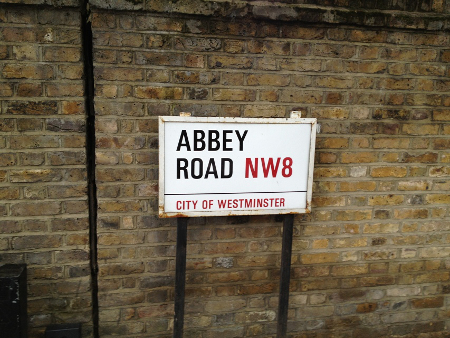 Simon: Call of Duty: Black Ops II's score album is one of the longest score albums for a mainstream Western game yet. To what extent did you consider the stand-alone experience when scoring this title? Were you personally involved in compiling the soundtrack release and, if so, what factors were important to you?
Jack Wall: I think it's important to find moments where the music can shine and just be the only thing you hear. When I first saw the Pakistan level, there was something like six minutes where all you were doing was surveilling Menendez' men at Anthem. Rare for a Call of Duty game! I had this idea to do something groovy and exotic that you could just listen to on its own ("Anthem"). The first part of the Colossus level is like that too ("Rare Earth Elements"). You are on a giant floating city and you are there disguised as maintenance men. There's tension, but the sound design is sort of quiet… A good time for music to do its thing. That's really the only time I factor in the stand-alone experience of a soundtrack.
Yeah, the score is huge. Two factors weighed into that decision: Firstly, when I did the soundtrack toMass Effect 2, there were a lot of complaints that we didn't include every track in the game. Far from it. My thought prior to this was to release only the best stand-alone tracks. So we ended up releasing two more EPs of music called, Atmospheric and Combat. I think we finally did release just about every possible cue!
Secondly, for Black Ops II, we were only going to release a digital version of the soundtrack — no CDs. So why not release everything? Well, we decided to be original and put it all out there at once. I'm glad we did… why not? A few weeks after the release of the game, I was driving from LA to San Francisco to go see Philip Glass' seminal work, Einstein on the Beach which is 4 hours 15 minutes with no intermission. I loved it. On the way home I listened to the whole Black Ops II soundtrack — all 2 hours and 30 minutes. It felt good to hear it like that.
One comment I should make: I'm sorry but it's really not my doing, not Treyarch's, not Activision's that Skrillex's song is not on the album. Just sayin'…
Simon: Also recently, you created the original music album Quirky Orchestral. Could you share a little about the concept and style of this album? Was it refreshing to work on something lighter after all the drama of Mass Effect and Call of Duty?
Jack Wall: Yes!!!! Though I did it before Call of Duty. I had just left Video Games Live and it was sort of a reentry back to daily composing. It was a great palette cleanser. The lightness of it was fun. I really enjoyed that. I remember the looks on the players' faces. They seemed to enjoy it as well. Just a happy little album.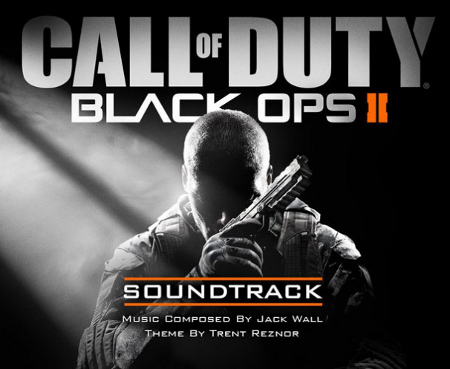 Simon: At the start of next year, your score for Lost Planet 3 will be released. Can you give some teasers on what to expect from the score? How will you portray the lonely icy world of E.D.N. III with your score?
Jack Wall: About half of the score is what I would call "Alien Twang". Jim Peyton is the main character. He's a miner very far from home. He has a wife and kid waiting for him. His wife sent him a mix tape (of course in iPod form) and that's what he listens to when he's doing his thing — he's a country boy after all! It completely changes the feel of the game — very different. I can't wait for people to experience that.
The other half is moody, or scary or very raw when you're fighting the giant akrid. One type of akrid hunts in packs, like wolves. They have their own musical signature. I guess that's probably all I should say for the moment.
Simon: Many thanks for your time, Jack Wall. Is there anything else you'd like to say about your life and works? Do you have a message to your fans around the world?
Jack Wall: Thanks so much for listening. Keep on playin'!
Posted on February 1, 2013 by Simon Elchlepp. Last modified on March 1, 2014.