Final Symphony II concert coming to London in September
On September 12, the London Symphony Orchestra will perform the symphonic game music concert Final Symphony II at the Barbican Centre, London. Produced by Thomas Böcker of Merregnon Studios, the concert follow-up on the sell-out world tour and hit album, Final Symphony, with an exclusive, all-new programme of Final Fantasy music.
The concert will feature some of Nobuo Uematsu's most treasured themes from Final Fantasy V, VIII and IX, presented in ambitious symphonic adaptations by returning arrangers Jonne Valtonen and Roger Wanamo. In addition, it will also feature a new suite of music from Final Fantasy XIII, arranged by original composer Masashi Hamauzu himself. Uematsu himself will be in attendance and is set to take part in a ticketed, pre-concert talk.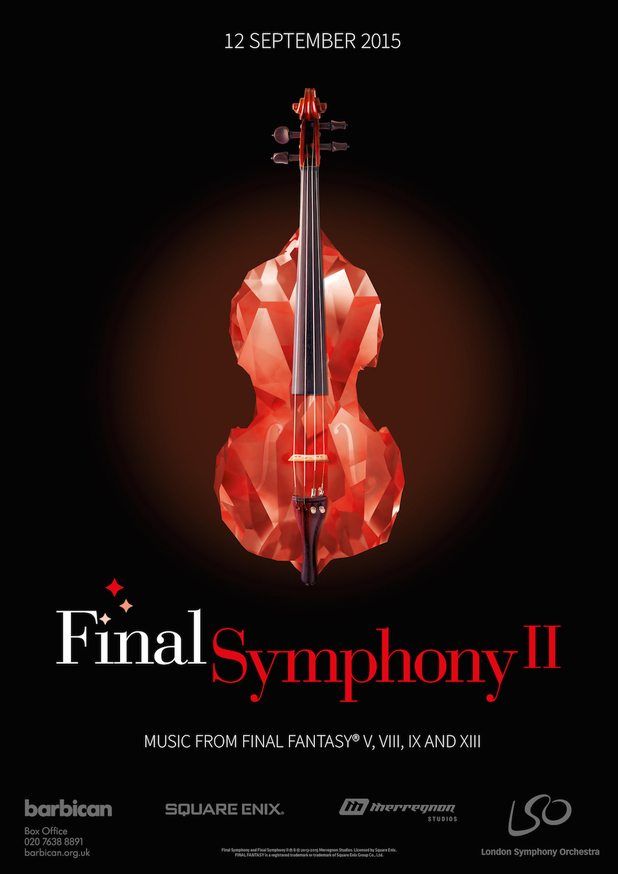 "It's wonderful that we're able to return to the Barbican with such an exciting new programme of music," said Final Symphony II producer, Thomas Böcker. "Performing the original Final Symphony with the LSO back in 2013 was a musical dream come true, and recording the album at Abbey Road Studios was the icing on the cake. The arrangers, Jonne Valtonen, Roger Wanamo and Masashi Hamauzu have been working very hard on something extremely special and we think it's exactly what fans of Final Fantasy have been waiting for!"
Final Symphony II marks the third concert collaboration between the London Symphony Orchestra and Merregnon Studios, the original Final Symphony having been the orchestra's first ever live performance of video game music. Tickets for Final Symphony II go on sale tomorrow, March 20th, from 10am, and range in price from £30 to £65. Tickets for the pre-concert talk by Nobuo Uematsu will also go on sale at the same time, priced at £10 each. To book tickets please visit the official concert site here.
Posted on March 19, 2015 by Chris Greening. Last modified on March 19, 2015.