Shinzoku Kaigi Vol. 5: Tokyo, October 2010
On October 30, 2010, Emi Evans and I were invited to Shinzoku Kaigi Vol. 5, a Dog Ear Records event held at Shibuya Duo Music Exchange, a venue in the heart of Shibuya in Tokyo. The night had a bunch of large acts — certainly some of the most ambitious to date, from what I gathered. It was my first time attending such an event, but it was a truly exhilarating experience.
The event opened with the most adorable remote controlled robotic dog, presumably the mascot of Dog Ear Records, given its color. It danced to techno music, did backflips, was programmed to talk with a vocaloid program, and even bowed to the crowd to express its thanks. It definitely brought a smile to my face and really set the mood for the entire event. The opening act was by someone named Simonger. He did three songs with vocals he sung himself, and all the music was programmed on the Nintendo DS' Korg DS-10 and Korg M-01 programs. The highlight of this event was when he did a song where he repeated melodic phrases using a variety of instruments, including his voice, a kazoo, and even a otamatone, the most adorable instrument in the shape of a musical note.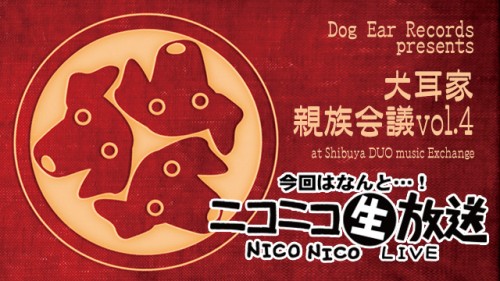 After the odd, yet enticing, opening act by Simonger, Hiroyuki Nakayama took to the stage to perform some music from the recent Pia-Com II album. The first arrangement he played was "Stage 1 BGM" from Ganbare Goemon! Karakuri Douchuu. It was a very upbeat theme with a distinct Asian sound despite the piano being the sole instrument. It was a very good theme, but also my least favorite of the four themes played from that album. The second theme arrangement was one of my favorites of the night. It was "Start Demo ~ 1st & 2nd BGM" from Ghosts n' Goblins. It was a fine interpretation of the original and definitely had some classical influence in it. Nakayama's last theme was the famous "Elia, Maiden of Water" from Final Fantasy III. This was a beautiful rendition of the original with a very delicate sound. It was such a moving theme and probably my favorite rendition of the theme ever.
To everyone's surprise, since he wasn't announced for the show, was the appearance of Masato Kouda. He played the final Pia-Com II piece of the evening, the fan favorite from Castlevania, "Vampire Killer," composed by Kinuyo Yamashita. Kouda's rendition was really jazzy and really did the original justice. Unlike Nakagawa though, he performed the entire piece without sheet music. It was a fantastic addition to the concert and is probably my favorite of the album.
Following the Pia-Com II performances, the piano stayed on stage for a very special guest. Benyamin Nuss, whose performances at Symphonic Fantasies and Symphonic Legends left a strong impression with game music fans, traveled to Tokyo around the same time I did. This was, in part, to perform as a special guest at the Dog Ear Records event. Although I was unable to attend, he also performed at Distant Worlds, the first concert set held in Tokyo, and will be part of its feature CD-DVD release next year.
He performed a few themes from his recent album Benyamin Nuss Plays Piano. The Japanese version of this album had come out earlier that week in Japan, so this performance was partly intended to showcase the album for those who hadn't heard it before or weren't sure what to express. Although I won't discuss them in detail, since you can find them on Chris' review, I thought he played beautifully. Out of his album, he performed "Terra's Theme" from Final Fantasy VI, "A Mighty Enemy Appears" from Lost Odyssey, "My Tears and the Sky" from Blue Dragon, and if I'm not mistaken, "Nobuo's Theme," a song he composed in dedication to Nobuo Uematsu. There were a lot of people lining up for his autograph after the show, either with the CD or with the published sheet music.
Between each act was dialogue and question and answer sessions between the MC and the acts that had just performed on stage, as well as some commentary by Nobuo Uematsu. In addition, after Benyamin's performance, there was an act lead by a self-help guru. He would ask certain audience members about problems they may be facing in their life and, after hearing their stories, would give them advice on how to proceed. I'm not sure if it was necessary, since the event was mostly focused on music. I was quite bored here, but it could also be because I don't speak Japanese.
Following the self-help guru's time on stage, it was finally the time everyone was waiting for — the performance of Nobuo Uematsu's new band, The Earthbound Papas. The cast was quite easy to remember, since it featured various familiar names. the rest of the cast was quite easy to remember. Among them were three former members of The Black Mages: Nobuo Uematsu, of course, Nobuo Uematsu on organ, Michio Okamiya on electric guitar, and Arata Hanyuda on drums. They were supported by Shadow Hearts' Yoshitaka Hirota on bass and Guin Saga arranger Tsutomu Narita on keyboards.
Unlike most Final Fantasy related events, the first two themes were quite surprising to hear. With a small vocal ensemble on stage, the band opened up with a rock rendition of "Liberi Fatali" from Final Fantasy VIII. I thought the vocal performance, for the most part, was a bit on the weak side, but I really did enjoy the rock nature of the arrangement. From there, it transitioned to "One Winged Angel: Advent" from Final Fantasy VII: Advent Children. Although the chorus could have been better once again, I really liked the energy that Okamiya brought to the stage during his solo. There wasn't anything too fancy about the arrangements by Tsutomu Narita — who also arranged all but the last two tracks on the set — but it was still quite enjoyable.
The next two themes were much calmer in nature. The first, "Boku no Machi ga Mori ni Narumade…," which roughly translates to "Until my town becomes a forest…," was something I've never heard before. It was absolutely beautiful, with a very moving melody. This theme commemorates a local ecology project, Jiyugaoka Eco Challenge, in the district where Dog Ear Records' offices are located. There there was a limited press containing this performance and a piano version given as a prize for the October 11th event they performed at. The next theme on the list was quite surprising to hear, actually. "Grand Opening – The Thread of Fate" from Guin Saga was absolutely stunning as well. This one featured some synthesized flute played by Uematsu, a short but sweet bass solo by Hirota, and of course some keyboard and guitar solos from Narita and Okamiya, respectively.
The last two themes of the night weren't arranged at all, but played by ear. I must say, the band did a pretty great job. The first was a cover of "Highway Star" by Deep Purple. Sung by one of the male vocalists who performed on "Liberi Fatali" and "One Winged Angel," he managed to capture the energy of Ian Gillan. It was quite fun and the crowd was really excited. The second theme also originally featured Ian Gillan, but was composed by Nobuo Uematsu. Of course, that can only mean "Eternity" from Blue Dragon. It was another fantastic performance, and although it was all improvised, it was really well done! I wonder if this will feature the arrangement treatment on The Earthbound Papas debut album, due out some time in 2011. Okamiya and Narita really rocked their respective instruments!
Well, that was the event and it was truly a blast. Simonger was an eclectic and interesting treat, hearing the Pia-Com II album partly performed was truly an awesome experience, and, of course, having not been able to travel to Germany this year, it was nice to see Benyamin Nuss offer a little preview of his album. Of course, many people probably went to hear The Earthbound Papas and it truly was a blast. They didn't have a lot of time to rehearse, I was told, but overall it was a good show! I look forward to the debut album and hope to see a lot of themes that weren't at the concert — or at the very least, stuff that hasn't been performed before. Look out for more Dog Ear Records events in the future. Thank you for the invitation Nobuo Uematsu san and Hiroki Ogawa san!
Do you agree with the review and score? Let us know in the comments below!
Posted on October 30, 2010 by Don Kotowski. Last modified on March 1, 2014.