David Housden Interview: Fully Integrated Video Game Scores
There are many examples in the indie sector of games that have fully integrated video game scores into the overall experience. One clear example of this is within the Bafta-nominated game Thomas Was Alone, by developer Mike Bithell. The composer David Housden's score for the title is as important to the game as the narration by the flamboyant broadcaster Danny Wallace. It humanizes what is essentially a bunch of 2-D shapes, encouraging an empathetic response from the player with its uplifting progressions and instrumentation.
It comes as no surprise then that Housden was also approached to work on the hotly-anticipated follow-up to Thomas Was Alone, Volume, a modern retelling of the Robin Hood legend. When given the opportunity, I leapt at the chance to put my questions to him. Here's how it went.
Interview Credits
Interview Subject: David Housden
Interviewer: Jack Yarwood
Editor: Jack Yarwood, Chris Greening
Coordination: Jack Yarwood
Interview Content
Jack: I happened to stumble across some footage of you playing in a band. When did you make the switch from playing with groups as a guitarist to working with synths and strings as a composer?
David Housden: I made the decision to switch as soon as I graduated from university. I'd been doing the band for three years and felt as though I'd taken it as far as it would go. Also being outside of the comfort of education, the pressure was on to start thinking about careers and I saw a glimmer of hope in composing.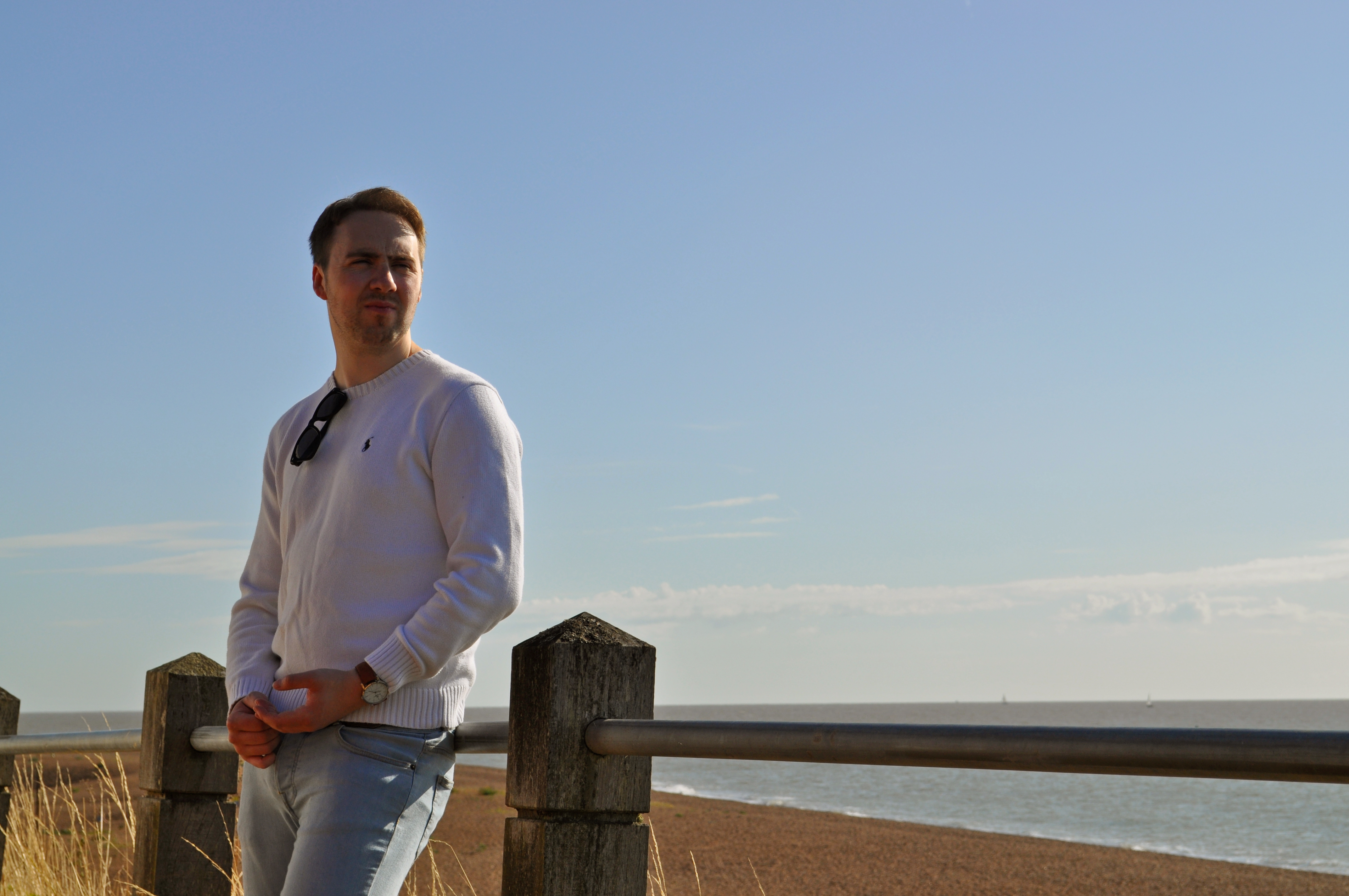 Jack: How did you first meet Mike Bithell (the creator of Thomas Was Alone, Volume)?
David Housden: We were actually put in touch by a colleague of his who I met through a show I was playing with my band. Looking back, it's quite funny how one thing led to the next, but it was a moment of complete chance.
Jack: Alongside the narration by Danny Wallace, the music in Thomas Was Alone played a key role in building an emotional attachment between the player and the simple characters. Were you surprised by just how effective this was in the game?
David Housden: I was to be honest. I knew I had to try and bring these shapes to life and I put an incredible amount of myself into that score, but I never would have predicted the resonance it had with so many people. I count that among the most pleasant surprises you can get in this industry!
Jack: What were your influences for the score? Personally, I can hear some Brian Eno, Four Tet, and post-rock in there for sure.
David Housden: Well heard. The entire score is essentially an homage to post-rock, with my own personal tastes and influences in there. While it may not be immediately apparent due to the score being largely orchestral, my biggest influences were bands like Hammock and Explosions in the Sky. I'd try to create arrangements as isolating, powerful and emotional as those bands do, but with my own choice of instrumentation. Each piece would obviously have to be written with the corresponding moments in the story in mind, but in terms of emotional impact that's what I was aiming for on the project.
Jack: How soon after working on Thomas Was Alone were you approached to work on Mike Bithell's follow-up Volume? How did he pitch it to you?
David Housden: Too soon! We were at the BAFTA's as we'd been nominated for a few awards that year and he mentioned it to me across the table before the ceremony. I was astonished on the night we were supposed to be receiving recognition for the culmination of the past year's efforts, he was already concentrating on the next project!
Jack: Was there any temptation to revisit older media to see how composers have handled the music of Robin Hood in the past?
David Housden: Mike actually included the Robin Hood: Prince of Thieves theme in a reference playlist, right at the start of the project. The end product is often unrecognisable from the original direction we discussed, but the Hollywood concept of cinematic medieval music was certainly on the periphery of our thinking. I quite quickly decided to scrap it and take my own route with it though!
Jack: When was the decision made to add vocals to the score? Did you already have Riva Taylor in mind?
David Housden: I didn't have Riva specifically in mind however I did write the score knowing that I'd need a strong female vocalist to perform on it. I saw her touring with Video Games Live last year and was blown away by her performance of the Assassin's Creed theme. I saw her sing again at the opening ceremony of this year's BAFTA's and decided to send her a cheeky e-mail on the off chance she'd be interested in collaborating together. Fortunately she got back immediately and we arranged to go for a drink to discuss the particulars. Two days later we were in the studio! It was the smoothest process imaginable and she was a joy to work with.
Jack: Volume is a much larger game than Thomas Was Alone, requiring a more diverse array of sounds. How did you prepare for this challenge?
David Housden: I knew I had to raise my game from my previous work, so I put a lot of effort into my own personal development as a musician during the time between projects. I took some further study courses in various areas of production and started taking piano lessons and studying theory for the first time in forever. I wanted to make sure that the new score was superior in every conceivable way to anything that had come before.
Jack: Volume signals a move towards a more grandiose style. Was this a conscious decision on your part?
David Housden: Yes, absolutely. As I mentioned previously, everything about the game had risen in scale and I felt that it was paramount the music followed suit in this sense. It's a much more ambitious and complex title, so I worked hard to make sure that the music was no exception there.
Jack: You're attached to score The Hit Squad, an 8-bit comedy movie. How did you become involved with this project? It seems to be a massive departure from what you've previously worked on.
David Housden: I met the director on Twitter; I think he played Thomas Was Alone and enjoyed the music, so gave me a follow. We started chatting after that and he's a musician himself so I had a listen to some of his work and really enjoyed it. He basically made this film because he'd always wanted to write the music for a film! After writing the entire soundtrack himself, he decided that he wanted a score as well to give it a more cinematic quality and help link the scenes between his songs, which is when he reached out to me. It's been a big departure from anything I've done before but it was so much fun to work on. I can't wait to see the finished product!
Jack: Finally, what advice would you give to anyone hoping to get involved in video game development as a musician/composer?
David Housden: The best advice I can give is to hone your craft and find your voice as a songwriter. Everyone has access to amazing sounding equipment and sounds at an affordable price point now; the way to stand out is going to be through your musicianship. Secondly, relationships are absolutely key in this industry. You need to be building up a portfolio of work with student and independent projects, as well as attending industry events and creating a good online presence for yourself.
Lastly, perseverance is key. I genuinely believe that if we take it for granted that you're writing incredibly well-produced, compelling music which competes and stands up in today's market — the only difference between those who make it and those who don't is that some have stuck around and worked at it for long enough to find their luck. Everyone needs that break at some point. It may come within a year, or you may have to work at it for a decade until it happens. However the one way you can guarantee it won't happen at all is by giving up. Work hard and good things will come!
Posted on April 18, 2016 by Jack Yarwood. Last modified on April 17, 2016.