Benyamin Nuss Interview: First Solo Album of the Pianist
On September 17, accomplished classical pianist Benyamin Nuss will release his debut album for the record label Universal Music (Deutsche Grammophon/DECCA). Entitled Benyamin Nuss Plays Uematsu, the album will commemorate Final Fantasy composer Nobuo Uematsu's music with a wide range of creative and evocative piano arrangements. The album promises to demonstrate Nuss' virtuoso technique and will transfer his emotional connection with the music to the audience.
To coincide with the album release, Benyamin Nuss will perform the scores in a major concert tour. Fully supported by Universal Music, the three month tour will include 20 stops in Germany and Luxembourg. The venues selected are beautiful, major classic concert halls and include the Gewandhaus Leipzig, Berlin Philharmonic Hall, Frankfurt Alte Oper and Duesseldorf Tonhalle. Benyamin Nuss Plays Uematsu will be the first time game music has ever been commemorated by a major classical label and promises to be the greatest game music piano production ever released.
Shortly before the album announcement, pianist Benyamin Nuss got together with Chris to discuss the project. He initially gives a retrospective of his experiences as a pianist so far before revealing further details about what to expect from Benyamin Nuss Plays Uematsu. It's clear that the young pianist is at least as excited as we are about this major production.
Interview Credits
Interview Subject: Benyamin Nuss
Interviewer: Chris Greening
Editor: Chris Greening
Coordination: Thomas Boecker, Thilo Berg
Interview Content
Chris: Benyamin Nuss, it's a tremendous honour to be able to speak to you again following our meetings at Symphonic Fantasies. Before discussing your newly announced album, could you please introduce yourself to readers and tell us a little about your life so far? What led you to ultimately becoming a concert pianist?
Benyamin Nuss: I have always wanted to be a professional musician and have been listening to many classical and jazz recordings since I was very young. I started playing the piano at a very early age and had already tried playing different melodies I heard on recordings. At the age of six, I began taking lessons at a music school and continued to learn and practise from there.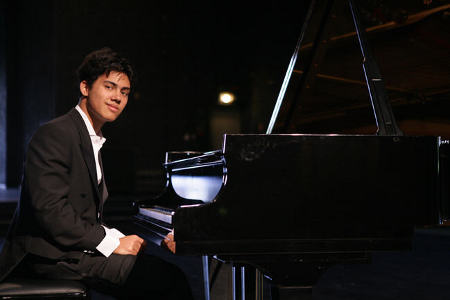 Chris: You have been described as an 'admirer of great pianists'. Could you discuss which pianists you are especially influenced by and aspire to?
Benyamin Nuss: There are many pianists which influence me a lot. Classical Pianists like Sviatoslav Richter, Vladimir Horowitz, Ivo Pogoerlich, and Evgeny Kissin, inspire me because they have an unbelievable sense for interpretation and a fantastic technique. Also Jazz greats like Herbie Hancock, Chick Corea, Errol Garner, Art Tatum, and Bill Evans have a great influence on me because they are able to create fantastic music very spontaneosly and have so many ideas. But actually I try to listen to as much music as I can, because you can learn from all kinds of music — jazz, classical, rock and pop.
Chris: Despite your young age, you have won numerous eminent awards and performed at many major concerts. Could you discuss your career highlights thus far? In particular, could you discuss your recent experiences recording Ravel's Piano Concerto in G with the WDR Radio Orchestra?
Benyamin Nuss: I must say that the beginning of this year and last year were really thrilling for me because there was so much variety. Yes, the Ravel Piano Concerto was memorable and, of course,Symphonic Fantasies was one of the big highlights of my career. At Symphonic Fantasies, the atmosphere was insane, the audience were so concentrated and enthusiastic, and the arrangements of Jonne were wonderful. Playing with the WDR Radio Orchestra is always a lot of fun because there are so many nice people and they are all fantastic musicians.
Chris: You first came to the attention of game music collectors in 2008 when you appeared on the studio recording of Symphonic Shades – Hueslbeck in Concert. Could you elaborate on what resulted in your involvement in this title? How did you achieve the desired effect from Jonne Valtonen's arrangement?
Benyamin Nuss: Actually, it was a coincidence. The manager of the WDR Radio Orchestra, Winfried Fechner, once told me about Symphonic Shades and their idea of producing Video Game Music. I told him that I was totally into Video Game Music and one day I got a call from the WDR asking me to record Turrican III.
Chris: Last year, you captured the hearts of the attendees of Symphonic Fantasies with your breathtaking performance of the Kingdom Hearts piano concerto. How did you present all the emotions from the Kingdom Hearts series in this performance? Was it difficult to perfect the numerous virtuosic passages in the arrangement?
Benyamin Nuss: I used to play Kingdom Hearts on the PlayStation 2 and was in love with the game. The storyline was great and it was awesome how Square brought characters from Disney and Final Fantasy together. I think playing the game before helped me a lot to perform this piece because, as a gamer, I knew how intense the atmosphere of the game could be. At first it wasn't easy to connect the emotional and technical aspects of the piece, but after working out the technically difficult passages, the music came together quite naturally for me.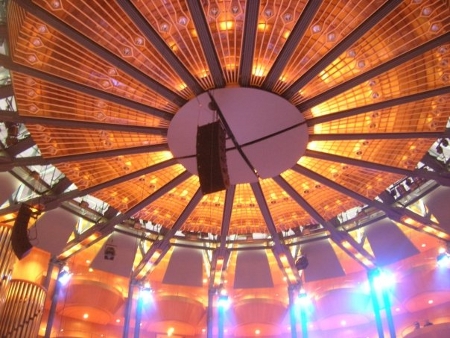 Chris: It was also recently confirmed that you will attend the Nintendo commemoration concert Symphonic Legends as a soloist. Are you excited about being involved in this production? Do you expect your role in the concert will be as significant as that of Symphonic Fantasies?
Benyamin Nuss: I'm indeed very excited about this project because Nintendo games are basically the titles I grew up with. And these were the games which people like my dad would turn off the music for because they found it annoying. Of course, I always left them on because I liked the music and thought it fitted what happened in the games. Of course, I hope that my role in the concert will be as significant, if not more, and I'm looking forward to getting the new pieces to start working on.
Chris: Now let's discuss your first album release, Benyamin Nuss Plays Uematsu. Could you introduce this album to readers and discuss its concept?
Benyamin Nuss: As the title indicates, it will be a tribute to Nobuo Uematsu and will feature a variety of Nobuo Uematsu's compositions. On one hand, we picked titles people will recognize immediately, such as classics from Final Fantasy VII. On the other hand, the album will feature titles from games which are maybe not as popular as Final Fantasy, such as Rad Racer.
Chris: Many readers would be curious to know why you decided to dedicate your debut album release to a game composer, not a classical artist. Could you elaborate on this? What particularly appeals to you about Nobuo Uematsu's music?
Benyamin Nuss: Nobuo Uematsu has an unbelievable sense for melodies and, without his music, the video games he scored wouldn't be as powerful and emotional. While the storyline is very important in Final Fantasy games, I think it's the music that really drags listeners in and allows them to take part so intensively. And through the music every character in the games gets even more personality. If you listen to some of Mr. Uematsu's melodies, like for example "Kefka's Theme" and "Where I Belong," they will become stuck in your head for ages. I think it is a pity that a lot of people don't know this wonderful music.
Chris: An incredible performance would probably be meaningless without wonderful scores. Could you discuss what the arrangements will offer on this album? Do they help to ensure a rich and diverse core for the album?
Benyamin Nuss: Oh yes, absolutely. I guess we got the best of the best arrangers from all over the world. What makes it so exciting is that their different nationalities and cultural backgrounds have a big influence on the music.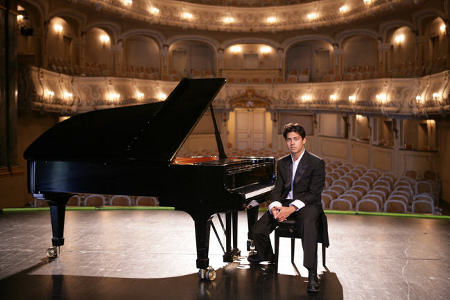 Chris: On that note, could you detail which arrangers how selected for the album, from the game, film, classical, and popular music worlds alike? What do you think each arranger will bring with their respective contributions?
Benyamin Nuss: On the one hand we have Jonne Valtonen who is already well-known for his fantastic arrangements in Symphonic Shades and Symphonic Fantasies and brings a lot of new colours of contemporary classical music in his arrangements. From the game music scene, we also have Shiro Hamaguchi, who is best known for his fantastic Piano Collections dedicated to the Final Fantasy series. Then we have Bill Dobbins who is one of the greatest composers and arrangers from the Jazz music scene, known for creating such intense and warmhearted music. Two classical contemporary composers, Alexander Rosenblatt and Thorsten Rasch, are also featured. Representing the young generation, the album will also feature an upcoming character with the name of Franceso Tristano Schlimé. Known for techno, classic, and jazz works, this 26 year old is a very unique musician. I think all in all each arranger brings a personal colour in his arrangement and this will make the album so exciting.
Chris: Your album will be released by a major classical record label. Could you tell us more about the publishing strategy? Is this the first time that game music has been commemorated in such an eminent way?
Benyamin Nuss: Yes, our strategy is to bring the wonderful music Nobuo Uematsu wrote to people from all sorts of backgrounds. This includes those who have never been involved in videogames, don't have the slightest idea what videogames are, and don't realize how fantastic the scores of videogames can be. I think reaching out to this audience is quite a new concept and should be successful.
Chris: It's also been confirmed that you will perform the album in a series of 20 concerts at beautiful concert halls. Could you tell us more about this incredible news? What venues will your be performing in and what should we expect from the experience?
Benyamin Nuss: First of all, I think it will be a lot of fun and a big challenge. I will present a solo piano programme of Video Game Music that nobody has played before to some of the most prestigious and greatest concert halls in Germany and Luxembourg. I will tour from Berlin (Philharmonie) to Munich (Gasteig) via Hamburg (Laeiszahlle) and Frankfurt (Alte Oper). I think the concerts will be exciting for Gamers and Non-Gamers alike, since the music is just wonderful.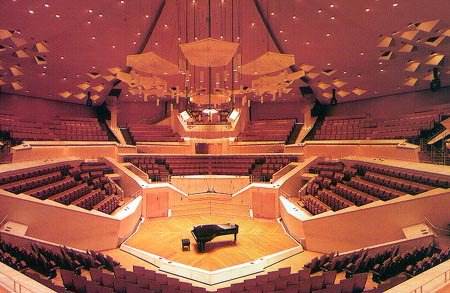 Chris: We really appreciate your your time today, Benyamin Nuss. Good luck with all your future productions? I'm sure we'll cover lots more about your debut album in the near future. To conclude, is there anything you'd like to say to readers and fans around the world?
Benyamin Nuss: Thank you everyone. This is going to be one of the greatest Video Game Music Projects for Piano Solo, so don't miss it! If the listener has only half the fun listening that I have in performing, it will be an experience of a lifetime. That I promise!!!
Thank you to Thilo Berg, Thomas Boecker, and Nobuo Uematsu for coordinating this interview.Benyamin Nuss Plays Uematsu will debut in concert on September 12 and an album release will follow thereafter on September 17. Tickets for the tour can be purchased here with prices ranging from 14 to 25 Euros.
Posted on May 12, 2010 by Chris Greening. Last modified on March 7, 2014.