The Great Ace Attorney -The Adventure of Ryunosuke Naruhodo- Original Soundtrack
Overview
After five main games, two prosecutorial spin-offs, one Layton-esque crossover, dozens of manga, and a major Japanese motion picture, fans were wondering what direction Capcom's lawyer visual novel adventure series Gyakuten Saiban (Ace Attorney to us) would go in next. Seemingly out of nowhere, Dai Gyakuten Saiban: Naruhodō Ryūnosuke no Bōken (lit. Great Turnabout Trial: The Adventure of Ryūnosuke Naruhodō) was announced in 2013 and left fans speculating what this new game would bring to the table. It was revealed to be a prequel set generations before the main series, featuring an ancestor of protagonist Phoenix Wright during Japan's Meiji era at the end of the 19th century. What was even more surprising was the announcement that the game would additionally be a crossover with Sherlock Holmes, additionally transitioning the game's setting to Victorian England. After much marketing and hype, the game was released to positive reviews in Japan on July 9, 2015. No Western release has been announced, but if the previous entries in the series are any indication, it is very likely that this one will come stateside eventually.
Dai Gyakuten Saiban's music had me intrigued the moment it first appeared in the game's trailers and I was intensely curious to see what Capcom had in store. Composition duties were given to Yasumasa Kitagawa who had previously composed the excellent soundtrack for Professor Layton vs. Phoenix Wright: Ace Attorney and relative newcomer Hiromitsu Maeba who had previously contributed to Monster Hunter 4 and Rockman Utopia, both of which have received positive reception. It was then a question on how Dai Gyakuten Saiban would turn out, and I can happily say that the wait was most assuredly well worth it. The first thing that is immediately noticeable with Dai Gyakuten Saiban is its choice of instrumentation and sound. Previous games in the Ace Attorney series used simplistic synth that, while used to great advantage, more or less limited it to chiptune and fans of that genre. Professor Layton vs. Phoenix Wright: Ace Attorney improved this immensely, utilizing live instruments or synths that sounded very close to live samples. Dai Gyakuten Saiban has an even better soundtrack, and I knew that I was in for a treat right from the outset.
Body
Opening on a rousing note, "Naruhodō Ryūnosuke ~Prelude of an Adventure" establishes the rustic 19th century European type of sound that permeates the entirety of the game's music. Much like Professor Layton, but more convincing, it put me right in the historic Empire of Imperial Japan/British Empire setting of Dai Gyakuten Saiban. Hints of Phoenix Wright's Objection! theme can be heard throughout the piece, no doubt an intentional homage, while the aura of youth reflecting upon Ryūnosuke's first outing as an attorney is prominent. The following track, "The Adventure of Great Beginning" continues with similar sound as an event melody, while "Jingle: Opening" prove to be enjoyable despite being a mere 11 seconds.
Although set over a hundred years ago, Dai Gyakuten Saiban largely features the same musical template as the other games in the series. As a result, I was curious to see how this would translate to a historic courtroom setting. "The Great Court Anteroom," the pre-trial lobby theme, is laidback and casual with focus on the lower strings. The first case features Ryūnosuke as the prime suspect in a murder case, and he takes it upon himself to provide his own defense council. "Dai Gyakuten Saiban ~Court Begins" is much like previous courtroom main themes, but benefits from having much larger presence thanks to the strong brass and responsive strings. New to this game, however, is the introduction of a jurist system which is directly influenced by the player's actions. As the witnesses enter the courtroom, their business-like and accordion-fused theme plays while the case's facts are laid out before the jury.
The new cross-examination theme is subtle, effective, and well-composed with top-notch instrumentation. The following "Allegro" variation is expectedly faster, but with expanded sections that up the tension considerably. In addition to this are two "Suspense" themes. The first relies on string tremolo with violin soli interwoven into a fantastic combination. The second theme is similar in composition, but quicker in tempo, laced with percussion beats and triangle notes. "Logic and Trick," used when diagrams and various pieces of new evidence are introduced, fuses metallic xylophone and pulsating strings alongside acoustic guitar and flutes which sound almost electronic. It's truly the most interesting "Logic and Trick" theme I've heard from Ace Attorney.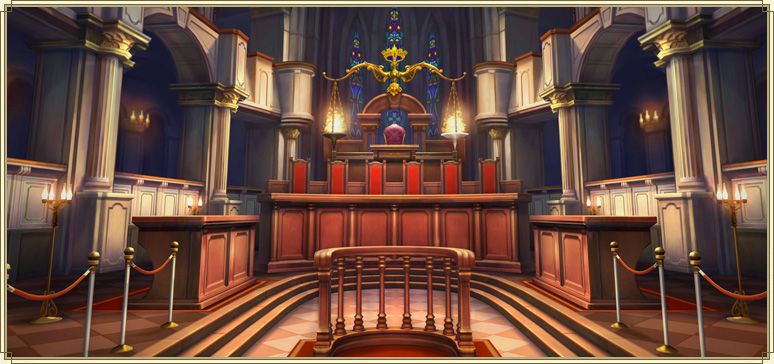 But then comes one of the best Objection! themes in the series. The same elegant theme originally heard in the game's trailers, it appears in full glory here. Opening with fast-moving strings and all-out performances from the other sections, it pulls absolutely no stops. In addition to this, the effective "Confess the Truth [Adventure Version]" benefits from its use of high quality organ samples. "Pursuit ~Time for a Great Turnabout," "Closing Argument," "Dai Gyakuten Saiban – Verdict" and "Won the Case ~The Great Turnabout for My Friend" do not appear until the second disc of this soundtrack. The Pursuit, like the Objection!, goes full throttle with all of its instruments and is jam-packed with liveliness. "Closing Argument" and "Dai Gyakuten Saiban – Verdict" are new to the series due to the jury mechanic, but their tango-like melodies and high-stake emotions shine through, being welcome additions. The Won the Case theme harkens back to the original game with its Baroque-esque harpsicord melody with happy strings heightening the mood.
Kitagawa's contributions to the soundtrack also consist of event and location tracks. "Omen" and "Trial in Disorder" are similar to his darker pieces for Professor Layton vs. Phoenix Wright: Ace Attorney. While not bad and pretty effective in-game, both are unfortunately too repetitive for my liking. Much stronger though is "Elegant ~And Excellent," reminiscent of chamber music, and "Steamship Alaclair," a theme closer to waltz. "The Core" and "Investigation" are dance-like and subtly implemented. Given the strong emphasis on Sherlock Holmes, the game heavily features 19th century London. The eponymous theme, though perhaps not as strong as Tomohito Nishiura's work on Professor Layton, is fitting of the British city and is exactly what I would imagine of it. "Baker Street 221B" has a homey and warm vibe, though the instrumentation itself feels slightly jarring.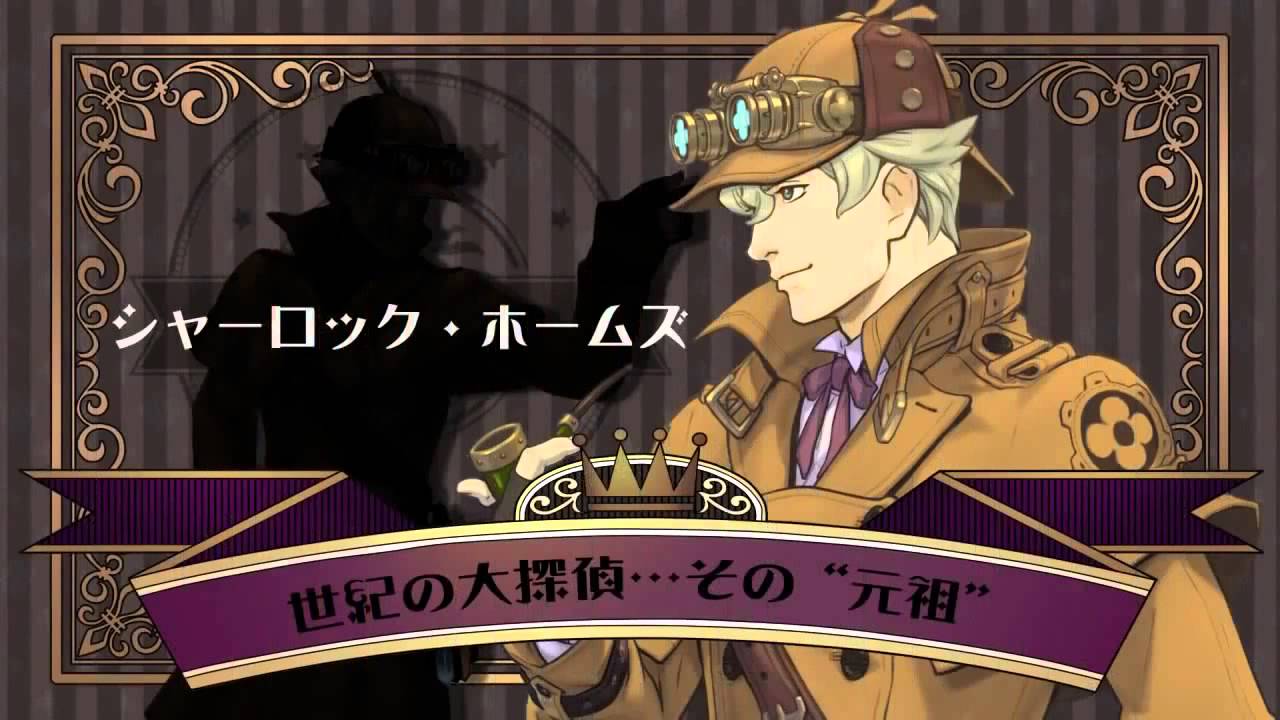 Of course, no Ace Attorney game is without its colorful cast of characters. I was curious to see as to how Sherlock Holmes would be depicted, and Kitagawa successfully composes a track worthy of Conan Doyle's ace detective. Opening with tango strings and castanets (a recurring instrument), the eccentric violins establish Holmes' complex mind. Hints of Naruhodō's Objection! theme can be heard before a more minimal mid-section while bells appearing at key points permeate the piece. All and all, an exceptionally strong track and a highlight of this score. In contrast to this, Holmes' assistant Iris Watson (a young genius girl in this incarnation) is given an eccentric and bubbly theme at odds with the detective's more serious melody. Though at odds with Dai Gyakuten Saiban's more classical soundscape, it works surprisingly well for the character.
I've been mentioning Kitagawa a lot so far in this review, but Hiromitsu Maeba's contributions should not be ignored either. Naruhodō's judicial assistant, Susato Mikotoba, is described as  Yamato nadeshiko, or the idealization of the perfect Japanese woman. Maeba's theme for her certainly reflects upon that idea; sweet, kind, and having a delicate Japanese melody on shamisen. Its reappearance in the soundtrack later on as a serenade utilizes the same theme, but is more ambient and relies on strings. Maeba's proficiency with Japanese sound is once again demonstrated with "Kazuma Asougi ~Samurai with a Mission," the theme for Naruhodō's close friend. Full of heart, heroism, and genuine feeling, it falls in line with the series' most memorable character pieces. The later track "Kazuma Asougi ~Nocturne" is a beautiful Japanese ballad with hints of the aforementioned theme. At one point in the story, Naruhodō is tasked with the defense of exchange student Natsume Sōseki who has been accused of stabbing a woman to death. Sōseki is a based on the renowned real-life Japanese author of the same name, but his theme is surprisingly not Japanese-inspired, unfortunately a rather forgettable comedic track.
"Gina Lestrade ~Gunshot from the Downtown," the theme for a pickpocket with a name inspired by Inspector Lestrade, is a French-inspired folksy jive. Serious in tone is "The Chief Justice, Vortex ~The Ticking Judiciary," carrying the weight of character with great legal power. Another character theme inspired by the Sherlock Holmes universe is "Tobias Gregson ~The Enemy of the Great Detective." Described by director Shu Takumi as being similar to Detective Dick Gumshoe from the original series, the track offers an impressive brass section that feels tinged with mock-seriousness. Naruhodō's prosecutorial rival, Barok van Zieks, has a villainous melody lavished with harpsicord and sinister strings, hinting at darkness and corruption. "Farce ~Lively People," used during gameplay sequences with minor characters, is forgettable and repetitive.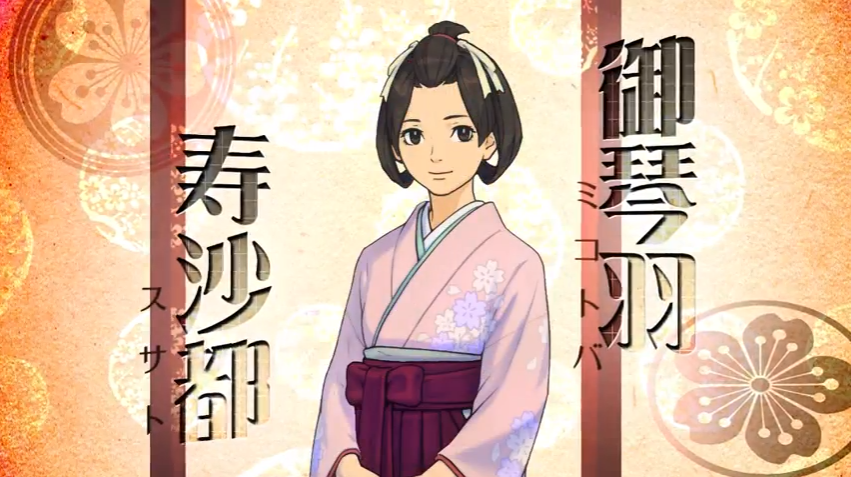 New to the series is a mechanic called "joint reasoning," a fast-paced sequence in which Sherlock Holmes and Naruhodō piece together details of a case through collected evidence and testimony. The theme for this event is given three different variations (Type A, B, and C), each having the same melody, but more instrumentation added on each time. The base melody, however, consists of the higher and lower strings having a "duel" of sorts, representing Holmes and Naruhodō questioning each other's logic. As more facts are revealed, the piece becomes fuller, direr, and more developed. "Reasoning Battle – Beginning" and "Reasoning Battle – Defeat," additionally part of these joint reasoning sequences, are real stand-out tracks. The strings (once again tango and dance inspired) are simply exquisite, being an aural experience that sounds refined and intellectual. "Theme of Deduction ~Beyond the Logic," with the somber solo violin being a noticeable aspect, puts Holmes and Naruhodō on the verge of discovering the truth of the case at hand.
A few miscellaneous themes are also included, some more notable than others. "Detention Center ~Rhapsody of Darkness" is right in line with the series' other detention center themes, but is more impressive technically with its ambiance than with actual melody. "Everyday Life of the Great Capital's Citizen," in contrast, impressed me with its waltz theme and utilization of pizzicato and flute. Recollection themes are also a series' staple, but the ones here are unfortunately not as strong. "Recollection ~The Vanished Fairy" is an odd combination of electronic organ and synth plucks, while "Recollection ~The Grey Dance" is slow and tedious with a rough melody that has no real shape. Not bad per se, but I've heard better from Ace Attorney. No doubt the oddest track, however, is "Melancholy of the Great Detective" which is a recording of an out of tune violin. While perhaps having importance in-game, it sounds rather poor as a stand-alone listen. Although I'm normally not much of a fan of the music box, "Music Box ~The First Tone" and "Music Box ~The Great Detective of the Foggy Town" ended up impressing me with their high-quality samplings and interesting melodies. I only wish that they were longer. Besides some short cinematic cutscene music that opens each case, all that remains are the ending themes.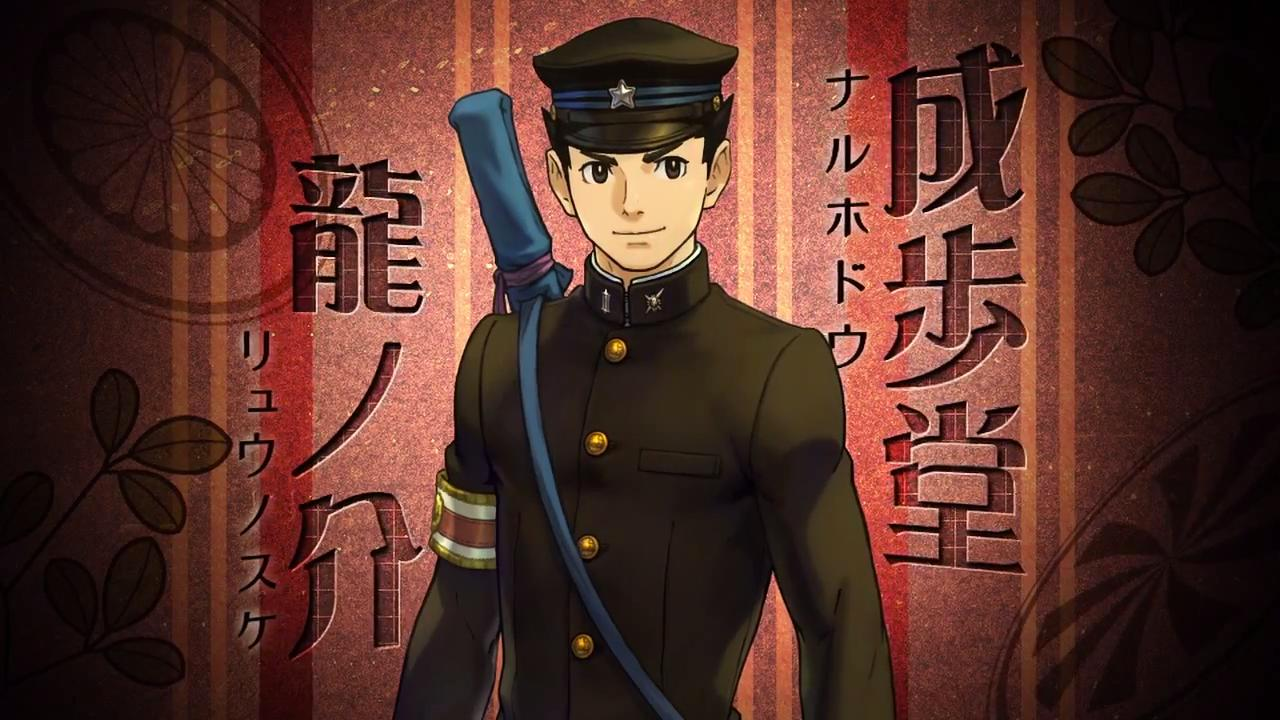 Dai Gyakuten Saiban features not one, but two tracks that end its narrative, and both are truly fantastic. "Ending Suite [The Adventure's End]" begins with a similar kind of rousing strings that first started off the entire soundtrack. At 0:20, accordion joins in on the melody before the strings transform into a cadenza. Rondo-like and strong, they repeat the theme a second time with the accordion. At 2:00 the castanets become more prominent, with focus put onto the violins backed by timpani. Reaching the midway point, the strings begin a more upbeat secondary theme with the percussion playing in march-like form. The piece switches between the various themes established until closing off at the end with a scale. Moving on, "Ending Suite [The Great Turnabout Won't End]" opens with shamisen and then shifts into a chamber trio between violin, cello, and harpsicord. Accordion is subtly interwoven as the secondary theme is introduced at 1:41. The violin is given a wistful melody midway through while the other strings provide harmony. Each section is handed the theme before closing off on a thoroughly satisfying emotional finish.
Summary
Dai Gyakuten Saiban completely exceeded my expectations. I have always attested that the original Phoenix Wright: Ace Attorney had the best soundtrack in the series followed by Professor Layton vs. Phoenix Wright: Ace Attorney, but now I may have to pick a new favorite. While not every single track can be considered a winner, Yasumasa Kitagawa and Hiromitsu Maeba have created something truly special. Handheld game scores have come a long way, and Dai Gyakuten Saiban is a testament to how far they've gone. For fans of the series, this purchase is a no-brainer, and there's enough here for even non-fans to enjoy. While we wait patiently for the game's eventual Western release, this album is more than enough to hold people over until then. Beautiful melodies and the best soundscape to ever come out of the Ace Attorney franchise, Dai Gyakuten Saiban has every workings of being one of the best game soundtracks of 2015.   
Do you agree with the review and score? Let us know in the comments below!
Posted on September 1, 2015 by Oliver Jia. Last modified on October 29, 2017.