Wipeout's Tim Wright releases 240 track USB stick compilation
To mark the relaunch of his official website, Tim Wright (aka CoLD SToRAGE) has produced a special edition USB collection. Entitled Decade, the 16 GB USB features 240 tracks from the past 10+ years in MP3 and FLAC format. It is available for 49.99 GBP (approx. 80 USD) from his website here.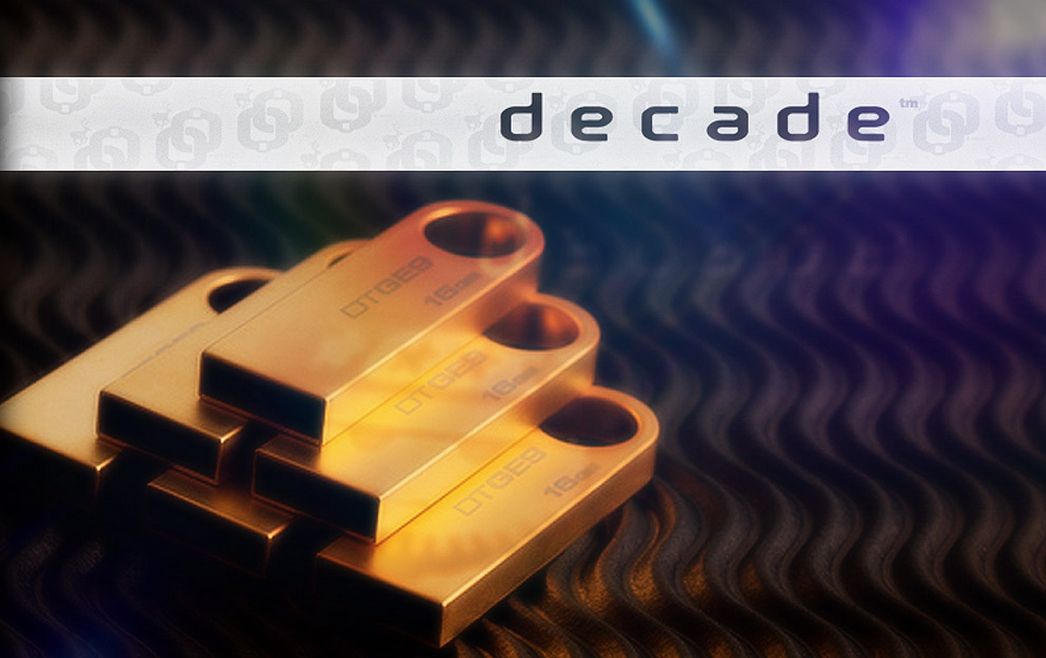 Best known for his work on Shadow of the Beast, Lemmings, and Wipeout, Wright has also penned numerous original tracks over the years. This release compiles his original albums and singles with game-related projects such as his AGMA-commended Psygnosis remix album Strix Memoria, his anthems for the indie game Gravity Crash, and the two-part Wipeout collection Slipstream. The USB also includes numerous exclusive, previously unreleased tracks. The full track listings are below:
6E-61-32
Shake Rattle and Robot
Subtitles for Atoms
Blood on the Sails
Kaja
On the Edge of Displacement
Blueprint for Compromise
Road to Damascus
Between Love & Death ( Instrumental )
Omen Natrium
Kriegshetzer Five Zero
6E 61 32
Wolfman Cometh
Kaiserwalzer
BONUS – CHIP – Between Love & Death
BONUS – On the Edge of Displacement 2012
AMIGA Revisited
Agony Title Theme (Victorian Orchestra Mix)
Aquaventura Title Theme
Gottabe
Lemmings
SOTB 3 Game Over
Android Child
Rombobo
So Close
Carouton
BliqueNoir
Hapi
Darknife
Doorstep Dreaming
Erasmus
Tell It To Me
Diganime
Nuga
Hope Rays
Naked
Sorphomene
Sumsare
The Great Bear
Chorus
Eustonia
AM After PM
Juxtapose
Onyx DSOTM
Chipfest 6
SOTB2-Title
Lemmings
Messij
Onyx
Scarface 6581
CoLD SToRAGE HD
Beseitigen
Orchasm 8
Pencil Neck
Turbine
XYZ Reboot
'95 Future Echoes
Gravity Crash
Scarface
Trex
Vectribe
GRP
Torment
Krayola
Andromeda
Vectribe – Style Over Substance Remix
Cliff Diver
Pantheon
Querk – Off Planet Remix
Carpaureum – Digital Prisoners Remix
Querk
Crash Punk
Scarface – Six Five Eight One Remix
Carpaureum – Super Avilyn 1984 Remix
MELT
Asimov ( Crack Droid Mix )
Messij 2005 ( New Science Mix )
Spin Out
White Vale
Heaven
Aggorophone ( The Scarab Mix )
Charhdi Kala
BLUE ( The Hornography Mix )
Rava Java
Velvet Moon
Franglais
Transition
ELK
Wiped Out
Star
Deja Vu …again
Subterannix ( Hollow Snapshot Mix )
Nothing Special
RED ( The Fujiyama Mix )
Shine
Kikhorion
Radiographie
Drowning
MUSICtm
86 Trix
A Filmscore
Acid Rain
Around You
Feeling So Fine
Freedom 1999
Good King Wenceslas
JAB
KeZ
LED Zeppelick
Look At You
Lost In Music
Megawiddit
Night Moves
Oh Come All Ye Faithful
Ola Old Lady
Philes
Religino
Rock Me
Sexy Baby So Fine
SpacE
The Blue Danube
US Promo Version 1
US Promo Version 2
Project Moonbounce 2009
Tranquility
Bipolar
Spacewalk – Synthidrum Mix
Red Bunker
Sublight – Minimal Chamber Mix
Moonbounce
Viscount Cabaret
Planet Melocha
Moonwalker
Science 200
Glitch
LoG HiE – ASBO Mix
Mars Project
Heiterkeit
Orbit
Re-Entry
Zero G Aquarium – Bach WTC1 Fugue 2
Radiophonica [ALPHA]
Psychotic Break
Dial Tone Runaway
Biological Weapon
Threatening Phonecall
Run Forest Run
You can't hide on a boat
Big Ben Acid Trip
Rooftop Chase Me
Too Late to Save Me
I'm So Sorry
SLIPSTREAM One
Body In Motion
Messij
Cairodrome
Canada
Operatique
Kinkong
Tentative
CoLD Comfort
Trancevaal
Messij Extended
DOH-T
Cardinal Dancer
SLIPSTREAM Two
Messij Received
Hakapik Murder
ARGON
Kinkong
PHLOEM
Gods Gift
WipEout INTRO
Body Plus ('Body in Motion' Remix )
XENON
Plasticity
Surgeon
XYLEM
Tenation
Foeter
BONUS – Sensible Soccer Main Menu
BONUS – Sensible Soccer Credits
BONUS – Scratch Pad 1
BONUS – Power Soccer '97
Strix Memoria
Rosebowl – Double Deposit Mix
LEANDER – World One – True to Life Mix
AQUAVENTURA – Gloriana – Pie Argh Snared Mix
SOTB II – Movement 2_3 – Edmondson Melodion Mix
AQUAVENTURA – Guardian – Sluge Monkey Mix
LEMMINGS – Carribean Shuffle – Steel Bowl Mix
AGONY – Title Theme – Felt Hammers Mix
AWESOME – Cryogene – Alannah Currie Deep Dub Mix
PUGGSY – Tunnel Warrior – Morning Alarm Mix
AQUAVENTURA – Pulverise – Sci Fi Gridlock Mix
MAGICIANS CASTLE – Treebeard – Birds Nest Mix
LEMMINGS – Puggsy Theme – Boing Boing Boing Mix
SOTB III – Castles – Woodward Mix
AWESOME – Grosbar – Mappy Helodies Disco-Mix
AGONY – Title Theme – The Recital Remix
MAGICIANS CASTLE – Title Theme – Breadbin Mix
LEMMINGS – Fuzzball Fandango – Kiss My Synth Mix
SOTB II – Theme – Progressive Floyd Mix
AWESOME – Morb – The Ivory & Ebony Big Room Mix
SOTB II – Prepare Yourself – 70s Loved Up Mix
MAGICIANS CASTLE – The Other Castle – New Toys Mix
AGONY – Title Theme – Step Blender Mix
MICROCOSM – Swurzalott – Wakeman Retribution Mix
SOTB II – Movement 3_1 – Deep Cave Mix
AWESOME – Tundrars – Clone Bitmash Mix
SENSI SOCCER – Credit Due – True Blood Mix
BONUS – AGONY – Title Theme – Rik Ede Mix
Tik Tak
Lithium
School of TZok
Spider Train
Pro Gression
Molecule
Sun Module
SINGLES & BONUS MATERIAL
B.F.O. Drift [ Polka Dot Mix ]
blank
Chip in the Snow
Dancing Dad
Good King Wenceslas
Look At You
Puggsy-2007
Seaper (MUSIC 3000 Credits)
Shadow_of the Beast II – Title Theme [ Oxygene Moon Mix ]
Shadow_of the Beast III – Game Over [ Urban Slide Mix ]
siemens2-1v
Spatial_Awareness_[_Bombo_Rhumbo_Mix_]
The Holly & The Ivy
Yazino Bingo – Main Theme
ZunZneeze
2013
CANADA [ electro-dog-mix ]
CANADA two zero four eight
Escape from Barkhaven
Escape from Barkhaven – Instrumental
evolution ( dirty war )
Cliff Diver BIG LEAP Mix
Scarface XTEND Mix
Onyx
orpheus
Outersphere
Boomerang
Creme du 151
Fire Demon
Triple Fat
Rubber Band Boogie Woogie
Torvolution
Yang
Yin
Posted on May 19, 2014 by Chris Greening. Last modified on May 19, 2014.