Video Games Live: Cardiff, December 2009
Video Games Live concluded their Europe 2009 tour on December 3 with a performance at the Cardiff International Arena to 1,800 people. I was personally invited to attend by show co-creator Tommy Tallarico and graciously accepted his offer of VIP tickets and backstage access. It wasn't easy to attend, given it required me to take two half-days off and stay overnight in a hostel. However, it was a worthwhile and revealing experience nevertheless. I finally received the opportunity to witness what made Video Games Live so popular with so many video game fans out there. It also provided me with a good time to look around my post-graduate city of choice more closely. Perhaps most satisfyingly of all, I got a chance to meet some very interesting people, both within and outside of the industry. Time for a detailed look at the experience.
I arrived at the venue right at the start of the rehearsals. The orchestra were playing Ghouls 'n Ghosts main theme just as I came in and it was instantly comforting to hear one of my favourite classic melodies being played well. Soon enough, I introduced myself to Tommy Tallarico and he showed me around the venue. He explained how the entire stage had been custom-built in the morning to meetVideo Games Live's very specific and expensive needs. I was subsequently able to witness video technician Mike Runice and lighting director Heath Marrinan in action. It was instantly clear from the three video projection screens and array of flashing lights that the visual component of Video Games Live was to be as important as the music. But this was just the rehearsal and apparently I hadn't seen everything yet…
The orchestra was specially assembled for the occasion by Cardiff-based violist Lucy Morgan and seemed to mainly comprise female university musicians. They were also one of Video Games Live's smallest featured orchestras with just 30 members. However, each section still featured talented and passionate musicians and most were ready for the concert, having received the sheet music two months before. Despite the small size of the ensemble, each instrument was microphoned below the stage and the audio engineer Matt Yelton carefully optimised the levels to ensure a bold yet balanced sound. Thanks to his mixing, the acoustics within the arena weren't as detrimental as they are in most orchestral concerts either; they obviously weren't as exquisite as a concert hall, but this type of venue wouldn't have fitted the hybridised style of show. The orchestra was supported by a small choir, the Cardiff Celtic Voices, that appeared on several items during the performance. However, Tommy expressed regret that pianist Martin Leung couldn't attend for once, given he was attending Yale on scholarship.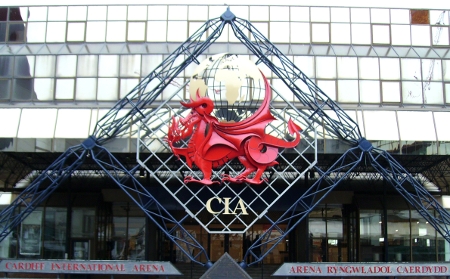 After the rehearsal finished, I talked in more detail with Tommy in his dressing room. Over the subsequent few hours, we discussed everything from Eastern vs Western game music, to working with Genesis and Super Nintendo hardware, to the upcoming TV special and DVD release, to his experiences with Great Pandas in China. Unlike Cologne, it was also very easy to be vegetarian backstage, since Tommy himself is a vegan and had plenty of fruit and salads to offer. It was a pity I didn't notice the beer crate before I went to the arena bar, though! I also met conductor Jack Wall, who discussed the impending Mass Effect II. However, the biggest surprise of the evening was when Tim Wright (aka CoLD SToRAGE) came into Tommy's dressing room. I didn't recognise him at first, given his longer beard than usual, but I soon realized who he was and it was a special experience for me. Though he's best known for the Wipeout series, I was familiar with him from the Amiga's Lemmings; in fact, this catchy score is the very first I remember and preceded even my experiences on the SNES' Super Mario World. Little did I know that he also lives on the Wirral Peninsula just five miles away from my home town.
Half an hour before the doors even opened, I went outside for a while and noticed a very large queue. In the lobby, Mike Tallarico was preparing to sell merchandise, such as brochures, posters, T-shirts, and their Video Games Live Volume One CD. There was also a pre-show Guitar Hero contest where attendees competed to get the best score and one young man was declared the winner. I sat down towards the end of the pre-show festival during the first of several videos. Entitled "Yuri the Only One For Me", it was a bizarre anime parody song featuring lyrics such as "You and I Make Nintendo Wii". Production assistant Brian DiDomenico also presented a competition between cosplayers, ranging from Princess Peach to Final Fantasy Girl on Chocobo to Four BioShock Splicers. I thought most costumes were pretty lame — there weren't even any Vivis in sight — but the formidable BioShock guys were worthy winners. The audience also went wild at a tribute video dedicated to fellow gamer and