Ten disc box to do justice to Goemon's music
Between 1986 and 2000, Konami released numerous games dedicated to the exploits of mystical ninja Goemon. Spanning multiple genres and platforms, these titles enjoyed much success in Japan and some also gained international acclaim. Despite this, the discography dedicated to the series is surprisingly sparse and only a few scores have made it on to CD.
In May 2017, Egg Music Records will finally rectify this by releasing the Ganbare Goemon Sound Tamatebako -Original Soundtrack Box-. This ten disc box set will feature the complete soundtracks from 15 titles from the series and spread more than 600 tracks. Most of the titles were recorded specially for this box from the original sound source.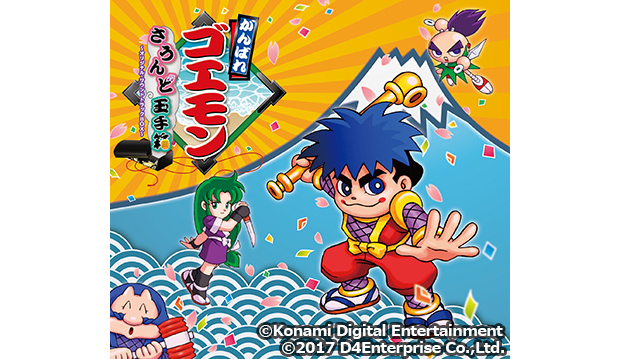 The set focuses on the series' titles for Arcade, MSX, NES, SNES, and the Game Boy family. Along the way, listeners can expect to hear contributions from Konami favourites such as Michiru Yamane, Tomoya Tomita, Harumi Ueko, Yukie Morimoto, and Masahiko Kimura. The series' titles for the Nintendo 64, PlayStation, PlayStation 2, and DS will be absent, despite their international popularity. Full listings are below:
DISC 1
Mr.Goemon (1986, AC)
Ganbare Goemon! Karakuri Douchuu (1987, MSX)
Ganbare Goemon! Karakuri Douchuu (1986, NES)
Ganbare Goemon 2 (1989, NES)
DISC 2
Ganbare Goemon Gaiden: Kieta Ougon Kiseru (1990, NES)
DISC 3
Ganbare Goemon Gaiden 2: Tenka no Zaihou (1992, NES)
DISC 4
Ganbare Goemon: Sarawareta Ebisumaru (1991, GB)
Mystical Ninja Starring Goemon (Ganbare Goemon: Kurofune-tou no Nazo) (1997, GB)
DISC 5
Ganbare Goemon: Tengu-tou no Gyakushuu (1999, GBC)
Ganbare Goemon: Mononoke Douchuu Tobidase Nabe-Bugyou (1999, GBC)
DISC 6
The Legend of the Mystical Ninja (Ganbare Goemon: Yukihime Kyuushutsu Emaki) (1991, SNES)
DISC 7
Ganbare Goemon 2: Kiteretsu Shogun Magginesu (1992, SNES)
DISC 8
Ganbare Goemon 3: Shishi Juuroku Bee no Karakuri Manji-gatame (1994, SNES)
DISC 9
Ganbare Goemon Kirakira Douchuu: Boku ga Dancer ni Natta Wake (1995, SNES)
DISC 10
Ganbare Goemon Kirakira Douchuu: Boku ga Dancer ni Natta Wake (1995, SNES)
Soreyuke Ebisumaru! Karakuri Meiro: Kieta Goemon no Nazo!!  (1996, SNES)
Bonus Track: Konami Krazy Racers (Konami Waiwai Racing Advance) (2001, GBA)
The box will be released on May 26 for 15,660 JPY. The special package will come with illustrations and commentary about each game. The album will be re-released at the Game Legend 26 on May 14.
Posted on February 4, 2017 by Chris Greening. Last modified on February 4, 2017.