PAX East 2015: The Universality of Videogame Music Panel
If you're attending PAX East 2015 next week from March 6 – 8, then I highly recommend attending my "Universality of Videogame Music" panel.
The panel will be held in Arachnid Theatre on Saturday, March 7 at 2pm EST during the convention. I will be acting as moderator while discussing the boundary-breaking marvel of videogame music with panelists Brett Elston (VGMpire), Amanda Lepre (Descendants of Erdrick), Alyssa Menes (Freelance Composer), Shota Nakama (Video Game Orchestra) and Larry Oji (OverClocked ReMix). After a brief Q&A, there will be a "Name That Tune" contest where the audience can correctly guess a tune from a videogame and receive some musical prizes.
You can RSVP at the Facebook Event. The first person who posts in the event page with the titles of each game represented in the panel graphic below will win a free download code to The World is Square's "Stay Awhile and Listen." I hope to see you there!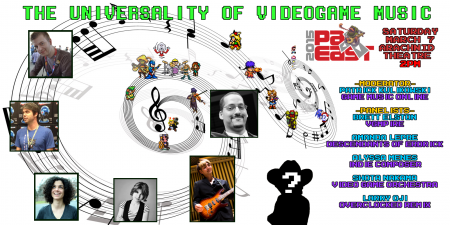 Posted on February 28, 2015 by Patrick Kulikowski. Last modified on March 3, 2015.