Norihiko Hibino Interview: Latest Career Developments
It's been 18 months since we last talked to Norihiko Hibino. Since our last interview, Norihiko Hibino has been taking new approaches to music production. He has continued to work extensively with his company GEM Impact on high-profile titles such as Metal Gear Solid: Peace Walker, Ninja Blade, Bayonetta, and Love Plus. In addition, he has extended his scope into the areas of sound therapy and has released several iTunes applications and music albums dedicated to this area.
In his latest interview, Norihiko Hibino reflects on the numerous recent developments in his career. Most significantly, he discusses his sound therapy projects and the importance of high quality sound engineering for healing purposes. He also reveals the true extent of GEM Impact's involvement in Metal Gear Solid: Peace Walker and recollects his involvement on Bayonetta, Love Plus, and various other projects.
Interview Credits
Interview Subject: Norihiko Hibino
Interviewer: Chris Greening
Editor: Chris Greening
Coordination: Chris Greening
Interview Content
Chris: Welcome back, Norihiko Hibino. It's an honour getting the chance to talk to you again. Could you tell us a bit about what you and your company been up to since we last spoke in September 2008?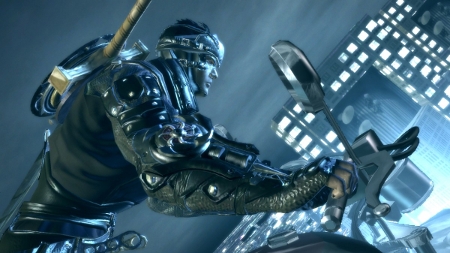 Norihiko Hibino: We have had a big journey since then. First of all, I passed on my live venue business in Roppongi Tokyo, and started a new VIP bar in Ginza. We also completely renewed our admin staff. We are doing very well in the last two years, regardless of some downtime. In addition, we started a sound therapy experiment which I mention later. We see a lot of potential in that area — it is 20 billion USD business considering just Japan; on the contrary, the video game market is less than half.
Chris: Back in January 2009, your ground-breaking score for Ninja Blade was released and your main theme lived up to the grand expectations. What were your inspirations and aims while creating the main theme? How do you think the main theme influenced the overall approach of the soundtrack and the works of your co-composers?
Norihiko Hibino: It was one of the most fun projects, because when I composed it, there were only few drawings of characters and no fixed direction for the game. I had a discussion with producer Takeuchi-san to find out what direction we should head in, and the answer is reflected in the main theme. In other words, this music showed the path the game should go to the rest of programmers and designers.
Also, we recorded a lot of samples of traditional acoustic instruments and integrated voice performances for this project. That way, the composer team could share and utilize samples for this particular production. The GEM Impact team could all have a clear image of the "Ninja Blade" sound by doing this. All of our team members put all their energy on this project, because it really was a "showcase" for each of us. After this, our team got even tighter then ever.
Chris: GEM Impact also produced the majority of the cutscene music for Bayonetta. What were the unique challenges of composing cinematic music for this project and how do you feel the final tracks contribute to the game experience?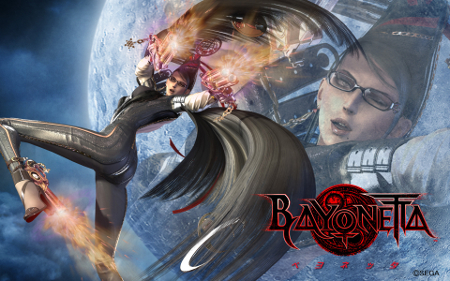 Norihiko Hibino: For this project, since this is collaboration with in-house composers, our mission was how to match up westerner's tastes with the Japanese anime-based sound that the producer wanted. We could not make it like "Hollywood action" as we normally do, and we really needed to go in between. Anime-based-sound does not have depth (2D sound). Melody is everywhere, continuous, and less up and down. Hollywood action requires a lot of depth (3D sound) and lots of dynamics. In that sense, I think we did OK, even though the style was not our strength. I could imagine nobody else could handle this.
Chris: Moving on to the 7th Dragon arranged album, you chose to do another Piano and Strings album instead a more diverse Super Arrange Version. What were the reasons behind this creative choice? Were the additions of other instruments, such as sax and accordion, used to distinguish this album from the Etrian Odyssey version or was there another reason behind this creative decision?
Norihiko Hibino: In 2008, I worked on Gonzo's animation series called Blassreiter and, in dramatic scenes, I used a chamber unit consisting of piano, classic guitar, violin, cello, and percussion. I explored the possibilities of this unit, which is capable of not only classical interpretations, but also some improvisational elements. For Etrian Odyssey, since the first Super Arrange Version was already so diverse, I thought I should try out something that could bring Koshiro-san's great melodies into a new dimension. However, for 7th Dragon, we needed to cover its diversity too, so I added sax and accordion to do that.
Chris: Nevertheless, the Etrian Odyssey III arranged album seems to be taking a collaborative approach again. Will you be involved in this production in any capacity?
Norihiko Hibino: Well, because of limited budget, I didn't work on it. Instead, Sakimoto-san's Basiscape took over.
Chris: A project that was undoubtedly a success was Prescription for Sleep, which became one of the iTunes' most downloaded applications in Japan. Could you tell us more about how you conceived this project and went about creating music for it?
Norihiko Hibino: At first, I made a recording simply as an extension of the Piano and Strings arranged projects for the Etrian Odyssey series and 7th Dragon. I realized I felt so refreshed by listening this track and I kept thinking "why?", and came to the conclusion that this has something to do with the performance and engineering.
The studio I used happened to have "Prism" A/D converter that can handle purely up to 70-80 Khz. Even high-end Pro Tools A/D can only handle up to 20 Khz, even though their internal resolution is much higher. This difference was actually huge. For details I mention later, this experience brought me an idea of therapeutic music. We have actually recorded more than 100 tracks already for sound therapy, and I'm in the mixing stage.
Chris: A related project by the Hibino Sound Therapy Lab is the cover album Gentle Love. How was the idea of this album born and how did you approach the track selection? How was it received both as a studio recording and live concert experience?
Norihiko Hibino: Originally I made the Gentle Love album to aim for the Chinese market. I know some Chinese audio maniacs, who like to spend tons of money to speakers, but listen to quite badly mixed music. So I came up with the idea of producing their favorite songs with super high quality recordings. In fact, this project ended up being quite well-received in Singapore as well. I still have a Gentle Loveconcert in Tokyo every three months and it's attended mainly by the older generation who never play video games!
Chris: Talking of solo albums, a lucky few who purchased the Ninja Blade Original Soundtrack received a copy of your old solo album Now I'm Here to Hear. Could you explain some more about the concept of the album? Would you consider re-releasing some of your other solo albums in the future too?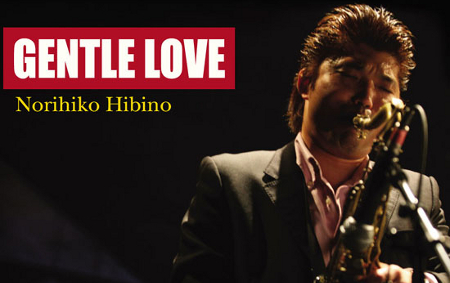 Norihiko Hibino: Thanks for searching out my old stuff!! Now I'm here to hear… is the album I released in 2000, when I just came back from the United States. I was trying to play and write music as hard as possible, like John Coltrane did in the late 50s. However, since Gentle Love, I enjoy natural flow, without any intention or technique… just to let it go. The latest Hibino Sound Therapy Lab music is totally based on this. No human intention, no showing off… just let the holy spirits drive me and performers. By this, music can reach out to a human's soul, beyond the barrier of language.
Chris: The band The Outer Rim returned to the stage in September after a year out. Why was there such a long absence and what was it like to reunite with the band? Are there any plans for a second album or live album?
Norihiko Hibino: Yes, now The Outer Rim, led by bass player Jeff Curry, has totally reunited. I'm not actually a member now, though, mainly because all of the original members became so busy with their own activities.
Chris: Also on the live arena, you've been extensively involved in Video Games Live and G.A.N.G. in the past year. Could you tell us about your role on the tour and why you decided to become involved? What have been the highlights of your world experiences with the team?
Norihiko Hibino: At GDC 2009, I talked about the Japanese video game industry business. I'm a straight talker for a Japanese person, and Tommy Tallarico liked my presentation, since it had been quite revealing. After that, Tommy and I became good friends, and I helped him to get a clearance of rights when they perform in Japan. Since the headquarters of many big publishers are in Japan, they have special rules that only apply domestically, and it was so hard to negotiate rights for international performances.
Last year, I played at the G.A.N.G. Awards after the Game Developer's Conference and toured withVideo Games Live in Brazil and Singapore. More recently, we at GEM Impact Malaysia hosted the Malaysia show! Fans are always so excited, and wherever I go they know about so details of what I've done in the past. Touring was just amazing.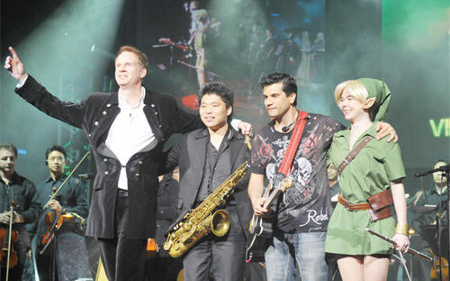 Chris: Talking of international productions, you chose to release the scores to Commando 3 and 1942: Joint Strike on iTunes recently through Sumthing Else Music Works. What inspired this decision? Have you considered iTunes releases for any of your other smaller works? I'm also interested if you'd be willing to give some perspective on who composed what on those scores.
Norihiko Hibino: Well, there was a talk about some sort of album releases for a long time. However, it just took so long. Both scores were mostly composed in our team in quite different styles. Koda-san from Monster Hunter also helped us a lot.
Chris: Over the last couple of months, you have also participated in the collaborative projects Love Plus, Yuusha 30, Otomedius G, and Message. What attracted you to these projects? Could you tell us more about the sort of music you created for them?
Norihiko Hibino: With respect to Love Plus, I knew the producer Uchida-san since I started GEM, and we had been talking about doing some collaboration for some time. With Love Plus, it came to realization! It required totally catchy J-pop music, yet it was good to work on a project about "love", since mostly the projects I've worked on previously were about "killing people"!
Yuusha 30 and Message are the projects that the director counted on me to bring an element of variation. It was also a great honor to be a part of it. On Otomedius G, I did the same thing for the composers.
Chris: In addition to working on Metal Gear Solid 4: Guns of the Patriots, GEM Impact were hired to score the Metal Gear Solid 2: Bande Desinnée. What was it like to revisit the score for Metal Gear Solid 2: Sons of Liberty for this project and how did you adapt the score for PSP and DVD?
Norihiko Hibino: We were asked to write music that was as close as possible to what Harry Gregson-Williams did in Metal Gear Solid 2: Sons of Liberty, because they could not reuse his tracks for some reason. And we felt that we did a great job; after all, I was trying to write like Harry ten years ago! In terms of integration, I don't know how Konami used those tracks in the project after that…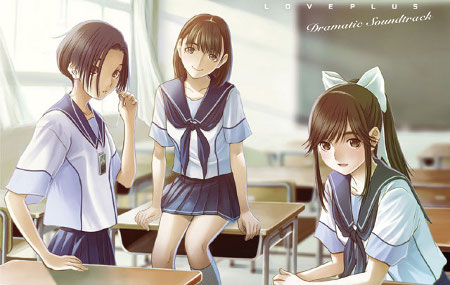 Chris: Finally, it was recently announced that GEM Impact were involved in the score for Metal Gear Solid: Peace Walker. Could you discuss the extent of GEM Impact's involvement on this project?
Norihiko Hibino: In the beginning they wanted us take a lead role for the music and compose in a typical Metal Gear Solid style. However, the game development took quite long and, by the time we got involved, the in-house sound team already established their own way, so we had to go with it. Also, likeMetal Gear Solid 4: Guns of the Patriots, the cutscenes were very long so we needed to help them to complete the underscoring in time. I guess we did about 90 minutes of music.
Chris: Evidently a large proportion of your time seems to be dedicated to world touring, live performances, and guest speaking these days. How do you manage to fit everything in? Do you still receive the opportunity to compose or are most projects handled by your employees?
Norihiko Hibino: Well, touring and speaking will take only a few days each time, so it does not affect my production work at all. Also, I'm quite an open-minded person, so I hand over tasks to my staff and composers, and I trust them, as long as my direction is very clear to them. Before I deliver products to the client, I check for and ensure quality. This involves negotiation with clients, mixing, arrangement, mastering… whatever necessary to fit them to the game.
Each composer has their own strengths, and I kind of oversee them, while I compose mostly they are not good at. Sometimes, our composers get their own projects and cannot fully work for GEM; in that case, we help each other. In other words, I'm making very strong team — whatever comes to us, we're now in quite a good shape to deal with.
Chris: Thanks for talking to us today, Hibino-san. Is there anything else interesting coming from you and GEM in the future? Also, is there anything else you'd like to say to your fans?
Norihiko Hibino: We just released the sleep solution combo pack, which consists of a sleep supplement program and our therapeutic music CD in Malaysia. This is a big progress for us, because we actually tapped into new areas with our music. I feel like this is my life work — to save people of depressed hearts or sleeping problems.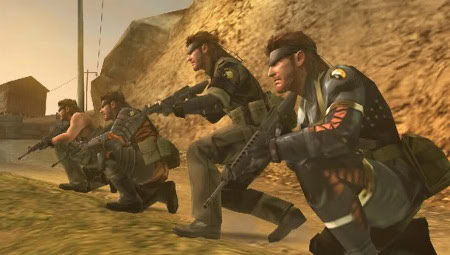 This can be done through not only good melodies and arrangements, but also by good sound engineering. This is far from "showing off" your skill. The very soft nuances from instrument really touch your heart through inaudible high frequencies. We're actually developing speakers to deliver sound using secondary waves, not primary waves, as is the case for almost all speakers. This is the only way to deliver high-frequency sound through your body; after all, the human ear is a converter of primary waves into signal to the brain and can only pick up until 20 Khz.
I hope someday this experiment will be used in the video game format, and will help everyone's healthy life! I'm coming back to States at E3, and I'll be playing at the Video Games Live closing show. I hope I can see everyone there!
Posted on April 22, 2010 by Chris Greening. Last modified on April 23, 2014.