MAGFest X: Maryland, January 2012
Our highly anticipated first presence at MAGFest was a bit shorthanded due to a sudden illness. Nevertheless, I did my best to fill in for the absentees and enjoy the festivities for myself. With 6100 people in attendance, MAGFest X combined game rooms with musical performances, guest speakers, and, of course, a party-like atmosphere.
MAGFest X certainly had a lot to offer in the music department — too much for me to cover in full! Numerous bands performed on the main stage, ranging from established acts such as Metroid Metal, The OneUps, and Temp Sound Solutions, to relative newcomers Bit Brigade and Random Encounter. Various DJs and chiptune musicians also performed at the event, and there were also impromptu musical performances at the JamSpace. The special guests this time included famous game musicians — including Danny Baranowsky, Grant Kirkhope, and, most prominently, Nobuo Uematsu — alongside voice actors, film makers, artists, and Internet personalities.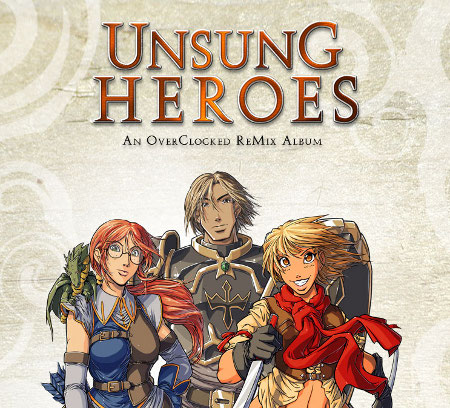 I spent some of my time in panels featuring guest speakers and organisations. Particularly notable was OverClocked ReMix's panel, which revealed their next album would be titled Unsung Heroes — an album dedicated to remixed versions of various songs heard in lesser known — or lesser remixed, as they described it — RPGs. Games that I remember from the trailer were 7th Saga, SaGa Frontier, Suikoden, Luminous Arc, and Persona 3. It'll be interesting to hear some of these remixes, especially for some of the more modern games.
For me, the two biggest acts of the weekend were Jake Kaufman's chiptune set and the Earthbound Papas rock performance. Kaufman, complete with electric pink hair, rocked the chiptune stage with his eclectic set of tunes. While I was not familiar with most of them, they were all quite enjoyable. The opening set was soft pop vocal theme that really had a nice mellow tone to it, setting the stage for the more intense entries to come. The second track in the set started off with some technical difficulties, but it still sounded awesome to me — reminiscent of something you might hear in a retro RPG and with a tonne of energy. The third track had a bunch of energy as well, mixing some hard techno beats with some great chiptune melodies. It was a fantastic track that I think would work well in a shmup! The fourth track he described as "real L.A. chipthrash." Titled "Sorcerer's Battle," it had that intense RPG boss atmosphere and the overall synth sounds inspired memories of the Genesis.
The last two tracks on Kaufman's set came from his newest soundtrack, Mighty Switch Force. The first, "Whoa, I'm in Space Cuba," is an excellent blend of FM synth and electronic tones and really reminded me of people like Yousuke Yasui or Keishi Yonao. It had a nice lounge jazz vibe mixed with retro chord progressions, slick piano passages, and spacey electronic tone. The last track, however, was definitely the star of the show. Titled "Yummy" — although I'm pretty sure it was the Electronugget remix version — it was a slick electro house track with some dubstep influence. It really electrified the crowd. These two tracks were only a small offering from the Mighty Switch Force soundtrack, but I highly recommend the entire soundtrack. You can get the whole thing at Virt's Bandcamp page for "name your price," whether it be free, or for any monetary amount you choose. You can also stream all the music on the Bandcamp page if you aren't sure about it.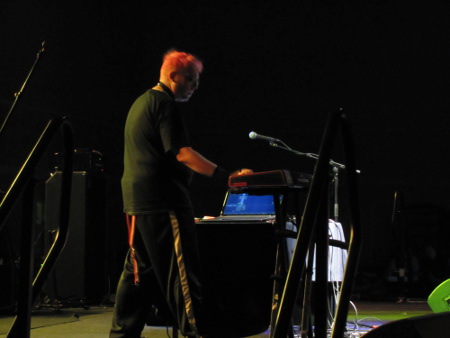 The highlight of the night, though, for most of the people at MAGFest, was the performance from Nobuo Uematsu's new band, the Earthbound Papas. This was actually their second performance to US audiences — their first being at an anime convention in Houston this past October. Because they couldn't bring their singers or their narrators onstage, the setlist contained instrumental music from both their album, as well as some tracks that were done previously by the Black Mages. The concert opened up with "Introduction ~ Octopus Theory." While the orchestral portion was playing, the band took to the stage sporting a range of costumes: Hanyuda wearing casual attire; Tsutomu Narita wearing a dress shirt, jacket, with some nice pants; Yoshitaka Hirota with an Japanese style outfit; Michio Okamiya in a Thai inspired outfit; and Nobuo Uematsu wearing some African inspired digs. As the orchestral portion ended, the band immediately took over to perform the rock portion of the theme, "Octopus Theory." It really got the crowd pumped.
From there, the band moved straight into "Those Who Fight Further," from Final Fantasy VII. This provided some awesome solos from each member of the band, with the highlights being Hirota's bass solo and Okamiya's guitar solos. For obvious reasons, this theme and the others from Black Mages albums were slightly different from the old band's versions. "Thread of Fate" from Guin Saga provided a nice mellow break in the show, featuring some beautiful keyboard and guitar work, as I previously noted in my Dog Ear Records event report in October of 2010. THey also performed "Metal Hypnotized," the original tune from their album. The crowd really seemed to enjoy this one, and it's one of my favorites as well, featuring some slick instrumentation work. After that, we were treated to "The Forest of a Thousand Years," although minus the cello work. Fans seemed to really enjoy this one as well, with some people near me mentioning this theme was making them cry. It was quite a beautiful passage, as I also mentioned in my previous report on the Earthbound Papas performance.
Closing their set, the Earthbound Papas performed fan favorite "Battle with Gilgamesh," and what a joy it was. I loved how Narita switched between guitar and keyboard to provide both solos and those ever important guitar riffs that make the original sound version so fun. It featured a heavier rock tone rather than the surfer rock of the original. In one of the most incredible moments of the entire event, the "Dancing Mad" was subsequently played in its entirety. I really liked the bass focus on this one, more so than the original Black Mages version, particularly in the beginning, while Uematsu took a hold of the organ solo and did it justice, given some of the shoddy performances from other events (where he wasn't playing organ) I've seen on Youtube. The encore, because there had to be one, of course, was "Maybe I'm a Lion," which seemed to please a lot of fans as well. This one didn't seem to differ too much from the Black Mages version, but it was still a ton of fun to and really ended the show with a bang. Following that, there was an autograph session that lasted until 2 AM, and the line went on for what seemed forever.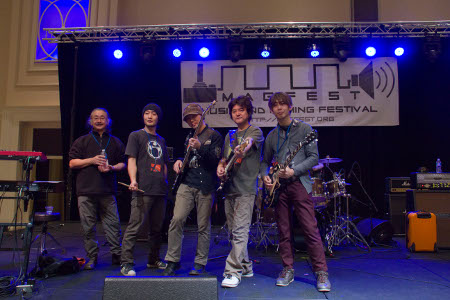 It'll be hard to top the special guest this year, at least in terms of performances, but the Earthbound Papas expressed their interest they'd like to return one day, perhaps bringing singers and their narrator so they can play some of the other tracks from their album, such as "One Winged Angel," "Liberi Fatali," or "Bo-Kon-Ho-Ko," the final battle theme from Lost Odyssey. My main recommendation for MAGFest in the future is to secure Yuzo Koshiro, though. Maybe he can put on a Streets of Rage DJ show or even dedicate some music to Wangan Midnight. I'm sure the fans would love to meet the man behind such gaming classics as Actraiser and Ys!
Do you agree with the review and score? Let us know in the comments below!
Posted on January 10, 2012 by Don Kotowski. Last modified on March 1, 2014.