Kumi Tanioka Interview: Tailoring Game Music and Ringmasters
In 2011, Gee Daigo established Ringmasters LLC, a collective of artists from across the world. The Ringmasters Certifyd Programme is a non-exclusive membership acquired by artists who meet strict criteria. These artists are authorised to participate in Ringmasters Productions that are presented in their respective fields. A founding member is Kumi Tanioka, who specialises in game music production.
Tanioka is best known for creating diverse and memorable music on franchises such as Final Fantasy Crystal Chronicles, Code Age Commanders, and Chocobo's Mysterious Dungeon. After leaving Square Enix, she has participated in iPhone titles and arranged albums as a freelance composer. In this interview, she introduces herself to readers and discusses her approach to music production, as the artist enters a new stage in her career.
Interview Credits
Interview Subject: Kumi Tanioka
Interviewer: Clara Katsuragi
Editor: Chris Greening
Translation & Localization: Ben Schweitzer, Gee Daigo
Coordination: Gee Daigo, Clara Katsuragi
Interview Content
Clara: How did your relationship with Gee Daigo and Ringmasters start?
Kumi Tanioka: It all started when he was at a Square Enix event overseas, promoting a certain game, giving me personal support. Gee took me out for a delicious hamburger in Anaheim with his colleagues at SEA. (laughs)
Clara: Oh, is that right? Sounds like a great way to meet someone. And before you started working in music, what did you do?
Kumi Tanioka: I was a student.
Clara: As a student, who were your favorite pianists? Who are your favorite performers now?
Kumi Tanioka: The pianist that left the strongest impression on me was Piotr Paleczny. I will never forget my experience as a high school student hearing him play Chopin. Also, she's in Jazz, but Hiromi Uehara is another favorite.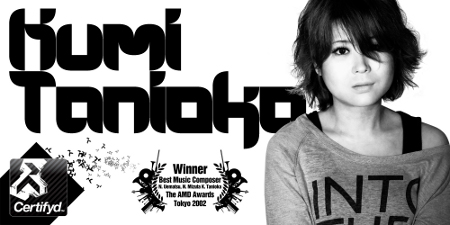 Clara: Paleczny and Hiromi Uehara have no connection to game music, so what inspired you to enter that field?
Kumi Tanioka: During childhood, I studied composition in the classroom, and my younger brother was a dedicated gamer. (laughs) The house was saturated with games, so I was always hearing game music. When I was leaving college, with my interests turning more towards creating music than performing it, at the same time I was beginning to think "I should try to get into the game industry!" I think that's how it went. (laughs)
Clara: What's the best part about working with games?
Kumi Tanioka: That you can travel through so many worlds. Mostly, I love being able to show all of these different worlds from various perspectives with different music. I am also happy to come together with so many people to create a single game.
Interviewer: Conversely, what parts do you find difficult?
Kumi Tanioka: It's always difficult. (laughs) I enjoy the work, but one can't just keep on turning out piece after piece. Sometimes I labor and worry over a piece forever, and sometimes it's finished immediately and I'm happy with it. But all in all, I think it's a good job.
Clara: What do you do to relax when you're having trouble with a piece and hit a dead end?
Kumi Tanioka: I cook, I go on a walk… something completely different from my work.
Clara: Your music contains a lot of emotional melodies. Where do you get your inspiration?
Kumi Tanioka: With a game, I consider the feel of its world and its imagery, and my melodies come from my feelings about these things. Of course the melodies do not always come so easily, so at those times I will do housework or shopping and in the middle of the task an idea pops into my head suddenly. It often works that way. Also, in a way it feels like working with a picture book. My music comes out of the various stories and the materials I read and see.

Clara: How do you compose? What do you use?
Kumi Tanioka: I use a Mac for work. For sequencing I use Digital Performer, and I use all sorts of software for samples:
Orchestral library: East West Quantum Leap
Ethnic sample libraries: Ethno II, EWQL RA, Gamelan Samples
Equipment: M-AUDIO Firewire audiophile, MOTU micro lite
Clara: I understand that you have contributed to game music, but do you play games in your free time? If so, which ones?
Kumi Tanioka: I'm actually not very good at games. To be honest, I'm terrible. All the same, I've tried my hand at this and that. The easiest to play are probably the casual games that don't require any thinking.
Clara: What advice would you give to people who are thinking of composing for video games?
Kumi Tanioka: To go into that world, instead of composing the music you want to compose, your first priority is to make music that is good for the particular game, music that people want, and music that will make people happy. If you approach it thinking "what kind of music do I want to compose," you're probably going to have a tough time. Working on a game is much more about creating music that adds color to the game's world than expressing oneself. So the ones who are suited for creating game music are the people who would look at any kind of request and think to themselves, "looks like an interesting challenge".
Clara: Regarding Ringmasters, what are your thoughts on being able to collaborate with artists from diverse fields?
Kumi Tanioka: It is truly wonderful being here and getting to know everyone. With all that we can do here, composing, performing, and releasing music, I am coming up with ideas left and right and want to try them all. Being with everyone here, I feel that I can do all kinds of interesting things, and I'm looking forward to what we will do.
Clara: Thank you very much for your time.
Posted on September 5, 2011 by Clara Katsuragi. Last modified on February 28, 2014.