Frank Klepacki's Original Albums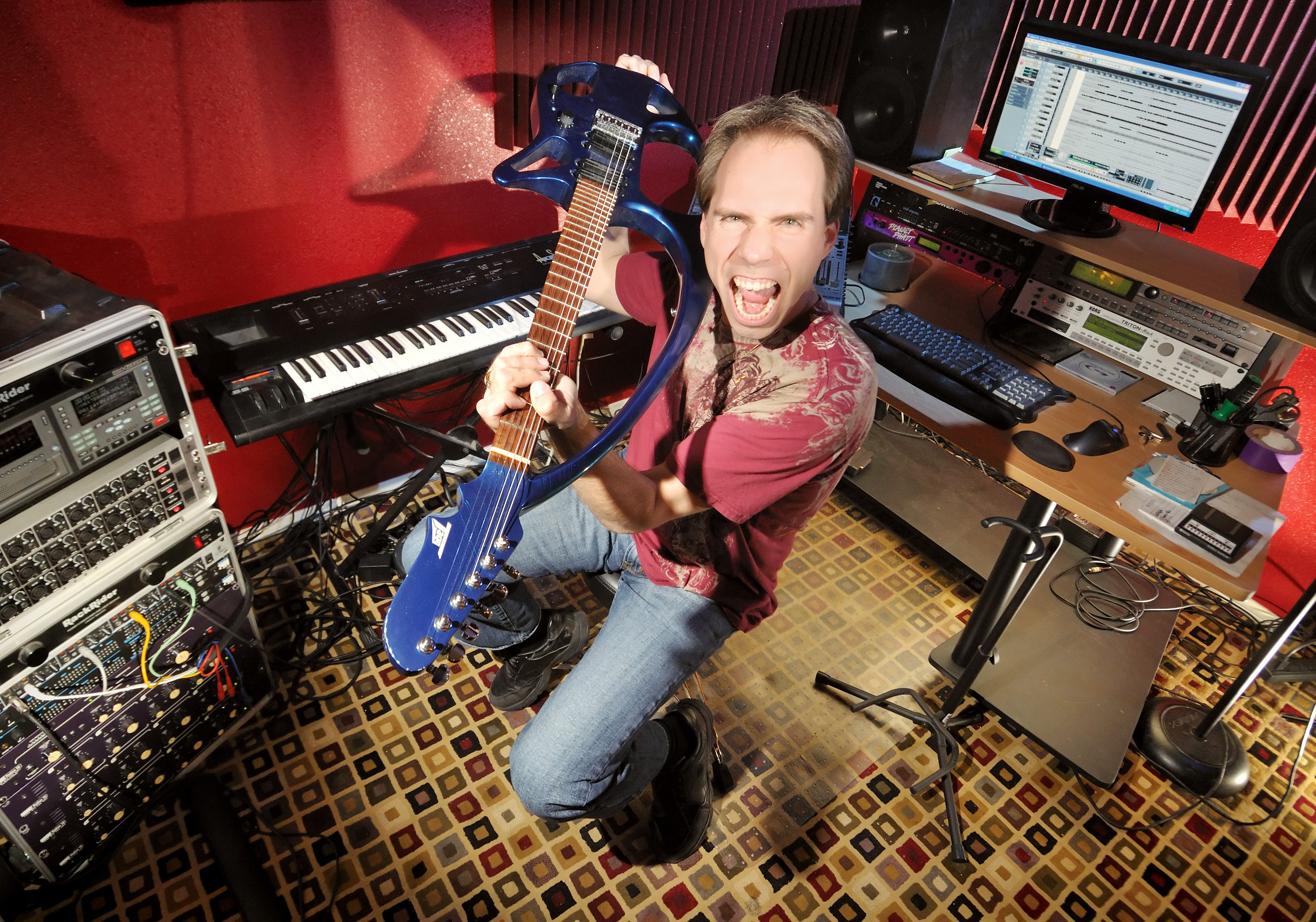 With a career reaching back more than 20 years, Frank Klepacki is not only one of Western game music's most seasoned composers still working in the business. He can also lay claim to having written a number of iconic scores, particularly for the Command & Conquer franchise. However, Klepacki's work isn't limited to soundtracks. An active member of the Las Vegas music scene (his home town), Klepackihas played in several bands and in 2002, motivated by the success of his game scores, he embarked on a prolific solo career that has seen the release of eight albums so far.
On these albums, Klepacki reprises his trademark mix of musical styles, but he also elaborates on previous works and explores new ground, producing an album catalog that fans of Klepacki's game scores will definitely want to check out. All these albums are available from Klepacki's website in physical and digital format. You can read more about Frank Klepacki through our indepth interview with him. Below are summaries of the review of all his original albums in chronological order; click on the links to learn more about them:
It might seem like a facile way to sum up Morphscape's appeal, but there's no question that if you're a fan of Klepacki's Command & Conquer scores, you will most likely also enjoy Morphscape (unless you expect more of Tiberian Sun's powerfully atmospheric ambient musings). Klepacki's debut album brings to the table the same delectable mix of various genres – rock, dance music, house, funk, hip hop – that characterised his Command & Conquer scores. Not all of the genre bending on Morphscape works perfectly – "Cosmic Lounge" and "Defunkt" are no complete misses, but they still stumble. More often than not though, Klepacki mixes styles to winning results, be it the hard rock-meets-dance beats assault of "Virus" or the energising electro funk of "Blaster". There's not much here that fans won't have heard already on various Command & Conquer albums, but at least "Gonna Rock Yo Body"'s smart disco homage hints at new talents that Klepacki hasn't displayed before. Overall, Morphscape is a solid debut album that will be of interest not just to Command & Conquer fans.
Starting out smashingly with "Decible" and going from strength to strength, Rocktronic bests Klepacki's previous solo outing and sits right next to his best work for the Command & Conquer franchise, with which it shares many stylistic similarities. Klepacki focuses on different combinations of rock and electronic elements – the album's title is dead on – keeping the album more focused than the sprawling Morphscape. Within this framework, Rocktronic manages to still maintain the eclecticism so typical of Klepacki's work, ranging from straight out hard rockers to industrial funk and noise vs. choir showdowns. Driven by unbridled energy, Rocktronic – even less so than Morphscape – delivers anything that hasn't already been heard on Klepacki's Command & Conquer scores, with "Rocktronic" sounding more than a little like "Hell March". However, when a trademark style is pulled off as well as it is here, and is bolstered by consistently strong songwriting, there's no reason to complain.
True to his eclectic musical trajectory, Klepacki shifts focus again after the fierce Rocktronic and goes clubbing on most of Virtual Control. As on Rocktronic, focusing on one genre doesn't mean that there's not an impressive amount of variety to be found on the album, as Klepacki finds a new approach for each of his beat-driven tracks, throwing funk, pop, hip-hop and retro influences into the mix and almost always ending up with a winner on his hands. The hard rock/metal tracks that open and close the album offer not much that's new to fans of Klepacki's previous works, but with a power house as impressively roaring as "Vengeance Beast", that's hardly an issue. Virtual Control is a more refreshingly original album than Morphscape and Rocktronic, despite the occasional throwback to the electronic elements on Morphscape. What Virtual Control lacks is Rocktronic's consistency – there's a handful of tracks here feel competent rather than inspired. Despite this shortcoming, Virtual Control continues Klepacki's run of strong solo albums and shows his commitment to musical reinvention.
Living up to its name, Awakening of Aggression is Klepacki's rawest, most hard-hitting album to date. Eschewing the militaristic undertones of Klepacki's previous solo albums and Command & Conquer scores which gave his hard rock/metal-influenced tracks a certain catchiness, Awakening of Aggression most intense tracks are asphyxiating riff-monsters that go for the jugular. A purposefully murky album mix and distorted instruments create a stifling atmosphere that is as important to the album's success as the bone-crunching energy of Klepacki's riffage and drumming.Awakening of Aggression is far from one-note though, as Klepacki finds other ways than just fearsome hard rock to vent his frustrations, incorporating funk, hip hop and synth sounds as on previous albums – only in a heavier brew than usually. Even a languorous synth mood setter like "Fantasy" finds its natural place on Awakening of Aggression, once more showcasing Klepacki's versatility. Awakening of Aggression isn't Klepacki's most accessible solo album, but it might just be his most relentless and fierce work.
It's easy to summarise Infiltrator as a first-class return to the Command & Conquer sound that Klepacki pioneered almost 15 years earlier in his career. Still, it's not a simple regurgitation of his earlier video game work – the guitars and drums rock harder on Infiltrator, while Klepacki successfully tries his hand at a couple of tracks ("Construct", "Chillin") that don't necessarily push the boundaries of his body of work as a whole, but still add some colours that one wouldn't have found on his Command & Conquer scores. With consistently excellent song writing and not a single filler track in sight, Infiltrator manages the balancing act between eclecticism and coherency even more successfully than Klepacki's previous solo albums. For fans of Klepacki's Command & Conquer soundtracks, Infiltrator is the best place to start exploring his solo career.
After the excellent Infiltrator, Viratia is an unexpected let down. The often short cues on this sci-fi themed album are among the least-well developed in Klepacki's body of work, with some tracks coming across as filler material more than anything else. Like the comic book it underscores, Viratia's music lacks originality and has neither sufficient breadth or depth to truly impress, taking too long to get off the ground and then failing to sustain the tension towards the story's showdown. The album is satisfying in fits and starts on tracks like "Cover Me", "Sonic Pain" and "Mind Prison", and the rest of the music is never less than competent, but compared to the rest of Klepacki's impressive musical output, Viratia ranks as one of his least albums.
In a way, Conquering 20 Years is an experiment, and for the most part it's a successful one. There are not many other – if any – albums out there in Western game music quite like it, but Klepacki rewards listeners' curiosity with an impressively varied work, displaying his mastery of many, many musical languages even more so than on previous albums of his. From 8-bit chiptunes to romantic fantasy music, languorous, yearning sci-fi dreams, stripped down funk and various incarnations of Klepacki's famous "Rocktronic" sound, Conquering 20 Years' first two thirds are outstanding in both stylistic breadth and quality of output. That changes somewhat towards the end of the album, which is marked by less assured song writing and a narrower palette. It's that final album stretch which stops Conquering 20 Years from being the career capstone that it wants to be, but it's still a strong album worthy of purchase – and here's to hoping Klepacki will take another shot at the same concept in 2022!
Album Title:


Here At Last

Record Label:


Klepacki Productions

Catalog No.:


N/A

Release Date:


November 1, 2012

Purchase:


Buy at CDBaby
Given Klepacki's previous work and his funk credentials, there probably wasn't much doubt that Here At Last would be another strong addition to his discography. And indeed, Klepacki crafts an album's worth of vibrant, joyful funk songs that know when to party as well as when to slow things down to do a bit of romancing. Klepacki's ensemble Face The Funk is a huge asset to the album, performing these songs with as much soul and skill as one could hope for. You won't find much on Here At Last that you haven't heard already on many other 60s/70s funk albums, but then again, that was the point of this album project. It's a love letter to old school funk, and it could hardly be more entertaining.
Posted on May 4, 2014 by Simon Elchlepp. Last modified on May 26, 2014.