Go Shiina Interview: A Magical Mystery Tour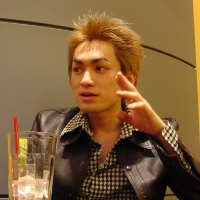 Masaru Shiina (aka Go Shiina) is a composer at Namco Bandai Games who gained widespread recognition for his exceptional orchestral works on Tales of Legendia. Among his other projects include contributions to the Mr. Driller, Taiko no Tatsujin, The iDOL@MASTER, MotoGP, Ace Combat, and Tekken series.
In a rare interview opportunity, Go Shiina provides readers with an extensive tour of his music. He reflects on the landmarks of his career, placing particular focus on his stylistic versatility and technological innovations. Most excitingly, he discusses his recent works on Tales of VS., Tales of the World: Radiant Mythology 2, and Tekken 6, and elaborates on what to expect on the upcoming God Eater.
Interview Credits
Interview Subject: Go Shiina
Interviewer: Chris Greening, Don Kotowski, Bryan Matheny
Editor: Chris Greening
Translation & Localisation: Daniel Markoff
Coordination: Yutaka Fuse
Support: Tetsuya Shibata, Yoshino Aoki
Interview Content
Interview Team: Go Shiina, thank you for talking to us today. For those who don't already know you, could you please introduce yourself and tell us about your background? What led you to become a musician?
Go Shiina: I was born in May 1974. My tarents taught the electronic organ from our house when I was growing up. I learned a little back then. It was popular at the time to be in a band, though I was involved in a band just a little bit. I balanced that with the track and field team at my school.
After school, I really felt lucky to be given a job at all. I failed a lot of interviews before landing it. I first went through the consumer foods industry, then banks, then jewelers, and finally apparel. They all turned me down!
Interview Team: The Mr. Driller series gave you your first chance to stand out and you demonstrated outstanding diversity with this freedom. Were these projects difficult for you? How much of your experiences from the series have you taken with you to future projects?
Go Shiina: The Mr. Driller series was difficult for me. The first Mr. Driller game used a Namco arcade board. Making music for it was as challenging — it felt like computer programming. I was used to thinking about music flowing to the side like a normal musical score. However, writing for the Namco arcade board involved writing music from top to bottom, like a programming language. The board also didn't offer reverb or other functions to smooth out the music. This made each instrument stand out awkwardly. I had to have my co-workers, Junko Ozawa and Yoshinori Kawamoto, teach me about how to try to smooth things out.
Experiences like that have helped me when I'm mixing music, even after music could be streamed in games. It also came in handy when I had to use internal sound sources for Tales of Legendia.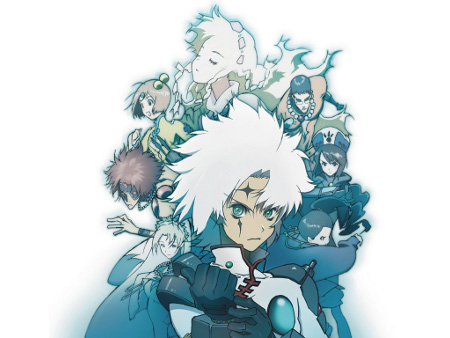 Interview Team: On that note, many regard Tales of Legendia to be your breakthrough work in terms of mainstream popularity. Could you elaborate on how been involved in this project, considering Motoi Sakuraba and others usually compose for this series? What inspired the overall direction of the game's soundtrack — was it entirely a demonstration of your individuality or was it partly inspired by earlier Tales scores?
Go Shiina: Most Tales games are made by Namco Tales Studio, and Mr. Sakuraba creates the music for those as a freelancer. Other Tales games have been made internally by Namco (now Namco Bandai), and I have come to be in charge of music for those games.
At first I tried to fill Mr. Sakuraba's shoes and put together some tracks. Then I read the script and plans for the game, and realized that it was different from previous works in the series. That realization helped me to write my own music, and stop trying to fit in to Mr. Sakuraba's work. After that, I was inspired by brief trips, meeting people, and good food my workplace colleagues brought me to tide me over.
Interview Team: One way Tales of Legendia stands out from other entries in the series is its particularly high quality production values. How was it to work so extensively work with the orchestra and soloists of this project and what do you think they brought to the project? Was it a challenge from a technological perspective to achieve such a high quality sound?
Go Shiina: It was fun, but extremely difficult. The main problem I ran into was that the Protools (DAW) of the day could not provide for enough instruments. I had to synch up two and use them at the same time. I also needed to use a VP-9000 grain.
It was hard to change my musical direction for the studio musicians and those trained in a more classical style. However, I am really glad I have that experience now. They differ in how they keep track of the beat, how they play even the same instrument, how they punch in when editing a track, etc. It was fun because the same directional advice could be taken in so many ways. Having them all play on the same tracks was a difficult task.
Interview Team: The soundtrack to Kyo Kara Maoh! Hajimari no Tabi is reminiscent of Tales of Legendia with its colorful and multifaceted approach. What were your major influences when deciding the musical direction for the game? Did you try to channel any inspiration from the visuals and music of the anime adaptation?
Go Shiina: It was my first work in the realm of girl-targeted anime games. I felt I had to learn more about that culture. So, I went to voice actor live events, as well as to Ikebukuro, where this kind of anime fan tends to hang out. After that, I tried to take into account that this was for a game and not an anime, and I set to work.
You should note that the opening theme for the TV show had a rock feeling. The visuals in the anime are very flashy, so that influenced me a lot. The character's hair and clothing color, as well as their personalities, impacted how I put together the music.
Interview Team: More recently, you've returned to the series for Tales of Fandom Vol. 2, Tales of VS., and Tales of the World: Radiant Mythology 2. Could you discuss your contributions for these projects and what they brought to the games as a whole? Was your involvement in these projects in response to the popularity of Legendia and should we expect you to become a mainstay of the series?
Go Shiina: I did the opening and ending themes for Tales of Fandom Vol. 2 while the rest of the music was taken from earlier Tales games. For Tales of VS., I rearranged one of my own tracks from Tales of Legendia, as well as arranging one of Mr. Sakuraba's tracks from Tales of Destiny 2. I put together five battle scene tracks for Tales of the World: Radiant Mythology 2.
Tales of VS. and Tales of the World: Radiant Mythology 2 are pretty interesting because I was able to use Vocaloid as well as physically sourced sounds. The Tales of Fandom Vol. 2 tracks were basically put together with just one violin and some sampled sounds.
As for whether I am a mainstay of the series, I can only say I would like to be. It's really up to the fans to decide.
Interview Team: While much of your Tales work is organic, you've also demonstrated your talents as an electronic musician over the years. In particular, I'm interested in learning about your involvement inAce Combat 3 and MotoGP3. What did you contribute to these projects and what was it like working alongside Tetsukazu Nakanishi?
Go Shiina: I like synthesizers, so I really enjoyed these works. I wrote three tracks for Ace Combat 3and one for MotoGP3.
Ace Combat 3 was my first opportunity to use an arpeggiator. There were times that it was so enjoyable to use that I had to stop myself. I was mainly using a hardware synthesizer at the time, which made it difficult to do a total recall. Utilizing a filter, for instance, sometimes meant that I had no way of creating the same effect ever again. I just had to hope that I got the sound I was looking for the first time.
Mr. Nakanishi isn't good at coming up with good jokes, but he's an incredibly creative artist. He is the type of guy who works hard out of principal, even when he may not receive credit for it. He also let me have things my way on a lot of issues, so I thank him deeply for that.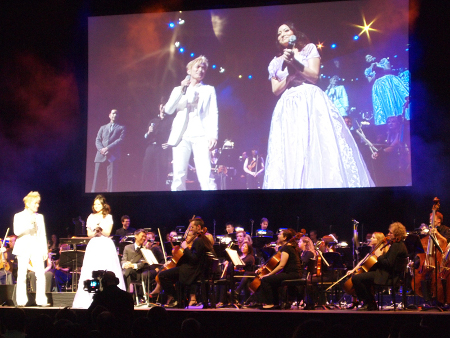 Interview Team: It's pretty easy to find your fingerprints in the Taiko no Tatsujin series too. Could you explain in more detail the extent of your involvement in the series and your most defining compositions there? Is working with rhythm games any different from composing normal background music?
Go Shiina: I asked Yoko Takahashi, who sings the Evangelion songs, to help with the consumer game and made the opening theme. I also wrote a few tracks, including "Fu-un Bachio Sensei" and "Mega Don."
For a rhythm game like this, it's important to emphasize the breaks in the music, rather than trying to make the track flow as in most other work. Groups of beats also have to be broken up and given more emphasis than in other music.
Interview Team: In addition, you've contributed several vocal themes for the iDOLM@STER series, all of which are quite unique and beautiful. Could you discuss your experiences composing vocal music for this project? What was it like to recently see Chiaki Takahashi perform "Tonari Ni" from the series at A Night in Fantasia 2009?
Go Shiina: I think the iDOLM@STER series is a growing experience for both the voice actresses and for the people writing and editing the music. I understand that the music I authored is harder to sing than the other songs. It was fun to work together with the cast to overcome that.
I have had deep respect for Chiaki Takahashi's work ethic for a long time. On top of that, her performance was more spectacular than anything I had imagined. It really touched me. I may be deceiving myself, but I really felt like she paid special attention to take good care of my work in particular.
Interview Team: Aside from the aforementioned projects, listeners are curious about what else you have composed during your career. Are you able to go into more detail about some of your lesser-known projects and what you offered them? Do you ever regret soundtrack releases weren't possible for these?
Go Shiina: I also worked on Klonoa 2: Lunatea's Veil, where I did three tracks. As for games I really wanted to see a soundtrack for, there's Mr. Driller: Drill Land (I did the whole game) and Netsu Suta2006 and 2007 (I did the opening themes).
Interview Team: Let's round off the interview by looking at your recent works for one other franchise: Tekken. Tekken 5 and Tekken 6 were unique in that featured compositions by multiple composers and companies. How did the Namco Sound Team manage to coordinate this approach to still create cohesive scores?
Go Shiina: I really think that a good game soundtrack is composed of some safe and reliable tracks, as well as some tracks which are made to stand out on top. Without the reliable tracks, the more flashy tracks would be left without a base. The balance between these two types of tracks is important.
In these Tekken series games, I was in charge of the more low key tracks. Because I was not on the project to stand out, I found I had freedom to have fun making the music.
Interview Team: While the Tekken 6 soundtrack release is impending, I wondered if you could give some insight into your offerings for the game. What were your compositions for this game and how did you build upon the styles you established in the Tekken 5 soundtrack?
Go Shiina: My Tekken 6 tracks include a similar style to that of Tekken 5 Dark Resurrection's "Snow Castle." I feed voices to a sampler, then regroup and remix them. I did the opposite for Tekken 6 Bloodline Rebellion when I had a singer do the song for Alisa. I hope people will enjoy differences between the games like that.
The consumer version of Tekken 6 has 5.1 channel tracks. I really want people to give a listen. They'll find I'm really spinning these instruments around the speakers.
Interview Team: Finally, can you give us a sneak peek into your score to God Eater and anything else that you are currently working on? Many thanks for speaking to us today.
Go Shiina: God Eater was my first chance in a long time to do the entire sound track for a game, so I was really excited about doing it. The story is very dramatic, but also realistic enough to really frighten the player. The creative nature of the story pushed me to be creative with the music as well. I looked around for a variety of instruments from many countries. I hope people will enjoy my work.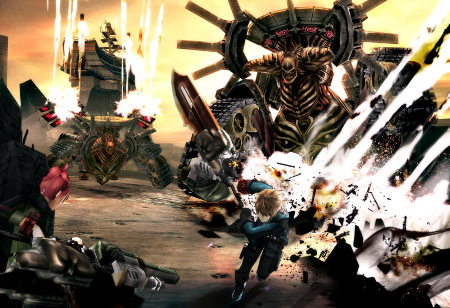 Tetsukazu Nakanishi and I also did some of the enemy voices. The samples have been altered a bit, but I still want to challenge players to try to guess which enemies we did.
Like I said, the story of the game forced me to be creative with the music. Depending on certain character's origins, I tried to put in a variety of musical tastes from different countries. Some parts are based on Japan's traditional music. Others involve African rhythms. I also used the Indian sitar.
Many tracks in the game were technically demanding for the musicians who performed them. I remember that when we did the stringed instrument part recording, we finished with only two minutes of studio time left. I was relieved to get that done. In another instance, I was sure we could not finish when a track of over five and a half minutes was left with only 15 minutes in the studio remaining. Somehow, we pulled that off too.
Everyone really poured their sweat and tears into this soundtrack. I hope the fans will enjoy it.
Many thanks to Yutaka Fuse for coordinating this interview, Daniel Markoff for his meticulous translation, Tetsuya Shibata and Yoshino Aoki of Unique Note for arranging this interview, and Don Kotowski and Bryan Matheny for their general assistance and question suggestions.
Posted on November 15, 2009 by Chris Greening. Last modified on March 2, 2014.