Fantasy Comes Alive: Singapore, April 2010
On April 30, 2010, I attended the second of two concerts of Fantasy Comes Alive, a chamber orchestral rendition of music from Video Games and Anime. Organised by veterans of Eminence, Fantasy Comes Alive is one of the biggest celebrations of music-for-visuals to have occurred in the cultural hotspot of Singapore. Though heavily inspired by other concerts, the organisers still managed to produce an impressive and individualistic overall offering.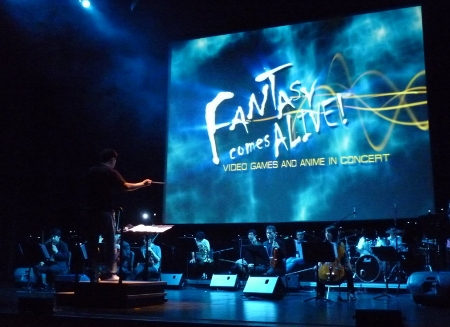 During the night, Adrian Tan conducted a very young and mostly polished chamber orchestra on an epic journey through themes from video games and anime themes. The program was very ambitious, featuring 25 arrangements from games and animes of different eras. Below are the full set listings from the night:
First Half
Break the Sword of Justice – Tsubasa Chronicles
Scar of Time – Chrono Cross
Granado Espada Medley – Granado Espada
Kyoudai – Fullmetal Alchemist
Vampire Killer – Castlevania
Vamo Alla Flamenco – Final Fantasy IX
Succeeded Wish – Valkria Chronicles
Prime #101 – Echochrome
Prime #7 – Echochrome
Hikari no Senritsu – Sora no Woto
Never meant to belong – Bleach
Cruel Angel Thesis – Neon Genesis Evangelion
Second Half
Aimo (Tori No Hito) – Macross Frontier
Life's Merry Go Round – Howl's Moving Castle
My Neighbor Totoro Medley – My Neighbor Totoro
Final Fantasy Tactics A2 Medley – Final Fantasy Tactics A2
Odin's Sphere Main Theme – Odin's Sphere
Touch – Romeo X Juliet
Penelo's Theme – Final Fantasy XII
Eye's On Me – Final Fantasy VIII
Tetris Medley – Tetris
Megaman Music Medley – Megaman
Encore
A Song of Storm and Fire – Tsubasa Chronicle
Cruel Angle Thesis – Neon Genesis Evangelion
Life's Merry Go Round – Howl's Moving Castle
I am admittedly not a big fan of either video games or animes, but rather attended this experience as a classically-oriented concert experience. Nevertheless, it was very clear during the night that this ambitious set listing was a great fan pleaser and managed to highlight a wide variety of styles and emotions on small ensemble.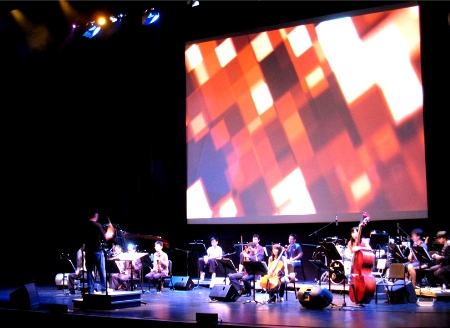 The highlights of the video game selections ranged from the recent Korean MMORPG Granado Espada, through to '80s cult classic Megaman, and, of course, fan favourites from the Final Fantasy series. Appropriate given the Hitoshi Sakimoto connection, Final Fantasy XII and Final Fantasy Tactics A2 were particularly central items and highlighted his distinctive modernist sound. However, possibly my favourites were the renditions of Echochrome's string quartets "Prime #101" and "Prime 7". Both were ingenious choices for the program given the small ensemble focus of the concert, and the string players were more than capable of capturing both the technical finesse and emotional subtleties of the originals.
On the anime front, there were even more obvious fan favourites. We had music from mecha classics such as Macross Frontier juxtaposed with Joe Hisaishi favourites such as Howl's Moving Castle and My Neighbour Totoro. The team were very familiar with these scores through their work at Eminence and were able to transfer their experience and musicality over to the performances. One of the highlights of the evening was a rocking interpretation of "Thesis of a Cruel Angel" from Neon Genesis Evangelion. Both musicians and audience really enjoyed this — so much so that it was even performed again during one of the many encores.
That said, there were a few disappointments during the night, such as the weak guitar performance ofFinal Fantasy IX's "Vamo' alla Flamenco" and the inbalanced Sora no Woto performance. All in all, though, it was clear that the organisers and performers were competent. I was especially amazed at how much of a nod the games and anime gave to classical music, from Baroque onwards. There were a couple that veered towards J-pop and rock music (notably the aforementioned Neon Genesis Evangelion piece) but many of the items played that evening would not have been terribly out of place if inserted in an SSO classical programme. In addition, many certainly would have worked well in an intimate movie score.
We were also graced by the presence of video game composers, Final Fantasy XII's Hitoshi Sakimoto and Echochrome's Hideki Sakamoto, both of which were brought up on stage to give a short speech of thanks (in Japanese with translation). They were also present at a meet and greet session after the show. Given my lack of Japanese and also unfamilarity with their game projects, I decided to miss. Fans appetites were also satisfied by the inclusion of a cosplay contest and, in most items, the projects of images and videos from the features animes or games on a central large screen. Neither were new features to video game concerts, but were a major novelty in Singapore.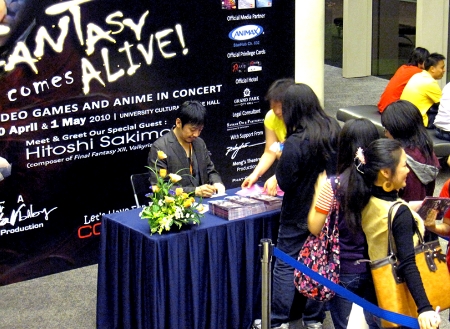 Sadly, the University Cultural Centre wasn't full during the night, perhaps because the concert wasn't advertised as much as some others. Also, many people who might have enjoyed the music probably would have given it a miss simply because of unfamilarity with the whole anime and games scene — their loss. This concert was well-produced and managed to satisfy even an attendee such as myself — a classically-oriented musician with comparable little experience watching animes and playing video games as most in the audience. Although the renditions were not exactly perfect, I really enjoyed what I heard on that Saturday night.
Do you agree with the review and score? Let us know in the comments below!
Posted on April 30, 2010 by Beyond Moments. Last modified on March 1, 2014.