Damian Sanchez interview: Blues and Banjo
Damian Sanchez is a classically trained Spanish composer who has contributed to indie games of all types, resulting in a myriad of scores in his repertoire. From bluesy jazz to electronic to country-Egyptian fusion (yes, you read that correctly), Sanchez, adapts his style to fit the range of games he writes for. Damian is the current CEO and audio director at Sonotrigger, his music and audio production company. 
We are delighted to finally sit down and chat with Sanchez, whose soundtracks have frequently been featured on our Friday Giveaways in the past. In this interview, Damian talks about his background in music, and the unique and varied methods he's incorporated while approaching each new soundtrack.
Interview Credits
Interview Subject: Damian Sanchez
Interviewer: Emily McMillan
Editor: Emily McMillan
Coordination: Damian Sanchez, Emily McMillan
Interview Content
Emily: Let's start with your musical background. What in particular brought you into the field of game music?
Damian Sanchez: I am classically trained in piano, percussion, and composition, but always had interest for the music technology, in which I am mostly self-taught. I started doing some electronic/dance music during the my high school time, these were my earlier experiences with sequencers and digital instruments, but quickly I found that I was more confident producing orchestral/acoustic tracks, so decided to focus my efforts on the music for the media.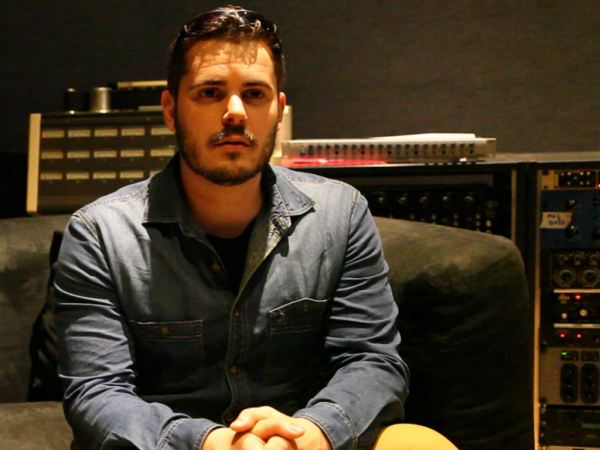 As many other composers my first goal was doing music for film and so I worked on few short films, documentaries and some TV content (series, spots). One of the contacts I made in the film business is also a programmer, and he started working on Supermagical by Super Awesome Hyper Dimensional Mega Team (developers of Rise & Shine also), we had never worked together at that point but, as the developers were looking for a new "audio guy", he introduced me to the team and after doing a first test, I got the gig.
That was kind of stroke of luck, I am gamer and was really excited to have the chance to put my music and sound to a video game. I did my best, the work was really well appreciated by other Spanish game developers and the ball started rolling. Quickly game audio became my main income and was then when I decided to fund Sonotrigger Studio, where I do music and interactive audio for games along with some scene/theatre commissions once in a while.
Emily: The soundtracks we've seen from you on VGMO have all been incredibly varied – you are more concerned with creating the perfect sounds for the game rather than a specific musical style of your own. Can you tell me about your process when first approaching the soundtrack?
Damian Sanchez: Defining your own musical style is one of the goals all composers seek, but sometimes you have to deal with really varied projects, some of whom could be in the other end of your comfort zone. In my opinion, you have two options at that point: you say no to those projects that don't fit exactly your creative skills (and so you start defining your personal style), or you get them and struggle to achieve top quality results and learn from the process.
In my case, and probably in most of other composers not working on the AAA scene, sometimes that decision also makes a difference between paying your bills or not! So, I tend to get all the projects that offer me a creative challenge, no matter size or style. As time went by, I learned you work to deliver the best audio solution instead of trying to 'force' your musical style to work on every game.
I just try to give every project what the project needs from me.
In the 90% of the projects I get the game engine and source code, and I assume the role not only of composing or designing sound, but also integration and making all work properly. For that I use custom tools provided by the programers, or using a middleware, mostly FMOD.
If the project is on its very beginning pre-production I request a game design document, art concepts and which references (other games) they are using. All of this along with some notes of what they expect from the soundtrack (or at least what they don't) are fair enough to start writing some ideas. Usually I start by a concept main theme, mainly to determine the sound palette and the general mood of the score, and once this works everything flows and rest of the music usually, comes faster.
Emily: How did you meet vocalist Izä, who sang the impressive theme song for Blues and Bullets? Did she help write or inspire you with the writing of that piece?
Damian Sanchez: Blues and Bullets it's been one of the most ambitious projects in which I had the chance to participate. From the very beginning of the production, the developers and me agreed that it was one of those games that could well deserve a main theme song. None of us had never done that before so it seemed a really creative challenge.
I was working on the main melody for a month or so, doing several instrumental mockups and proposals until we got one that pleased everyone in the studio. Then I started working on the song itself with the singer, who wasn't Izä at the beginning. We had the challenge to make a song with lyrics and vocals for a global market, so we started working with an American singer based in Barcelona which made us feel more confident about the lyrics and the English accent.
I worked hand by hand with her on the theme structure and the lyrics, and although the track was starting to get its final shape, the voice tone and the performance weren't sounding as me and the team expected.
We quickly made into the last two weeks before the studio session and we were still stuck without knowing who would perform the song. Was then when the lead game designer introduced us his girlfriend, Izä, who recorded few fast made vocals on the song mockup which we all loved. Izä is from Andalusia, so she has a strong southern Spanish accent, and obviously, she is not English native speaker but, damn, she brought that much feelings and soul to the song that we decided going with her.
She struggled for those last two weeks to adapt the lyrics and studying how to make the most natural sounding English possible, and so we got the Blues and Bullets main theme song. We all felt really proud of the final results, and although we all knew probably people would notice Izä is not a native speaker, the song sounded impressive and that was the point.
Emily: The soundtrack to Immortal Redneck stands out in particular for its humorous approach to the soundtrack – how did your creative process begin when you composed that soundtracks, and what made you settle on the sound you did? Was blending the styles of music difficult?
Damian Sanchez: In Immortal Redneck we had two main references: a Texan redneck and Egypt. I wasn't so much motivated on doing the typical cliche Egypt-sounding music, and so I let know to the dev team. Thankfully they agreed and we starting to think on something that would include the "redneck" style (banjo, guitars, folk sound in general) with some epic touches and, of course, a general ethnic background to settle the music in the ancient Egypt without being so much evident.
As in all my projects, I started working on the main tune, I wanted something epic but not so much serious. At the beginning I started creating guitar played melodies, but we were missing something to bring that touch of humor… and I want to apologize to all banjo performers, but was that instrument who brought that informal mood we were looking for. I sent the main theme mockup to a colleague who recorded few banjo and 'far west' sounding acoustic guitar layers, and that fit the game instantaneously.
Actually, mixing those two styles was fun and not too  difficult, as I remember, but the guys at the studio gave me a 'surprise' – let me explain.
The game takes place within three pyramids you must clear of enemies. The first pyramid is ancient Egypt based, second pyramid is more steam punk looking, what isn't that much far from the original music mood, but pyramid three … I remember when the guys told me: "Damian, in the third pyramid the aliens come, and it looks all scifi with neon lights and floating props, and we want it to sound like Daft Punk's Tron Legacy score."
Wow! I sat on my studio chair and spent few minutes looking at the ceiling wondering how the hell would I achieve that goal without making it sound like completely different scores … I started adding the electronics, replaced the banjo by electric guitars and tried to adapt the main tune and using it as common element between all three pyramids. The result is that if you isolate first and last track from the album, you hear radically different styles but there are few elements that make you feel everything belongs to a common musical context, and honestly, it works fantastic in game.
Emily: What programs do you use in writing, and when do you decide to use incorporate live instrumentation or singers instead of programmed ones?
Damian Sanchez: I use Cubase as my main creation tool. Almost everything I do is programmed virtual instruments but I always try to add some "life" to the mockups with some live instruments. As you may know, this is completely related to the production budget; I would love to record everything but that doesn't happen often. Two years ago I had the chance to record a whole soundtrack with a 50 piece orchestra for a Chinese mobile project and it was an stunning experience.
For projects where I feel real instruments will make the difference, I try to ask for a little post-production budget, but sometimes I just hire musicians my own to have a better portfolio and more chances to keep getting projects bigger and bigger.
The fact is that, with nowadays technology, if you have the required skills to produce and mix well virtual instruments, it's really hard for an untrained ear to evaluate how much live musicians improve a music track.
I use Audio Bro, Project SAM, Spitfire Audio and Native Instruments libraries in my daily work.
Emily: Is there a style of music you enjoy writing the most, or a certain project you've especially enjoyed – either because of your experience, or because of some creative challenge you enjoyed overcoming?
Damian Sanchez: I think those scores which are not just "pure orchestra" or just "pure electronics" are the most I enjoy working on. The mix between classical instruments with electronics, guitars, even sound effects … that mix is what I enjoy the most. To specify, probably, Rise & Shine and Immortal Redneck are my most favorite works so far. I guess it's because I heard "too much" orchestra during my education and also then I did so much dance/electronic music so I like to get what I need from both sides and mix it up to create a more variate and wide sound field.
Emily: What else would you like to share with your fans, and with readers of VGMO?
Damian Sanchez: I want to thank VGMO not only the support is giving me but your efforts and enthusiasm to spread the word about video game music. Also I want to thank the whole VGMO community for the support and the interest they show every time I did a giveaway with my work, not all communities have that interest in knowing what new / unknown composers are doing and is great they support us listening, sharing and spreading the word about our music.
I will keep coming to VGMO to share my music, can't wait to send you guys few of the upcoming soundtracks 😉
Posted on September 22, 2017 by Emily McMillan. Last modified on September 22, 2017.