Chihiro Onitsuka Profile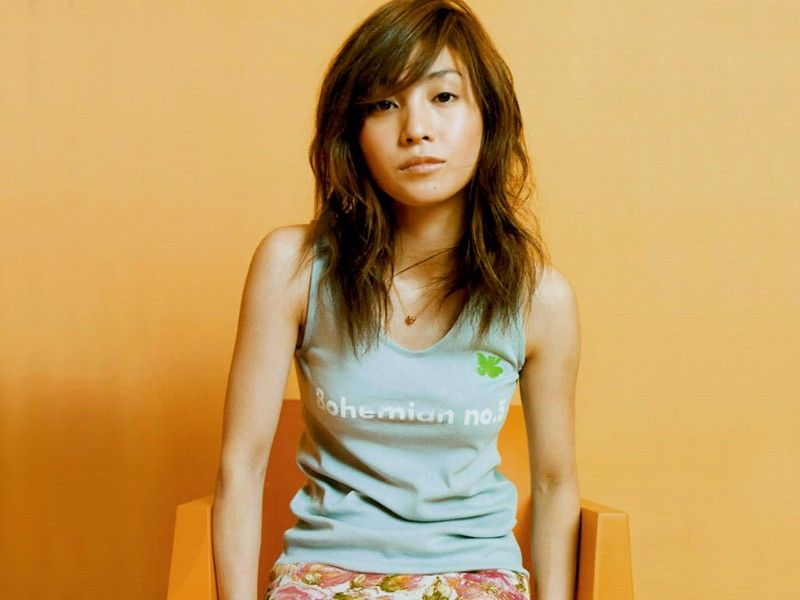 Anyone who was anticipating the release of Drakengard 3 (Drag-on Dragoon 3 in Japan) has likely become acquainted with J-Pop singer-songwriter Chihiro Onitsuka. An early trailer (below) features the song "This Silence is Mine", composed by Onitsuka and arranged by the MONACA team. Players who have had the (mis)fortune to reach the end of the game have heard this 7-minute haunting epic play over the game credits, which begins with soft music notes then feverishly swells adding spiralling strings and wailing electric guitars. Coupled with these are Onitsuka's rugged voice and lyrics (some Japanese, some English) that are filled to the brim with imagery. As far as J-Pop video game tie-ins go, the song is fairly unique and atypical, but for Chihiro Onitsuka it is another solid entry in her often dark and emotive discography. For those interested in "This Silence is Mine", it is definitely worth it to look through her older output as well.
Right from the start and at a young age, Onitsuka has combined great melodies, raw vocals, imaginative lyrics and haunting arrangements to craft powerful music. Her first big hit, "Gekkou" was used for the drama TRICK and catapulted her to fame and the edgy song "Innocence" even made it into a commercial overseas. Her first album INSOMNIA sold over one million units. This first album is marked by stripped down arrangements, involving mainly piano and strings and occasional light band backing. At this age Onitsuka's voice is much cleaner than it is now in "This Silence is Mine". It is confident and strong, occasionally nasal when she pushes for power, and also breathily tender for the album's many quiet moments. The lyrics describe a variety of emotions and settings, and are not at all the typical teenage fare that one might have expected. The piano driven "Shine" may see her singing of school and its problems, but it is in a manner that is unrestrained and laden with dark imagery. In "Cage", she sings of a pleading and desperation that can be related to by anyone, and it has on many occasions brought listeners to tears at concerts. With her first album, Onitsuka lays out all she has with brutal honesty and piercing lyrics.
Her third album Sugar High is likely of most interest to readers, as it features "Castle -imitation-", which was the ending theme for PS2 game, Breath of Fire: Dragon Quarter. While the in-game version featured a band backing, the album version is much more in line with her style, predominantly featuring piano, guitar, and a string quartet. The lyrical content is full of random imagery that can be tied to the game, wrapped in a melody and arrangement that looks forward to the future. Obvious here (and present in many of her other works) is her tendency to repeat a key word or phrase for particular emphasis. In this case, she repeats "live, live, live, live…" a number of times. The album later climaxes with the epic "BORDERLINE" which bears many structural similarities to "This Silence is Mine". The song starts with just a piano, and later adds a chilling harpsichord and strings before descending into chaos. Certainly a highlight of her career, and definitely worth checking out.
Her later efforts came in after an unfortunate event. After a few singles following her third album, Onitsuka underwent throat surgery. When she returned to the music scene afterwards, it seemed that her voice was considerably weaker. She worked on it hard and it showed some improvement for a time (peaking at her Nine Dirts and Snow White Flickers concert), but has now settled on a husky, rougher tone. It isn't bad in all ways, and has certainly aided in songs such as "This Silence is Mine". She has continued to write music, releasing three studio albums since the surgery and a western music cover album (though this should be avoided by those uncomfortable with poorly pronounced English). She has branched to many styles with these albums, looking to realize her vision of what she calls an "Onitsuka Department Store" with many diverse musical works. Even with these new ventures she has continued to produce stunning powerful ballads. Highlights in line with "This Silence is Mine" from the later albums include "everyhome", "Kaerimichi wo Nakushite" and "Kohaku no Yuki". Recently she has formed a band under the name "Onitsuka Chihiro & BILLY'S SANDWICHES" and their first album is set to release on September 24. We will see then new stock that she brings in.
"This Silence is Mine" and a few other recent songs from Onitsuka Chihiro can be purchased on iTunes worldwide. "This Silence is Mine" can also be found on the Drakengard 3 soundtrack.
References:
– Various Album Credits
– Autobiography – Tsuki no Hahen (Japanese, 2011)
– Official Site (Japanese)
– Frozen Call Fansite (English)
Posted on August 2, 2014 by Christopher Huynh. Last modified on August 3, 2014.