Ayako Saso Interview: Love of Dance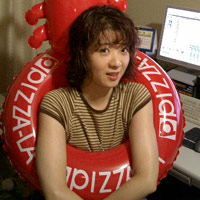 Ayako Saso is well-known for her contributions to various game scores, arranged productions, and original albums. During her early years at Namco, she demonstrated her flair as an electronic and fusion composer on works such as Rolling Thunder 2, Galaxian 3 Theater 6, Ridge Racer,and Xevious 3D/G. Now second-in-command at Shinji Hosoe's SuperSweep, she has recently contributed to games as diverse as Endless Ocean 2, Naruto: Clash of Ninja, Folklore, and Let's Tap.
In her first major interview, Saso takes the opportunity to reflect on her extensive career. She extensively discusses her background and early projects, before providing insight into her Sampling Masters collaboration and the solo album Dance. Finally, she gives some insight into a range of SuperSweep's recent scores, supplementing Shinji Hosoe's earlier interview.
Interview Credits
Interview Subject: Ayako Saso
Interviewer: Chris Greening
Editor: Chris Greening
Translation & Localization: Shota Nakama, Marc Friedman
Coordination: Bryan Matheny, Shinji Hosoe
Support: Don Kotowski
Interview Content
Chris: Ayako Saso, we really appreciate you talking to us in detail today. First of all, could you discuss your background and how you became a game composer?
Ayako Saso: I loved music as a child, and I would always listen to many pieces. I was exposed to a wide selection of music: the collection of Latin numbers that would play at the social dances that my parents would frequent, Japan's popular songs, Anime theme songs, and the classical violin pieces that my father would conduct and perform (which unfortunately, I never saw). My friends in elementary school would always have after school activities, and I followed suit at the age of seven, starting with piano lessons. I continued with my lessons until I took my high school examinations, when I was 15. After high school, I joined a wind instrument band, Euphonium, in which I played the keyboard. I got really excited about the possibilities that the electric organ afforded.
When it came time for university examinations, when I had to decide on a future career path, I became excessively anxious. Around that time, Hosono Haroumi-san, a member of YMO (Yellow Magic Orchestra), released an arrange album of Namco music. I had often played Namco games, and I was familiar with their music. I remember thinking, "What sublime form!" I decided from then that I wanted to enter a specialized school of music, but I had never taken any specific music courses. So, at the age of 16, I started intense study of the electric organ. When I first entered the university I wanted to become an organ demonstrator, and I applied myself fervently to this goal, but I soon developed a special interest in computer music. Then, for live music played by a computer, parts unplayable by only one person could be handled by the machine, allowing me mastery over each section of my performance.
When it was time to find employment, I loved games, but I resented the composing process. But, if I could, I wanted to work in the game music field, so I focused my search there. I was to join Namco, but I didn't quite know it at the time.
Chris: How did you come to work so closely with Shinji Hosoe over the years?
Ayako Saso: Back when I joined Namco, Shinji Hosoe-san was then an advisor for the company. I learned many things from him. His approach was to give me words of encouragement only when I really needed it: "Think for yourself and learn!" Whether that principle is for good or bad, that's still how I conduct myself (laughs). I feel like we're constantly getting involved in more projects with one another as time goes on, whether I'm contributing to works that he's in charge of, or vice versa.
Chris: Your first score released on an album was Rolling Thunder 2. What influenced your blend of jazz and electronic elements on this title? Was it challenging to customise to the Arcade hardware of this title?
Ayako Saso: Strictly speaking, Rolling Thunder 2 wasn't my first work and Stealth Bomber came before it. But anyway, I thought about inputting a jazz taste into the game, and when I saw it in action for the first time I thought: "This is it!" Around that time I was listening to a good deal of Soul and R&B, so I wanted to infuse that into the score as well. I had developed proficiency with the Jazz and Fusion styles in my days as a student playing the electric organ, and this gave me a chance to display what I had learned. When my classmates heard it they all said, "Whoa! You really did it, huh?" (laughs) It was a huge process of trial and error, overall. But, I had the help of the FM8 and PCM24 sound modules, which was a blessing. Nowadays my confidence levels using those modules wouldn't be too high (laughs)!
Chris: You were also a regular contributor to the Galaxian series. Were you influenced by the soundtracks for your biggest love, Star Wars, on the original theme park version? Why did you choose a principally electronic approach on the two Theater 6 instalments for the series?
Ayako Saso: For Galaxian 3, I was responsible for the briefing and demo music, as well as sound effects. Shinji Hosoe-san was responsible for the music in the title initially in 1990 and Takayuki Aihara worked on the orchestral arrange version in 1992. The game world always felt to me like a merge withStar Wars. When working on the arrange album, Aihara-san encouraged me by saying, "Doesn't this sound a bit close to John Williams?" (laughs). Galaxian 3 seated 28 players and featured a 360 degree screen and hydraulic system, giving off the feeling of a giant heaving body, so I opted to compose an orchestra simulation.
For the Theater 6 version, since it only(!) seated six players, I created a more pop-like, Fusion feel to the music to reflect the smaller scope, while maintaining the earlier themes and phrases. For this project, more than any other, I worked closely with Hosoe-san. I would code the bass line for phrases that he composed, and I would work on the packing pattern for the bass that he coded in. Hosoe-san led the project, though we would each pass the baton for different pieces. There was a fear on this project, as the unit featured a 4-channel surround system, and none of us were really sure how our compositions would sound. I feel the defense pilot in Star Wars said it best: "I have a bad feeling about this…" Remember? (laughs)
Chris: You've also offered more abstract electronic music to several Namco titles, ranging from the surreal Xevious 3D/G to the hard-hitting X-Day scores to even a few arrangements for Tekken 2. Could you discuss how you carefully adapted your electronic music to fit the specifications of each of these scores?
Ayako Saso: I didn't do anything different on these scores consciously. For X-DAY, the director indicated that he wanted a style similar to the current Techno Scene. I was interested in that genre, and I wanted to try to utilize it. For the Tekken 2 arranges, I wanted to make sure that I didn't ruin the original scores for the PlayStation version. The real Techno style score would be for Xevious 3D/G. I was a huge fan of the original Xevious, and it served as a big draw to get into this industry, so I tried not to disturb the minimal feel felt in the original work. I also wanted to convey the concepts of the various guest artists that had contributed throughout the series.
Chris: In 1996, you left Namco after seven years there. Do you have fond memories of your time and works at Namco overall? Out of all your classic Namco works, which are your most proud of?
Ayako Saso: Namco was the first company that I worked at, and the first place that I composed. There were many difficult times, but it was an invaluable experience. There were many impressive titles, most notable of which were the Galaxian 3 and Ridge Racer series. I wouldn't mind passing on all the unpleasant memories (laughs).
Chris: After leaving Namco, you formed the Sampling Masters unit with Shinji Hosoe. Could you discuss the concept of Sampling Masters? Was it liberating to be able to experiment so much on these productions after being restricted by specifications and technology for so long?
Ayako Saso: Sampling Masters was created for the purpose of creating music inspired by the current 90s styles of underground techno, and also as a forum in which to show our work. We were published by the individualistic indie label Troubadour Records. Really, when comparing what we were doing before to what the higher specifications offered us, the integral thought of "I'm going to create exactly what I want to!" hadn't changed.
Chris: Many have noticed you have a tendency to hybridise ethnic and hardcore influences into your Sampling Masters, e.g. "Internet Monkey", and NanoSweep works, e.g. "Junk Plant". Are these styles an important element of your musicianship?
Ayako Saso: To be honest, I'm not giving ethnic music any special considerations. That what I happen to compose to fit the scenario fits into the category of ethnic music I find amusing. The similarities in instrumentation and phrasing are really just an offshoot of my desire to be creative and fresh in my composing. When I'm composing in a hardcore style, I like to really do something crazy. I'd like to visit Europe properly.
Chris: In 1999, you released your first solo album Dance! Could you elaborate on the concept of this album and how you portrayed dance music from a range of different eras and cultures?
Ayako Saso: 1999 was the tenth year anniversary of my entering the game music industry, so to celebrate, I released my first solo album. I love dance music, so my whole body was aching to create this. The genre of dance is wide, itself comprising many genres. So I included styles such as Latin, which I've heard since I was little, 60s era Go-Go, Disco from the 70s, and even 90s style techno. I'm kinda known as a "Techno Person," but this sort of music is where my roots lie, and I fear that I missed the expectations of the listener (laughs). "It's not like Ayako," they might say, but this really is my favorite form of composition.
Chris: Over the years, you've also extensively arranged music, ranging from F-Zero to Darius to Karousto Technictix. What led to your involvement on so many arranged albums and what are your favourites?
Ayako Saso: We work on arrange albums because of offers that we receive for them. Although I love to play around with others' works, I was unfamiliar with the music to F-Zero, Darius, and Karous, so I put a lot of time into those arrangements. How should one respond to a request to arrange music fromF-Zero, an established series with plenty of arrangements already? In response, I arranged in the fusion genre, which hadn't been used before.
Darius is a series that's been around since before I was in the industry, and at first I was asked to create a Dance Remix. After considering the source material, though, I felt a Technitix-style remix would work best. There were many contributors creating a unique sound, leading to an album that does not wear the listener out. The primary consideration with Karous meanwhile was what to do about the stoic drum and bass melody.
Chris: After Namco, you also developed a long-standing collaboration with Arika through the Street Fighter EX, Tetris: The Grand Master, and Everblue / Endless Ocean series. Focusing in on the latter, how did you create suitably immersing and ambient soundscapes for these diving simulations? How has the series' sound evolved from its 2001 debut to its more recent Wii instalments?
Ayako Saso: I worked on Street Fighter EX and Tetris: The Grand Master when I was still employed at Arika. Regarding Forever Blue, initially I was to work on the sound effects and Yousuke Yasui was in charge of the music. Initially the series featured no BGM, just sound effects, to portray the feeling of being under the water. For the Wii version, where I was in charge of sound effects and music, I wanted to convey the feeling of constantly flowing, where nothing is going to spontaneously attack you. I wasn't given a specific request for the music, so after watching the game in action, I decided on a sort of ambient style.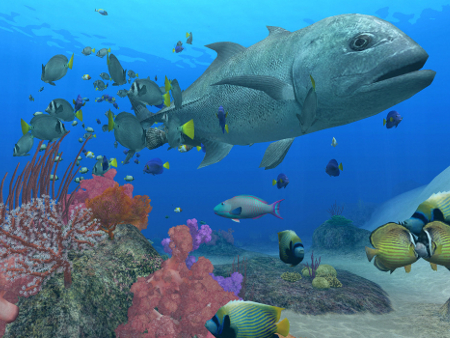 The latest entry in the series, Endless Ocean 2: Adventures of the Deep, is kind of a compilation of past ones. I composed some pieces for dangerous moments in the game that were scrapped because they were too scary (laughs). Taihei Sato, a regular dramatic composer for TV commercials, was also assigned to work on this soundtrack and brought life to these moments exceedingly well.
Chris: During your career, you've had a recurring role on the Ridge Racer series. Could you describe how you create suitable driving music for these projects? How does contributing to recent titles, likeRidge Racer 6 and Ridge Racer 7, compare with working on the early entries for the series?
Ayako Saso: I would pay attention to how people feel when driving, the feel of constantly moving forward in a racing game, and of accelerating to catch up with that guy. I wondered how to create a sort of uplifting tempo to match these feelings. What kind of music would I want to listen to if I was racing?
What are my feelings toward Ridge Racer? The early sounds are really impressive and I always enjoy returning to them. "It's really nostalgic, isn't it?" The music featured in the Ridge Racer series after I left Namco has been wonderful, but I've always been willing to contribute! Ridge Racer 7 was a PlayStation 3 title, and it featured 5.1 ch sound. When working with the 5.1 chMIX I wondered how best to partition the sounds amongst the channels.
Chris: You were also a leading force on the co-released Square Enix scores Driving Emotion Type-S andBushido Blade. Could you elaborate on the overall concepts of these scores and what you offered to them?
Ayako Saso: If I recall correctly, I wasn't given a specific request for these titles and I was allowed to compose freely. I composed for the music that plays in the stages themselves for Bushido Blade. Considering the fact that the concept of "Bushido" played prominently in the game, I went for a traditional Japanese style, using traditional instrumentation, fused with a modern beat.
For Driving Emotion Type-S, a racing game styled differently than the Ridge Racer series, to my recollection, I went with a Fusion type of movement, a sound that is expected of Japanese racing titles. I didn't so much go with a 'driving' sort of sound as a so-called 'sound of life' concept.
It was wonderful to feature so many famous Japanese musicians for the recording process. I was surprised when one of them complained regarding one piece, "this is too difficult to play!!" "Don't you normally play much more difficult pieced than this one?!" was my reply then, and I wonder now if it was due to the difficulty of composing on the keyboard.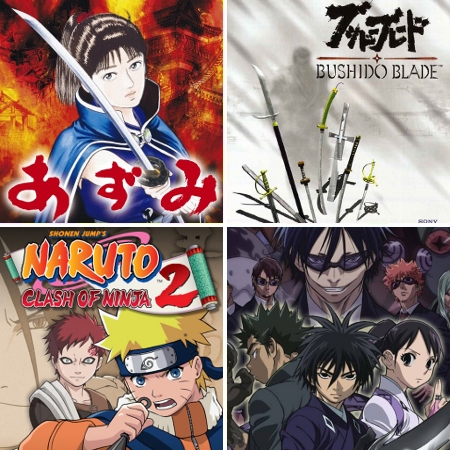 Chris: On that note, you've composed a range of other Asian-influenced scores such as the Kekkaishiseries, Naruto: Clash of Ninja series, and Azumi. Could you elaborate on how you integrated traditional elements into these otherwise action-packed scores? Do you also regret that they were never released in any albums?
Ayako Saso: Since the titles were heavily rooted in Japanese lore, I composed with traditional Japanese instruments. Since the titles had an anime and manga feel to them, I tried to pay special attention to the likes of the potential clients. I concentrated on the tone color exhibited by the instruments as well. To meet that end, I tried to put all my effort behind the game concept, and I think I managed to pull it off. Regarding album releases, I'd love to publish them, but there is so much required consent from so many that I think it would be quite difficult.
Chris: Also on behalf of Square Enix, you were a contributor to Final Fantasy Tactics Advance. Could you discuss your approach for your four compositions to this project? Did this project partly inspire your involvement in subsequent RPGs, such as Phantom Kingdom or Folklore?
Ayako Saso: I contributed for Final Fantasy Tactics Advance back then as a request from Hitoshi Sakimoto-san. Many from our company's staff were affiliated with the title, and I composed some of the music. To compose in this style was a rarity for me, and I was a bit worried as I was for older titles, but I went ahead and composed quickly. I'd be delighted if users would be surprised by and enjoy the style I exhibited there. Phantom Kingdom and Folklore were later offered to me by chance.
Chris: To round off the interview, let's discuss your contributions to rhythm games. Could you discuss the scope of your contribution to this genre? How does contributing to mainstream-targeted series such as beatmania IIDX compare with working on more experimental titles like Let's Tap and Walk It Out?
Ayako Saso: The fundamentals of working on any title are always the same. Since these titles are rhythm games, where the action doesn't change, I wanted to convey a good feeling with the music. I would try to keep the target audience in mind for each title, though, beyond that I approached the titles similarly. Well, except when I was asked to make the phrases smaller to contribute to the difficulty (laughs).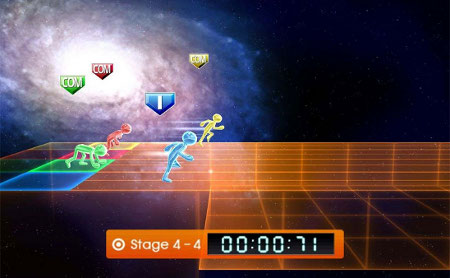 Chris: To finish, are there any works that haven't been mentioned here that you'd like to discuss in more detail? In addition, are there any works that you have recently worked on that you would like to talk about?
Ayako Saso: Last year I worked on an overseas arcade game, Aqua Race Extreme. I also helped furnish an indie title for the Xbox 360. You should be able to play it soon. I was also in charge of the sound effects, including the MA, for a theme song which Shinji Hosoe composed on the short animeYANS!GANS!. There's also a short work with a very fast speed coming soon, so please look forward to it!
Chris: Many thanks for your time today, Ayako Saso. Is there anything you'd like to say to your fans around the world?
Ayako Saso: Thanks very much for all of your support! I intend to exert myself until my limit, so please look forward to everything! Enjoy the albums to be released in summer 2010!
Many thanks to Shota Nakama and Marc Friedman for respectively translating the questions and responses to interview, Bryan for coordinating this interview, and Don for his additional support. Look out for further coverage and interviews dedicated to SuperSweep in coming weeks.
Posted on May 19, 2010 by Chris Greening. Last modified on March 7, 2014.