Arnie Roth Interview: Conducting Game Music Concerts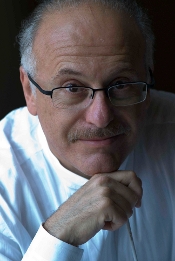 On August 4, 2009, Arnie Roth will conduct the Royal Stockholm Philharmonic Orchestra at the concert Sinfonia Drammatica in the Konserthuset Stockholm. The concert will combine performances of Chris Huelsbeck's Symphonic Shades with selections from drammatica -The Very Best of Yoko Shimomura-. This blend of Western and Eastern music promises to be a fantastic tribute for game music fans.
Arnie Roth is a classically-trained conductor and violinist known for his performances with the Chicagoland Pops Orchestra and numerous famous artists. Since 2004, he has developed a reputation as the premiere game music concert conductor through his work on the Final Fantasy concert series Dear Friends, More Friends, and VOICES, the PLAY! A Video Game Symphony concert tour, and the German tribute concert Symphonic Shades.
In this special interview, Roth provides all the details about Sinfonia Drammatica. He also discusses his upcoming work with Square Enix on Distant Worlds and Symphonic Fantasies as well as how game music concerts have influenced his life and career.
Interview Credits
Interview Subject: Arnie Roth
Interviewer: Chris Greening
Editor: Chris Greening
Coordination: Thomas Boecker
Support: AWR Music
Interview Content
Chris: First of all, thanks for giving us the opportunity to talk to you today. Could you tell us what we should expect from the newly announced concert Sinfonia Drammatica?
Arnie Roth: The WDR Radio Orchestra did two very successful projects last year. One was the recording of Yoko Shimomura's drammatica CD album. The other were Chris Huelsbeck's Symphonic Shades concerts, which I was delighted to conduct in front of a sold out concert hall in Cologne, Germany.
My great friends and colleagues, the magnificent Royal Stockholm Philharmonic Orchestra, were seeking a new and exciting concert to premiere in Stockholm in August 2009. In conversations with Yoko Shimomura, she mentioned to us that she would love to see her music from drammaticaperformed live one day. Given the great reception of Symphonic Shades and drammatica, the idea ofSinfonia Drammatica was born.
It's a concert that features the music of two of the most well-known video game composers, with one representing Eastern video game music, if you will, and one representing the Western part.
Chris: The music of Yoko Shimomura and Chris Huelsbeck will certainly be a treat for fans. However, what inspired the decision to unite the music of the composers into one concert? Do you think the composers' works will complement each other?
Arnie Roth: Symphonic Shades and drammatica were received very well among fans and critics alike. Both represent the careers and indeed the lives of these composers. Two composers who live far away from each other, but working for the same industry for almost the same number of years. This is very exciting!
I think that the compositions of Yoko Shimomura and Chris Huelsbeck have something in common, indeed. One part might be their love for the piano; with Kingdom Hearts' "The Other Promise" andTurrican II's "Renderings: Main Theme" we have two strong piano concertos featured in Sinfonia Drammatica. It does not end there, though. I think that the focus on strong melodies and the creation of powerful emotions are another skill that both composers share. And the incredibly skilled orchestral arrangements will show off the RSPO in fantastic detail in the magnificent Konserthuset in Stockholm.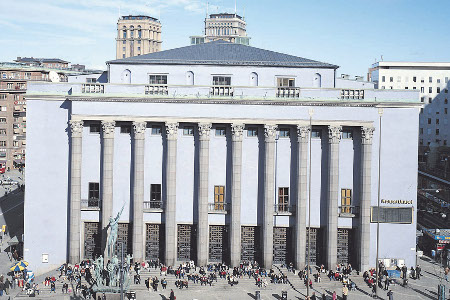 Chris: Will Yoko Shimomura or Chris Huelsbeck be in attendance at the concert? If so, will there be any opportunities for a meet and greet?
Arnie Roth: Yes, I am very happy to tell you that Yoko Shimomura and Chris Huelsbeck will be in attendance despite their very busy working schedule. There will be a meet and greet for the fans, similar to many of my previous concerts in Stockholm.
Chris: It's been announced that the acclaimed arrangements from drammatica and Symphonic Shadeswill be performed for the concert. How will the arrangements from the respective albums be selected?
Arnie Roth: Fortunately we are good friends with Yoko Shimomura and Chris Huelsbeck, so we certainly started by asking them to choose their favorite titles. We coordinated their choices with our own choices. It is safe to say that the final concert program of Sinfonia Drammatica is perhaps the 'ultimate' concert, featuring the best of Symphonic Shades and drammatica, and of course respecting the wishes of the composers.
Chris: Unlike Symphonic Shades, the music of drammatica has never been performed live before. What unique experiences do you think a live performance will offer to fans of the album? How do you feel about revisiting Symphonic Shades?
Arnie Roth: A live experience is always something unique. There will be a magical atmosphere in a concert hall and one of the world's premiere ensembles, the brilliant Royal Stockholm Philharmonic, will be performing with the original composers in attendance! I think nothing can come close to this experience, especially if you are a fan of video game music.
From my own examination of the music scores of drammatica, the arrangements are extremely well-done, and they will certainly work wonderfully live, too! I was amazed by the arrangements ofSymphonic Shades, and how Jonne Valtonen converted the original music into epic, imaginative scores. I am very grateful for the opportunity to conduct these works again!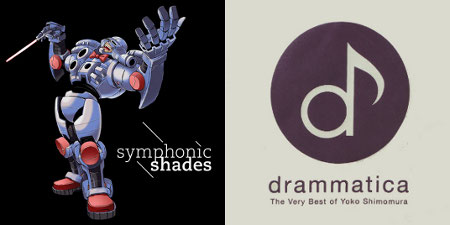 Chris: After your experiences with PLAY!, how does it feel to return to Konserthuset Stockholm? What do you think the Royal Stockholm Philharmonic Orchestra will offer to the concert under your baton?
Arnie Roth: I have a great relationship with the Royal Stockholm Philharmonic Orchestra, having conducted and recorded many works together with them. The PLAY! concerts, the Distant Worlds CD album, and of course the Distant Worlds premiere concert from my game works, but also the full John Williams concert that I did with them. All were most memorable concerts! I am very much looking forward to coming back to Sweden, and I am only expecting the best things to happen on this concert in August!
Chris: I also wanted to take this opportunity to ask a bit about new developments for the Final Fantasy concert series Distant Worlds. After a relative quiet 2008, Distant Worlds has many dates scheduled across the world in 2009. What inspired you to take the tour to the next level?
Arnie Roth: There are so many fans of Final Fantasy music out there, and we wanted to make sure that Distant Worlds would travel to a lot of new countries. We never wanted to oversaturate the market, so this is why we are choosing all locations very carefully to ensure the highest possible quality of orchestras to perform the music of Nobuo Uematsu.
We have already sold out three shows in Singapore and Taiwan is close to sold out already. As you may know, in 2009 we will also be performing with some of the world's best orchestras, including the San Francisco Symphony, the Seattle Symphony, the Baltimore Symphony, the Detroit Symphony. We will also be performing at Minneapolis, St. Paul, and Grand Rapids in Minnesota, and many others are being announced each month.
Chris: Many have said Distant Worlds' studio recording is the pinnacle of Final Fantasy orchestral recordings in terms of track listings, performance quality, and recording quality. Would you agree with this? Did your work on Dear Friends, VOICES, and More Friends set a useful precedent?
Arnie Roth: I am very grateful for such comments, and I am very happy to hear them, needless to say. We did our best to make this recording as good as possible, on both the technical side including higher resolution bit rate and sampling rates than is normally used, and as well on the creative side, with a fantastic collection of performers in one of the world's best concert acoustics. We put a lot of effort into its realization.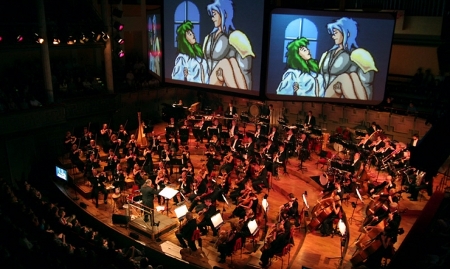 Chris: Talking further about VOICES, the concert was unique among your performances in that it took place in Japan. How did it feel to be selected to conduct this one?
Arnie Roth: I was truly honored to be asked to conduct this concert in Japan by none other than Nobuo Uematsu and Square Enix! In fact I was the only non-Japanese performer on this concert. Truly a great honor for me, and I am happy that we are now able to take the music of Final Fantasy to so many of the great fans of video game music around the world.
Chris: You will also reunite with producer Thomas Boecker to conduct the music of Square Enix atSymphonic Fantasies at Cologne this September. Are you glad to be part of the concert? What can we expect?
Arnie Roth: Symphonic Fantasies will be a concert no video game music fan should miss. I understand that only a few tickets are left at this moment, and this concert is in September 2009!
The concept alone is unique and outstanding. To once again have the opportunity to work with the WDR Radio Orchestra, which was so gratifying for me when I was in Cologne last year for Symphonic Shades, is another great thrill. I am happy that Symphonic Shades was received so exceptionally well all over the world. I am sure that we can go even further with Symphonic Fantasies this year with all my good friends at Square Enix.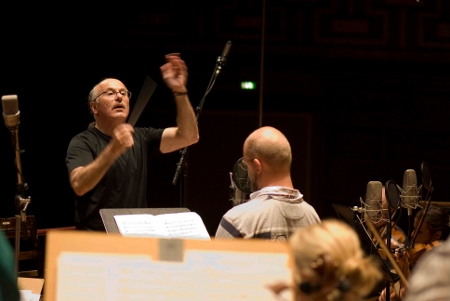 Chris: To finish, your achievements in the game concert field over the past five years have been extremely impressive. How do you feel your roles in game concerts have influenced your life and what do you envisage for the future?
Arnie Roth: I have found that the audience attending video game concerts turns out to be a wonderful combination of the best attributes of both the classical music aficionado — during performances, they are extremely quiet so that one can literally hear 'a pin drop' as the entire audience doesn't want to miss a single note of the performance — and the wildly enthusiastic responses of the more typical 'pop' audience. The moment a music selection is announced from the stage or when the piece is finished, there is consistently cheering and remarkable ovations.
The audience reception has been nothing short of remarkable in every city we have performed in. We have yet to do a concert where we did not have to perform at least one or two encores! I can tell you that every single orchestra I have performed with for these concerts, including such magnificent ensembles as the Royal Stockholm Philharmonic and the WDR Radio Orchestra, are all overwhelmed at the remarkable audiences we have had and they have often remarked that they wish they could get receptions such as this at their regular subscription concerts!
So I must say that it has been a remarkably positive experience for me, and has allowed me to expand my horizons as a conductor to be able to present these wonderful scores to these great fans around the world! I can't wait to get to Singapore, Taiwan, Stockholm, Cologne and all points in between for all of these great concerts!
Sinfonia Drammatica will take place at 8 PM on Tuesday August 4. Tickets will be released hereon March 25 at 11.00. Ordinary tickets cost 390 kronor and an additional ticket for the limited availability meet and greet is available for 150 kr.
Posted on March 1, 2009 by Chris Greening. Last modified on March 2, 2014.