Video Game Orchestra at Berklee: Boston, March 2009
On March 5, 2009, I had the opportunity to attend the second performance of the Video Game Orchestra. It occurred at Boston Massachusetts at the world-famous Berklee College of Music. The Video Game Orchestra features ninety students from the music school and is led by producer Shota Nakama, concertmaster Grace UnHae Kwon, and conductor Yohei Sato. It was a bit of a rush planning my attendance, as I only found out about the event the Wednesday before from the New England Cable News. Fortunately, though, it took place close to my home in Massachusetts.
The NECN were simultaneously apathetic and ignorant about the medium during their reporting about the concert. For example, they could not recognize the video game series Final Fantasy. They were also surprised at the rising attention video game music has been receiving recently, despite the fact that video game music has been huge in Japan for quite a number of years. There have even been many video game concert performances in the United States, beginning with the Dear Friends concert of early 2004, in which series maestro Nobuo Uematsu made a personal appearance. The NECN reporter did not know how to pronounce Uematsu's name and erroneously made it seem that Nobuo would be making a special appearance at the show. I went from ecstatic to just really excited when I found that out. Too bad.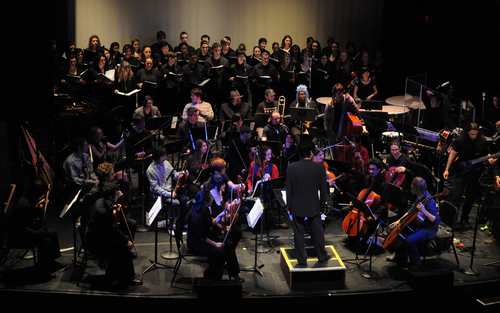 The doors opened at 7:45 and the show was scheduled to begin at 8:15. I made sure to arrive early as tickets were fully expected to sell out quickly. A posting on SoundtrackCentral mentions that our own Tommy Ciulla arrived near to 7:30 and the tickets were sold out. It's most unfortunate and stupid that people were not able to buy tickets online. The show did not start at 8:15, but closer to 8:25. It actually began with a performance of "Opening – Bombing Mission" from Final Fantasy VII. Most of the tracks were expected, similar to the myriad concerts that Video Games Live has performed in the United States since 2005. Nobuo Uematsu had remarked that he was amazed at the attendance of 2004's Dear Friends in Los Angeles. The sold-out show at Berklee serves to further affirm the rising popularity of game music.
Though the whole concert was enjoyable, one of the biggest highlights was the Sonic the Hedgehog 2 medley. It comprised the Emerald Hill Zone, Oil Ocean, Metropolis Zone, Hill Top Zone, and Dr. Robotnik's Theme. The best part about the item was before the music actually started. The show's director, Shota Nakama, prompted the audience to echo the Genesis' startup sound of "SEGA!" We tried our best through two tries, which was a LOT of fun!
A lot of the audience looked forward to the Metal Gear Solid 3 performance. I wasn't as I find Harry Gregson-Williams' work on the Metal Gear Solid series to be overrated compared to his superlative film scores like Kingdom of Heaven and The Chronicles of Narnia. Fortunately, the vocal theme "Snake Eater" composed by Berklee graduate Norihiko Hibino was performed instead of the usual main theme for the series. I enjoyed the performance greatly, especially from the female vocalist. She sung to perfection the whole evening, especially in her performance of "Radical Dreamers – Unstolen Jewel" from Chrono Cross.
The Berkelee 40+ choir got to show their stuff on Gerard K. Marino's "The End Begins" from God of War II. Marino was a guest of honor and it was a definite plus to hear his praise for Berklee and the game music medium. "The End Begins" is a very upfront piece, with lots of energy right from the beginning, aptly performed by the choir and orchestra. I especially enjoyed the string instruments and the rapid pace they had to keep to remain in sync with the notes. It was literally poetry in motion, a deeply moving experience.
Going into this concert, I was familiar with most of the composers and selected pieces, but I was anxious to hear some of the unknown pieces from artists like Keith Zizza (Ceasar IV Medley) and Ed Lima (Brothers in Arms). I often find it difficult to fully enjoy game music if I haven't played the game, but I definitely need to play Advent Rising soon! Tommy Tallarico gets a bad rap for his less than skillful game reviewing abilities, but as an American composer, he definitely deserves mention. He is known for several classic Genesis games like Earthworm Jim and the Sega CD's The Terminator. Advent Rising, with its deep and vibrant choral chanting and great percussion, is my new favorite Tallarico work. I will definitely buy that score soon and hopefully play the game to hear it in an in-game setting.
For the concert's conclusion, the orchestra performed what Shota described as the most popular Final Fantasy music there is. A lot of audience members responded with some funny choices, like Castle Cornelia, the Chocobo Theme, and Battle with Gilgamesh. My contributions were Dancing Mad and A Transient Past. A fun back and forth… "One Winged Angel" from Final Fantasy VII was, of course, performed. I've heard this piece performed quite a few times, and this performance was above average. Rather than performing the seven minute original, Shiro Hamaguchi's famous orchestration was used. I am happy to report that the choir didn't oversing, which requires explanation. In many performances of OWA, the choir does not always sing in tandem, almost as if individual performers are not about to let anyone "outsing" them, which creates quite a bit of auditory chaos. "One Winged Angel" was a great performance at Berklee, and the piece that the audience most anticipated.
Finally, I was glad to see Jack Wall acting as a guest conductor. As well as a game composer, he is a skilled conductor with great flourishes and over-the-top arm waving skills. I also liked his outfit, which was simultaneously inspired by pirates and the British colonial period. Awesome. As orchestrated game music becomes more popular, I look forward to more events throughout the year and throughout the country!
Do you agree with the review and score? Let us know in the comments below!
Posted on March 5, 2009 by Oliver Surpless. Last modified on March 1, 2014.