Snatcher >> Policenauts -Hideo Kojima Music Collection Black Disc-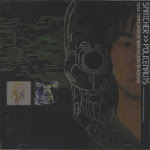 Buy Used Copy
Overview
While Hideo Kojima is famously known for the Metal Gear series, die-hard fans (myself included) will associate him with a lesser-known game called Snatcher. This Blade Runner-esque visual novel was ground-breaking for its time with its cinematic presentation, engaging storyline, and excellent voice acting. Since the only English release was on the ill-fated Sega CD, the game sold poorly and remains largely unknown by Westerners to this day. Its spiritual successor Policenauts was never localized, though an excellent fan translation was released in 2009.
The music to both games was equally impressive, boasting veteran game composers like Masahiro Ikariko (Metal Gear 2: Solid Snake), Motoaki Furukawa (Gradius II), Mutsuhiko Izumi (GuitarFreaks), and Tappy Iwase (Suikoden). As examples of cinematic music, the soundtracks perfectly fit the cyberpunk/science fiction themes of each game.
While there have been several remix albums for Snatcher and Policenauts, the one I'll be talking about today is the Snatcher >> Policenauts Hideo Kojima Music Collection Black Disc which was released in 1998. This disc is really a "best of" compilation that contains both original and remixed tracks from various other albums in the series. Not only that, but we are given new compositions as well! Does album warrant the purchase? Let's dive right in.
Body
"Theme of Snatcher" opens this album with haunting vocals and industrial beat. The chanting and instrumentation get more desperate at 2:30, as if Gillian Seed was in pursuit a deadly Snatcher. "Landfall" is a remixed background piece from Policenauts. Utilizing techno riffs and ambient synth, it's the perfect example of how to set the mood for a tense moment. Now we get to the good stuff! The track "One Night in Neo Kobe City" is worth the price of this album alone. The jazzy saxophone solos accompanied with bass synth give me chills every time as I remember those cinematic shots of Neo Kobe City. It's definitely one of the best opening themes to a video game. The next track, "Theme of Katharine" (Katrina in the English version) is a remixed character theme from Snatcher, originally featured in MIDI Power Ver. 5.0. The first part is played on a music box, while the second part is a laid-back, jazz-themed piano piece accompanied by saxophone and synth in the background. A truly great theme that fits the innocent nature of Katrina.
"Old L.A. 2040" is the opening theme to Policenauts, taken from MIDI Power Pro 3. As the longest track in the album, there's a lot of composition in this piece. It opens with a rather sad and nostalgic melody that reflects the life of Jonathan Ingram, the main character of the game, before the synth orchestra enters. A new melody is brought in at 1:41, with synth and bass leading into an acoustic guitar section. This melody is performed splendidly by the great guitarist and composer Motoaki Furukawa, backed by synth drums and saxophone, in the definite highlight of this piece. This portion of the piece is played while Jonathan Ingram reminiscences about his past adventures. The synth saxophone is receives its own solo at 2:55 as it continues the melody where the guitar left off. At 3:32 we are introduced to Policenauts' 14-note motif, which is used throughout the game. Players of Metal Gear Solid on the PSX will instantly recognize it as the opening title theme. The melody is returned to the guitar at 3:51 which in turn switches to playing fast acoustic riffs at 4:43. At this point the background synth and drums play a more prominent role. This is especially noticeable when the synth takes over the main melody around the five minute mark. For almost an entire minute, "Old L.A. 2040" shifts gear into an inspired bout of improvisation until the saxophone synth revisits the main theme at the six minute mark. As the piece enters its final minute, it reflects upon the contributions of the synth, acoustic guitar, saxophone, and drums by going all out, effectively ending this masterful composition. Whew! What a lot to say about this extraordinary piece. While some could be disappointed about the lack of live instruments, that hardly matters as "Old L.A. 2040" manages to hold its own with some killer synth and great acoustic guitar.
"Master of Puppets Among the Disease" is ripped straight from the original PC-8801 release of Snatcher. For a release on such primitive hardware, the synth is pretty impressive. Clocking in at only two minutes, the first half sounds somewhat like a high-pitched music box, while the second half utilizes a lower bass-like sound. "Bio Hazard" is a remix from Snatcher's Sega CD release, originally played during the opening cinematic. The narrator describes a deadly environmental disaster that killed 80% of the Eurasian population. I recommend searching YouTube for the introduction to Snatcher to hear the piece in context. Although not as good as the original, the remix of "Bio Hazard" still proves to be enjoyable. Both pieces I've mentioned are definitely the creepiest tracks on this disc. "Innocent Girl," much like "Master of Puppets Among the Disease" also utilizes the most of the PC-8801's sound chip. As another character theme for Katrina, it's a desperate and sad piece that's meant to convey the loss of her father.
The next few tracks are newly arranged for this album. "Icy Offence and Defense" is a montage track played right before Policenauts' final act. Unlike the original version, the remix contains re-mastered synth and rock-centric electric guitar riffs. As Jonathan Ingram prepares himself for the final battle, he remembers all the people taken away from him. "Danger Dance… & Justice All" is an odd combination of solo vocals, heavy drumbeat, and weird synth. A strange combination, but a memorable piece nonetheless. My least favorite track on this album is the remixed track "Pleasure of Tension". I absolutely enjoyed the Sega CD version. It was a short, yet effective piece that kept me on the edge of my seat during the story portions of the video game. The same cannot be said about the remix. While decent, I cannot sense anything remotely familiar to the original. It might as well be a completely different piece of music.
The rest of the tracks come from Policenauts. "The End of Beyond," while undesirably short, is a sleazy saxophone track that's meant to give off feelings of suspicion and conspiracy. Speaking of short, "Innocent White" is a wonderful piano that could have benefited from a remix or improvisation, but runs at only a minute. "The Zone", a fast-paced jungle beat, was originally played during a bomb disposal scene in the game. Again, its way too short, running in at under a minute. "The Age of Policenauts" is a decent remix, but has a rather forgettable theme. The final remix track is titled "The Movement of the Clouds," originally featured in Policenauts F/N. This piece has some great percussion backing its synth melody. An electric guitar solo comes in about halfway, making this remix all the more enjoyable.
We end this album on a high note with "Policenauts Endtitle." The same fourteen note motif begins this piece as Jonathan Ingram heads for Home and leaves Beyond. The whole intro is actually a remixed version of another excellent Policenauts track titled "End of Dark." The rest of the piece features an obviously synthesized orchestra. Despite this, I really enjoyed this track as it provides a great ending theme to a great remix album.
Summary
Snatcher >> Policenauts Hideo Kojima Music Collection Black Disc is an excellent album for fans of the series. I recommend it to those who've actually played the games, as it makes more sense in context. Even if you've never played either game, the remix tracks are still enjoyable provided that you don't mind synth instrumentation. Tracks like "One Night in Neo Kobe City" and "Old L.A. 2040" make this album a worthy listen, but other pieces make it a little flawed. Much like all other albums in the Snatcher/Policenauts series, this disc is quite rare and fetches a hefty price tag on auction sites. Good luck finding it if you can! If you're looking for remixes of great cinematic music, than look no further than the Black Disc.
stars
1
4
b
8/1/2012
Do you agree with the review and score? Let us know in the comments below!
Posted on August 1, 2012 by Oliver Jia. Last modified on August 1, 2012.