Nobuo Uematsu Interview: Japan's Game Music Concerts
On December 12, legendary Final Fantasy composer Nobuo Uematsu attended a special performance of Distant Worlds – Music from Final Fantasy at Chicago. Prior to the concert, Don received a chance to talk to him at length about his concert experiences over the last 20 years, orchestral and rock, East and West.
During the interview, Uematsu discusses his experiences with a wide range of concerts. He provides a rare insight into Japanese game music concerts, including The Black Mages Live, Press Start, and the Orchestral Game Concert series. He also discusses Western productions, such as Distant Worlds and PLAY! A Video Game Symphony, and what they are offering to the recognition of game music around the world. Finally, he provides an exclusive insight into what he is working on at the moment.
Interview Credits
Interview Subject: Nobuo Uematsu
Interviewer: Don Kotowski, Chris Greening
Editor: Chris Greening
Translation & Localisation: Hiroki Ogawa
Coordination: Arnie Roth, Chris Szuberla
Interview Content
Don: Nobuo Uematsu, many thanks for talking to us today at this very special Distant Worlds concert in Chicago. It's been 20 years since the first orchestral concert of Final Fantasy music, Final Fantasy Symphonic Suite. Could you reminisce about how this special event came about and your experiences on the night?
Nobuo Uematsu: Back 20 years ago, game music was not principally orchestral music. There was Dragon Quest, which featured orchestral scores and received annual symphonic concerts, but not so much Final Fantasy. Partly inspired by the success of the Dragon Quest concerts, however, we decided to adapt a number of pieces from Final Fantasy and Final Fantasy II into orchestral suites that were presented in concert and later released as an album. It was a very challenging and ambitious production, but very satisfying nevertheless.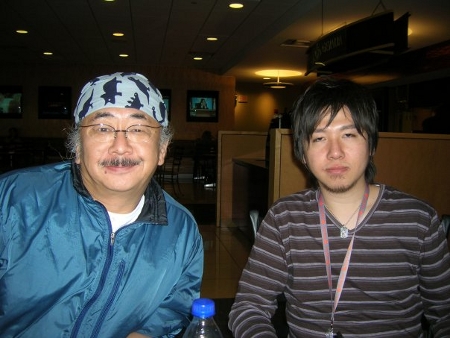 Don: Despite the success of Final Fantasy Symphonic Suite, it wasn't until 2002 that there was another Final Fantasy concert, namely 20020220 – Music from Final Fantasy. Why do you think this was the case?
Nobuo Uematsu: The reason we did not create another Final Fantasy concert until 2002 was that there were not many orchestral arrangements available. As I started to write more music, such as for the PlayStation era Final Fantasy titles, it was a lot easier to adapt the series' music into orchestral arrangements with the help of orchestrator Shiro Hamaguchi. So in 2002, I decided it was time for another concert and included a range of both new and existing arrangements from across the series.
Don: Final Fantasy music was also commemorated among other items at the Orchestral Game Concert series that occurred in Japan between 1991 – 1995. Were you also involved in these events and, if so, what are your memories of them?
Nobuo Uematsu: I did write the Final Fantasy music that was performed at these annual events. As a result, I was asked to be involved in the production on a supervisory level and attended each of them as a special guest. As game music was not principally orchestral back then, it was quite an overwhelming to hear so many symphonic music being performed. However, it was certainly a very positive experience overall and a very influential event. A particular highlight was to hear the Final Fantasy VI opera being adapted in full in 1994.
Don: More recently, you have co-organised several annual concerts in Japan, namely the Press Start series. How did you inspire this series of concerts and what are its main goals?
Nobuo Uematsu: I really wanted to produce a series of concerts in Japan for some time and noticed a real need for it. The main goal was to do a concert once a year, almost like a festival, where game music was performed and celebrated. In this regard, it was quite similar to the Orchestral Game Concert series of Japan and the Symphonic Game Music Concert series of Germany that occurred previously.
Don: The Press Start series is known for its balanced yet diverse programs. What is the process of deciding which items should be featured each year?
Nobuo Uematsu: Though I'm one of the organisers, I'm not usually very involved in picking what music is performed. I work with four others on the concert series, namely composer Shogo Sakai, game designer Masahiro Sakurai, writer Kazushige Nojima, and conductor Taizo Takemoto. Together we put in our ideas about what should be played and an appropriate selection is organised from there. I'm still partly involved in the decision making, but it's not really up to me.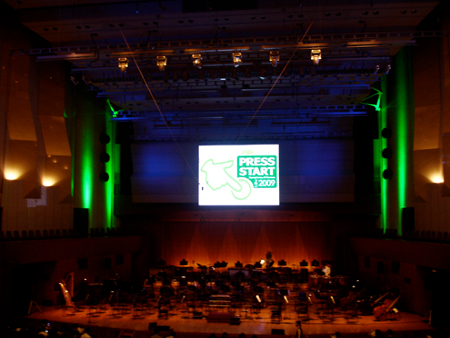 Don: Certainly some of the selections in the Press Start are a little less mainstream than the Final Fantasy series. For example, the Tales series, Persona series, the Ys series, and much more have a dedicated fanbase, but aren't so well-known to the masses. Is it partly the goal of the series to help change that?
Nobuo Uematsu: I wouldn't say it was a major goal, but it's definitely a consideration. In the past, Japan has had numerous game music concerts, many of which we have discussed. However, the focus has always been on franchises such as Super Mario Bros., Dragon Quest, Final Fantasy, and other very well-known franchises. Nevertheless, there is a lot of good music from less well-known games, so I really wanted to introduce them to more listeners. It was also a way to separate Press Start from more typical game music concerts.
Don: I suspect you must have some particular favourites that have been performed over the years. Are there any items you have especially fond memories of?
Nobuo Uematsu: It's actually been four years since the Press Start series started, so a lot of music has been performed over the years from all sorts of games. As a result, I've had very many favourites, both from classic and recent games.
Don: If I remember correctly, you said on the Press Start website that one such favourite was Motoi Sakuraba's Baten Kaitos?
Nobuo Uematsu: Yes, that's correct! I used my power to introduce the opening theme for the game in the concert last year. It's a very beautiful composition and I thought it would really call out to the audience, even though the game isn't so well-known.
I'm actually a big fan of Motoi Sakuraba and know him personally. He's an excellent keyboard player and I'd love to jam with him at a rock concert some time. However, he live quite far away from Tokyo — it takes him about one and a half hours to get here on his motorbike.
Don: In addition to orchestral arrangements, you have performed at several concerts with The Black Mages. Could you discuss your experiences at these events? In particular, what do you think the live experience brings to the rock arrangements?
Nobuo Uematsu: In some ways, it's very fun! It's great to hear fans screaming and shouting during the gigs. In other ways, not so much! It's it's actually very difficult to perform the arrangements live. Back in high school, when I used to have a small band, it was a lot easier. But with the Black Mages, all the music is so complicated. A lot of the arrangements are also adapted from their studio versions with more elaborate solos and suchlike. I really fear doing live concerts anymore!
Don: Haha, so why did you decide to perform live in Chicago today?
Nobuo Uematsu: I do wonder! However, it's a very special treat for my fans in America. When I see them so excited at concerts, it makes me realize that the efforts are all worthwhile.
Don: In a more general sense, do you think it'd be one day possible for The Black Mages to do more concerts or even go on tour?
Nobuo Uematsu: Despite the challenge, I'd very much like to do that. However, it's so difficult to make time for rehearsals these days, since everyone is so busy. Tsuyoshi Sekito and Keiji Kawamori are composers of Square Enix, for example, while Kenichiro Fukui is now lecturing at a new university. We should just rename ourselves the Tokyo Business Men instead — we'll still have the same initials! Actually, Sekito-san works outside Tokyo these days back in Osaka, so it's a two hour train journey for him to make rehearsals. That makes things even more complicated.
Don: While the first two Black Mages concerts were commemorated with a DVD given out to members of your fan club, the latest concert was given a lavishly produced commercial release by your record label. What led to the this change of marketing approach?
Nobuo Uematsu: When I produced the first two albums, I still worked at Square Enix and therefore didn't have a record label of my own. I thought it would still be wonderful to release the live concerts on DVD, but a limited distribution as a treat to my fan club was the best option. By the third album, though, Dog Ear Records was established and therefore I was able to sell them. If I had a record label earlier, I probably would have chosen to sell the first two concerts DVDs, though!
Don: Do you think you would consider publishing the first two concert DVDs commercially in the future, even though they're older concerts? I'm sure many worldwide fans would appreciate it.
Nobuo Uematsu: Actually, I can't do that as Square Enix owns the copyrights.
Don: Ahh, I understand! In addition to Distant Worlds in Chicago, you performed rock arrangements atMore Friends in Los Angeles. How do you think these were received?
Nobuo Uematsu: At both More Friends in Los Angeles and VOICES in Yokohoma, I played with The Black Mages alongside a full orchestra. In both cases, we adapted the arrangement of "One Winged Angel" used in Final Fantasy VII: Advent Children. While it was very challenging to coordinate, the audience reaction was phenomenal. They were great finales for the evening.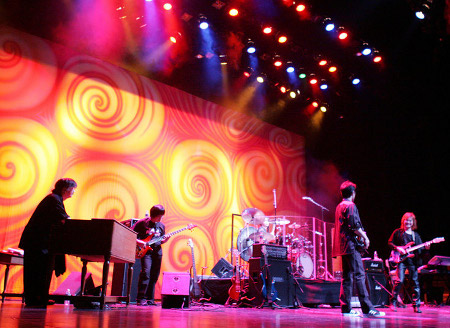 Don: In general, how would you compare the audience reactions to the performances of rock music and orchestral music at Final Fantasy concert events?
Nobuo Uematsu: Orchestral and rock interpretations of Final Fantasy music both emphasise different qualities of Final Fantasy music. Some Final Fantasy pieces have been interpreted for both types of ensemble, for example "The Man with the Machine Gun", and they provide quite different highlights and contrast different aspects of the original music. Nevertheless, I think both orchestra and rock arrangements have the same musical value and create the same fan excitement, so therefore get enjoyed by the fans about evenly.
As might be expected, fans go more wild at rock concerts like The Black Mages Live and tend to be quieter at traditional classical concerts like Distant Worlds. However, they feel a deep satisfaction at orchestral concerts nonetheless and often give amazing standing ovations. That said, I don't think there is anything wrong with fans cheering during the orchestral performances, like they do during "One Winged Angel". It's great to keep things fun and exciting.
Don: I enjoy "One Winged Angel" too, but I'm personally looking forward to "Dancing Mad" more tonight. Final Fantasy VI is my favourite soundtrack of the series!
Nobuo Uematsu: We hope you won't be disappointed! It might seem strange that we didn't perform "Dancing Mad" for orchestra before at Distant Worlds. However, my original image was actually to perform it with rock band and we did this on the first album and concert for The Black Mages. After that, though, there were many requests to perform the piece at an orchestral concert and that's why we decided to incorporate it for the Chicago concert tonight. Apparently the piece was performed several times before in Europe, but now it's about to become an integral part of Distant Worlds.
Don: Moving away from Distant Worlds for a moment, Western tours such as PLAY! A Video Game Symphony and Video Games Live have also proved popular. What do you think about these world concert tours?
Nobuo Uematsu: I can't actually offer much unique insight about them. Two Video Games Liveconcerts occurred in Japan this summer, but I couldn't actually attend since I was so busy writing music for Final Fantasy XIV. For PLAY! A Video Game Symphony, I attended two of the concerts, including the premiere at Chicago. However, it doesn't seem to perform as much as Video Games Live andDistant Worlds these days.
That said, I think it's a really great idea that PLAY! A Video Game Symphony and Video Games Liveproduce these concerts and bring game music to people around the world. Many people have a stereotypical image of game music, so it's wonderful these concerts and Distant Worlds are beginning to change that and they even attract some non-gamers.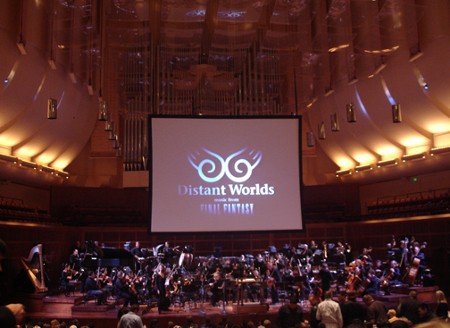 Don: Yeah, I took my stepmother and grandmother to Distant Worlds in Baltimoore recently. They found it a pretty incredible experience and my grandmother was really impressed how so many young people were enjoying classically-oriented music. She loved the opera especially! Do you think that the success of productions like Distant Worlds and Video Games Live reflect that video game music is becoming loved truly worldwide? Whether premiered in America, Europe, China, or Brazil, they seem to be pretty successful.
Nobuo Uematsu: Actually, I don't truly think video game music is loved worldwide. It's necessary to be really objective while creating video game music in order for the music to work well in the game. For example, it's necessary to create different kinds of styles and genres of music, and even cater different types of rock music specifically for scenes. Within video game music, I think most people will find some pieces that they enjoy, but not as many enjoy video game music as a whole because it's so diverse.
Don: Your music has also been recognised in Germany with Symphonic Fantasies in Cologne. Several months later, do you have fond memories of this experience? Do you think the Final Fantasy series benefited from the more traditional medley-based approach or would you be interested in hearing a more experimental interpretation in the future?
Nobuo Uematsu: Symphonic Fantasies was an exceptionally well-produced concert compared to most game concerts. I agree that the Final Fantasy arrangement was more like a conventional medley with largely separate tracks whereas other arrangements were more mixed together. However, it was still quite different from the Final Fantasy arrangements I hear at most game concerts. I therefore liked it a lot.
However in future, I'd definitely love to hear a more experimental approach to Final Fantasy music similar to Kikuta-san's Secret of Mana arrangement at the concert. I'd also like to hear more music from classic Final Fantasy titles be played.
Don: Now that we've discussed your concert productions a lot, I wonder if you could give a brief insight on what you're working on at the moment. Of course, we will follow up more on these works in more game-focused interview with you!
Nobuo Uematsu: I'm continuing to work very hard as a composer on a wide range of productions. Some of my most recent game works include Final Fantasy XIV, Sakura Note, and Fantasy Life. Sakura Note is more like a light-hearted traditional RPG score written for the DS. In contrast, Final Fantasy XIV is more dramatic and symphonic, as you will hear at the concert premieres of "Twilight Over Thanalan" and "Beneath Bloodied Banners" tonight.
Outside game music, I've recently worked on the anime Guin Saga and some album productions. Perhaps most excitingly, we are due to release my solo album 10 Stories in March. There'll be a physical release in Japan and, at the same time, we will release the English version digitally through iTunes. I'm also planning a new band production next year that'll be very different.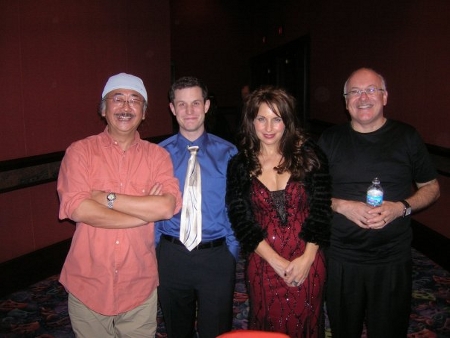 Don: Finally, Arnie Roth recently noted that Final Fantasy fans are some of the most dedicated and passionate in the world. Have you also observed this during your worldwide experiences of Final Fantasy concerts? Are there any comments you'd like to say to them around the world? Many thanks for the time.
Nobuo Uematsu: Every time I attend a concert, I really feel that too. They're very passionate fans and I'm really grateful to them! I hope you will all enjoy my future productions!
Many thanks to Arnie Roth and Chris Szuberla for organising this interview, Hiroki Ogawa for his translations, and Nobuo Uematsu for his time and thoughtful answers.
Posted on December 25, 2009 by Don Kotowski. Last modified on March 2, 2014.