Michael Aust Interview: Game Music at SoundTrack_Cologne
In the nine years since its inception, SoundTrack_Cologne has become one of the leading professional forums for film and TV music in the German-speaking world. Since 2008, SoundTrack_Cologne has also incorporated talks and events focusing on game music. Rising in profile, SoundTrack_Cologne 2012's game music-related guests include artists like Masashi Hamauzu, Chris Huelsbeck, Jesper Kyd, Austin Wintory, Laura Karpman and Borislav Slavov. Part of SoundTrack_Cologne is the orchestral live concert East Meets West – The Symphonic Game Music Concert, performed by the WDR Radio Orchestra.
In this interview, SoundTrack_Cologne's co-founder and General Manager Michael Aust reflects on the evolution of the event and particularly how game music has come to fit into the event's program. Aust describes how SoundTrack_Cologne benefits the development of game music professionals, how the event breaks new ground for game music, and how the collaboration with the WDR Radio Orchestra and Thomas Boecker's Merregnon Studios for East Meets West came about.
Interview Credits
Interview Subject: Michael Aust
Interviewer: Simon Elchlepp
Editor: Simon Elchlepp
Coordination: Thomas Boecker, Simon Elchlepp
Interview Content
Simon: Michael Aust, we appreciate you taking the time to talk to us today. For our readers who are unfamiliar with SoundTrack_Cologne, could you us give an overview of the concept and aim behind it and what events SoundTrack_Cologne encompasses? How do you think has SoundTrack_Cologne developed since it was held first in 2004?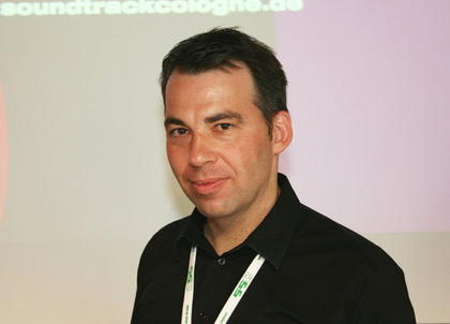 Michael Aust: SoundTrack_Cologne consists of a congress that's rather aimed at trade professionals, and of a festival part that offers a lot to music, film and video game fans. In the past nine years, SoundTrack_Cologne has evolved into a leading forum for the film and media music industry within Germany, and year by year is also more and more recognised in other European countries.
This year, the congress includes more than 30 events and 90 speakers. One big focus is game music, as we bring together a whole bunch of the world's best game music composers. I think that particularly in the case of more serious gamers, the boundary between fans and professionals is fluid — they will definitely all get their money's worth. The games-related event program takes place in collaboration with the Next Level Conference, a congress that runs parallel to SoundTrack_Cologne and which discusses the culture and aesthetics of digital games, so it will prove very interesting to many gamers.
Also, we've got the the game music concerts with the WDR Radio Orchestra, which is organised in close collaboration with the congress. After visitors of SoundTrack_Cologne have heard the invited game composers speak during the congress, they will get to sample these artists' music in a live setting at the concerts.
Simon: We would be interested in learning about your own role in SoundTrack_Cologne. Could you tell us about your educational and professional background, and how your involvement with the congress came about? As General Manager of SoundTrack_Cologne, what are your responsibilities when it comes to organising the event?
Michael Aust: At the beginning of the 1980s, it became obvious that in order to successfully fill in executive positions at large cultural institutions and events, not only did one require specific knowledge regarding the respective art from, but also a solid business education. That's why I did an apprenticeship at a bank and then graduated with a university degree in business administration. But I also didn't neglect the creative side of things, and so I also studied theatre, film and TV studies, art history and later cultural management, learned to play classical guitar, later founded a band with my brothers and organised my first exhibitions, concerts and at the end of my degree, a festival for video art and music. That's actually the idea that's been driving me ever since: the connection of moving images and music in all its forms.
At SoundTrack_Cologne, I'm pretty much involved in absolutely all aspects. First I've got to structure the program and find topics of discussion, guests and films. At the same time, we also need to organise the resources necessary to realise our ideas: money, rooms, partnering institutions to collaborate with, teams, schedule organisation. Then the program needs to be advertised and conference visitors must be attracted. At the same, it's always about longer-term planning as well: I always try to plan ahead for one to two years and set the first cornerstones for upcoming editions of SoundTrack_Cologne.
Simon: When did SoundTrack_Cologne start integrating game music and what was the motivation behind including this relatively young part of the soundtrack industry? Was this an easy decision or did it come after deliberation of game music's artistic and economic importance?
Michael Aust: We had actually already thought during the first years of SoundTrack_Cologne that game music would be interesting topic, but we first had to wrap our heads around it and find our way into the subject. In 2008, we then had the first bigger game music-related event, which was about Gothic 2, if I remember correctly.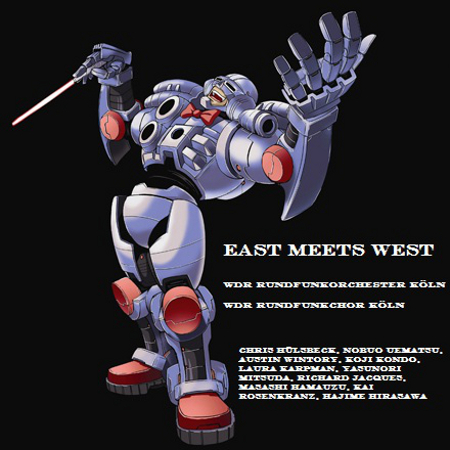 Simon: Taking this year as an example, could you give our readers an overview how SoundTrack_Cologne integrates game music into its program and presents its various facets? What are some of the aspects of game music that will be discussed at SoundTrack_Cologne 2012?
Michael Aust: Once more, we welcome some of the most sought-after composers of game music at SoundTrack_Cologne. Masashi Hamauzu will discuss the changing status and significance of game music, especially considering that this music is now being played by symphony orchestras. Jesper Kyd will describe his way from his days in the demo scene to his move to the USA and his climb into the A-list of game composers. Austin Wintory recently stormed the iTunes Top Ten charts with his score forJourney. He's a great example for all the exciting things that are happening outside of blockbuster games, in a space that I would call 'art house', analogous to film terminology.
Richard Jacques was one of the first composers to use live orchestras for their game scores. He will talk about the challenge of writing game music for a large orchestra. Chris Huelsbeck has crated a new arrangement of his Turrican music — via a crowfunding project. That's an interesting aspect that we'll definitely want to discuss in more depth. Borislav Slavov will give an introduction into composing and adapting non-linear game music, as well as into the basic technical requirements and the orchestration and preparation of a score so that the music can be integrated ideally into the game — more of a hands-on thing then for people who'd like to get into these more technical details.
And then there are the two East Meets West concerts, which sold out just a few hours after tickets had gone on sale.
Simon: In your view, what does the discussion of game music and its unique features add to SoundTrack_Cologne as an event for both industry professionals and interested laymen? In the context of SoundTrack_Cologne's overall program, what individual place does game music have amidst the numerous other events that focus on film, TV, or music and the moving image in general?
Michael Aust: In general, game music has developed into a very important part of the program, regarding the number of events as well as the positive feedback we get from visitors, and the money and time that we invest in this program segment. Many composers work across all media: today in television, tomorrow on a movie, after that on a theatre or radio play. And of course, many ask themselves: what about video games? How does this work, what do I have to know, how do I build contacts?
For old media, there are university courses, study books, curriculums and experienced lecturers. Game music is still several years away from this scenario, so we're still breaking new ground with our game music events at SoundTrack_Cologne — and it's going to stay like that for some years. We're doing our part to ensure that game music slowly finds its way onto the curriculums of universities and tertiary institutions…
Simon: Since game music has been part of SoundTrack_Cologne, do you feel that there have been certain game score-related topics that are discussed each year? Similarly, do you feel that there are particular trends within game music that are reflected in the topics of SoundTrack_Cologne's forums and discussions over the years, such as the increased use of orchestras in game music?
Michael Aust: It's very natural that topics like the use of orchestras in game music is being discussed each year anew. Still, there are always new aspects that come to the fore. One panel might discuss the technical aspects of orchestrations, while others talk about questions of preparation and scripting. And then there's always topics that are new even to game composers, such as adaptive game music that takes into account the mood of each individual player.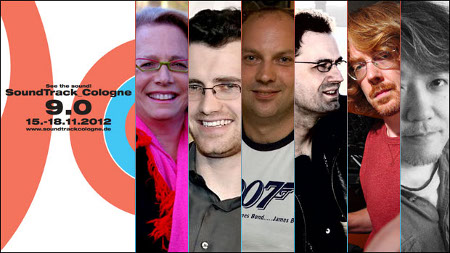 Simon: In how far do you feel that SoundTrack_Cologne gives both film and game music professionals a forum to exchange ideas and experiences, and in how far do you think does this cross-pollination of ideas take place? What are some of the ways that SoundTrack_Cologne encourages networking and how does this benefit game music professionals?
Michael Aust: An event like SoundTrack_Cologne has got a lot to do with networking — among composers themselves, but also with potential client, film producers, publishers, music supervisors, lawyers, advisers, orchestras, studios, festivals. We know that this sort of networking happens and that it's successfully — the feedback we get from our visitors tells us that much. Many artists that have established themselves as film and TV composers are simply curious about video games as a emerging market. On the hand, I suspect that more than one game composer wouldn't mind going astray by scoring a great feature film…
The breaks between events are of immense importance — SoundTrack_Cologne 9.0 is a gathering place that offers space for exchange among visitors, even after the congress events have finished. As hosts, we try to get to know as many visitors as possible ourselves and to introduce them to each other. I also think this kind of amicable atmosphere inspires our visitors to seek out new contacts themselves. Also, each day we offer one event for visitors to socialise with each other: the reception at the event's opening on Thursday, which is held in collaboration with three film festivals in Cologne; the lounge on Friday; the SoundTrack_Cologne Special Party on Saturday; and the Networking Brunch on Sunday.
We invite filmmakers and the Next Level visitors to all these events, so that people can socialise with professionals outside of the SoundTrack_Cologne audience in a relaxed atmosphere. By the way, we've already had our first SoundTrack_Cologne in the third year the event took place…
Simon: Part of SoundTrack_Cologne 2012 will be the orchestral live concert East meets West – The Symphonic Game Music Concert, performed by the WDR Radio Orchestra. Could you give us some insight into how this project came to be and how the decision was made which music to include in the concert? Is there a chance that we might see more such game music concerts at future iterations of SoundTrack_Cologne?
Michael Aust: We usually discuss potential concepts for these concerts with the WDR two years in advance. Both Dr. Michael Breugst, orchestra manager of the WDR Radio Orchestra, and we ourselves have been very interested in game music for a long while. Thomas Boecker of Merregnon Studios, who has prepared this concert, had a number of concrete and great ideas. And we also really wanted to finally welcome some of our heroes like Richard Jacques in Cologne.
Of course, first there are lots of questions to answer: does sheet music already exist and do new arrangements have to be created; can we clear the rights for the music; is the choir available; what's the orchestra's point of view, does its lineup fit the music, do we have to get additional musicians; what about the availability of the soloists and the conductor; do the composers actually have time to attend the concert and would like to come?
The WDR (West German Broadcasting) made so many things possible and gave their all, it was absolutely fantastic. I don't think we can do a live concert with game music each year — next year it would probably have to be film music again. But a biannual cycle for such game music concerts is certainly an option to consider…
Simon: How are the game composers involved in SoundTrack_Cologne chosen each year, and what has the feedback among these composers been so far regarding their involvement in the event?
Michael Aust: So far, the feedback that we've received has always been really good — everybody's promised to return at some stage. I think the composers also realise that it's helpful to get to know each other, pass on knowledge to the next generation, find hard-working interns, assistants and employees — or just friends that you can give a quick call in case you've run into a tricky technological problem…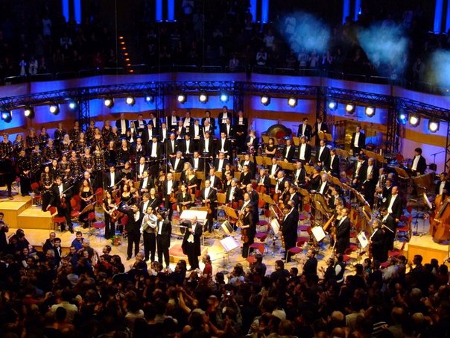 Simon: Many thanks for talking to us today, Michael Aust. Looking back at the years you've spent with SoundTrack_Cologne, what are the events or moments that stand out to to you as highlights or that you are particularly proud of? Is there anything else you would like to say about SoundTrack_Cologne and your work?
Michael Aust: Each year has great moments and wonderful guests. I think though that the biggest step was the first time: Matthias Kapohl, Matthias Hornschuh and I were annoyed at the fact that film music didn't have a forum in Germany anymore. We decided we were going to change that. And only two months later, it all came to be. It could have been a fool's errand, but fortunately, it all worked out in the end…
The East meets West concert will be available as an online radio stream on November 24 at 8 PM local time through here.
Posted on November 15, 2012 by Simon Elchlepp. Last modified on March 2, 2014.