Metal Gear >> Solid Snake -Hideo Kojima Music Collection Red Disc-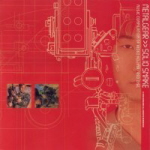 Buy at CDJapan
Overview
Hideo Kojima's earliest games — that is to say titles like Metal Gear, Metal Gear 2: Solid Snake, Snatcher, Policenauts, and Metal Gear Solid — have always bewildered me. Sure, pretty much all of Kojima's games are downright bizarre with their storytelling, but his first forays into the video game world stand out in my mind. Even with primitive technology, this man was still able to create captivating worlds and storylines that rival that of Hollywood's finest. Kojima's works represent the evolution of video games. As the technology improved, voice-acting and cinematic cutscenes could be added. The graphics became more realistic, and the gameplay more updated. When Metal Gear Solid 2: Sons of Liberty arrived, I think that's when Kojima broke the mold and reached post-modern storytelling. The rest is history.
One of the most important elements to these games is of course the music. The soundtracks add so much more to the overall experience. With Kojima's games being story driven, the music is appropriately cinematic. Similar to the Black Disc album that collected remixes of Snatcher and Policenauts, Konami released the Red Disc for the Metal Gear franchise, featuring newly remixed tracks from Metal Gear and Metal Gear 2: Solid Snake. Can Konami repeat the success of the Black Disc? Let's take a look.
Body
With this being a remix album, the synth is a huge step up from the original sound quality. There's even occasionally some live instrumentation thrown into the mix. "Theme of Solid Snake" opens this album with the original opening theme to Metal Gear 2: Solid Snake. This track opens with a simple techno beat melody that repeats several times over. As the melody goes on, more synth instrumentation is added in the background. The piano, percussion, and "breathing" sounds really add the extra depth that wasn't there in the original version.
"Level 1 Warning" is another excellent remix of one of my favorite tracks from Metal Gear 2. The enhanced synth and added instrumentation greatly improves this track. Other highlights include "Level 3 Warning," a dire and tension-riddled track that originally played while enemies were in pursuit of Snake, and "Return to Dust," which is mysterious and filled with suspense. While the synth leads in to the main melody, odd sound effects like bells and distant crowd chatter play in the background. A strange and effectively chilling track.
"Chasing the Green Beret" is remixed from one of the more memorable scenes in Metal Gear 2: Solid Snake. Snake must move through a forest maze and tail a soldier dubbed "Green Beret" to find a hidden prison cell. This track will probably mean more to people who've actually played the game. On its own, there's really not much to say other than it was an effective sneaking piece when put in context with the game. "Imminent" is more cinematic. This piece reminds me of Snake sneaking through a base, opening doors, and keeping out of sight from the enemy. The choir, synth, and rumbling sound effects add effective tension. That said, "Infiltration" is the most cinematic-inspired track on this album. The (synth) orchestration is heavily used, with chorus and gun reloading sound effects added in for effect.
"Night Fall" is a sad and melancholic piece that stirred some emotion within me when I first heard it. Again, this track will really only mean anything if you've played the game and heard the piece in context. "The Front Line" features its main melody performed on the piano, while jazz-like synths play in the background, while "Frequency 140.85" is quite similar as well. While "Red Sun" was one of mine on the original Metal Gear 2 soundtrack, the remix sounds almost nothing like the original. The bulk of the piece is ambient synth that doesn't really go anywhere. Even when the melody comes in, it's a poor representation of the original piece.
The three tracks "An Advance," "Advance Immediately," and "Farewell" left me out cold for the opposite reason. These pieces are completely unchanged from the original MSX2 synth, and thus feel very out of place. It really baffles me that Konami chose to keep these pieces on this album as is. If they weren't going to bother remixing them, why include them in the first place? While good, the best way to experience these tracks is on the complete Metal Gear 2: Solid Snake soundtrack.
Moving on to some selections from Metal Gear, "-!- Red Alert" is a fast-paced electronic jam beat. You really can't get much more "video game music-like" than this. In addition to this "gamey" synth, there's an excellent electric guitar solo. "Theme of Tara" follows a similar format to "Theme of Solid Snake". Much like before, this piece draws from techno-inspired flavorings with synth and piano bars in the background. "Sneaking Mission" also features techno synth, but the main highlight is the jamming electric guitar solo that comes in at 1:44. The piece effectively switches between synth and guitar throughout until the end.
Another of my favorites on this disc is the remix for "Return of the Fox Hounder", which served as the ending theme for Metal Gear. After destroying said nuclear weapon and escaping Outer Heaven's self-destruct sequence, Solid Snake is victorious. The remix begins with distant explosions, symbolizing the fortress' destruction. After that, electronic synth handles the main melody while a rocking guitar plays in the background. By around 1:30, the guitar is in full swing with its own solo until the synth returns with the melody. The synth and guitar complement each other perfectly, with both of them working off one another. The overall piece reminds of a jam radio session.
"Exit" is one of the biggest highlights on the soundtrack. It's an original composition from Motoaki Furukawa, famed jazz-fusion musician and leader of the Kukeiha Club. I absolutely loved the opening bars of this piece, and the electric guitar section that follows was an utter delight for me as well. It actually bears an uncanny resemblance to the song "Cure" from the Sega CD version of Snatcher. Whether or not this is intentional is not clear to me. The final track "Heavy Metal Gear", another original from Furukawa, continues the strong rock overtones of "Exit." I really could not have chosen a better piece to close off this album.
Summary
This is somewhat of an odd album for me. The rock and techno musical styles presented here are completely different from the cinematic and orchestral soundtracks I've come to expect from the Metal Gear series. Even still, what we have here is an excellent remix album that has a lot going for it. Yes, there are a few duds on this collection and yes, three tracks are lazily not remixed. Problems aside though, the good stuff that this album offers really shines. If you're willing to experience something a little different than what the Metal Gear series usually offers or just want a good arranged album, than add this one to your collection.
stars
1
4
b
8/1/2012
Do you agree with the review and score? Let us know in the comments below!
Posted on August 1, 2012 by Oliver Jia. Last modified on August 1, 2012.