Masayoshi Soken Interview: From Astral to Umbral
Masayoshi Soken has been with Square Enix for quite some time, but had only worked on small to mid-sized titles until Final Fantasy XIV. With Final Fantasy XIV: A Realm Reborn, Soken was thrust into the spotlight with his first large scale project and captured the spirit of the series with his sprawling score. His other credits include work in the Nanashi no Game, Front Mission, and Mana series. 
In this interview, Soken provides a deep insight into his background and works. He goes on to discuss his role regarding the sound of Final Fantasy XIV and his inspirations for the recent piano/rock hybrid arrange album commemorating the music of the game, before touching upon the upcoming expansion.
Interview Credits
Interview Subject: Masayoshi Soken
Interviewer: Don Kotowski, Chris Greening
Editor: Don Kotowski, Chris Greening
Translation & Localisation: Square Enix
Coordination: Square Enix
Support: Stephen Meyerink
Interview Content
Don: Hi Soken san, thank you very much for speaking with us today. Although you have worked at Square Enix for some time, you first received widespread recognition through Final Fantasy XIV. Could you tell us more about your background?
Masayoshi Soken: I've been immersed in music since childhood, in part because my father used to be a professional trumpet player and my mother taught piano and electronic organ. So I was playing the piano ever since I could remember. During college, I majored in chemistry and devoted myself to research; but when I had to make a decision on a career, I didn't have the desire to do chemistry for the rest of my life. So, before I knew it, I was hired on as a sound editor for arcade games at a game company. There, I continued to hone my skills in video game sound and before I realized it, I changed jobs to [the company formerly known as] Square and created video game sound there.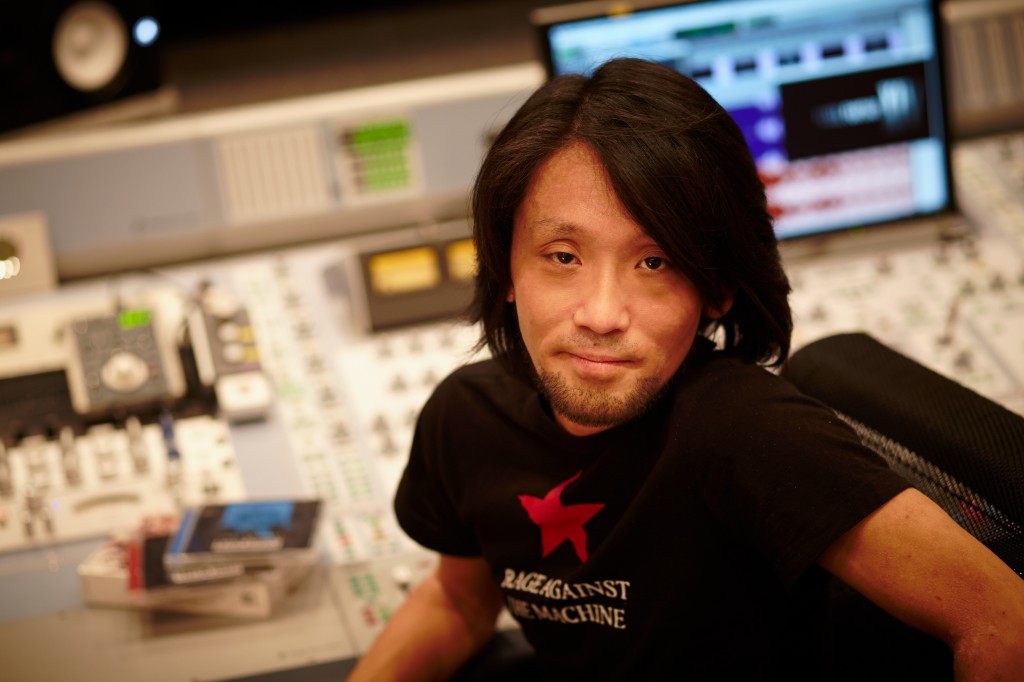 Don: Could you tell us more about the roles you worked on before Final Fantasy XIV? How did they prepare you for working on such a large-scale title?
Masayoshi Soken: Before joining the Final Fantasy XIV team, I worked on small and mid-sized titles. The titles I worked on were unusual for the Square Enix brand, but it was so much fun to make video game sound for them.
The Square Enix sound group typically divides the work for each title amongst several staff members. For example, on one title there will be staff that only creates the music, then more staff that only handle sound effects, and then yet more staff to work on voice editing. However, I'm a hybrid-type who can manage music, sound effects and voice editing. So for the titles I handled, I did all of those functions myself. Leveraging the high level of mobility of being a one-person team, I placed a heavy emphasis on heightening the relationship between the game and its audio when I developed the sound. This experience was very important for me because the synchronization between the game and its audio is extremely important. With Final Fantasy XIV, I am utilizing all of my previous experience to its utmost.
With Final Fantasy XIV, I handle sound effects, engineering, music, and voice recording. However, the sheer volume of what needs to be created is the largest it has ever been since the inception of our sound group, so I don't handle everything alone. However, I do handle the majority of those creations. I also act as the point person that wrangles all of the staff in our company's sound group.
Don: Recently, the album Final Fantasy XIV From Astral to Umbral Arrangement Album was released in Japan. Could you tell us more about the concept of the album? What inspired the decision to create an album featuring half piano arrangements and half rock arrangements?
Masayoshi Soken: Working on Final Fantasy XIV provides many opportunities for me to attend events that allow me to speak directly with the players. When people approach me, they would often say one of two things: "Aren't you going to release a piano arrangement album?" and "Don't you want to do an orchestral concert?" So, I had been meaning to release a piano arrangement album sooner or later. (I am working toward making an orchestral concert a reality too! However, it takes an extremely long time to put it together, so we can't do it so easily.) I personally think FINAL FANTASY is a title that takes on new challenges. So simply releasing a piano arrangement album wasn't very interesting for me. I constantly ask myself, "What can I do to provide entertainment that is focused on music?" This arrangement album is one of those answers. A solo piano and a rock band performance — by recording two sounds with completely opposite characteristics into one disc, wouldn't that make it very interesting? That was the thinking behind the creation of this album.
Final Fantasy XIV has released two soundtracks so far where we utilized the BDM (Blu-ray Disc Music) media. We have poured all of what a Blu-ray disc can handle into music entertainment. Each song comes with multiple videos in Full HD, plus 96kHz/24bit tracks so you have multiple ways to experience it, and you can easily download the MP3 files from the disc onto your PC or smartphone via your home network. You can't find a disc with such a high level of value anywhere else in the world. As I mentioned earlier, I think FINAL FANTASY is a title that takes on new challenges. So to make bold attempts to push the latest technology to its limits, in order to produce high-quality music pieces, is my fate as someone who is upholding the banner of the franchise.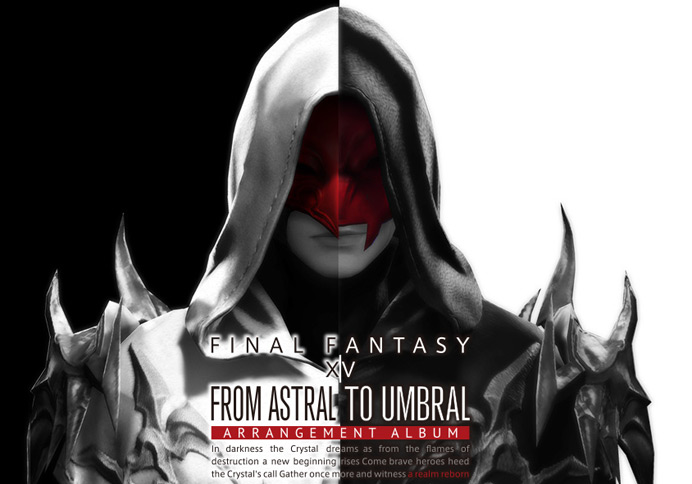 Don: How did you select the themes to be arranged on the album?
Masayoshi Soken: In terms of the song selection, there are songs that I wrote for Final Fantasy XIV that originated on the piano or on the guitar to begin with. So for the flavor of this album, the songs I started creating on the piano were my primary choices for the piano arrangements, and I mainly chose the songs that started out on the guitar for the rock arrangements. And, as I mentioned earlier, these sounds feature completely opposite characteristics. I wanted to maximize this contrast in the song selection, so I picked music that were polar opposites: "field and town," which encompass most non-combat situations for the piano arrangement, and "primal battles" which covers the most extreme combat situations for the rock arrangement.
Don: Regarding the piano side of the album, how did you select which arrangers would help adapt your music to the piano and what was your direction regarding these arrangements?
Masayoshi Soken: I have occasionally mentioned to the artist I worked with when I created the music for Final Fantasy XIV: A Realm Reborn, "I would love to do a piano arrangement." They replied "Let's do it! I would love to work with you when you do!" So when I thought about working on this new album, I contacted them right away. Of course, it was the same person I worked with when creating the original piece, so the planning moved very smoothly.
With regard to the direction, we already have Final Fantasy XIV piano arrangement sheet music published in Japan, and its concept was: "set to a difficulty level where anyone could play these pieces if they put in some practice." This time, our concept when creating the arrangement was: "a very high difficulty level that only professional pianists could play, but in exchange, expressiveness is maximized." Another concept we focused on was to accurately recreate the sound of a piano solo as you would hear it in a concert hall in a home environment, so we put the Steinway (piano) in the hall with dozens of microphones to record multiple takes of 96kHz/24bit 5.1 channel sound simultaneously.
Don: Regarding the rock side of the album, could you tell us about how you formed a band for this project and how you approached adapting the originals for band performance?
Masayoshi Soken: This is more of my personal taste, but my definition of awesome rock music is not about "good-looking guys putting on a cool performance" but more about "not-so-good-looking guys giving it their all in their performance and piercing the hearts of their audience." When putting together a band for this album, I tried to gather people that agreed with these thoughts of mine. Everyone, but me, is very talented which helps me a lot! I'm good at creating, but performing is not my forte… Oh, come to think of it, there is a punch line to this: everyone except me ended up being "guys who will give it their all, but are also good-looking!"
Don: Lastly, if we are allowed to ask, with the upcoming expansion, Heavensward, we expect a different, perhaps darker, approach to the musical style. How did you compose and integrate the music for the expansion given the focus is on Ishgard's war against Dravania?
Masayoshi Soken: I'm right in the middle of working on this! "It's still too early to talk about it in great depth, so please look forward to the release!" is what I would typically say… but I do want to share a little bit with you. I am making sure there is a unique characteristic to the types of instruments that make up parts of the score.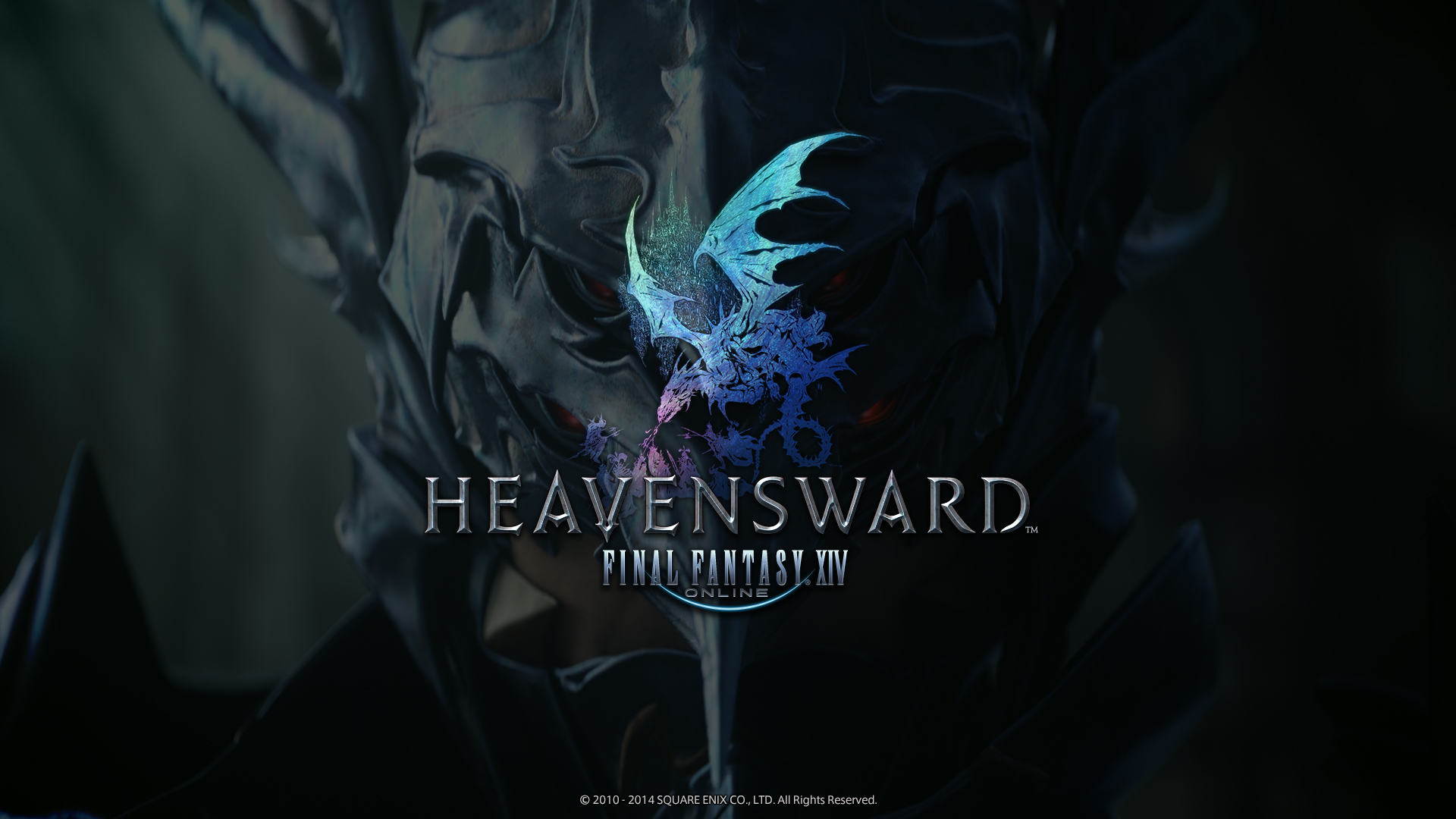 Don: Thanks once again for speaking with us. Is there anything you'd like to say to the fans of your music around the world?
Masayoshi Soken: Sometimes I may not see everything, because I'm swamped with daily development tasks, but receiving messages sent by players from all over the world via Twitter and such makes me realize on many occasions that FINAL FANTASY is a global title. I was so happy when I went to each Fan Festival and was surrounded by so many fans. I will continue to put my all into creating FINAL FANTASY sounds for those looking forward to the upcoming gameplay experience, so please enjoy! And I would be very happy if you could cheer me on!
And to Game Music Online, I am truly, very honored every time you write an article about our title!! Reading your reviews warms my heart every time. I can't tell you how much I was encouraged by your review articles. I was so happy when we received the "AGMA 2013 Best Soundtrack – Eastern" award!!!! Everyone on the Sound team went crazy when this happened.
Your continued support is greatly appreciated!!
Fans can purchase the Blu-ray discs dedicated to Final Fantasy XIV's music at Square Enix's newly-launched online store: 
From Astral to Umbral -Final Fantasy XIV Band & Piano Arrangement Album-
A Realm Reborn -Final Fantasy XIV Original Soundtrack-
Posted on February 18, 2015 by Don Kotowski. Last modified on February 19, 2015.