Hotline Miami Soundtrack
Overview
Seemingly coming out of nowhere, 2013's Hotline Miami was the surprising debut of Swedish indie team Dennaton Games. Taking place in a late 1980s neon-soaked noir inspired Miami, the game was a dizzying and trippy experience whose atmosphere was widely praised upon released. With its ultra-violence, psychologically thrilling story, and gorgeous pixel art; Hotline Miami simply had everything one could ask for in a satisfying action game. Of course, the main star was undoubtedly its stylish chiptune soundtrack, being composed by a variety of independent artists. Perhaps the most important aspect in setting the game's tone and setting, the question is now whether or not it can stand apart on its own.
Body
The deceptively calm and laid-back title theme "Horse Steppin" opens the album, establishing the 1980s ambience which permeates Hotline Miami's in-game world. Sampled sound effects of distant ocean waves crashing are paired with airy acoustic synths, minimalistic bass, electric guitar riffs, and haunting vocals. Going on for a full ten minutes, composer Sun Araw does anything but fall into the pitfalls of repetition. For a track that most players will likely only hear a few seconds of as they quickly select the game's menu options, it's absolutely incredible how much depth there is to this single piece. Sun Araw utilizes every moment to the fullest extent, leading into an inspired middle section before improvisation fades the vague sketches of melody out. The composer's knack for establishing long stretches of atmospheric sound are further demonstrated with his second contribution to the soundtrack, "Deep Cover." Used during the protagonist's illusionary scenes in his own home between the levels, the results are almost like a second verse to the title theme. The trippy tone created by the pulsating synths feels like a man on the edge of his sanity, which is further exasperated by the joshing nonsensical vocals.
Continuing on to the tracks used during the actual gameplay, what we have is some of the finest stage music I have ever had the pleasure to hear in a video game. Each composer leaves their own musical fingerprints on each of their contributions, allowing for there to truly be some diverse variety. "Hydrogen" by M|O|O|N begins with a memorable bassline soon joined by some killer percussion. As the track moves forward, additional elements of synth and rhythm are put on. The dance-like melody will stay remembered long after the listener finishes the track, and it demands multiple replays. M|O|O|N continues a similar tone with "Paris" and "Crystals" utilizing a similar format with both, beginning with solitary basslines and inserting more layers of varied sound. The former contains hints of industrialism while the latter is decidedly techno fused. "Release," on the other hand, is a boss battle theme that is full of ominous tension with its low bass and pervasive synth rhythms.
Jasper Byrne's "Miami" and "Hotline" are some of the lighter tracks on the album, being less serious, yet full of mystery and intrigue. The former is actually played at the end of each level when the player's gameplay statistics are shown and what could have been a minor cue is actually a highly developed synth piece with clever mixing of sound levels. The latter is another gameplay theme, which is more subdued and tactical in comparison to M|O|O|N's faster-paced melodies. On the other hand, Elliot Berlin's "Musikk Per Automatikk" is fully indulgent in its "video game-ness," utilizing lower-quality techno synths which would not feel out of place in a retro arcade game. Though one of the soundtrack's shorter entries, its addictive melody shines through. Eirik Suhrke's "A New Morning" is cinematic and sounds straight out of an 80's action film, which I have little doubt was the intention. After building up with a wistful soundscape and heavy percussion, a sampled electric guitar solo leads the track into a rather abrupt finish.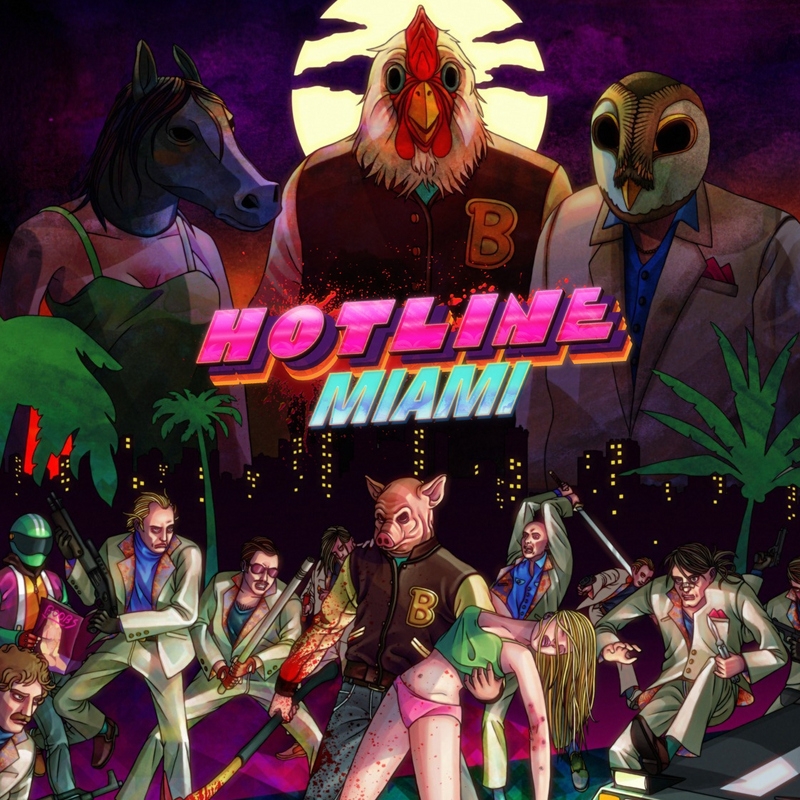 Composer CoConuts only brings to the table one track, but it's among Hotline Miami's best. Originally taken from a self-titled independent album, "Silver Lights" is an incredibly dark six-and-a-half minute composition which is bursting at the seams with creativity. The introductory low-octave bass is soon joined by stagnant industrial-like guitar riffs and hellish vocals. Its tone is immediately established as one which represents insanity and inner turmoil, reflecting upon the mental struggle of the protagonist and reminding me of some of The Cure's moodiest songs. The combination of bass, electric guitar, and vocals leads to some effective experimentation throughout the track's running time.
Moving on, El Huervo (who incidentally is also behind the game's cover art) delivers three very stylistically different tracks. "Daisuke" begins as a relaxing lounge jazz piece, complete with calming piano bars and sensuous bass. An electric guitar solo is later introduced while the piece itself subtly shows signs of audio distortion. The eventual fade-out is anonymous and stirring. The following track, "Turf" is laced with rapid-fire dark synths and heavy atmosphere. Used for the game's final level, it is appropriately tense and effectively channels the emotions of finality. "Crush" is the most experimental of the three, being little more than minimalistic noise and lacking in real musical development or progression. It's probably the one track in Hotline Miami which I cared little for.
Perturbator is responsible for my own personal favorite piece in the game which is "Miami Disco." If there is one track which I feel represents everything that makes up Hotline Miami, it's undoubtedly this one. With an excellent bassline and absolutely perfectly tuned synthesizers, the various aspects of melody and rhythm are nothing short of masterful. This is the piece which I revisit to time and time again when I simply want to hear the spirit of Hotline Miami itself. In addition to this, he composed "Vengeance," a moody and intense piece which was used for the game's trailer, as well as "Electric Dreams," which is the game's ending theme. Mysterious and ambiguous, it serves as a fitting conclusion to Hotline Miami's narrative, while also hinting that there is still yet more to come. And indeed, there is still more. The final artist responsible for Hotline Miami's soundtrack is Scattle, who contributes the most tracks. "Knock Knock," a level theme, follows a similar kind of laid-back tone akin to Jasper Byrne's "Hotline." More notable, however, is "Flatline." Though on the short side, this melancholic piece was the music used during Hotline Miami's hospital scene, a level in which the player does not kill. "Inner Animal," "It's Safe Now," and "To The Top" close off the album, being used during the game's brief post-credits missions. All three are right in line with what has been established within Hotline Miami's soundscape, and Scattle offers plenty of fresh experimentation that concludes the soundtrack on a strong note.
Summary
Throughout its over 90 minute runtime, Hotline Miami's soundtrack has every working of a modern chiptune masterpiece. In the current age of studio orchestras, live ensembles, and high production values; Hotline Miami takes video game music back to its retro roots, while still managing to be an exceptionally strong score that holds up apart from its game. Dennaton Games' nine composers each offer fantastic tracks that demonstrate superb craftsmanship, being both a respectful tribute to the classic chiptune genre and its own fantastic work. It may even be the soundtrack that gets non-chiptune listeners interested. The entire album can also be streamed for free on SoundCloud, so there's no excuse. One of the best video game music scores I've ever listened to, regardless of generation, Hotline Miami demands every moment of your attention.
Do you agree with the review and score? Let us know in the comments below!
Posted on February 3, 2016 by Oliver Jia. Last modified on February 3, 2016.