Chris Huelsbeck Interview: Sinfonia Drammatica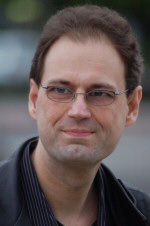 On August 4, 2009, the music of two game music veterans will be performed at the concert Sinfonia Drammatica in the Konserthuset Stockholm. The concert will blend performances of Chris Huelsbeck'sSymphonic Shades with selections from drammatica -The Very Best of Yoko Shimomura-.
Chris Huelsbeck is a game composer legendary for his works on various Commodore 64 and Amiga titles. His music from popular series such as Turrican, Apidya, and Giana Sisters was celebrated at Symphonic Shades in Cologne last year. After working as a sound director at Factor 5 for ten years, he has recently founded the studio Chris Huelsbeck Productions.
In this brief interview, Chris Huelsbeck discusses various details about Sinfonia Drammatica. He tells us about how he feels about the concert, which of his tracks were selected, and how he feels about Yoko Shimomura's music. He will be available for a 'meet and greet' at Sinfonia Fantasia in August.
Interview Credits
Interview Subject: Chris Huelsbeck
Interviewer: Chris Greening
Editor: Chris Greening
Coordination: Thomas Boecker
Interview Content
Chris: A royal orchestra called you… saying 'we want to perform music from Turrican II'…
Chris Huelsbeck: Well, not quite. I heard about the plans thanks to Thomas Boecker. But when I did, I leapt for joy several times! After the phenomenal Symphonic Shades last year, I thought that no other orchestra performances of my music would happen so quickly again. But I was totally wrong! The orchestra is world-class; they already performed an arrangement of Apidya II in 2006, and it was a brilliant performance.
Chris: This time, a new version of Apidya II will be performed, however — the one arranged by Takenobu Mitsuyoshi.
Chris Huelsbeck: Yes, of course. In addition, we selected Grand Slam Monster, X-Out, Gem'X, R-Type, Jim Power, Giana Sisters, and, probably needless to say, Turrican II for Stockholm.
Chris: Will these titles go together well with music by Yoko Shimomura?
Chris Huelsbeck: Absolutely. I think we both have the same goal — we want to compose strong melodies. Melodies which the audience remembers and which express emotions. In this respect I am very confident that a suitable mix of music will be performed at Sinfonia Drammatica.
Chris: Do you like the music composed by Yoko Shimomura yourself?
Chris Huelsbeck: A few years ago I bought Kingdom Hearts II for the PlayStation 2 only because Yoko Shimomura composed the music for it, and I did not even have the console! I played the game at a friend's home, enjoying the soundtrack. I am much looking forward to meeting Yoko Shimomura in person!
Chris: What are your expectations for Sinfonia Drammatica?
Chris Huelsbeck: I think it will be another memorable evening for the fans — and for us! It will be interesting for those who only know the music of Yoko Shimomura so far or only the music written by me. I think they will be pleasantly surprised. The orchestra is excellent and the concert hall has wonderful acoustics and an almost magical atmosphere.
Tickets for Sinfonia Fantasia be released here on March 25 at 11.00. The German version of the Chris Huelsbeck interview can be read at the Symphonic Shades website.
Posted on March 15, 2009 by Chris Greening. Last modified on March 2, 2014.