All-star game music festival coming to Okinawa this week
On March 21 and 22, game music festival Okinawa Game Takt will occur at Okinawa Tedako Hall. Organised by noisycroak's Hideki Sakamoto, the event promises to be one of the most lavish game music events to ever occur. Reminiscent of the Extra: Hyper Game Music Events, the event will feature DJ sets, band performances, chamber ensembles, orchestra performances, and talk sessions.

The event will feature an all-star cast of Sega veterans (e.g. Takenobu Mitsuyoshi, Hiroshi Kawaguchi, Mitsuharu Fukuyama), noisycroak musicians (e.g. Hiroyoshi Kato, Yasuhiro Kawagoe, Keisuke Ito), Square Enix alumni (e.g. Yasunori Mitsuda, Yoko Shimomura, Kumi Tanioka), RPG favourites (e.g. Michiko Naruke, Noriyuki Iwadare), Ridge Racer veterans (e.g. Nobuyoshi Sano, Hiroshi Okubo), and vocalists (e.g. Sarah Alainn, Haruka Shimotsuki). During the two days, the festival will host the following main events:
– Band x DJ Event: Featuring [H.], Tekaru, Haruka Shimotsuki, Noriyuki Iwadare, Nobuyoshi Sano, etc. performing music from their representative works.
– String Orchestra Concert: Featuring the Ryukyu Philharmonic String Orchestra performing music from Chrono Cross, Legend of Mana, Drakengard 3, Radiant Historia, Echochrome, etc.
– Special Gala Concert: Ryukyu Philharmonic Chamber Orchestra performs music from Soul Sacrifice, Phantasy Star Online 2, Daytona USA, Final Fantasy XI, Ace Attorney 5, etc.
– Talk Show: Featuring discussions with 22 game composers, including Hideki Sakamoto, Yasunori Mitsuda, Kenji Ito, Michiko Naruke, and Yoko Shimomura
– After Party: An opportunity to meet the most famous musicians from game music face-to-face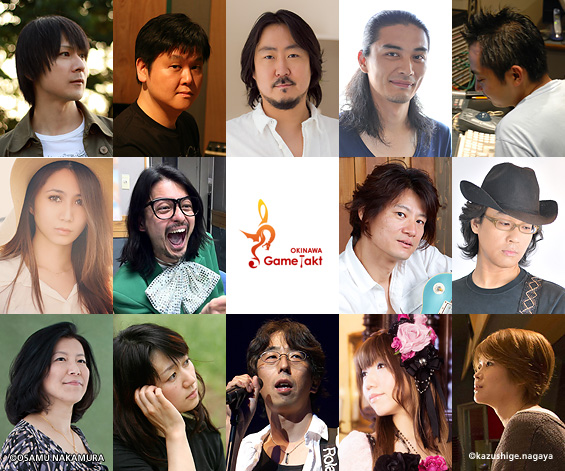 While the talk show is free, tickets for the other events can be purchased individually here. Rehearsals for the show are happening at this very moment.
Posted on March 19, 2014 by Chris Greening. Last modified on March 21, 2014.