Steins;Gate Original Soundtrack + Radio CD
Overview
Following the success of their critically acclaimed visual novel Chaos;Head, 5pb and Nitroplus immediately began work on a follow-up. Although the game would take place one year after the events of Chaos;Head, it would not be a direct sequel and instead featured a completely separate story with different characters. First released for the Xbox 360 in 2009, the result was Steins;Gate. Just like Chaos;Head before it, Steins;Gate was immediately lauded for its complex story, deep characters, multiple endings, and high quality art. In the next few years, the game was later released on PC, PlayStation Portable, iOS, PlayStation 3, PlayStation Vita, and Android. Due to it being a visual novel (a niche genre in all areas outside of Japan), the game remained unlocalized much like its predecessor. However, a full fan translation was eventually released for the PC and iOS versions; allowing the game to reach a wider audience. JAST USA, a company specifically designed for officially releasing visual novels in English, even took notice and released an official English PC version in March 2014. The Steins;Gate franchise is still going strong, and has spawned multiple spin-off games, dozens of manga, several radio dramas, a lauded anime series that received a full English dubbed release by FUNimation in 2012, a theatrical film, and even a board game.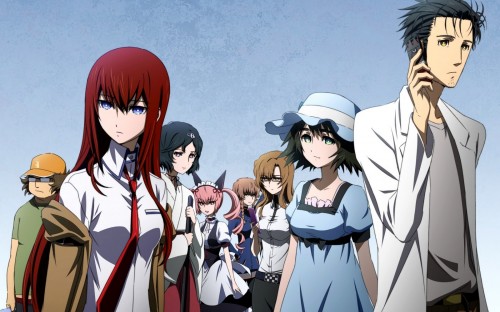 The narrative told within the game was nothing short of a masterpiece. Chaos;Head already had an amazing plot, but Steins;Gate was somehow able to be even better. It used real and currently existing scientific concepts to spin a tale of how time travel could affect the average person. Much like how Hideo Kojima's adventure games Snatcher and Policenauts paid homage to classic cinema, Steins;Gate was heavily influenced by hard science fiction such as Back to the Future and reflected upon 21st century Japanese otaku culture with its Akihabara setting. Additionally, the cast of extremely well-developed characters voiced by famous seiyuu such as Mamoru Miyano and Kana Hanazawa made this one a compelling tale from start to finish. I could go on for paragraphs about the complexity of the game's story, but there are already plenty of reviews that have covered that. Plus the less you know about this game, the better your experience will be with it. Seriously, go check out this game, especially since it's officially being released in English soon. People have praised recent hits such as BioShock Infinite, The Last of Us, and The Walking Dead as some of the "first" titles to prove that games could be an important storytelling medium. But I firmly assert that the visual novel genre has already done that for years. If Steins;Gate can prove to be successful when it gets officially released by JAST USA, then I think this genre can be "rediscovered" and be appreciated for what it's already done. Even if one has never had any experience with visual novels, Steins;Gate is a perfect place to start.
The staff for the game was largely the same as that of Chaos;Head. As such, the soundtrack was once again composed by veteran Takeshi Abo. Other composers Chiyomaru Shikura, AKIRASTAR, Tatsushi Hayashi, and Yoshihiro Suda additionally provided assistance. With music being one of the most important aspects of a visual novel, has 5pb brought the goods?
Body
The score to Steins;Gate features something that its predecessor Chaos;Head unfortunately did not have: thematic continuity. The main theme "Gate of Steiner" subtlety appears throughout the soundtrack several times. Its introduction consists of repeated intervals of 16th notes in E-flat Major, while other synths add on harmony in the background. At around the thirty second mark, the main motif enters being a melancholic, but heroic-sounding melody. It is joined by bass and synth orchestra, creating a wonderful electronica blend that sets the soundscape for the entire soundtrack. The rest of theme continues with these motifs and cues, until it hauntingly fades out with distant choir voices. "Gate of Steiner" is a theme that I'd go as far to say is as great as the sounds from Mario, Zelda, and Halo. Had Steins;Gate been a "mainstream" game, I have no doubts that this would be remembered as one of the best and most memorable compositions of music in the industry. It's that good. The piano variation found on the second disc is arguably even better, with whom I can assume to be Takeshi Abo giving an inspired performance. It sounds more brooding than the original version, with the descending spirals of notes at the 1:40 mark being impressively handled until fading back into the main motif. "Believe me" and "Solitude" additionally feature the piano variation of theme played in different keys. "Fake Verthandi," a track that leads into the game's "True End," again uses the theme, albeit with different synth. For those that have read the original story, these tracks will no doubt bring back poignant memories.
With Steins;Gate being hard science fiction, its soundscape heavily consists of futuristic electronic and techno genres. I wouldn't necessarily compare it entirely to Vangelis' work on Blade Runner since it's more melodic than that score, but I could not help being reminded of that when listening to Steins;Gate. The synthesizers used throughout the soundtrack are of very high quality, and Abo again proves his mastery in subtly setting the scene for each point in the game. "Suspicious Eyes" begins simply with a few electronic blips, but builds with the percussion, synth chorus, and bass. The final portion before it loops even uses the opening bars of "Gate of Steiner." "The Universe" and "SERN" are ambient tracks that reflect upon the game's thematic elements of the vast cosmos and infinite potential of time travel. "Explanation," "Urd," and the three variations of the track "Hack" again fit well with the game's hard science fiction electronica style.
Other themes like "Noisy Times" and "Walking on Sleeping" are comedic and light-hearted, used during the story's many humorous moments. "Assailant" and "The Limit" are suspenseful chase themes, while "Crossroads" benefits from some excellent pulse-pounding synth. "Chaos Mind" and "Self Affirmation" represent the score's darkest moments, being brooding, anonymous, and all-around Vangelis-like. If there's one thing that stood out to me when playing Steins;Gate, was the story's seamless transitions between a wide variety of emotions. Abo's work on the score definitely aids this and the variety here is impressive.
In "Cycle" guitar, flute, and synth orchestra are used to craft upbeat theme that also inserts hints of "Gate of Steiner" as well. "Human Community" additionally uses similar motifs. Conversely, we have a handful of tracks that are used during the game's emotional and sorrowful scenes. "Select of Sorrow" and "Hesitative Consideration," the former piano and the latter orchestral, use the same emotional theme. Another track that's an absolute joy to listen to is "Laboratory," the theme for the protagonist's "base of operations." Peppy and cheerful, it puts a smile to my face every time I hear it. "Quiet Air" is an equally nice variation of the melody, being slower and reminding me of the emotions one has after a long day's work.
The rest of the instrumental tracks represent Abo's more experimental side, but he nonetheless succeeds. "OPERATION SKULD," a track used when our main characters are dicussing one last mission at the game's climax, is a real highlight here, having a memorable melody, high quality infectious synthesizers, and a haunting chorus. "Network Battle" is a blend of rock and techno, sounding like it could come from any mech anime. However, "Yanagibayashi" notably sticks out the most by being a traditional-sounding Japanese theme. Abo uses classic Japanese instruments in conjunction with modern electronic synths, creating an excellent mesh between the two styles. Towards the end, eight ringtone variations of themes throughout the game are included. As part of the game's choice system, players could additionally change the sounds from the protagonist's phone. Instead of what could have simply been a bunch of uninteresting and forgettable jingles, Abo makes every single one memorable. The retro-style synth covers are fantastically done, so much so that I have even used these for my own mobile handset.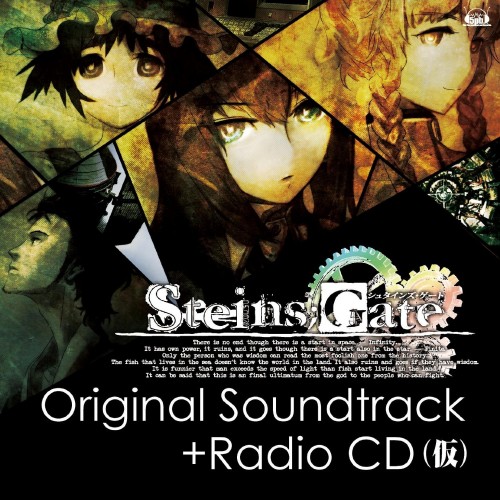 Finally, the soundtrack collects all the vocal themes from the original Xbox 360 version of the game. That means that these are shortened and not the full versions featured on the series' single albums. Songs that were in later ports of Steins;Gate are not included either, though this is understandably due to them not having been created at the time of this album's release. However, what we are given are some of the best and most memorable vocal songs I've ever heard in a video game. Returning from Chaos;Head are Kanako Ito and Yui Sakakibara. "Sky-clad Observer," which is the first track of the entire album, demonstrates Ito's strong vocal talent along with heavy piano chords, electric guitar riffs, and the game's signature electronic sound. The head of 5pb, Chiyomaru Shikura, even wrote the lyrics. "Technovision" by AKIRASTAR heavily auto-tunes Ito's voice, making her sound similar to a vocaloid. This fits perfectly with the game's genre and style so the experimentation here works. Sakakibara's J -rock piece "Masquerade," is memorable, though I enjoyed it slightly less than her previous work with Chaos;Head. However, her work on the ending theme "Farfalla of Fate" was fantastic, giving off a strong performance with the hopeful Japanese lyrics. This song is used during the game's alternative endings, thus it feels as if there's more to the story and another chance of getting to the best end possible. The final track, "Another Heaven," is what I can only describe as pure beauty. I know that I've been gushing over this soundtrack quite a bit, but I really mean it when I say that this may very well be the single best ending theme I've heard in a video game. Kanako Ito's voice is gorgeous; with the song itself giving off much pathos by being sad and hopeful at the same time. Composer Yoshihiro Suda's mix of orchestra, electronica, and rock is masterfully well-done. I could honestly have not asked for a better theme to end this game and the soundtrack.
Before closing off, I should mention the third disc that's included with the album. It is not an audio CD, but rather a data disc that contains ten radio talk show styled drama tracks related to the Steins;Gate story. The exact same seiyuu which are in the game provide their voices, while excerpts from the score are additionally edited in. Unfortunately, these are all completely in Japanese which means that one unfamiliar with the language will have little use for them. With translations of some radio dramas from the series available online, perhaps one for these in particular will later follow. I applaud 5pb for including them in complete form here and those fluent in the language will no doubt enjoy them. Hopefully when I become proficient in my Japanese skills, I'll be able to fully experience them one day.   
Summary
My expectations have been fully exceeded with Steins;Gate. Takeshi Abo provides one of the most memorable main themes in any video game, while Yoshihiro Suda and Kanako Ito present one of the best ending themes. Seeing these two milestones in such a relatively obscure soundtrack is nothing short of impressive. The rest of the score is a strong composition of electronica, along with Abo bringing much variety by introducing other genres. The vocal themes are exceptionally strong for the most part, though I'd recommend checking out the full singles or the more readily-available "best of" collection. It's an absolute shame that this game is not more well-known, but hopefully JAST's upcoming official release of it will bring in more interest. To those that haven't experienced Steins;Gate yet, I strongly urge you to check this game out. And as for the soundtrack, it stands on its own strongly and will satisfy those who enjoy great science fiction scores.
Do you agree with the review and score? Let us know in the comments below!
Posted on March 18, 2014 by Oliver Jia. Last modified on January 17, 2016.