Sebastian Freij Spotlight: Rich Layers in the Cellist's Covers
We will be starting a new series of articles spotlighting various cover artists, inspired in part by the Multiplayer: A Tribute to Video Game Music project that recently took place. In this series, I will interview the cover artists from YouTube, OverClocked ReMix, and other communities to learn more about their style and background with music, before putting a spotlight on several individual arrangements.
Our first featured artist is Sebastian Freij, an extraordinarily talented Swedish cellist who plays on both cello and electric cello, incorporating looping technology to produce complex layers of sound to his pieces. Over the years, Freij has covered games from series such as Zelda, Final Fantasy, Might and Magic, and Elder Scrolls on his YouTube, between posting his own original compositions and covering the main theme of everyone's favorite fantasy show. He is also active as a remixer in OverClocked ReMix under the pseudonym AeroZ. Outside of covering and composing, Sebastian Freij tours his home country to conduct workshops on using looping technology in music.
Interview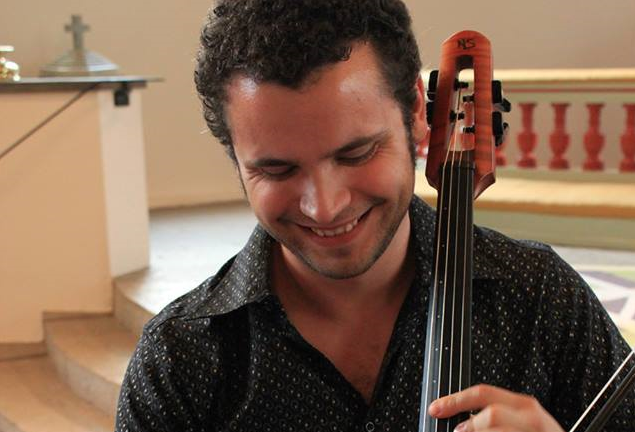 Emily: Thank you so much for doing this! First off, you are an amazing cellist — your style, sound, and the way you can pull off those double stops is pretty awesome. How long have you been playing cello?
Sebastian Freij: Thank you very much. I've been playing cello since I was seven years old. My father is a violin teacher and my mom is a piano teacher so I had a good start with music.
Emily: When did you start playing electric cello? How do you decide which instrument to use?
Sebastian Freij: I invested in an electric cello during 2008. I mainly bought one for playing on live stages with a punk rock band. I started off with a Yamaha SVC-50, which looked really cool and was a good start. Then I got a very good offer on buying a NS CR4 Cello. The possibilities grew even more then. I mainly use the BOSS GT-10 these days. It has everything essential I need to create a sound that I like.
Emily: What other electronic equipment do you use to change or enhance your sounds?
Sebastian Freij: I use Reason as my digital audio workstation and mixing/mastering device.
Emily: How did you get into doing covers?
Sebastian Freij: Just as with many game musicians do, Nobuo Uematsu was my inspiration. He is the main reason why I started to remix, compose, and start learning the piano. And I think my favorite soundtrack has to be Final Fantasy VI. It's such a great game with top notch music and melodies.
Emily: Looking at all your covers, which are you most proud of?
Sebastian Freij: One of my favorite is Heroes of Might and Magic IV's Sea Theme. The tune has a very nice melody and is very fun to play. It fits my playing style pretty good too.
Emily: Finally, are there any soundtracks or pieces you're looking forward to covering in the future?
Sebastian Freij: I'm looking forward to remix/cover other games like Golden Sun, more Zelda games, and everything else the game music market has to offer.
Analysis
The Legend of Zelda: The Wind Waker – Dragon Roost Island
His cover of "Dragon Roost Island" from The Legend of Zelda: The Wind Waker is a wonderful example of Freij's ability to adapt a piece to his instrument, using both looping technology and his own natural ability (which isn't limited to cello playing, as he actually uses his own voice as one of the instruments). Freij's traditional method involves setting up a bassline rhythm and then looping it to play constantly as he layers other melodies, harmonies, and rhythms on top of each other.
By the end of any given piece, the listener has forgotten that Freij is only one person, as he is able to turn his instrument into something of an ensemble. In Dragon Roost, Freij alternates the melody line with the countermelody line, so the entire piece doesn't become repetitious, but instead ebbs a little before swelling as all the lines of music come together before the end.
The Elder Scrolls V: Skyrim – Secunda | Far Horizons
One of my favorite covers is a mashup from The Elder Scrolls V: Skyrim consisting of "Secunda" (a beautiful and somewhat underrated piece, in my opnion) and "Far Horizons", for which he brings his own interpretations and touch using his own acoustic cello. The opening sequence of "Secunda" is true to the original piece, both in its ostinato-like opening and fluctuating dynamics. Freij then uses his looping techniques to continue the ostinato while playing an overlaying melody. Here is where Freij's "Secunda" diverges from the original for the sake of the cello.
One common issue I've found with many different kinds of covers is a die-hard fan mentality, in which the arranger tries write a cover in which as few changes as possible need to be made from the original. The issue mostly lies, then, in the instrumentation of the arrangement versus the original. Sometimes changes have to be made in order to maximize the instrument's ability — a good cover should be an interpretation, not a copy of the original. With his solo instrument, Freij is able to reimagine Secunda in a new setting, and transform the piece into something that was written for cello.
Moreover, once the soaring melody from "Far Horizons" takes over, Freij has completely adopted the piece and made it his own. Particularly for any fans of Skyrim, it is certainly worth a listen, although the cover is beautiful regardless.
Final Fantasy VI – The Serpent Trench
Freij's arrangement and performance of FFVI's Serpent Trench demonstrates his versatility with the cello, as well as his understanding of one of Uematsu's greatest albums. Through a combination of looping and innovative cello methods, Freij is able to create an effective cover of the heavily percussive piece, which consists mainly of three layers: a constant bass rhythm, rapidly whirling soprano strings, and an alto woodwind instrument (or, the synthesized nineties game version of a woodwind instrument) playing a simultaneously soft and unsettling melody.

Freij uses an electric cello in this cover, first incorporating a slap-bass method to create the underlying rhythm, and then playing the main melody arco on his cello — first in a straightforward legato fashion, then using a tremolo, which ultimately takes the place of the higher strings in the original recording. As the piece draws to a close, Freij sheds off the layers one by one, until the last line — the bass rhythm — finally ends.
Heroes of Might and Magic IV – Sea Theme
For this cover, Freij uses a unique echoing technique to open the piece (to represent the opening of the original piece, which features acoustic guitars), following through with a jaunty sailor melody. The appeal of this piece to Freij and his techniques is obvious — the melody is light and fun, and the original composition is written with several layers of melodies and countermelodies.
Freij approaches it with the same lightheartedness; after bringing in the initial melody, he pauses to set up a choppy rhythm, followed by a few harmony layers, and then brings in the carefree melody, which fits perfectly on the cello. Against the backdrop of the rhythm, the melody sounds like a jig; with the addition of the harmonies, it's a strikingly thoughtful piece and an equally thoughtful interpretation. There is no question that this piece fits very well with Freij's techniques; in fact, in hearing the cover before the original, it's hard to imagine Freij's arrangement isn't the original.
Posted on August 6, 2014 by Emily McMillan. Last modified on August 6, 2014.