Ryan Richko Interview: Going the Extra Mile
Ryan Richko is a composer making strides in the indie game and film sectors. Best known for his award-winning soundtrack to the tactical RPG Telepath Tactics, he has also scored several short films, casual games, and upcoming titles.
In this interview, Richko discusses his background, principles, and career highlights. Along the way, he discusses his inspirations as a guitarist, influences from Square Enix RPGs, and emphasis on recording live instruments. The interview is peppered with samples of his definitive works.
Interview Credits
Interview Subject: Ryan Richko
Interviewer: Chris Greening
Editor: Chris Greening
Coordination: Chris Greening
Interview Content
Chris: Many thanks for talking to us today, Ryan Richko. First of all, can you tell us about your musical background?
Ryan Richko: My grandparents put me through piano lessons at the age of six. I was classically trained but I also enjoyed learning film music like Forrest Gump and cartoon theme songs. At the time I wasn't really thinking about becoming a media composer. I was just doing it because I enjoyed it. At age 14 my father gave me his fender strat guitar, and that was a big turning point for me. I started listening to a lot of rock music and I wanted to become a rock star. I played in all kinds of bands ranging from grunge to heavy metal and I made sure to take every music class possible in high school.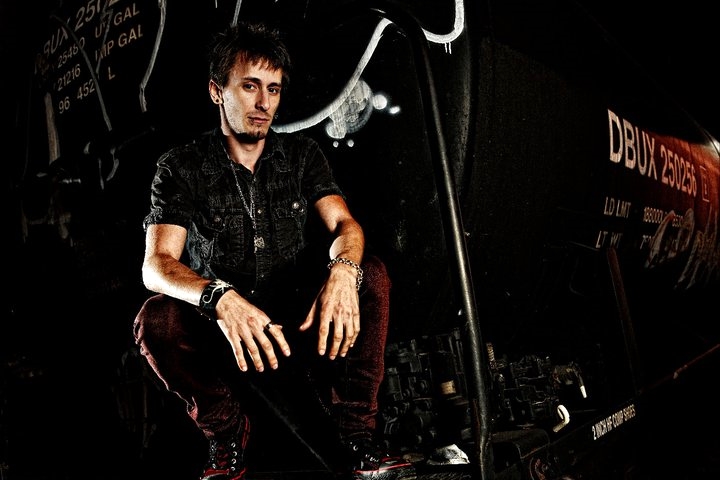 Chris: What led you on the path to becoming a film and video game composer?
When I turned 18 I decided that I wanted to build a career in music as a guitarist. So I went to Columbia College Chicago and studied with some of the best teachers and people I've ever met in my life. I owe everything I know to my amazing guitar teacher at the time, Peter Lerner. I studied a lot of jazz and funk music with him for years. I also sat in my room for about 8 hours a day studying Dream Theater songs. John Petrucci has always been my favorite guitarist. So between that and school, my guitar chops were getting really polished. After college, I toured and recorded with a lot of different bands, though none of them really made it big. Lots of time passed and I was getting frustrated. So I decided to move to California to be close to it's well connected and busy music industry. Once I arrived a friend played me Hans Zimmer's film scores to The Last Samurai and Gladiator. This music made me feel something I've never felt before and I was drawn in. I've also been really inspired by video game music my whole life (especially the Final Fantasy series), but never really thought about writing game music before… not sure why. So then I realized maybe this is what I should be doing, and the reason why the band thing never worked out.
I guess I'm a late bloomer, as most of my colleagues knew they wanted to be a composer since high school. I got my first gig by going to a short film audition as an actor, but didn't really care about getting the part (which I didn't, I'm terrible at acting). My plan was to ask if they needed a composer for their film before leaving the audition. So, I did just that, got the gig, and now here I am a few projects later getting paid to write film and video game music.
Chris: Listening to your soundtrack releases, you're quite versatile. Can you tell us how you became so adept at a range of genres? How did you develop expertise in ethnic, electronic, and orchestral music?
Ryan Richko: I study constantly. I'll sit down and listen to all kinds of music, and just absorb information about it. Scales, keys, chord changes, instrumentation, melody, counterpoint, arrangement, color, etc. Then I'll practice copying those styles of music and eventually come up with my own way of doing it. I think it's like practicing an instrument and perfecting it, only with composing you try to perfect paying attention to details of music and learn what works while finding your own voice within your inspirations. I think I owe my background as a session guitarist a fair amount of gratitude as well. I was expected to be able to perform any style at any time. Besides that I study orchestral scores quite often to improve on my orchestrations.
Chris: As a game composer, you're perhaps best known for your work on Telepath Tactics. Could you tell us your inspirations for this tactical RPG score? How did you evolve your tracks over the course of the game?
Ryan Richko: It was heavily influenced by Nobuo Uematsu, Yoko Shimomura, and Mashashi Hamauzu, my favorite game composers. Since Telepath Tactics is a tactical role-playing game, in the vein of Final Fantasy Tactics, I felt like I wanted to bring players a bit a nostalgia, but at the same time it was also kind of a way to honor Nobuo and co. They inspired me to take this crazy journey into game composition.
The tracks I wrote for Telepath Tactics were mostly drama, location, and character based, like most RPGs. The funny thing is I wasn't able to play the game much at all when I was writing the soundtrack, because the developer never had a full game for me to play, just small bits here are there. So I literally had to write all of my themes based on ideas, artwork, and many conversations with the developer. It was extremely challenging to write this way (like shooting into the dark) but after about 1 year of writing and a ton of demo variations we got it done and were pleased with the results.
Chris: The sounds of Telepath Tactics are top-notch. Could you tell us more about audio setup? What hardware and software do you use to bring your music to life?
Ryan Richko: I am currently using the black "trash can" Mac Pro, Apollo Twin audio interface, Neumann and Shure microphones, an Akai Mpk 88 midi keyboard, and Glyph external hard drives. I also record a lot of live instruments myself like guitars, ukuleles, bass guitars, mandolins, violins, etc. My DAW of choice is Logic Pro X for both tracking and mixing, but I usually hire a music editor if I need to convert sessions to Pro Tools for an orchestral recording. It saves me a lot of time and I can focus more on other important things. For orchestration I use Sibelius. My favorite plugins are Universal Audio, Fabfilter, and Soundtoys. I owe a lot of my quality of sound to the mastering engineers I hire for all of my projects: John Rodd (Star Wars: Battlefront) and Falk Au Yeong (Lightning Returns: Final Fantasy XIII). They really take my music to new and amazing places. I'm just starting to collect some new hardware, a Bricasti M7 reverb unit, and Pultec / Neve style EQs. Can't wait to try these on my next few projects.
Chris: Yes, we noted in our review of the soundtrack that the instrumental performances really elevated the music of Telepath Tactics. Could you elaborate on this? What are the advantages of using performers over synth?
Ryan Richko: Live musicians bring a much deeper emotional impact and sense of realism to the game experience. Computers cannot do what humans can do period. All of those little tiny imperfections of an orchestra playing together are what cause the music to be truly beautiful. The tone, depth, and sense of unity severely lacks in sample libraries. When I hear orchestral music being played by samples, it honestly ruins the experience for me. I can spot it instantly, and it doesn't matter how good the mix is, it's just not the same as having real people playing your music. I always say, you only get to make your soundtrack to whatever project you're attached to once. So why would you ruin it with a computer? Go the extra mile, find a way to record live players and give the project and its audience what it deserves. Even layering a few live players over your samples will greatly enhance the quality and delivery of what you're trying to say musically. Samples are extremely limiting to the composition process. I won't accept a project unless there is some way to deliver high quality music with real players.
Another advantage of using real musicians is it takes about 1 hour to record 5 minutes of music. To program 5 minutes of music using sample libraries, as well as mix and master, could take up to a week (or even longer depending on the material). Still, it is important to be able to create great midi mockups to showcase to the director as demo material. Once approved, then you take it to the live musicians.
Chris: You've also written two short soundtracks for the mobile games, Dragon Drop and Memory Match and Catch. How did working on these soundtracks compare to your larger-scale works? How did you ensure they left an impact in a short time?
Ryan Richko: The mobile games are a completely different style from my previous work, and something I never really thought of doing being such a lover of lush dramatic orchestral works. But I had a lot of fun working on them. There was this idea of doing a pop rock sound with minimal production using mostly solo instruments. I had to write, record, and mix everything myself. Then Falk Au Yeong did the mastering for me. So I was wearing a lot of different hats. Luckily the demos I sent in were approved instantly and I never had to really change anything. I finished both games in 1 month (Telepath Tactics took me 1 year).
The tracks are all fairly short (30 to 60 seconds each). This is because the game levels don't last very long and the developer only needed short cues that looped. So to leave a strong impact I made songs that are extremely catchy and fun to listen to with typical A-B arrangements.
Chris: In addition to your work on video games, you also featured at film festivals such as Cannes and Sunset. Looking back, what projects are the biggest highlights for you and why?
Ryan Richko: For film I'd say Stranded is my biggest highlight. The director/writer, Tyler Leisher, is such a talented guy and has a lot of cool new projects coming up that he asked me to work on. So I felt really lucky to meet him. That's the thing about film scoring. When you impress a director, they tend to use you for everything they do in the future. I also recently won a Global Music Award for my score to Stranded which was quite an honor (winning alongside other big names like Inon Zur and Neal Acree). Just being on that list with them was crazy
Overall though, I consider Telepath Tactics my greatest highlight so far. It was my first game and the first time I recorded a live orchestra. I was fortunate to work with some amazing people during the whole process, and I learned so much from the experience. Next time, I plan on doing it even better!
Chris: You've got several projects in production, among them Age of Blood: The Scourge. Can you tell us more about what we can expect from you in the future? And do you have any messages for your fans around the world?
Ryan Richko: Right now I'm working on three video games and one film. It's still very early so we are in the experimental phase musically. I'm drawn to projects that are unique and have great stories to tell, it makes writing good music much easier.
Thank you for taking the time to interview me. I'm just really grateful to share these experiences with the world. I can't imagine doing anything else. I want to wish everyone the best and please continue to follow your dreams
Posted on June 4, 2016 by Chris Greening. Last modified on June 4, 2016.