Kevin Riepl & Jason Graves Interview: Collaborating on Resistance: Burning Skies
Resistance: Burning Skies is one of the first games to showcase the musical capabilities of the PlayStation Vita. Scored by two of the industry's most creative forces, Jason Graves (Dead Space, Dungeon Siege III) and Kevin Riepl (Gears of War, Hunted: The Demon's Forge), the music is thematically driven and highly emotional.
In this joint interview, the two composers discuss making the score. They note their inspirations for the music, their experiences at the recording sessions, and what it was like to collaborate for the first time. They also mention some of their other projects, including the upcoming Aliens: Colonial Marines.
Interview Credits
Interview Subject: Jason Graves, Kevin Riepl
Interviewer: Chris Greening
Editor: Chris Greening
Coordination: Greg O'Connor-Read
Interview Content
Chris: Kevin Riepl and Jason Graves, it's a pleasure to talk to you both again. Your score for Resistance: Burning Skies has just been released for PlayStation Vita. Could you each introduce us to this work? What should we expect from the score?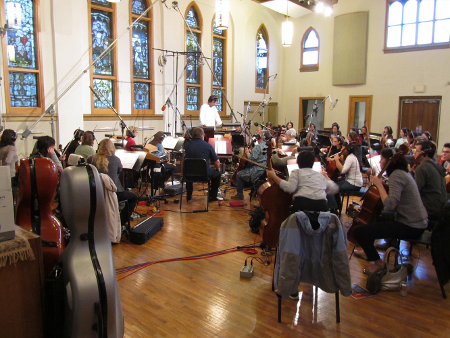 Jason Graves: So nice speaking to you again as well! I think the best word to describe this score is EMOTION. Sony was extremely specific about wanting a classic, emotional, theme-driven score that would follow the player through the game.
Kevin Riepl: The Resistance: Burning Skies score, recorded with a 60+ piece orchestra, encompasses every emotion and dynamic possible, which some would relate to older films scores of the '50s.
Chris: You have described the music of Resistance: Burning Skies as a traditional orchestral score. How did you evoke period influences on the score? Did you draw influences from any movies or composers in particular?
Jason Graves: No one specific composer or film comes to mind, but there was the general idea of the 1940s or 1950s film scores that Sony mentioned. They were very keen on the "old school" approach to the music, meaning music that can stand on its own — not simply be repeating, chugging low strings with pulsing violins playing the same thing over and over. They wanted something emotional and timeless; something that moved and evolved as the music progressed. Honestly, that was the part of the gig that REALLY appealed to me — that's exactly the kind of music that I love to compose!
Kevin Riepl: There was no real deliberate reference to scores or composers. Both of us have studied and listened to the works of Waxman, Rózsa, Steiner etc., extensively, not to mention our influences from every other composer in film. What we tried to instill in this score was a heavy sense of melody and chordal progression, which is how film scores of that era were approached.
Chris: Of course, the Resistance series has a rich musical history of its own through the creative works of David Bergeaud, Boris Salchow, and Garry Schyman. Was the precedent set by their scores important to you with Burning Skies? Were any scores particularly influential to you?
Jason Graves: I am a self-admitted fan of the series, especially its music! However, Burning Skies is a prequel of sorts. As a result, Sony wanted a completely unique musical statement for this game. In a way, that was very refreshing for me as a composer. It's always a lot more creatively satisfying to have the opportunity to create your own thematic universe to explore.
Kevin Riepl: Other than meeting the quality standards of the preceding scores, there was no request from Sony to incorporate any of the previous elements of those scores. We were basically asked to deliver melodic, dynamic, and very emotional music.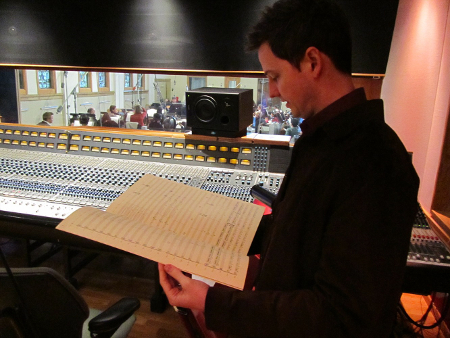 Chris: While neither of you are strangers to collaborations, Resistance: Burning Skies is the first time you have worked together. What was it like to work together?
Jason Graves: Kevin and I have been friends for a number of years before we were brought together for Burning Skies. He's a fantastic composer with a wonderfully intuitive sense of drama in his music. It was SO much fun hanging together at the studio sessions. We found ourselves ordering identical meals and quite often finishing each other's sentences. It's almost like we were separated at birth — we even share the same birthday!
Kevin Riepl: First time? Nah, we've been instructors together in our underwater knitting class for years. In all seriousness though, it was an extreme pleasure. I've always admired Jason's work and talent, and he's one of the few that I'd be happy collaborating with on a project.
Chris: Was there much opportunity for direct collaboration?
Jason Graves: From a musical standpoint, there really wasn't much time to share themes or "compare notes" as it were. But I do have to credit Kevin for a genius move on his part: he took the first three notes of my main theme, a large leap with a semi-resolution, and used them as a jumping off point for his main theme. It was a brilliant idea that unifies the entire score.
Kevin Riepl: There was very minimal influence on either of our parts. We were both given equal duties to write the score. We only shared our first pieces; I borrowed three notes from Jason's main melodic statement to start and then branch out to another main theme. We've both come to the conclusion that those three notes are a huge factor on what ties the entire score together.
Chris: You recorded the score at Ocean Way Studios in Nashville. Can you share your experiences at these sessions? What did the live performances bring to the score?
Jason Graves: I must admit, it was my first time recording at Ocean Way and I was a bit trepidatious about the quality of the performance, not to mention unsure about the studios themselves. As it turns out, both the musicians and the studios are world-class, not to mention that they are only an hour flight away from my home. Since then I've already been back four times for different projects and returning again next month for another. Needless to say, it's become my "go to" studio for anything from full orchestral to small ensembles and solo session players.
Having live players on an orchestral score makes ALL the difference in the world, and the musicians at Ocean Way are no exception. There's just so much more emotion and human musicality in the live tracks.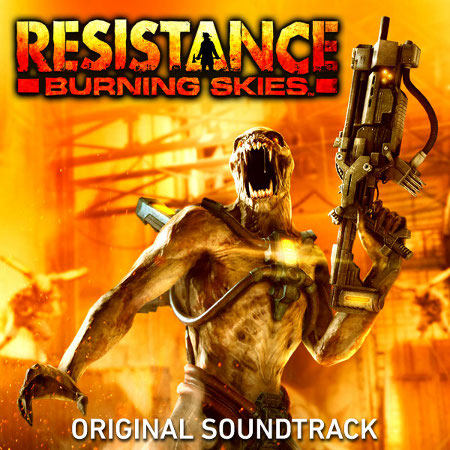 Kevin Riepl: It was great! To be honest, I was literally blown away by the talent and the sound of the room. It was extremely relaxing and flowed incredibly smoothly, not to mention the wonderful hospitality of the staff and director of the studio. When it comes to the live players, I'm going to have to mirror Jason's comment on what the live players bring to a score. On top of that, the musicians were consummate professionals — they were very easy to work with and had a great sense of humor throughout the sessions. I am going back there for another game score this summer and I can't wait.
Chris: Until recently, it was rare for handheld consoles to feature full orchestral scores. How did the specifications of the PlayStation Vita help you to change this with Resistance: Burning Skies? Were the any technological restrictions or did you have complete freedom?
Jason Graves: Actually, there really were no limitations as far as the music implementation went. The Vita is a very capable gaming machine and that includes what it is capable of handling on the music side. We basically just wrote the kind of music we thought was appropriate for the game and Sony handled the rest.
Kevin Riepl: The technology today for the PS Vita allows no restrictions when creating the score for a game. In the scope of creating a live orchestral score, we had complete freedom.
Chris: Jason, you have been involved in a collaborative role on a number of other sequels recently, including Might and Magic Heroes VI and Dungeon Siege III. How would you compare your roles and approaches on these projects to Burning Skies?
Jason Graves: They've more or less been the same. A lot of times, multiple composers on a single game is a result of simply too much music and too little time to compose it all. Such was the case on these games.
With Burning Skies Kevin and I did get a chance to share ideas in the beginning, but the rest of the time we were too busy with our own music to pay too much attention to anything else. It was quite a push — more than an hour of music composed, orchestrated and recorded in less than a month. That's a push, even for game music!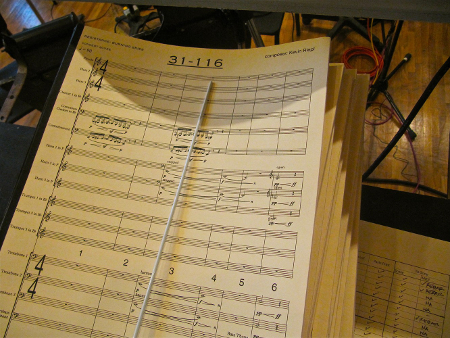 Chris: Kevin, one your most remarkable recent works was Hunted: The Demon's Forge. Could you discuss your unique timbral and rhythmical approaches to creating a dark, primal feel to this score? Did your experiences on this score ever influence you on Burning Skies?
Kevin Riepl: First off, thank you kindly for the comment on the Hunted score. It was an awesome project to work on. From the beginning of that project, there was always the need for the music to sound strong and very aggressive. Other than the traditional instruments used in the score, I tried to keep all original sounds very guttural and rooted organically to keep a gritty, earthy element in the music. Along with those, quite a few ethnic instruments were used, not specific to any region or time period. Some of the rhythms throughout the score stem from rock and metal to help with the aggressive aspect of the score. Here and there you can also hear stabs of low guitar chords accompanying orchestra to punch the grittiness up a notch.
I'm not so sure this score had any musical influence on the Burning Skies score. But, every project you do helps shape you for the next project and so on.
Chris: Both of you also have some other major works coming up, including Aliens: Colonial Marines and Prey 2. Could you tell us more about what the future might bring? Are you going to continue pioneering creative approaches on such works?
Jason Graves: Let's hope so! I know I'm never truly happy unless I'm trying something new and learning about music composition, orchestration, microphone techniques, compression… the list goes on for quite a bit. But I'd like to think that the drive to learn and use those new ideas in my music is keeping the soundtracks I score fresh and interesting. At least that's what I keep telling myself!
Kevin Riepl: For Aliens: Colonial Marines, there won't be much pioneering as we are designing the music to specifically fit in canonically with the franchise… well, ALIEN and ALIENS that is. I think the score will be awesome though and it'd be an added bonus if it pleases the die-hard fans. Loving the ALIEN franchise and getting to work on this game is a huge honor.
Chris: Finally, a digital soundtrack release was compiled for Resistance: Burning Skies. Can you tell us any more about this? How well do you think the music will serve on a stand-alone basis?
Jason Graves: Sony gave us a lot of leeway with this score. As a result, we were able to infuse it with plenty of thematic-rich material. I think that serves a two-fold purpose. The first is it allows us to musically "paint" the scenes and action in the game as players progress through the levels. Secondly, the music has the ability to stand on its own really well when represented as a stand-alone soundtrack.
Kevin Riepl: Considering that the score is very dynamic and emotional, I believe it stands very well on its own, and creates a good listening experience.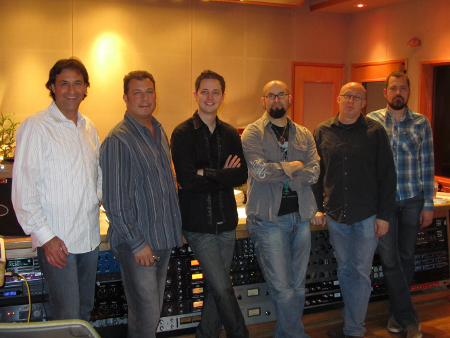 Chris: Many thanks for your time today, Kevin Riepl and Jason Graves. Is there anything else you'd like to say about Burning Skies or your other roles?
Jason Graves: Keep playing and keep listening, and a special "thank you" to all the fans who contact me and keep in touch. I am just a film/game music fan as well myself! I try and respond as quickly as my schedule allows. Get in touch on Facebook or Twitter. Looking forward to hearing from you!
Kevin Riepl: Thank You! Go buy the soundtrack on iTunes… and Jason should have a blog specifically about Dining Out and FOOD!
Posted on July 15, 2012 by Chris Greening. Last modified on February 27, 2014.