Project Light to reunite NES-era Capcom composers
In a little over year, creative director Mohammed Taher has already done incredible things since setting up record label Brave Wave Productions (formerly Koopa Soundworks). Through combining the talents of the composers of Japan's classic games (e.g. Manami Matsumae, Keiji Yamagishi, Akira Yamaoka) with those of Western indie favourites (e.g. Eirik Surhke, Jim Guthrie, Stemage), he has produced several spectacular releases: the diverse debut project World 1-2: The Complete Collection, the charity album Year One, and an incredible multi-composer original album In Flux.
Taher has confirmed to Game Music Online that he has big plans for the rest of the year. Having now wrapped up production on In Flux, he is focusing his attention on creating the new original album entitled Project Light.  This story-driven album will tell the story of a planet on the verge of destruction due to an imminent supernova; and thus it follows Light, one of the highly-advanced humanoids built to investigate the problem and reverse the doomed sun's fate.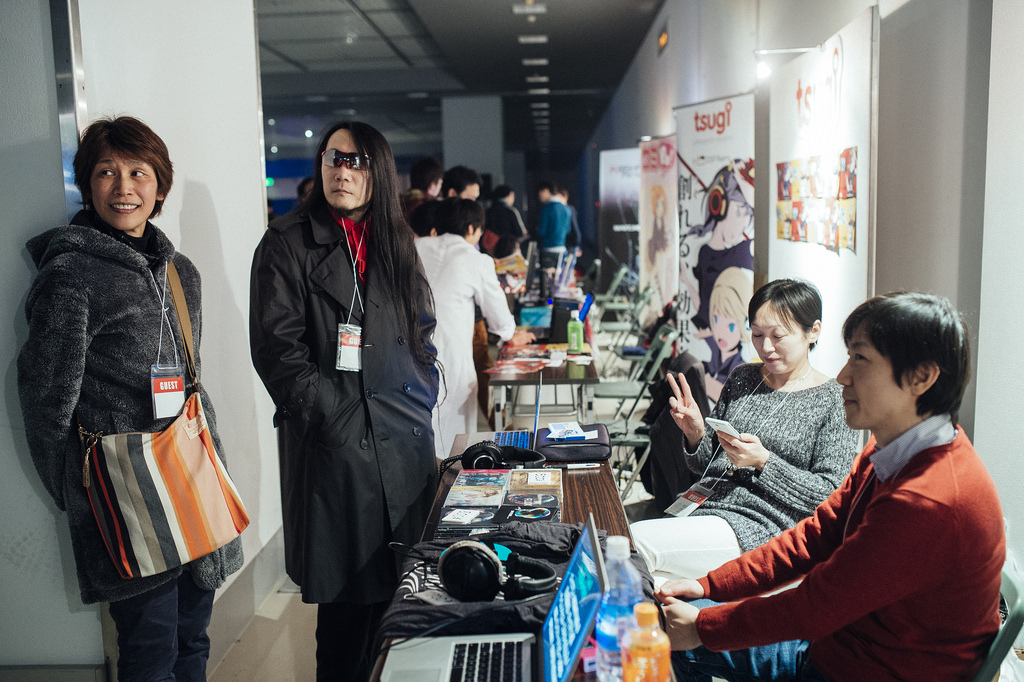 Junko Tamiya, Ippo Yamada, Manami Matsumae, and Keiji Yamagishi at Bit Summit MMXIV
Produced in collaboration with music director Ippo Yamada and music producer hally, the album will feature contributions from many ex-Capcom composers: Yoko Shimomura (Street Fighter II), Junko Tamiya (Strider), Manami Matsumae (Mega Man), Takashi Tateishi (Mega Man 2), Yasuaki Fujita (Breath of Fire), Harumi Fujita (Bionic Commando), and Mari Yamaguchi (Super Ghouls 'n' Ghosts). The album will further the goal of the label to "resurrect Famicom-era composers and remind the world that they're still here and can make good music". It'll be released "whenever it's ready," as Taher said on stage, with the expectation of finishing the album at the end of the year.
Posted on March 28, 2014 by Chris Greening. Last modified on March 28, 2014.