Next Final Fantasy Piano Opera to commemorate PlayStation-era titles
Square Enix have confirmed that they will release Piano Opera -Final Fantasy VII / VIII / IX- next month. The album will feature solo piano arrangements of a number of fan favourites from the Nobuo Uematsu's PlayStation-era Final Fantasy soundtracks, namely: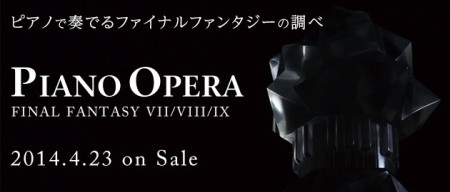 Final Fantasy VII
Opening – Bombing Mission –
Fighting
Interrupted by Fireworks
Cosmo Canyon
Final Fantasy VIII
Ami
Force Your Way
Liberi Fatali
The Man with the Machine Gun
Final Fantasy IX
Hunter's Chance
You're Not Alone
Melodies of Life
Rose of May
Most of these previous tracks have been previously arranged in Shiro Hamaguchi's Piano Collections and Benyamin Nuss Plays Uematsu. However, arranger Hiroyuki Nakayama is likely to bring many Romantic-style twists to this pieces, just as his did with the NES- and SNES-era Piano Opera albums.
A sample of "Opening – Bombing Mission" is available on the official site. As with previous titles in the Piano Opera, it is also likely that a sheet music book and live concert will occur to commemorate this release. Set for release on April 23, the album can be pre-ordered from CDJapan here.
Posted on March 18, 2014 by Chris Greening. Last modified on March 18, 2014.