Michael Gluck (aka Piano Squall) Interview: Producing a Charity Piano Album
Piano arranger Michael Gluck, aka Piano Squall, released his debut album GAME at the end of June. The album is dedicated to his performance of original arrangements of themes from video games and anime. The focus is music from Square Enix's Final Fantasy and Chrono series.
Michael and the video game publisher Electronic Arts are collaborating to donate an amount equal to 20% of all profits from GAME to the National Multiple Sclerosis Society. We discuss with Michael GAME and his background, concerts, charity endeavours, and inspirations in this exclusive interview.
GAME is currently available for pre-order at Michael's website, PianoSquall.com. The price is $9.99 with Free Shipping anywhere in the United States. Those who pre-order will receive a free Bonus Track that is not included on the CD. GAME was released on June 30, 2007.
Interview Credits
Interview Subject: Michael Gluck
Interviewer: Chris Greening
Editor: Chris Greening
Coordination: Chris Greening
Interview Content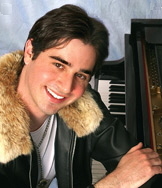 Chris: GAME is a video game and anime album dedicated to your performances of various original piano arrangements. What games and animes should we expect to hear in the album? Any hints on particular pieces?
Michael: GAME features my original arrangement and performance of twenty-six theme songs from video games and anime, including Final Fantasy, Naruto, Super Mario World, InuYasha, Chrono Trigger, Cowboy Bebop, Mega Man, Chrono Cross, Full Metal Alchemist, Tetris, and Evangelion. My favorite track is the Final Fantasy Battle Medley, which brings nine Final Fantasy battle themes together into a single piece.
Chris: Clearly, GAME has a focus on music from Square Enix RPGs. What makes this music so worthy of a place in your album?
Michael: Square Enix RPGs are not only my favorite games to play, but they are also the original inspiration for my musical career. Master Nobuo Uematsu is my hero, for it was the music of Final Fantasy that first inspired me to learn the piano.
Chris: You started off performing video and anime music at various fan events. What were your inspirations? How did you initially get involved with performance?
Michael: It's a wild story and a bit on the long side, but I'd be happy to share it with you.
Since the day I played my first Final Fantasy (FF IV) around age 9, I developed somewhat of an unusual hobby. I became completely fascinated with the idea of listening to video game and anime music and figuring out how to play it on the piano. It was really just for my own enjoyment, and I never performed my arrangements publically. In fact, it never even occurred to me that anyone else would be interested in listening to video game music on a piano besides me and a few of my nerdy friends.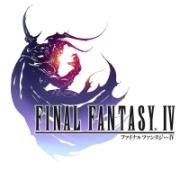 So four years ago, I went to a convention called BAAF in New York City, and someone randomly told me that there was a piano in the hotel somewhere. At this point I had been playing video game and anime music for most of my life, and I thought, well, if ever there's a place where someone would enjoy what I do, this is it! So I found the piano and made my little debut in a dark corner on the sixth floor.
I was completely amazed at how many people recognized everything I was playing. Within a few minutes, there were at least thirty people around the piano throwing out requests, and I was like, whoa, I thought I was the only person in the world who knew that piece by name! So I just sat there and played for hours until I had gone through just every theme on every soundtrack I could think of. It was really incredible to finally share my lifelong passion with other people that cared about this music as much as I did.
When I got up to leave, there was a director of a different convention called I-CON who had been listening the whole time. He invited me to his convention to perform a video game/anime music piano concert, and I booked my first real show right there!
That one afternoon at the piano in the dark corner on the sixth floor ended up completely changing the direction of my life. The last four years has been a series of adventures into the world of anime conventions that has taken me to sixteen different states and allowed me to raise tens of thousands of dollars for charity. Yet, no matter how many concerts I do, I have never lost the sense of amazement that I felt when I sat down and shared music with other people just like me for the very first time, and I will never be able to thank those who attend my concerts enough for giving me the privilege of performing for them.
Chris: Piano Squall has since become a well-known name in the video game and anime community. What concert achievements highlight this? Where have you toured?
Michael: Since 2003, I have had the honor of performing in sixteen different states throughout North America. The highlight concert was Otakon 2005 in Baltimore, MD, where I had opportunity to share my music with an audience of 3,000 people.
Chris: To perform to a crowd of 3,000 people must have been daunting. Do you ever find nerves a problem or are you able to act the showman? The Squall outfit indicates the latter…!
Michael: You know, I'm really nothing but a big nerd with a lot of love for video game music. And guess what? Everyone in the audience is too! When I perform, I feel like I'm in a giant room surrounded by friends.
We're all there to have fun and enjoy music together, so there is no anxiety. Performing video game music concerts is my dream, and I feel nothing but excitement on stage.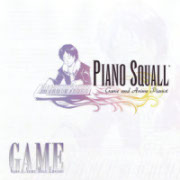 Chris: Becoming the first independent musician to release a video game / anime piano solo album is very impressive. What does this mean to you on a personal level? How about in terms of the direction of fandom in general?
Michael: On a personal level, I am always looking for creative ways to combine my love of video game and anime music with my mission to fight Multiple Sclerosis, and I couldn't be more excited about GAME. Last year I was able to raise over $12,000 for charity through selling Piano Squall posters on site at my concerts, and I am confident that I can bring in $20,000 for MS research with this album.
In regard to the direction of fandom, I am hoping that other musicians will look at GAME and realize that it's possible to record their own arrangements from video games and anime, purchase the licenses, and produce an independent album. I want more people around the world to get involved so that our genre will continue to grow.
Chris: As well as being a concert performer, you have a website that provides arrangements and performances from you. Tell us more about your online offerings for video game and anime fans.
Michael: I know that I will never have the opportunity to perform live for everybody who might be interested in a video game/anime music piano concert, so I provide a variety of concert videos on PianoSquall.com for anyone to enjoy.
I transcribe and give away my original arrangements for free download so that other musicians will be able to enjoy playing them too. It is my hope that others will also use them to perform their own concerts or produce videos and post them online. The more people who get involved in video game/anime music the better.
The most important part about PianoSquall.com is not actually the content, but rather the community. We are a family of more than 1,000 people united by a common love of video game and anime music. Our discussions are vibrant and fun, and I enjoy getting online and chatting with my friends as much as possible.
Chris: Electronic Arts is the largest video game publisher in the world. Please talk about your collaboration with EA to raise money for the National Multiple Sclerosis Society with GAME.
Michael: Outside of piano concerts, I work as a producer on The Sims at Electronic Arts. My employer is partnered with me in this charitable effort, and together we will donate an amount equal to 20% of all profits from GAME to the National Multiple Sclerosis Society. But this is not the first time that EA has stepped up to match my contributions dollar-for-dollar. In 2006, we raised $8,600 for the National MS Society and $4,000 for Race for the Cure through selling "Piano Squall" posters at my concerts. I am forever grateful for the extraordinary generosity of Electronic Arts and their seemingly limitless support of all my personal charitable ventures.
Chris: 20% of all profits from GAME will be donated to the National Multiple Sclerosis Society. Is this cause personal to you? Was it your idea to make these donations?
Michael: I watched my own grandmother waste away in chair, completely paralyzed by Multiple Sclerosis for the last ten years of her life. It is the worst disease imaginable, and I want to do my part in finding a cure.
Chris: Many of your performances in the past have generated money donated to other charities. Tell us about your other such experiences.
Michael: I frequently perform Benefit Concerts to raise money for a variety of charities. In 2005, we raised nearly 300 pounds of food for the homeless in a single evening. Other concerts have also supported Race for the Cure, Tsunami Relief, and The Matthew Foster Foundation (a cancer research organization).
Chris: Your website has generated quite a few fans outside the United States. Are they still able to order your album? Do you have ambitions to perform overseas?
Michael: Absolutely. I want to go anywhere video game and anime music fans like me are living.
Chris: Thanks for the interview and best of luck with your future endeavours. Any final words?
Michael: Thank you for speaking with me today, it has been a pleasure.
Posted on June 1, 2007 by Chris Greening. Last modified on March 1, 2014.