Mario, NieR receive SFX, Music awards at SXSW
Super Mario Odyssey and NieR: Automata received awards for "Excellence in SFX" and "Excellence in Musical Score," respectively, at SXSW's 2018 Gaming Awards ceremony on Saturday. Runners-up for "Excellence in SFX" included Call of Duty: WWII, Hellblade: Senua's Sacrifice, Resident Evil 7: Biohazard, and Uncharted: Lost Legacy, while nominees for "Excellence in Musical Score" included Cuphead, Persona 5, Super Mario Odyssey, and The Legend of Zelda: Breath of the Wild.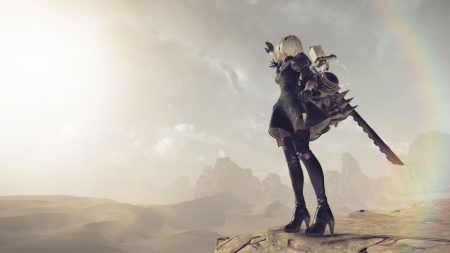 These awards add to the growing list of music and audio accolades garnered by both games. Super Mario Odyssey had already received an award from the Academy of Interactive Arts and Sciences for "Outstanding Achievement in Sound Design," as well as an award from the National Academy of Video Game Trade Reviewers in the "Song, Original or Adapted" category for its original theme, "Jump Up, Super Star!" NieR: Automata received "Best Music" from gaming news outlet Giant Bomb and "Best Score/Music" at the 2017 Game Awards, along with NAVGTR's "Original Dramatic Score, Franchise" award.
Neither game has been nominated for a Music or Audio Achievement award in the 2018 British Academy Game Awards, which will take place later in April. More information about BAFTA's 2018 nominees can be found here.
NieR: Automata, however, was awarded "Score of the Year" in our Annual Game Music Awards, and vocalist J'Nique Nicole from the NieR: Automata soundtrack received our "Artist of the Year" award. You can read up on the rest of our Game Music Award Winners right here.
Posted on March 20, 2018 by Reilly Farrell. Last modified on March 20, 2018.